Disclosure: This post is sponsored by UnitedHealthcare's We Dare You to Share Campaign and written by me. I was provided compensation for writing this post, but as always, all opinions are my own.
My family used to make fun of me growing up, because I was one of those kids that liked to eat breakfast within about 10 minutes of waking up. While I've gotten a little better over time (I'm not ready to punch someone if I don't eat within a half hour), I still LOVE breakfast and find it super important to starting the day in a healthy way. It helps give you energy in the morning, and some research shows it boosts cognitive function and reaction time, as well as reducing irritability. I don't know how people function without eating something (whether it's big or small) in the morning, I totally need that to think straight.
Needless to say, when it comes to recipe development – I love creating new breakfast recipes. Especially new combinations of healthy food options, or 'healthified' versions of traditional favorites.
I came up with this idea for a tropical yogurt parfait and thought it'd be a great healthy option to share with you all! It's made with greek yogurt, which is higher in protein than regular yogurt – helping to keep you full and satisfied – and also is a great source of calcium for bone health. The pineapple and the kiwi give you a variety of vitamins and minerals, and the coconut adds just an extra dimension of delicious flavor.
For all my runners and triathletes out there, this is a great post-workout recovery breakfast – combining those healthy carbs with protein to replenish and refuel your muscles.
And here's some incentive for you to whip up this recipe or your own healthy breakfast: if you make this or any other healthy breakfast option, you can share pictures of it in a fun contest from UnitedHealthcare for a chance to win prizes in their…
We Dare You to Share Campaign!
The campaign has three monthly "dares" that encourage people to take small steps to live a little healthier each day. For March, one of the three dares is the share a photo of your healthy breakfast on the We Dare You to Share website. If you do so, you've got a chance to win a bunch of different prizes (anything from $25 to a cast iron French oven to a $400 amazon gift card!). The other two dares are easy to complete as well – take a nutrition quiz or watch and comment on a food label video.
So head on over to We Dare You to Share and post some photos of your healthy breakfast (and tell me in the comments what you're eating – I love hearing your ideas!). If you need some inspiration for other healthy morning eats, try one of these other great recipes from the blog:
Or, try today's recipe for a healthy tropical yogurt parfait!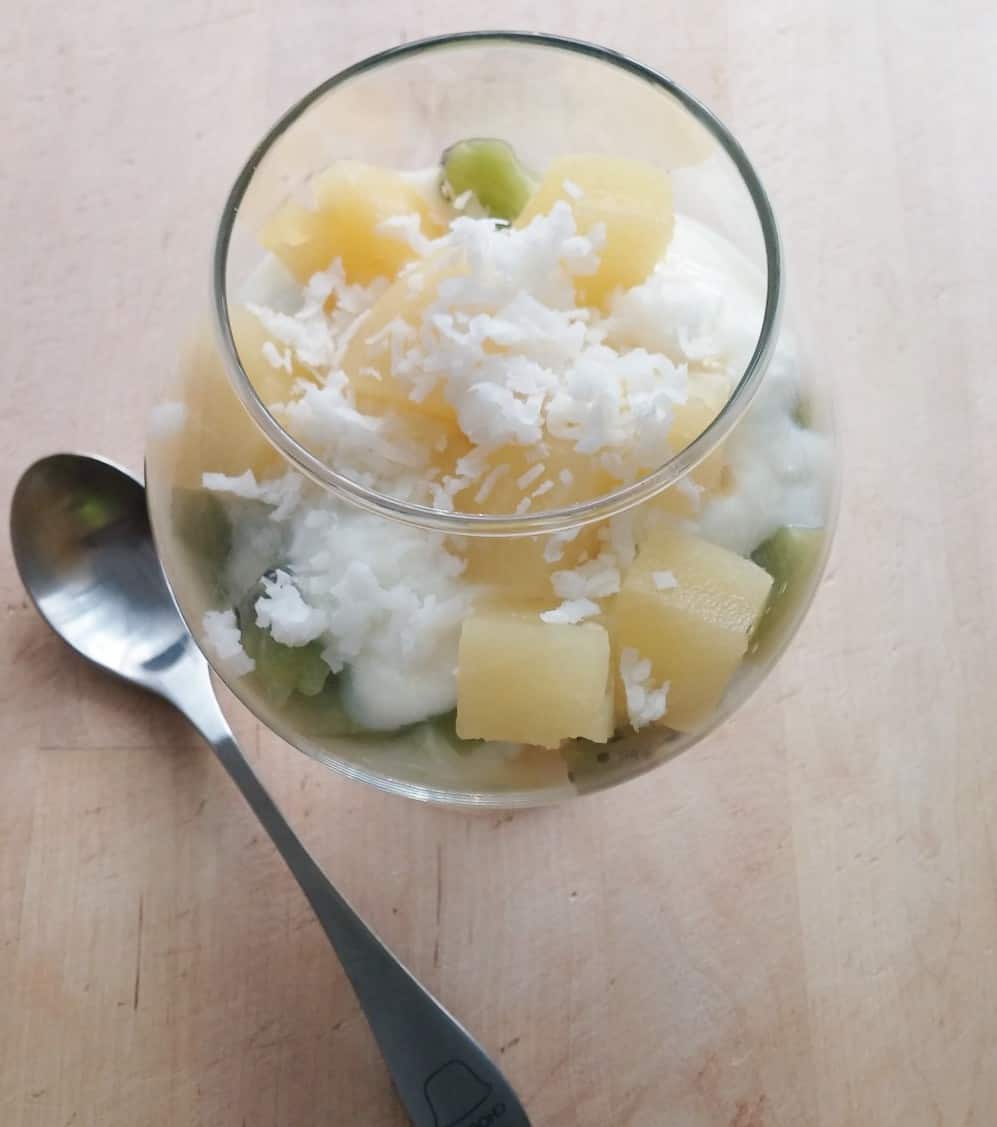 Tropical Yogurt Parfait Recipe
Makes 1 serving
Ingredients:
1 cup vanilla greek yogurt (look for varieties that have less added sugar)
1 chopped kiwi
1 cup chopped pineapple
2 tbsp shredded coconut
Directions:
Layer all ingredients into a glass or bowl, and enjoy!
Nutrition analysis (approximate):
385 calories, 5 g fat (4 g sat fat), 129 mg sodium, 63 g carbohydrate, 5 g fiber, 22 g protein, 30% calcium, 250% vitamin C
Share with me: What healthy breakfast are you eating today?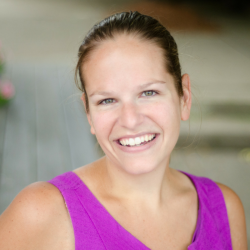 Chrissy Carroll is a Registered Dietitian and USAT Level I Triathlon Coach. She specializes in sharing nutrition and fitness tips, as well as recipes, for runners, triathletes, and active women.Chrissy holds a Bachelor's Degree in Nutrition, a Masters Degree in Public Health, and is also an ACSM Certified Personal Trainer.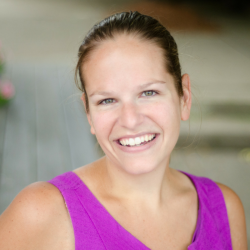 Latest posts by Chrissy Carroll (see all)