Homemade granola is the ultimate breakfast treat, whether eaten as a cereal or used to top your favorite yogurt. With this salted caramel vegan granola, you'll be counting the minutes until it's time for breakfast!
Disclosure: This post is sponsored by NOW®. As always, all opinions are my own.
How to make salted caramel granola
Granola is one of those foods that previously felt out of reach to make on my own – until a few years ago when I learned just how easy it is to whip up. You literally just toss your ingredients together, put them on a pan, and bake it. SO simple.
And once you start making it at home – smelling that delicious aroma coming from the oven and tasting your incredible creation – you'll have a hard time going back to the store-bought stuff!
This salted caramel granola is made with just five simple ingredients:
Rolled oats
Salt
Maple syrup
Dark chocolate chips (if vegan, double check ingredients to ensure these fit your diet)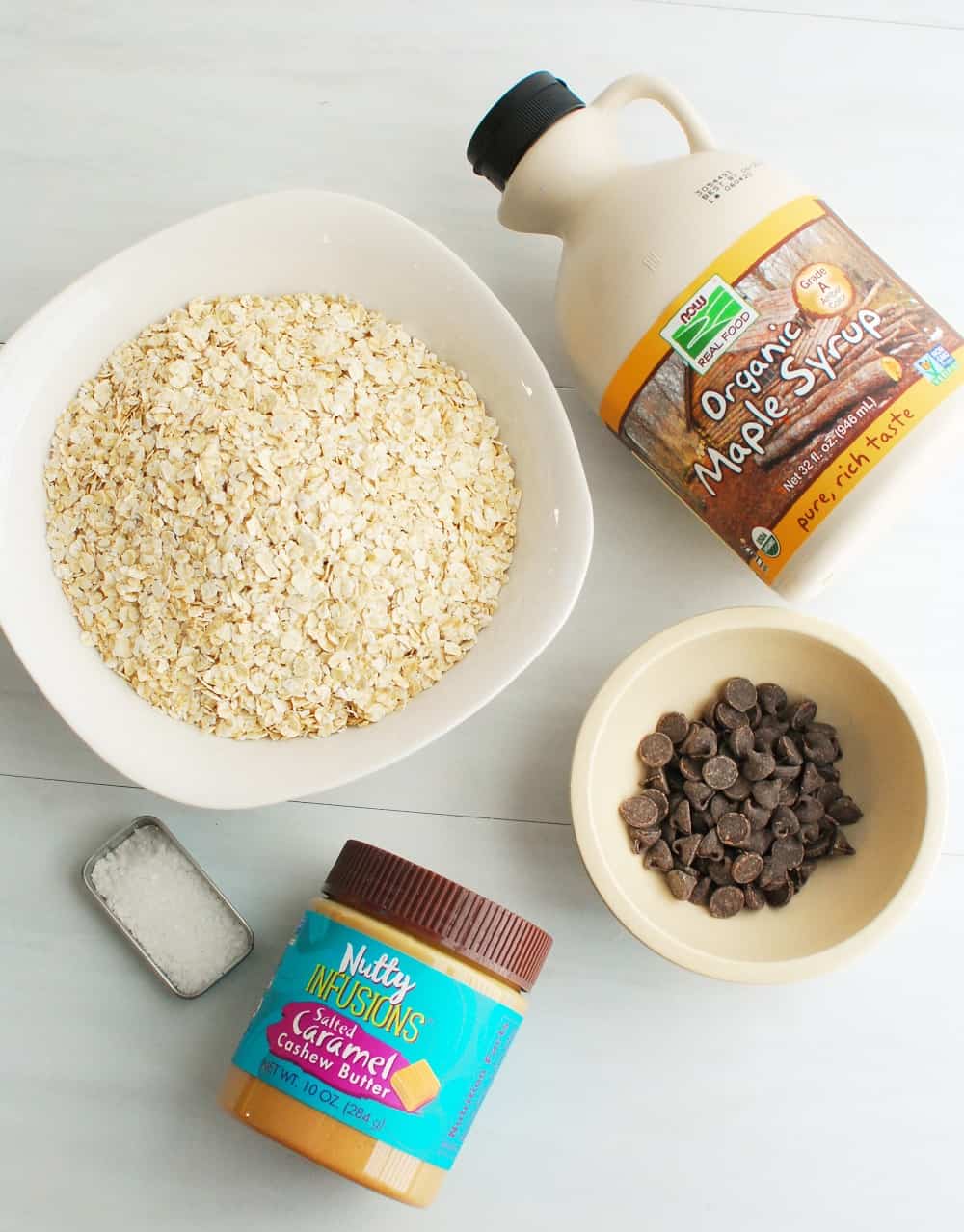 That Nutty Infusions™ Salted Caramel Cashew Butter is my favorite new addition to the pantry, and is the KEY to this recipe. It's seriously magic that they can pack this with so much caramel flavor – and still have minimal added sugar – but that's how it is, and it's insanely delicious. I'm talking break-out-the-spoon-and-dig-in delicious. I just love this recipe because it gives you a new way to enjoy it!
Other than that, you've probably got the other ingredients sitting around your kitchen already. And if not, the maple syrup and rolled oats can also be ordered directly from NOW® when you order your cashew butter.
Maple syrup makes a great substitute for honey to make this a vegan granola. Combined with the salted caramel cashew butter, they both add enough stickiness to form that crunchy, clustery texture. (If you're not vegan, though, you can easily sub in honey if you want.)
Once you've got all those ingredients, you'll just mix everything up, bake it in the oven for around 20 minutes, and bam – store-bought quality granola that you just made fresh in your kitchen!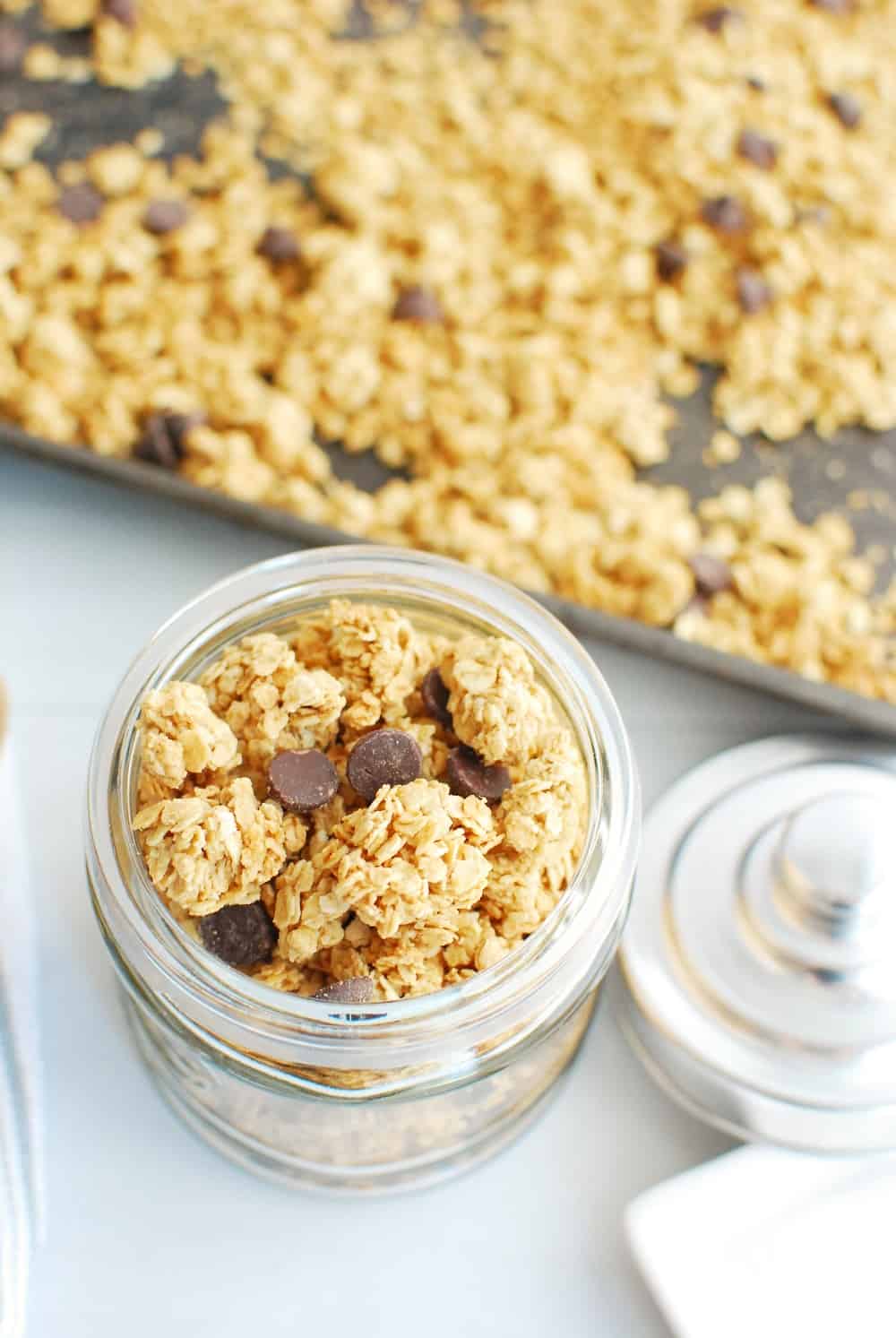 Why I love this vegan granola recipe
This recipe clocks in at 210 calories per serving with 3 grams of fiber and 5 grams of protein. You're treated to some healthy fats, thanks to the cashew butter. And despite the "salted caramel" name, it's relatively low in sodium for any of you that need to keep an eye on that.
You do get some added sugar in here, as I've added 1/3 cup of pure maple syrup for the whole recipe. I look at granola as more of a treat than an everyday breakfast, so I'm cool with that. 😉
But if you want to try to skip the maple syrup, you could definitely give it a shot – I haven't attempted it on my own yet though. Most sugar-free granola recipes call for egg whites to get the crisp granola texture (and not just soggy oats) – and that would obviously mean this was no longer vegan-friendly. But you could also try skipping the maple and adding in some aquafaba if you want to experiment with a low-sugar vegan version; I would think the aquafaba might help it crisp up.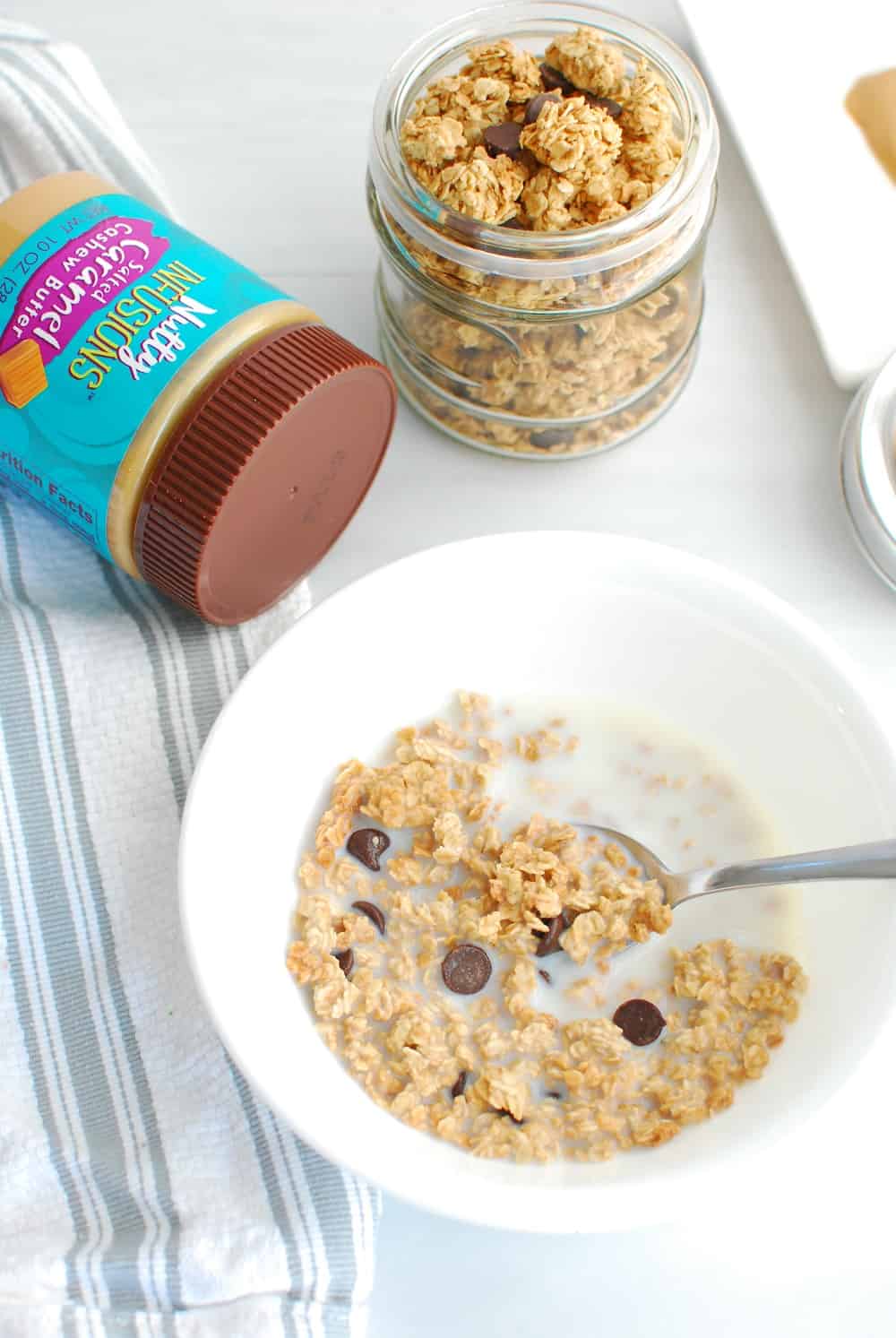 Ways to use your granola
We all know the go-to options are breakfast cereals and yogurt toppings. But there are a lot of other ways to use up your vegan granola too! Try it in these clever culinary creations:
Mix it into a smoothie – it adds texture as well as fiber and healthy fats. You can try this granola smoothie with peaches and strawberries; if you're vegan you can sub out the Greek yogurt for coconut milk yogurt.
Try using it as a topping on a gorgeous smoothie bowl, along with some fresh fruit and chia seeds.
Dip sliced bananas in yogurt (coconut milk yogurt for vegan friends; Greek yogurt if you're not vegan) and then roll in the granola and freeze. Yum!
Top your favorite pancake recipe with pure maple syrup and a sprinkling of this salted caramel granola.
Use it as a topping on a baked apple.
It sounds weird, but try some sweet potato toast topped with your favorite nut butter and sprinkled with this vegan granola. Delish! You can also add it as a topping to a sweet potato casserole at dinner time.
Enjoy it to top your favorite ice cream / nice cream recipes.
Make apple "nachos" – slice apples into thin rounds and drizzle with nut butter and chocolate, and then top with shredded coconut and your granola.
Try this peach blueberry crisp – but instead of making the topping as written, bake the fruit and add the granola as the topping at the end.
Make dark chocolate bark with dried fruit and granola.
Drizzle pretzel sticks with chocolate and nut butter, then roll in the salted caramel granola.
Also, I know it's only summer right now but I've always got the holidays on my mind, haha. Consider making this in bulk this winter, packing it in a nice mason jar, and giving it as gifts this holiday season!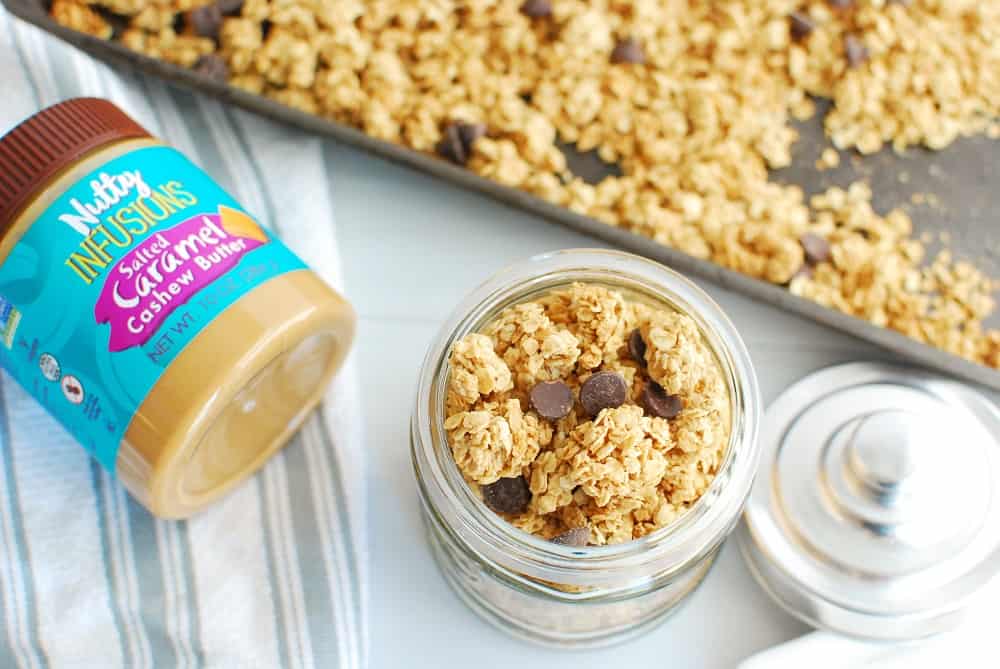 I hope you enjoy this recipe as much as I do. If you get a chance to try it, be sure to leave a recipe rating or comment below.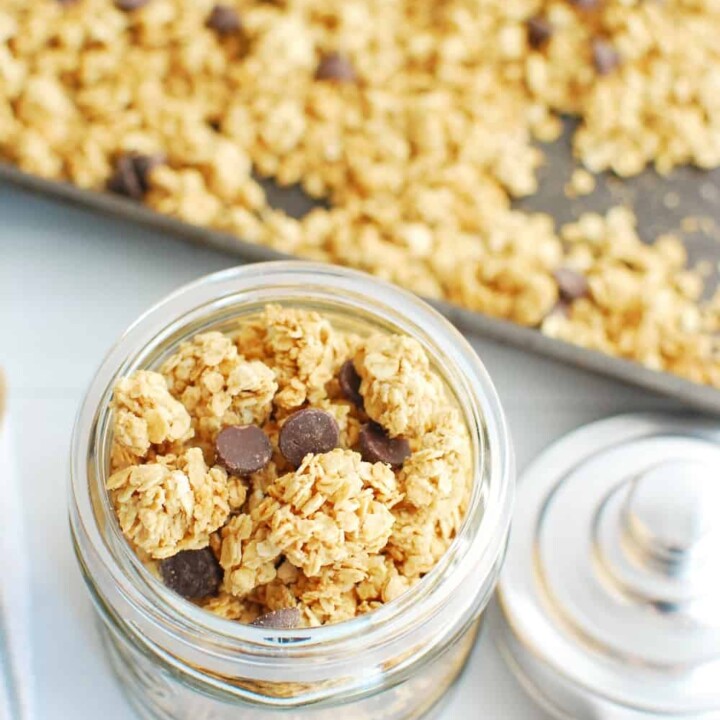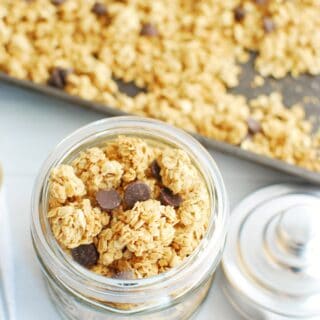 Salted Caramel Vegan Granola
This vegan granola recipe is the perfect breakfast treat, packed with salted caramel flavor!
Ingredients
2 1/2

cups

rolled oats

1/4

tsp

salt

1/3

cup

Nutty Infusions™ Salted Caramel Cashew Butter

1/3

cup

maple syrup

1/4

cup

dark chocolate chips

(if vegan, double check ingredients)
Instructions
Preheat oven to 325 degrees. Spray a little cooking spray on a large baking sheet and set aside.

Add the oats, salt, cashew butter, and maple syrup in a mixing bowl. Stir until everything is well combined.

Pour the mixture onto your baking sheet, distributing evenly across the pan, and place in the oven. Bake for approximately 20-23 minutes, stirring once halfway through. You want to remove it the granola from the oven when it is just lightly golden. (Don't let it turn a deep brown color.)

Let cool then mix in the chocolate chips. Store in a mason jar or a zip top bag. Enjoy!
Video
Notes
It can be a very short period of time from when the granola has that lovely toasted taste to when it starts to brown too much and bring out bitter notes. Keep an eye on it carefully.
If you're craving some extra add-ins besides the ingredients listed, you can always mix in your other favorite granola ingredients like roasted nuts, seeds, dried fruit, coconut, and more.
Nutrition facts (approximate per 1/3 cup serving):
210 calories, 8 g fat, 2 g sat fat, 87 mg sodium, 32.5 g carbohydrate, 3 g fiber, 11.5 g sugar, 5 g protein, Vitamin A: 0%, Vitamin C: 0%, Calcium: 2%, Iron: 10%
Nutrition
Share: Have you ever tried making homemade vegan granola? If you tried this recipe, what did you think?
PS – Don't forget to order the Nutty Infusions™ Salted Caramel Cashew Butter so you've got it on hand when you're ready to make this!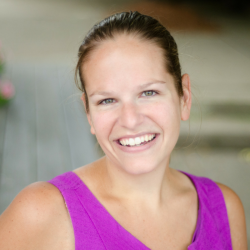 Latest posts by Chrissy Carroll
(see all)