It's Sunday, which means meal planning day! I was feeling a bit lazy today but forced myself to sit down at the computer and plan out our week, which of course I'm happy I did!
How did I do last week?
Our meal plan last week ran us $83. We actually didn't eat a couple of the meals on that list – my mom was visiting, so we ended up out to eat one night (thanks mom!). And Terry went to his family to visit, so he ate there one night with Devon and I took the night off from cooking at home (cheese, crackers & fruit for dinner, anyone?).
It was also a little bit of an off week though because I did end up going to the grocery store Friday night and spent about $60. Most of that was on ingredients for some new recipes I planned to (and did) test out on Saturday, but I'll admit there were also a few impulse purchases in there too. That said, I was able to practice and photograph three new awesome recipes on Saturday, so I consider that part a win at least. 🙂 I did also grab a few things that I knew I'd need at the beginning of this week.
Here's my meal plan for this week:
This week, I'm going to try to work mostly off of what's already in my pantry/fridge/freezer, except for a few things like milk and some fresh produce. I'm hoping to stay around $40-50 to make up for what I already spent on Friday. I'm feeling absolutely wiped out today for some reason, so I think I'm going to wait until tomorrow to actually go shopping but I feel confident about my plan and budget.
WEEKLY MEAL PLAN – 7/10-7/16
SUNDAY, 7/10/16
*2 mile walk
Breakfast: Cereal & milk
Lunch: Leftovers
Dinner: Lemon parsley parmesan chicken and potatoes (still have not made this dish; it's the one that kept getting dropped off the plan the last two weeks! I plan to make extra cooked chicken tonight to use in Tuesday's dinner.)
MONDAY, 7/11/16
*Run – 3 miles
Breakfast: Yogurt with homemade granola
Lunch: Leftovers or salads
Dinner: Cheeseburgers on whole wheat buns; healthy version of broccoli salad
TUESDAY, 7/12/16
*Spin class or bike ride
Breakfast: Egg & avocado with hot sauce on toast
Lunch: Leftovers or salads
Dinner: BBQ chicken ramen noodle bowls (the other meal from last week that we didn't get a chance to make yet)
WEDNESDAY, 7/13/16
*Rest day
Breakfast: Homemade granola & milk
Lunch: Leftovers or salads
Dinner: Buffalo chickpea salad (I modify this recipe a little bit)
THURSDAY, 7/14/16
*Run – 3 miles
Breakfast: Scrambled eggs with either toast or potatoes
Lunch: Leftovers or salads
Dinner: Turkey meatloaf (ground turkey, oats, onion, ketchup) with roasted sweet potatoes and broccoli
FRIDAY, 7/15/16
* Gym day – walking and weights
Breakfast: Spinach & tomato omelets
Lunch: Leftovers or salads
Dinner: Roasted garlic pasta salad
SATURDAY, 7/16/16
*Spin class or bike ride
Breakfast: Whole wheat pancakes topped with berries
Lunch: Leftovers or salads
Dinner: Slow cooker honey garlic chicken and veggies
Snacks for the week:
Cashews
KIND bars
Hardboiled eggs
Yogurt
Bananas
Strawberries
Strawberry Banana "soft serve"
Cherry tomatoes
Baby carrots
SHARE WITH ME: WHAT'S ON YOUR MEAL PLAN FOR THIS WEEK?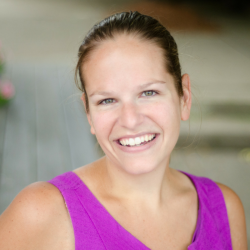 Latest posts by Chrissy Carroll
(see all)