Happy Sunday! I'm in a good mood today because my son finally seems to be feeling a little better after a very rough week of him being sick. He came down with a fever Wednesday and it stuck around until yesterday. He still seems a little off, but nowhere near as cranky as he had been. With that, my workouts got all thrown off this past week because when he's sick there's a) no YMCA for me to workout because I can't bring him to childcare sick, and b) no sleep for either of us, haha (the last several nights have consisted of about 4 hours of total sleep broken into a bunch of 15 minute segments).
He finally seems to be on the upswing though, which is great news for us getting back to our routine with meal planning and working out.
How did I do last week?
Despite him being sick, we still were pretty good about sticking with our meal plan and resisting the temptation to order takeout in light of being tired. As I mentioned in my last meal plan post, I went to the grocery store early that week (the Friday before I posted the plan) so that I could do some recipe development over that weekend. I didn't have to buy too much on my shopping trip last Monday to round out the week – I only spent about $45. We did end up swinging by the grocery store yesterday afternoon to pick up lunch stuff when we were visiting my in-laws and forgot to bring lunch with us (silly move on my part), and that came to another $10. So all in all, last week hit around $115 total. Not my best week, since I try to stick to $100 or less – and ideally $85 or less.
Here's my meal plan for this week:
I took a quick inventory this morning of our fridge/pantry/freezer so I could plan as many meals as possible around what we already have. We have a lot of frozen chicken, so I knew I'd add in a few meals with that. And I still have supplies to make the buffalo chickpea salad I had planned on last week since we had enough chicken leftovers to cover an extra night of dinner.
I decided to hit up Target this week for groceries, since a) I had a bunch of gift cards from the last diaper stock up deal I did there 😉 and b) it's about 3 miles down the road and I didn't feel like driving all the way to one of the other stores. But I planned well and used some coupons/cartwheel discounts, so I only spent $60 and that was all in the gift cards I mentioned (yay!).
Workout plans are also listed for each day, which I hope to stick to a little better this week since last week was so off my routine.
WEEKLY MEAL PLAN – 7/17-7/23
SUNDAY, 7/17/16
*Nothing – recovering from lack of sleep, haha
Breakfast: Homemade waffles with fruit
Lunch: Leftovers
Dinner: Buffalo chickpea salad
MONDAY, 7/18/16
*Run – 3 miles
Breakfast: Yogurt with homemade granola
Lunch: Leftovers or salads
Dinner: Grilled chicken sandwiches on whole wheat buns topped with mozzarella and tomato; broccoli
TUESDAY, 7/19/16
*Spin class or bike ride
Breakfast: Cereal and milk; fruit
Lunch: Leftovers or salads
Dinner: Korean beef bowl over rice; cucumber scallion salad
WEDNESDAY, 7/20/16
*Walk – few miles
Breakfast: Egg & avocado with hot sauce on toast
Lunch: Leftovers or salads
Dinner: Homemade pizza with whole wheat crust, spinach, caramelized onions, mozzarella & a little balsamic drizzle
THURSDAY, 7/21/16
*Run – 3 miles
Breakfast: Scrambled eggs with toast
Lunch: Leftovers or salads
Dinner: Citrus chicken and quinoa salad
FRIDAY, 7/22/16
* Gym day – walking and weights
Breakfast: Strawberry, banana & spinach smoothies (strawberries, frozen banana, spinach, plain greek yogurt, almond milk)
Lunch: Leftovers or salads
Dinner: Tacos (taco shells, lean ground beef, tomatoes, lettuce, avocado)
SATURDAY, 7/23/16
*Rest day (GFAF Expo / Friend's Wedding – this day will be crazy busy!)
Breakfast: Cereal & milk
Lunch: Samples at GFAF Expo (I realize that sounds silly, but I know I'll be sampling foods there and end up being full from them)
Dinner: Food at a friend's wedding (butternut squash ravioli for me; prime rib for the hubby)
Snacks for the week:
Cashews
KIND bars
Hardboiled eggs
Yogurt
Raspberries
Blueberries
Baby carrots
Sliced cucumbers
Nature's Box snacks (scored some for free at Target with coupons!)
SHARE WITH ME: WHAT'S ON YOUR MEAL PLAN FOR THIS WEEK?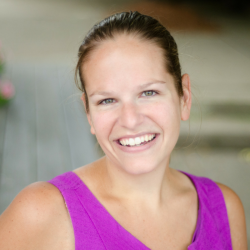 Latest posts by Chrissy Carroll
(see all)