Happy Sunday – aka meal planning time! I gotta say, this weekly series is really helping me stick to my goal of staying on top of meal planning (my health and grocery budget are saying thank you right now).
How did I do last week?
Last week's plan ended up costing around $95. It was a little higher as I ended up shopping at Stop and Shop rather than ALDI. Stop and Shop is right around the corner from my house which makes it easier on a busy week, but it tends to be more expensive.
We stuck to our plan well last week! We ended up having enough leftovers to do an extra leftover night one night, so I've moved my lemon parsley chicken and potatoes to this week instead. Otherwise we were followed it as written.
Here's my meal plan for this week:
I put together my plan and went grocery shopping this morning. I spent $83 at ALDI which was great for the amount of food we got. I am probably going to have to swing by the store to grab an extra container of blackberries for my blackberry cornbread at the end of the week, since my husband and son have already polished off most of them today. But otherwise I should be all set this week!
WEEKLY MEAL PLAN – 7/3-7/9
SUNDAY, 7/3/16
*Rest day
Breakfast: Cereal & milk, peaches
Lunch: Leftover Southwestern turkey burgers
Dinner: Homemade veggie pizza and a side of roasted broccoli. I make the pizza using homemade whole wheat pizza dough (I use this recipe with whole white wheat flour), tomato sauce, mozzarella cheese, onions, peppers, and spinach.
MONDAY, 7/4/16
*1 mile swim in the morning; possible afternoon run if I have time
Breakfast: Spinach & tomato omelets with toast
Lunch: Leftovers or salads
Dinner: Lemon parsley parmesan chicken and potatoes, sautéed cabbage (I plan to make extra cooked chicken tonight to use in tomorrow's quick dinner)
Dessert for the 4th: Homemade blueberry pie!
TUESDAY, 7/5/16
* Spin class or trainer ride
Breakfast: Cereal & milk with fruit
Lunch: Leftovers or salads
Dinner: BBQ chicken ramen noodle bowls
WEDNESDAY, 7/6/16
*Run – few miles
Breakfast: Yogurt with homemade granola
Lunch: Leftovers or salads
Dinner: Quinoa, spinach & mandarin orange salad (I have my own recipe for this that I'll get up on the blog soon, but this recipe has a lot of similar ingredients); side of blackberry cornbread
THURSDAY, 7/7/16
* Gym day – walking and weights
Breakfast: Whole wheat toast topped with avocado, fried egg & hot sauce
Lunch: Leftovers or salads
Dinner: Texas lasagna (I make a "healthified" version of this recipe)
FRIDAY, 7/8/16
*Rest day
Breakfast: Yogurt with homemade granola
Lunch: Leftovers or salads
Dinner: Pasta salad (whole wheat pasta, tomatoes, peppers, cheddar cheese, Italian dressing)
SATURDAY, 7/9/16
*Longer bike ride or run
Breakfast: Whole wheat pancakes topped with berries
Lunch: Leftovers or salads
Dinner: Fried rice with chorizo, green beans & cashews; side of sautéed cabbage
Snacks for the week:
Cashews
Hardboiled eggs
Yogurt
Bananas
Blueberries
Blackberries
Strawberries
Cherry tomatoes
Baby carrots
SHARE WITH ME: WHAT'S ON YOUR MEAL PLAN FOR THIS WEEK?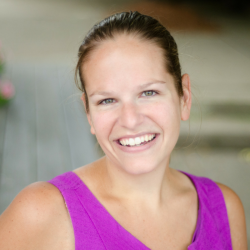 Latest posts by Chrissy Carroll
(see all)