It's Sunday which means meal planning time! I'm really enjoying this series and hope to keep it going strong.
How did I do last week?
Last week's meal plan had a lot of variety and I spent $87. I did have to stop by another store to pick up a few things that I couldn't get at the first one – plus a father's day treat for my hubby – so I spent an extra $12 on that. My goal is always to stay below $100 total for the week, so I consider that a success.
We stuck with the plan for last week with one exception: I didn't make the cashew chicken stir fry and instead did burgers (which were leftover in the freezer from the week before) along with extra zucchini casserole. I got caught up in a call on Tuesday night so that was quicker for us to do.
Here's my plan for this week:
I spent $67 at ALDI this week for my weekly meal plan – woohoo! BUT that also takes into account the fact that I didn't have to plan for Saturday since we'll be visiting family and eating there. I also will need to swing by Stop and Shop to pick up a few remaining things – larabars (my son LOVES those for snacks, so I wanted to stock up on them up while they are on sale), almond milk (what my husband drinks, and ALDI was out), and green beans (to go with Wednesday's one pan meal). This should cost me about $15 more, give or take.
WEEKLY MEAL PLAN – 6/19-6/25
SUNDAY, 6/19/16
*Rest day
Breakfast: Cereal and milk with fruit
Lunch: Leftovers or salads
Dinner: Homemade pizza with kale, mozzarella, caramelized onions, and balsamic vinegar (kind of like this recipe, sans the goat cheese); side of caprese salad
MONDAY, 6/20/16
*Run (few miles)
Breakfast: Scrambled eggs and whole wheat toast
Lunch: Leftovers or salads
Dinner: BBQ chicken quinoa salad
TUESDAY, 6/21/16
*Trainer ride + run if time
Breakfast: Peanut butter & banana sandwiches or smoothies
Lunch: Leftovers or salads
Dinner: Steak fajitas (modified version of this recipe)
WEDNESDAY, 6/22/16
*Gym day (walking + weights)
Breakfast: Spinach and tomato omelet with whole wheat toast
Lunch: Leftovers or salads
Dinner: Roasted chicken with potatoes, carrots and green beans (all in one dish – tossed with olive oil, salt, pepper & garlic)
THURSDAY, 6/23/16
*Trainer ride
Breakfast: Cereal and milk, fruit
Lunch: Leftovers or salads
Dinner: Amish beef & cabbage skillet over rice
FRIDAY, 6/24/16
*Easy gym day – walking
Breakfast: Fried egg with hot sauce + whole wheat toast with avocado
Lunch: Leftovers or salads
Dinner: Chicken caesar wraps (whole wheat tortillas, baby spinach, grilled/roasted chicken, parmesan cheese, ceasar dressing); side of broccoli
SATURDAY, 6/25/16
*Rest day
All meals will be at my dad's house since I'll be staying there for the Farm to Fork Fondo, so I'll make do with (aka mooch off of) whatever is in his house 😉
Snacks for the week:
Cashews
Hardboiled eggs
Yogurt
Bananas
Blueberries
Nectarines
Larabars
Bell pepper strips
Baby carrots
SHARE WITH ME: WHAT'S ON YOUR MEAL PLAN FOR THIS WEEK?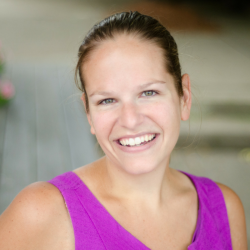 Latest posts by Chrissy Carroll
(see all)