Ack, I'm a day late with my meal plan! Sorry guys. This past weekend was pretty busy with the Farm to Fork Fondo and traveling, so I didn't have a chance to sit down and write out my meal plan until today.
How did I do last week?
Last week I shared my meal plan for the week and mentioned that I spent $67. That was lower than normal because we were going to be at my dad's house over the weekend and I knew he'd take care of food for us there. We pretty much stuck with this plan with the exception that we ended up leaving for NY on Friday afternoon instead of Friday evening, so we stopped and got lunch at a rest stop on the way there. Had I planned a little better I probably could of actually made those chicken caesar wraps that were planned for Friday dinner to bring with us and eat in the car. But we were kind of rushing a bit (we wanted to leave so my son would nap in the car on the way there) and that didn't happen. So we spent an extra $20ish on takeout that day, but otherwise followed our plan.
Here's my plan for this week:
I put together my list this morning (since yesterday we were still in NY). I haven't gone to the grocery store yet but I think this should be in line with my spending goals. I'll be sure to update here when I do go to the store. I'm debating between ALDI and Shaw's this week, because I have a $25 gift card to Shaw's to use and some of the sales are similar.
WEEKLY MEAL PLAN – 6/26-7/2
SUNDAY, 6/26/16
*Farm to Fork Fondo! 36 mile bike ride (though admittedly we rode shorter because we got lost, haha)
Breakfast: Bagels with cream cheese
Lunch: Post-Ride BBQ at the Farm
Dinner: At my dad's house – Chinese food
MONDAY, 6/27/16
*Rest day
Breakfast: Cereal & milk with fruit
Lunch: Leftovers or salads
Dinner: Rice & beans (our favorite 10 minute meal – just mix instant brown rice, can of black beans, can of tomatoes with diced green chiles, avocado, cheddar cheese)
TUESDAY, 6/28/16
* Easy gym day – walking
Breakfast: Whole wheat toast topped with avocado, fried egg & hot sauce
Lunch: Leftovers or salads
Dinner: Grilled scallop tacos with avocado & corn
WEDNESDAY, 6/29/16
*Trainer ride or spin class
Breakfast: Strawberry banana smoothies
Lunch: Leftovers or salads
Dinner: Southwestern turkey burgers (a new recipe I'm working on – if it comes out good, you can be sure you'll see it on the site soon), side of broccoli or cauliflower
THURSDAY, 6/30/16
*Run – a few miles
Breakfast: Cereal and milk, fruit
Lunch: Leftovers or salads
Dinner: Pasta with sun dried tomatoes, kale and chicken (another recipe I'm working on)
FRIDAY, 7/1/16
*Gym day – walking, weights
Breakfast: Scrambled eggs and potatoes
Lunch: Leftovers or salads
Dinner: Honey mustard pork chops, honey mustard carrots, side of broccoli or cauliflower
SATURDAY, 7/2/16
*Run or bike
Breakfast: Whole wheat pancakes topped with strawberries
Lunch: Leftovers or salads
Dinner: Lemon parsley parmesan chicken and potatoes & green beans
Snacks for the week:
Cashews
Hardboiled eggs
Yogurt
Bananas
Blueberries
Peaches
Cherries (hoping to go cherry picking this week!)
Larabars
Baby carrots
Kale chips
SHARE WITH ME: WHAT'S ON YOUR MEAL PLAN FOR THIS WEEK?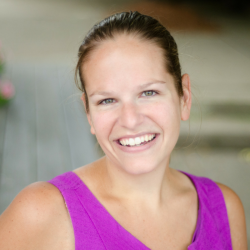 Latest posts by Chrissy Carroll
(see all)