Oh goodness, is it already Sunday afternoon? This weekend flew by. Yesterday and today I've spent a lot of time doing some recipe testing, which is great because a) it means I can get ahead a little bit on planning some recipe blog posts, and b) it means my fridge is now packed with some yummy food for snacks.
On a more somber note this weekend, I cannot it has been 15 years since September 11th. I remember that day so clearly – I was still in high school, and was in one of my classes when we found out something happened. Looking back, as we proceeded through each period, it was like an experiment in how people cope with tragedy. Some of our teachers didn't want us to think about it, so they went on with teaching a normal lesson. Others thought we should be able to see what was happening, and put the news on in class. I remember being so confused as a teen as to just what was going on. And growing up only an hour or so north of NYC, it was crazy to me that something could hit so close to home. We knew of families whose loved ones were in the twin towers and wondered whether they were coming home safely. It's still so emotional to think about. Today has given me a bit of time to reflect on those events and it certainly has made me cling to my husband and son a bit stronger today.
How did I do with my meal plan last week?
We ended up getting Subway one night last week when I got caught up with work and hadn't yet had time to prepare anything. Other than that, we stuck with our plan. We didn't actually make one or two of the meals on it since we had a lot of leftovers from some of the other dinners, but that's fine because I was able to freeze some food so we can use it another time.
Here's my meal plan for this week:
I've outlined my meals and workouts below. I spent about $75 at the grocery store yesterday, but a lot of that was specific to recipe testing. I'm trying to work off of eating the foods I made this weekend and things we already have on hand before I go shopping again this week, and hopefully I'll only spend about $30 or so to stock up on some produce.
On the workout front, I'll probably switch from the trainer/spin classes over to trying to do a bit more strength training. I've been feeling a little lax on that end so I'll probably switch it up a bit for a while (especially since I don't have any bike events coming up). Running is always the biggest stress reliever for me, so that will stay on of course.
WEEKLY MEAL PLAN – 9/11 – 9/17
SUNDAY, 9/11/16
*Workout: None
Breakfast: Eggs with ham and cheese
Lunch: Chicken and veggies
Dinner: Sweet potato nachos with chicken, beans, corn & guac (one of my recipe development projects – this will be up on the blog within the next few weeks!); Brownies for dessert 🙂
MONDAY, 9/12/16
*Workout: Run – 4 miles
Breakfast: Cereal and milk with fruit
Lunch: Salad
Dinner: Slow cooker basil chicken in coconut curry sauce; served over rice with cauliflower
TUESDAY, 9/13/16
*Workout: Gym – walking and weights
Breakfast: Eggs on toast with sliced tomatoes and scallions
Lunch: Leftovers or salads
Dinner: Cheesy zucchini bake with ground beef (I plan to make something similar to this recipe, but make it a little lighter with less cheese and subbing out milk for the cream)
WEDNESDAY, 9/14/16
*Workout: Rest day
Breakfast: Yogurt with fruit and homemade granola
Lunch: Leftovers or salads
Dinner: Buffalo chickpea salad
THURSDAY, 9/15/16
*Workout: Run – 3-4 miles
Breakfast: Cereal & milk with fruit
Lunch: Leftovers or salads
Dinner: Honey mustard pork chops, roasted potatoes, veggies
FRIDAY, 9/16/16
*Workout: Gym day – walking + weights
Breakfast: Eggs with cheese and toast
Lunch: Leftovers or salads
Dinner: Quesadillas with corn, tomatillo & chorizo
SATURDAY, 9/17/16
*Workout: Run or Gym Class
Breakfast: Whole wheat pancakes or french toast with fresh picked berries (we try to go picking on Fridays so we have some for the weekend!)
Lunch: Leftovers or salads
Dinner: Salmon salad with greens, apple, sweet potato and cranberry cheese
Snacks for the week:
Nuts
Hardboiled eggs
Yogurt
Bananas
Oranges
Radishes
Carrots
Hummus
Smoothies
Peanut butter apple energy balls
Pumpkin greek yogurt bark
SHARE WITH ME: WHAT'S ON YOUR MEAL PLAN FOR THIS WEEK?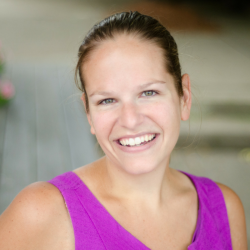 Latest posts by Chrissy Carroll
(see all)