The other day I was grocery shopping and I thought it'd be fun – and hopefully helpful – to share what was in my cart and how I make those decisions.  Here was this dietitian's cart from last Sunday's shopping trip…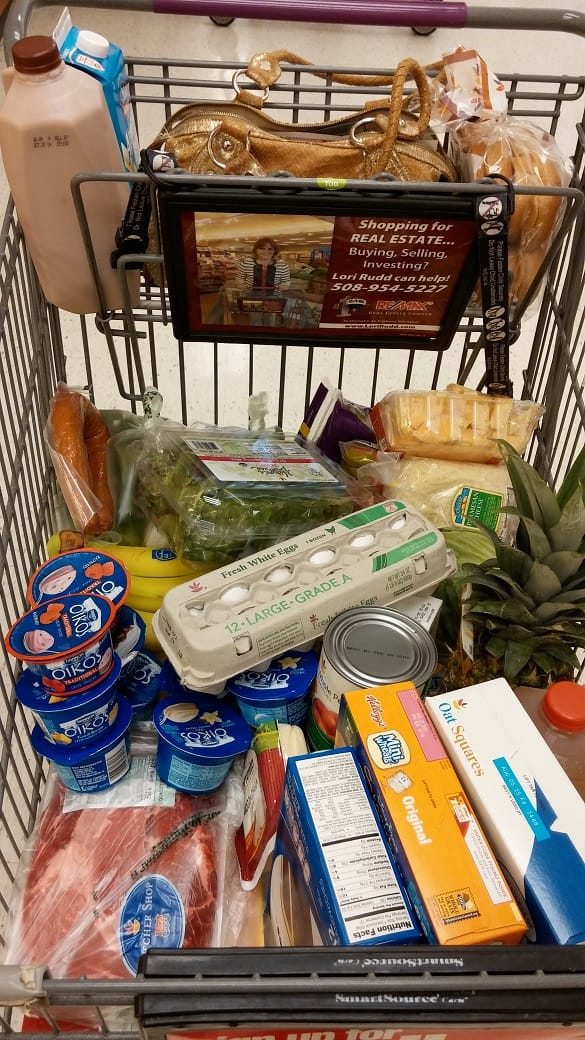 So how do I decide what to buy?  First off, I meal plan every week.  It takes some time on the weekends, but saves me so much time during the week since I already know what I'm cooking for dinner that night.  It's also a huge help on the grocery budget (we aim for $80-$90/week total on food – sometimes more, sometimes less) – when you know what you're having to eat and have all the ingredients to prepare it, there's no last minute struggle to decide on dinner or get takeout.  I also take the time when meal planning to look at the grocery circulars and see what's on sale so that I can plan out some meals around sale items.
For this week, here was our list of dinners:
Crockpot thai peanut chicken with broccoli
Whole wheat penne pasta with sage, butternut squash, and cabbage
Margherita flatbread pizzas on whole wheat flatbread with homemade sauce
Quinoa and roasted red pepper chili
Mustard & brown sugar slow cooker BBQ beef on whole wheat buns with salad
One pot chicken and rice with carrots, onion, and green beans
Louisiana style shrimp with brown rice and salad
Pretty much everything in that grocery cart was for these meals, plus we always pick up a few things for breakfast options and sometimes last minute lunch options (though typically, leftovers or salads  are our standard lunches).
As for produce in the cart, you'll see some organic and some conventional.  I try to buy organic when I can for the dirty dozen items, and stick with conventional for the clean fifteen – or if an organic option was just too expensive for that trip.  I'm definitely of the opinion that eating enough fruits and vegetables is the primary goal here, regardless of whether they are organic or conventional – but if you can buy organic at a similar price, it's a great way to cut down on pesticide exposure.
Lastly, you'll also notice that not everything in that cart is 100% healthy.   I'm a firm believer in the 80/20 rule – 80% of our choices should be healthy, and 20% leaves some flexibility for portion controlled treats.  For example, frosted mini wheats are a little higher in sugar than I normally look for in a cereal, but hey, I was craving some of them so I decided to pick up a box.  Along the same lines, there's a box of ice cream sandwiches in that cart (my husband's favorite) and some flavored yogurts mixed in with the plain ones (I usually try to stick with plain and mix my own fruit in, but sometimes the flavored ones can be convenient on the go).
Share with me:  What are your standard purchases at the grocery store?  Do you meal plan?  How do you decide on your items?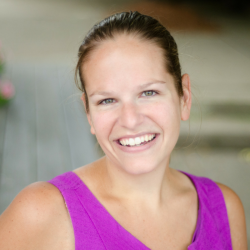 Chrissy Carroll is a Registered Dietitian and USAT Level I Triathlon Coach. She specializes in sharing nutrition and fitness tips, as well as recipes, for runners, triathletes, and active women.Chrissy holds a Bachelor's Degree in Nutrition, a Masters Degree in Public Health, and is also an ACSM Certified Personal Trainer.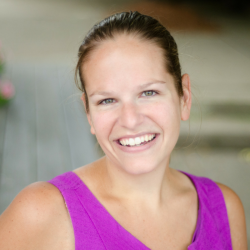 Latest posts by Chrissy Carroll (see all)