Hey, Snacking in Sneakers! My name is Tayla, I'm going into my third year as a dietetics student at the University of Rhode Island and I'm so excited to be interning with Chrissy for the summer!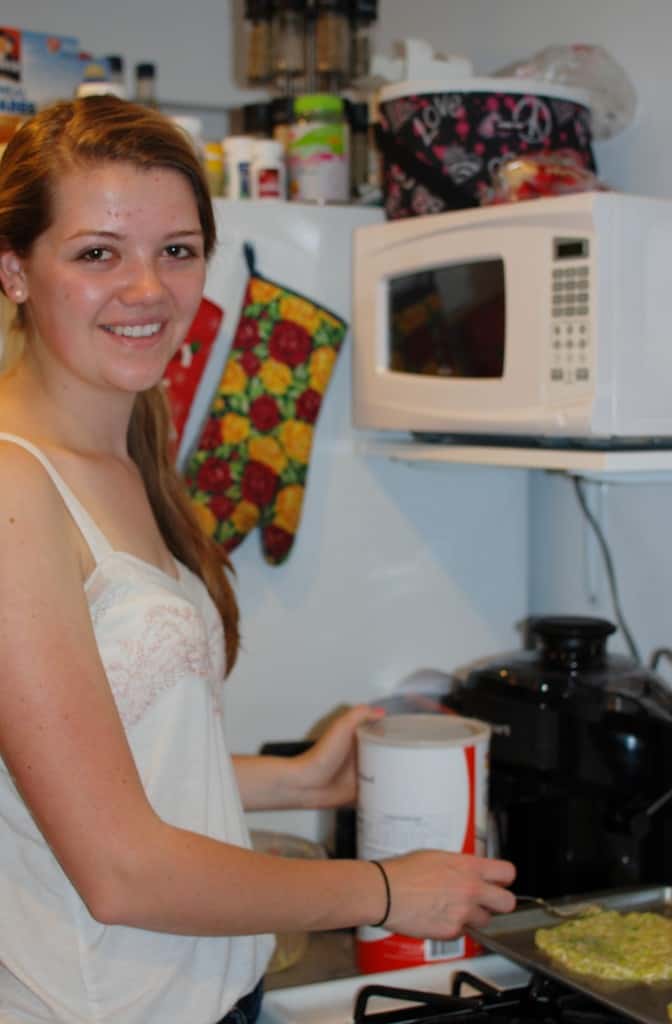 One of the fun things we get to do is try out some healthy new recipes and see how they turn out. Last week, we made a veggie pizza with a zucchini crust and I'm pleased to say, it was a really yummy, nutritious alternative for those (let's be honest, rather frequent) times when I'm craving pizza. Veggies cleverly disguised as a cheesy, crispy pizza crust? Yes please! I also love this recipe because all the veggies are in season.
The crust had an awesome taste but it did end up being a teensy bit soggy in the middle. I think spreading it even thinner on the pan would have helped with that. Otherwise, it was great!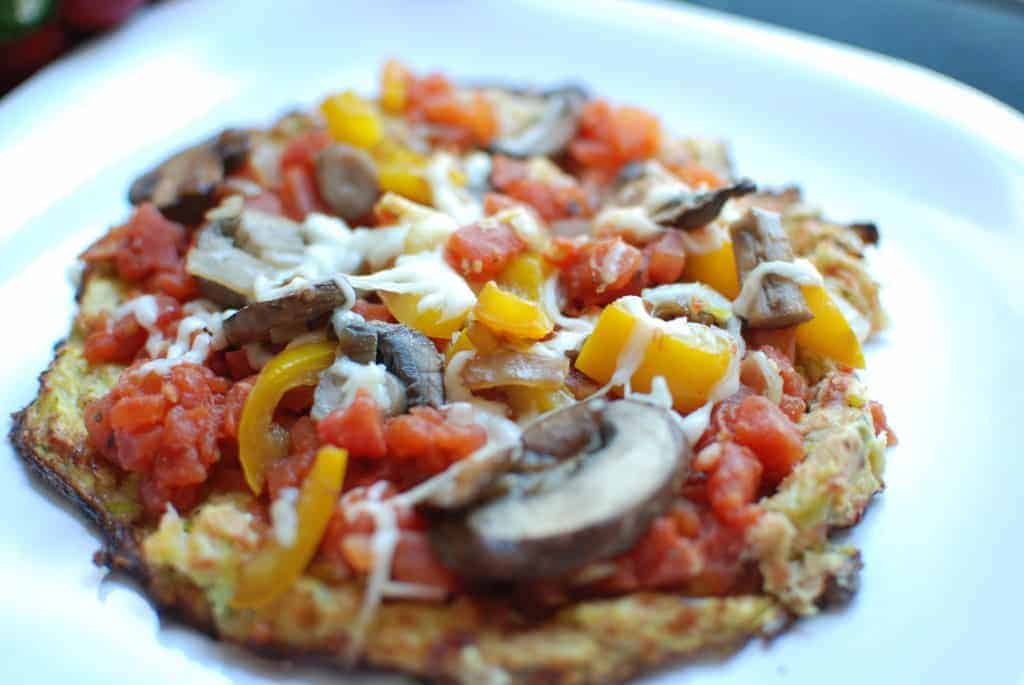 Looking for another delicious pizza recipe? Be sure to try this tortilla pizza, made with bacon, apples, and arugula!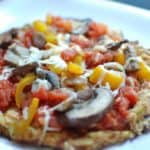 Zucchini Pizza Crust
A delicious and healthy zucchini pizza crust makes pizza night more nutritious!
Ingredients
Crust:
2

Medium Zucchini

grated

1/4

cup

Mozzarella cheese

2%, shredded

1/4

cup

Parmesan cheese

shredded

1/4

cup

Oats

pulsed in a food processor into a coarse flour

1

teaspoon

Oregano

1

Large Egg
Sauce:
1

teaspoon

Olive oil

2

cloves

Garlic

minced

1/2

Medium Onion

diced

21

oz

Canned petite diced tomatoes

(1 1/2 14 ounce cans)

1

teaspoon

Oregano

1/2

teaspoon

Garlic powder

1/2

teaspoon

Black pepper
Toppings:
1

tablespoon

Olive oil

1

Medium Bell pepper

chopped

1/2

Medium Onion

chopped

8

oz

Baby bella mushrooms

Sliced

1/4

cup

Mozzarella cheese

2%, shredded
Instructions
Preheat oven to 450 degrees.

Heat 1 tbsp olive oil in a large saute pan and add pepper, onion, and mushrooms to the pan. Saute for about 6-8 minutes, or until vegetables are tender. (When done, set aside in bowl and leave pan out to make sauce).

Meanwhile, grate zucchini into a microwave safe bowl. Microwave for 4 minutes. Let cool and then drain zucchini of as much water as possible.

Add remaining crust ingredients to bowl and mix until blended.

Spray pan generously with nonstick cooking spray. Divide crust mixture in two and use to make two mini pizza crusts. Flatten out using your fingers.

Place crust in oven and cook for 15-20 minutes, or until crisp.

Meanwhile, heat 1 tsp olive oil in the same pan you used for the vegetables. Add onion and garlic and saute until fragrant, 1-2 minutes. Add diced tomatoes, oregano, garlic powder, and black pepper. Simmer for about 15 minutes.

When crusts are crisp, top with sauce, veggies, and cheese (split 1/4 cup between both pizzas). Pop back in the oven for a few minutes until cheese is melted, then enjoy!
Recipe Notes
Nutrition Analysis (approximate per serving) – Crust Only:
193 calories, 9 g total fat, 4 g sat fat, 299 mg sodium, 14 g carbohydrate, 3 g fiber, 14 g protein Vitamin A: 14%; Vitamin C: 56%; Calcium: 28%; Iron: 11%
Nutrition Analysis (approximate per serving) – Entire Pizza:
467 calories, 18 g total fat, 6 g sat fat, 745 mg sodium, 51 g carbohydrate, 13 g fiber, 25 g protein Vitamin A: 63%; Vitamin C: 220%; Calcium: 49%; Iron: 41%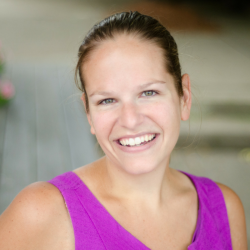 Chrissy Carroll is a Registered Dietitian and USAT Level I Triathlon Coach. She specializes in sharing nutrition and fitness tips, as well as recipes, for runners, triathletes, and active women.Chrissy holds a Bachelor's Degree in Nutrition, a Masters Degree in Public Health, and is also an ACSM Certified Personal Trainer.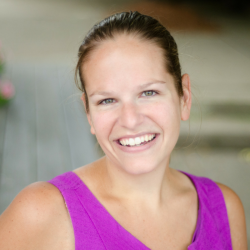 Latest posts by Chrissy Carroll (see all)