Need a treadmill workout that will get your heart pumping – but short on time? Try this 15-minute treadmill workout. This short workout uses HIIT intervals to improve your cardiovascular health and challenge your body when you've only got a few minutes to spare. Who's ready?
*Disclaimer: This post was written and reviewed by Chrissy Carroll, RRCA Running Coach and USAT Level I Short Course Triathlon Coach. It is for informational purposes only and should not be construed as individual training advice. Consult a doctor prior to beginning any new exercise program.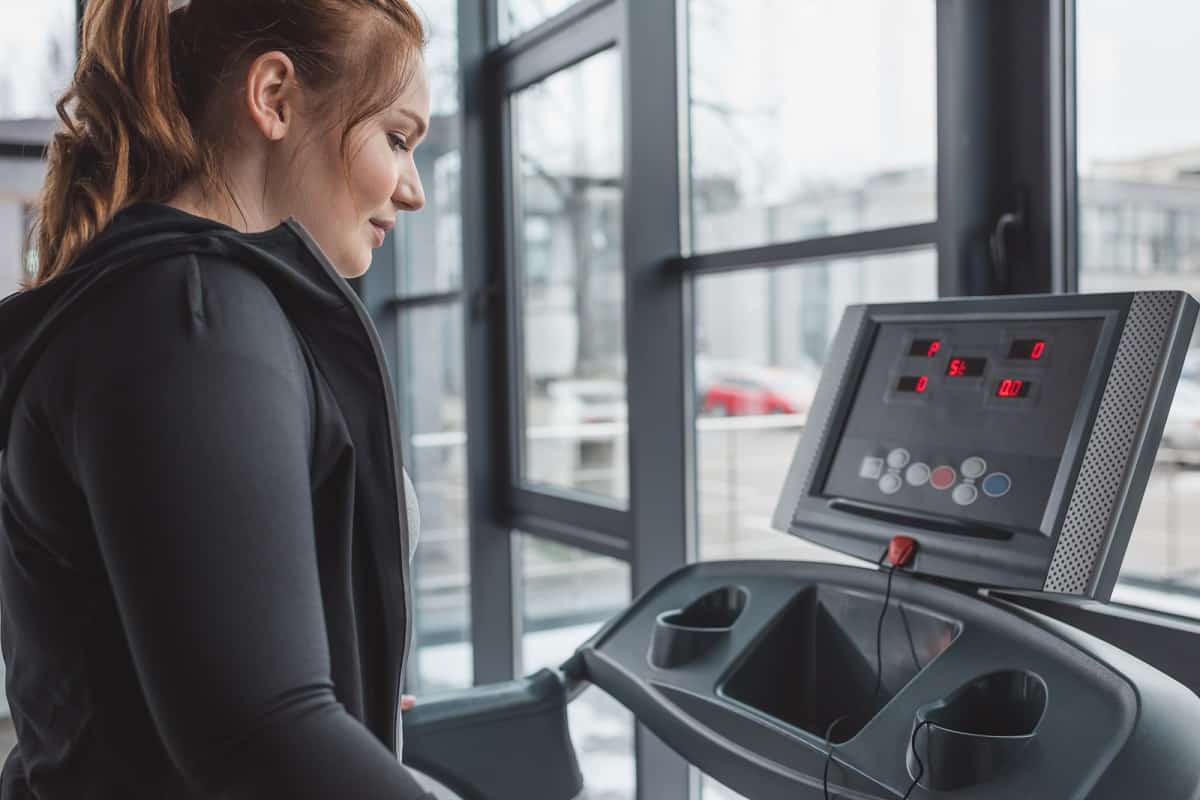 You can jump down to the 15 minute workout at the bottom of the post, but please read the helpful information and guidelines first!
What is HIIT?
Not familiar with the acronym? Let's break it down – HIIT stands for high intensity interval training, and is a form of workout that involves short bursts of very high intensity exercise, followed by periods of recovery with low intensity exercise or sometimes rest.
HIIT workouts are usually shorter in total duration than traditional steady-state workouts, but they are significantly more intense.
Note though that HIIT doesn't necessarily mean "better" than a steady state workout. Steady state runs on a treadmill offer numerous benefits as well, and each type of workout has it's pros and cons. (You can learn more about the differences between sprinting and jogging in this post.)
Why is this workout good for you?
There are many benefits to interval workouts, which is why they've become so popular in recent years. Some of the benefits of HIIT include:
Improved cardiovascular health
Stress relief and improved mental health (like most forms of exercise!)
Burns considerable calories in a short time frame (helping with weight management for those who are concerned with that)
Potential benefits for muscular health
Reduced blood pressure
Better blood sugar control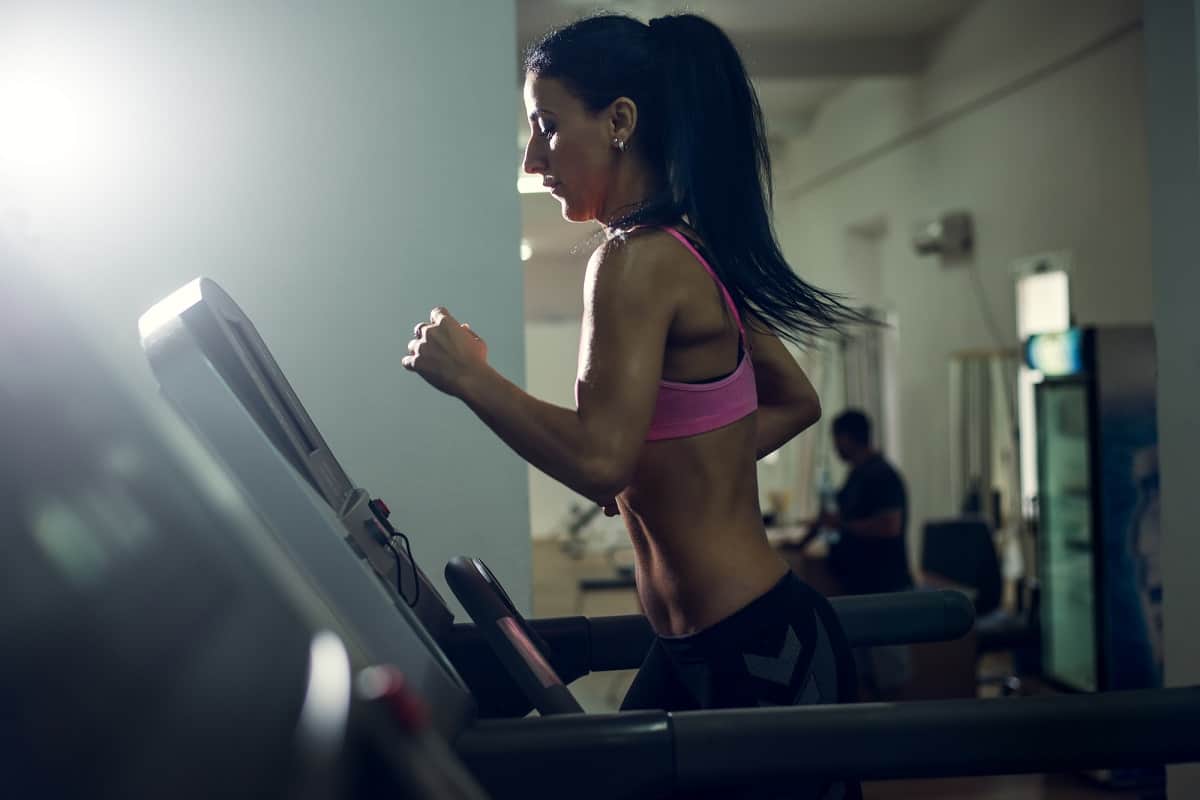 Important guidelines for HIIT workouts
While HIIT workouts can be a useful part of an exercise program, many people jump in without understanding the intensity or contraindications of these workouts. Here are some key guidelines:
Do not do HIIT treadmill workouts if you have any injuries that impact your ability to run. If you are coming back from an injury, start with a walk/jog program instead.
If you are new to exercise or have pre-existing medical conditions, check with your doctor about the safety of HIIT workouts. Typically, you'll want to start with steady state running and grow to become comfortable with that before adding in speed work.
Avoid doing too many HIIT workouts each week, as they stress the body more than comfortably paced runs. Typically, I don't recommend doing more than 2-3 HIIT workouts per week at max for most people.
HIIT workouts need to be structured properly in order to be effective and safe. A good HIIT workout will include a warm up, followed by intervals of high intensity work (close to max effort) separated by low intensity periods of active recovery or rest.
15-Minute HIIT Treadmill Workout
Alright, here's your workout! Get out there and have fun during your sweat sesh. You can right click to save the image, or you can feel free to print it out. For accessibility purposes, this workout is also written out in plain text below the image.
There are speed and incline suggestions shown below, but you should adjust these based on your own fitness level and comfort.
You'll notice the workout has an RPE listed – that stands for rate of perceived exertion, and uses a 1 to 10 scale. In other words, if 1 is sitting, and 10 is running away from a bear that's chasing you – how do you feel? Follow those guidelines to best use this workout according to your fitness level.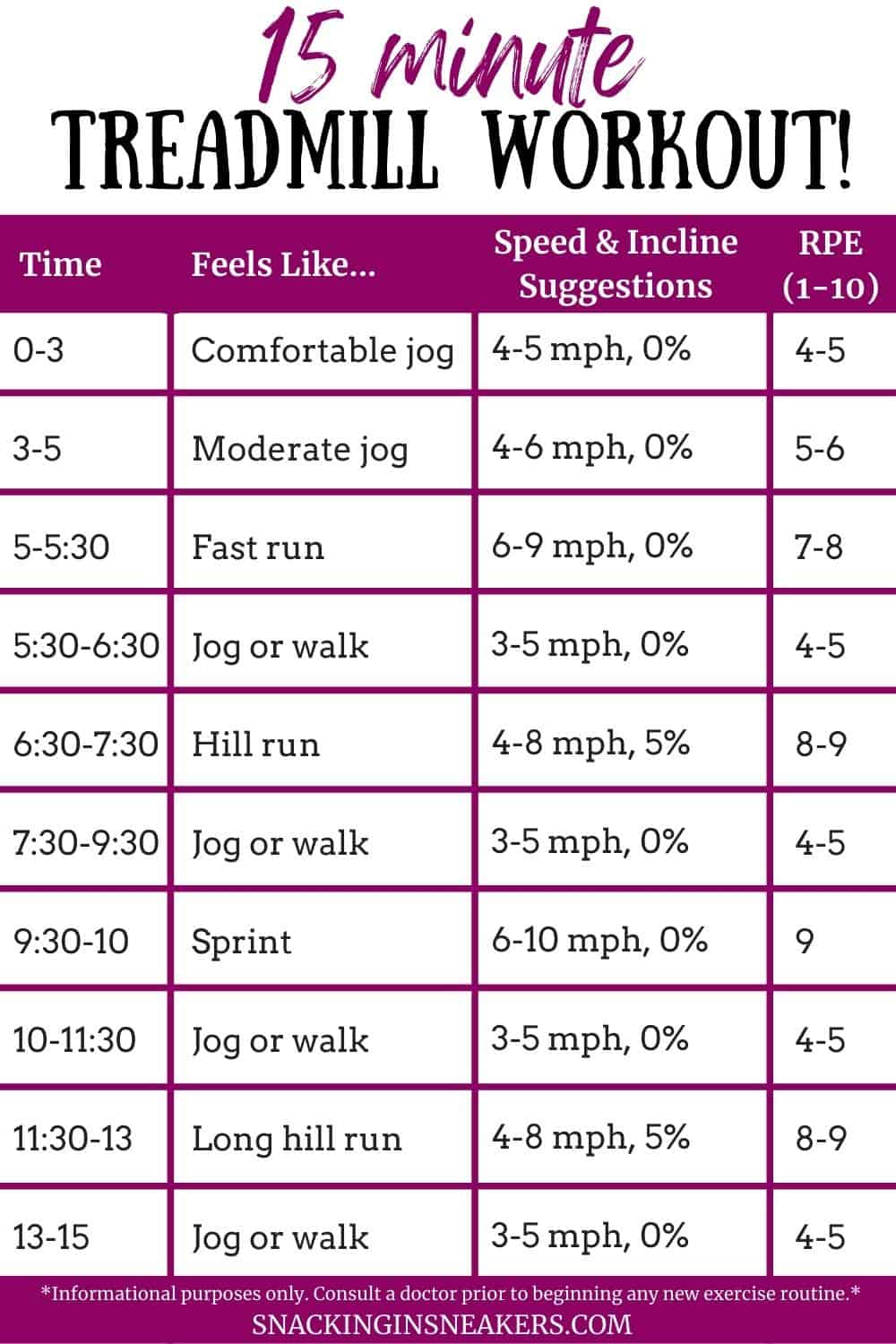 15 Minute Treadmill Workout:
0:00 to 3:00 – Comfortable jog (4 to 5 mph), RPE 4-5
3:00 to 5:00 – Moderate paced jog (4 to 6 mph), RPE 5-6
5:00 to 5:30 – Fast run (6 to 9 mph), RPE 7-8
5:30 to 6:30 – Comfortable jog or walk (3 to 5 mph), RPE 4-5
6:30 to 7:30 – Hill run (4 to 8 mph, 5% incline), RPE 8-9
7:30 to 9:30 – Comfortable jog (4 to 5 mph), RPE 4-5
9:30 to 10:00 – Sprint (6 mph to 10 mph), RPE 9
10:00 to 11:30 – Comfortable jog or walk (3 to 5 mph), RPE 4-5
11:30 to 13:00 – Longer hill run (4 to 8 mph, 5% incline), RPE 8-9
13:00 to 15:00 – Comfortable jog or walk (3 to 5 mph), RPE 4-5
I hope you enjoy the workout! You can find ten more HIIT treadmill workouts here if you need additional workout inspiration.
Share: If you tried this workout, what did you think? Do you generally prefer interval workouts or steady state workouts?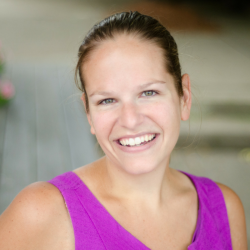 Latest posts by Chrissy Carroll
(see all)