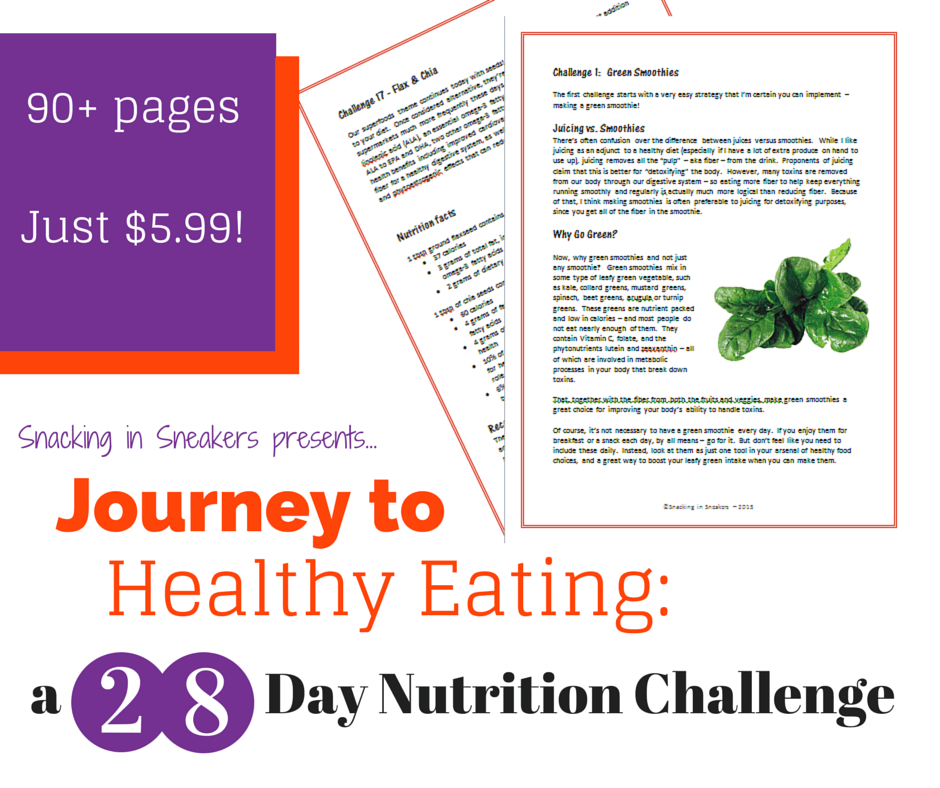 If you've landed here, odds are you are thinking about making some changes to your eating habits. And that is amazing! I'm already proud of you for taking the first step to research programs and products that can help you.
Here's the thing – most of the time when people decide to make changes, they set these super big overarching goals that are really tough to achieve. You know the ones I'm talking about – usually we say things like "I want to eat healthier" or "I want to lose weight."
But often, when you set out with such a large and ambitious goal, it's a struggle sorting through all steps that it takes to achieve it. What happens? Before you know it, you feel overwhelmed with everything you have to change, and you fall off track.
Sound familiar?
So this time, why don't you try something a little different.
It's called Journey to Healthy Eating – and it's a 28 Day Nutrition Challenge E-Book.
In this I break down "I want to eat healthier" into small, specific, attainable action steps. You'll revamp your way of thinking when it comes to food and nutrition, and walk away feeling fit and fabulous.
Wondering if it could be right for you? Take a step back and honestly ask yourself – do you want to…
Start a journey to wellness – in a one-step-at-a-time, non-intimidating kind of way?
Reduce toxins in your body in a science-based way through healthier eating?
Learn how to stock a nutrition-packed pantry and fridge (with foods that still taste great!)?
Feel energized and rejuvenated by your food choices?
Get in touch with issues that affect your eating habits, like social settings and emotional eating?
If you answered no, or if these questions don't really speak to you, then this is probably not the right fit for you.
But if you answered yes to any of these, this healthy eating e-book will help you create a healthier relationship with food and set you up for success.
This 90+ page pdf contains 28 days of easy-to-implement nutrition challenges organized by four weekly themes.
Each week's challenges relate to that theme:
Week 1: Detoxification (not the salesy kind, but the science kind!)
Week 2: Planning, Preparation, & Healthy Meals
Week 3: "Superfoods"
Week 4: Listening to Your Body & Creating Success
Just take a look at what one of our customers had to say…
For the past few "New Year's", I had every intention of starting over and making healthy changes. I'd write down my resolutions but after two weeks, life got in the way. My old habits crept back in and I had no one guiding me or supporting me. Plus, I felt stupid. I graduated from a good college and even had a graduate degree. I was ashamed that I couldn't figure out my weight problem. It was embarrassing to the go the grocery store and have no freaking idea what would help me. Sure, I bought vegetables, but those little tricks everyone else seemed to know eluded me.
But from the first challenge, I felt inspired. We had to make a green smoothie. That was it. I had seen coworkers make them in the past and now, I too had a recipe to make one (thanks Chrissy!). Along with the recipe, Chrissy explained why they were good for you and how often to have them.
This is how it was for 28 days. Questions were being answered. I was learning something. And I was learning about my own habits and how I could change them.
I never thought going to the grocery store would feel empowering, but I can't describe how happy I am knowing that I made good choices. Good, informed choices. I don't feel like I'm missing out either.
Knowledge is power and that's what this challenge did. It taught you about food. It taught you about how to make good choices. And most importantly, it taught you about yourself." – Steph S.
More Reviews!
Check out this in-depth review of the e-book (including notes on each week!) on the fairyburger blog written by Farrah, a medical student and self-proclaimed food & fitness junkie.
Ready to challenge yourself to 28 days of healthier eating – that will hopefully become a lifetime of good habits? Purchase Journey to Healthy Eating today!
Journey to Healthy Eating – A 28 Day Nutrition Challenge. Just $5.99!
Disclaimer:
The nutrition information provided in this challenge does not constitute medical advice. It is for informational purposes only, and do not constitute a dietitian-patient or physician-patient relationship. The information is not intended to be a substitute for professional medical advice, diagnosis, or treatment. Always seek the advice of your physician, dietitian, or other qualified health provider with any questions you may have regarding any medical conditions or nutritional concerns.