Every so often, I head over to PubMed to browse the latest research related to running and triathlon. I like to see if there's anything new related to either sports nutrition or training. While browsing today, a 2016 study caught my eye because I've never seen it previously researched – wetsuit removal strategy for triathlon transition.
The study's goal was to find out: does the way you remove your wetsuit affect your run into the transition area?
Essentially, the authors set out to see how different methods of wetsuit removal at the end of the swimming portion affected the athlete's running ability to the transition area. They compared four different scenarios:
1. Running normally (without wearing or carrying a wetsuit – the control scenario).
2. Wearing the wetsuit fully up
3. Wearing the wetsuit halfway down
4. Carrying the wetsuit
They recruited 10 male and 10 female subjects to run in all of these scenarios for 5 minutes each. During the runs, they measured heart rate, rate of perceived exertion (RPE), and VO2 (i.e. oxygen uptake – essentially a measure of running economy).
Here's what they found based on the different wetsuit removal strategies:
Running without a wetsuit at all was the most efficient – which is fairly obvious, but it's good to have that control measure. In this case, the athletes had lower heart rates, VO2, and RPE compared to any other scenario.
Here's where it gets interesting though. Athletes had a lower rate of oxygen uptake when carrying the wetsuit or running with the wetsuit fully on, compared to running with it halfway down.
And athletes had a lower RPE when carrying the wetsuit versus wearing the wetsuit halfway down. It tended to be lower when wearing it full compared to wearing it halfway down, though that measure was not statistically significant.
This was all fascinating to me, since most triathletes use the halfway down approach.
What does all that mean?
Essentially, your running economy suffers a bit and you feel like running is harder when you're wearing the wetsuit halfway down on your run to transition – compared to either carrying or fully wearing your wetsuit.
But keep in mind, there are a few limitations to this research. The between group differences were pretty small, so it's likely not going to matter for beginner athletes. But for an elite athlete, it may be something to consider.
Also, the study didn't examine any body heat measures. So while running with the suit fully on may lower VO2, it may negatively retain body heat which would be detrimental in warm weather.
So what's the best way to take off your wetsuit in triathlon?
It's going to be an individual decision for you based on a few factors:
How long is the distance between the swim exit and transition? –> The longer the distance, the greater possible multiplication of the detrimental effect on running by wearing the wetsuit halfway down. In addition, the greater the distance, the more the suit may "stick" to your body by the time you get to T1 (as the water drains out during the run).
What is the weather like? –> Warmer weather means a greater risk to wearing the wetsuit fully on during that run, since it can retain body heat.
How competitive are you? –> The small effects between the different strategies are not super important for those just out there to have fun.
What feels most comfortable to you? –> This is probably the best question to make your final decision, because if you feel comfortable with your strategy, you're more likely to pull it off well.
My personal wetsuit removal strategy? I carry it!
After a tip passed along from a fellow athlete a few years ago, I started taking my wetsuit off right before the swim exit. It's most important for me when there's a long distance between the swim finish and the transition area. I find the water loss during the run to T1 morphs my wetsuit into a clingy, straight-jacket-esque annoyance, making it super difficult to remove.
Instead, once I get to calf deep water, I step to the side and remove it. This allows it to slide of much easier, and I can get out of the suit quickly. Then I carry the suit with me while I run to the transition area.
Yes, I get weird stares and I'm sure people are probably looking at me saying – "man, check out that newb taking off her suit in the water." 😉
But I've done that for probably my last 6 or 7 races and it works wonderfully for me. And now this research study suggests that strategy may be beneficial outside of the fact that I don't like feeling like I have neoprene melded to my body!
Share with me: How do you take off your wetsuit at a triathlon? Have you ever tried more than one different wetsuit removal strategy?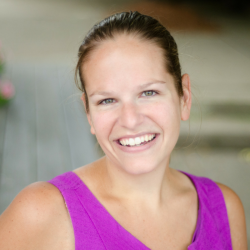 Chrissy Carroll is a Registered Dietitian and USAT Level I Triathlon Coach. She specializes in sharing nutrition and fitness tips, as well as recipes, for runners, triathletes, and active women.Chrissy holds a Bachelor's Degree in Nutrition, a Masters Degree in Public Health, and is also an ACSM Certified Personal Trainer.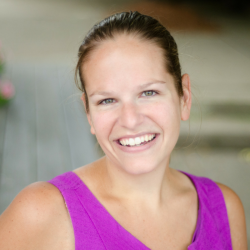 Latest posts by Chrissy Carroll (see all)