It's always interesting reading forums and articles online about exercising while pregnant.  It continues to amaze me just how many misconceptions there are about it.  People will comment that women shouldn't exercise because they may hurt their baby, and even other pregnant women will chime in with "maybe you should just walk instead of ____ (insert other activity here)."
Listen, I like to walk.  Nothing wrong with that.  But if I had to go through an entire healthy (key word) pregnancy limited to light strolls each day, I'd go crazy.  And scientifically, there's no reason to.  For most women, if they were active before pregnancy, they can continue with their workout routine during pregnancy – perhaps with some minor modifications.
Today, I thought I'd focus on my Zumba routine since I just went to a class yesterday.  Side note – photo above is right before I left to head out to class – isn't that "Believe in your #selfie" workout t-shirt adorable?!
Anyway – I was actually teaching kids Zumba classes when I found out I was pregnant.  At the beginning of my pregnancy, I didn't have to change anything about my routine for teaching or taking classes.  Once my scheduled classes ended, I haven't had a teaching gig since, but have continued to take adult classes for fun myself.  I'm probably going to actually add some more frequent Zumba classes into my schedule now that I've hit 28 weeks, since running is starting to become more and more uncomfortable.
In terms of modifications for Zumba while pregnant – the past month has really been the point where I've needed to start changing a few things as my belly gets bigger.
Here are the things that I've modified:
Slower directional changes.
If you've taken Zumba, you know some of the key moves involve quick directional changes.  Because of the hormones released in pregnancy, ligaments are more relaxed and prone to injury.  If I feel like the instructor is teaching a move that is too fast for me, I just slow it down to half time or reduce the distance covered in a traveling step.
Less jumping.
Again, with those hormones being released – plus a different center of gravity with a growing belly – I've cut out the jumping and instead modify the movements.  So if they are jumping up and down, I might jog in place quickly or march.
Extra water.
I always brought a water bottle to class before, but I wouldn't take a ton of breaks to grab a sip.  Now I just pay more attention to it and try to grab a few sips of water every other song.
And here's what I have not changed:
A rising heart rate, as long as I'm at a conversational level.
I still can't believe how many times I've read that pregnant women need to keep their heart rate under 140.  This was removed from ACOG recommendations and research does not support it (see our post here for more about this).  Of course, some women may have to follow such a limitation based on their medical history.  But it's not a blanket recommendation anymore, and most women (with their doctor's approval) probably don't have to keep their heart rate at a minimal level.  Instead, I just use the conversation test – if I can still talk, I'm good.
Shaking It.
Yep, I still shimmy and shake it with the best of them (maybe just a bit less quickly).  Ain't no shame in my game.  But it's kind of funny the reactions you get from some people.  There are the ladies who will give you high fives in class and tell you "go girl", and there are the other ladies who seem to be looking at you like you're insane.
Disclaimer: This post does not constitute medical advice, and is based on my opinion and my research. Always check with your doctor about your personal exercise recommendations.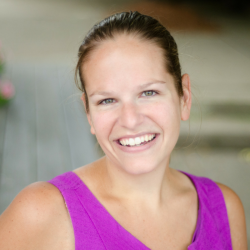 Chrissy Carroll is a Registered Dietitian and USAT Level I Triathlon Coach. She specializes in sharing nutrition and fitness tips, as well as recipes, for runners, triathletes, and active women.Chrissy holds a Bachelor's Degree in Nutrition, a Masters Degree in Public Health, and is also an ACSM Certified Personal Trainer.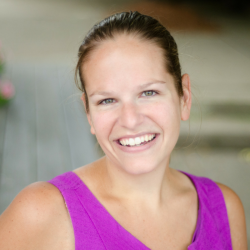 Latest posts by Chrissy Carroll (see all)