When I first started training for triathlons, I didn't use any kind of books or plans or anything to help me train. I just got out there and made sure to run/bike/swim somewhat regularly, and figured that would get me to the finish. And it totally did. For most beginners (like myself at the time), I truly think that just getting out there and being consistent is the biggest factor in successfully crossing the finish line.
As I've become more passionate about triathlon and trained for more races, though, I've definitely seen the value in reading more about the sport and looking at different training methodologies. Triathlon training books are helpful in that they generally give you both new ideas for individual workshops and new ideas about how to structure your yearly training plan.
Of course, as a USAT triathlon coach, I'd love it if everyone would work individually with a coach. It's so valuable for individualized training (based on YOUR goals, history, injuries, etc – not just the average person) as well as accountability. But that said, I know that not everyone wants to invest the funds in a coach. And for those of you who feel that way, I've rounded up the best triathlon training books out there to help guide you this year.
[Tweet "These 5 triathlon books are sure to help you develop an awesome training plan!"]
5 Best Triathlon Training Books
*Disclosure – This contains Amazon affiliate links. We are a participant in the Amazon Services LLC Associates Program, an affiliate advertising program designed to provide a means for us to earn fees by linking to Amazon.com and affiliated sites.
The author has a motivational voice that helps get you pumped up, and the training information is straightforward for beginners. It's easy to follow and not overwhelming. It's a great book for those starting out – but I will say that I don't agree with the title implying it can take a complete beginner to the finish line of a sprint tri in 6 weeks. If you haven't worked out in a while, you'll need some base building time to develop your aerobic capacity and let your body get used to the demands of exercise. Once you get there though, this is a great book for those looking to delve into a tri.
This book is, quite literally, the bible of triathlon. It is a wealth of information about triathlon training and the science behind it. It has been out there for a while, but the updated 4th edition (released in late 2016) is easier to read and more organized than previous editions (in my opinion). If you're a nervous beginner training for a sprint tri, a lot of the book may be unnecessary info at this stage of the game. But if you're someone that has done a few tris and is looking to step up your game, this book has a ton of helpful information to guide you in developing an optimal training plan.
Yep, I've got two books from Joe Friel on this list! While there is a little overlap in some of the concepts between the triathlete's training bible and this book, I love that this book has complete training schedules and specific workouts for different distances. The book covers each phase of training as well, and is very easy to understand. It's honestly probably my personal favorite of all those on the list, though I know others may have a different opinion.
I'll warn you ahead of time that the format of this book is extremely irritating, haha. Every plan is written in a code, so for each workout you have to go back to the 'workout key' to find out what the workout actually is, and some of the swim workouts will have about 10 codes per workout. If you're going to buy it, be sure to buy the paperback and don't buy the kindle since the formatting is known to be off in the e-book. All that said, this is a kick-ass book with over 40 plans from sprint distance to Ironman, beginner to advanced. It is a great way to find a pre-written training plan that could fit your needs, and has a lot of different types of workouts to keep things interesting.
If you're trying to improve your muscular force in running or improve your stroke power on the swim, strength training can be a really valuable addition to your training plan. Sometimes it can seem like a lot to add to already busy schedule, but some key placed strength workouts can really help improve your performance. This book walks you through the ins and outs of strength training for triathletes, focusing on showcasing specific exercises that you can do to improve your own areas of weakness.
There you have it! All of these books are excellent training resources. Keep in mind that nutrition is key to performance as well. If you're looking for a great book on sports nutrition, be sure to check out my own book "Eat to Peak: Sports Nutrition for Runners and Triathletes."
Share with me: Have you ever done a triathlon? What are your favorite triathlon training books?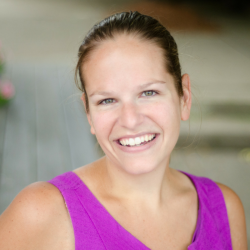 Latest posts by Chrissy Carroll
(see all)