Winter workouts can present some challenges if you like to continue with your outdoor routines – mainly the earlier darkness and the coooold temperatures (here in the Northeast, at least). But winter also brings new experiences that we don't get the rest of the year, like scenic snowy runs, snowshoeing along trails, cross country skiing, and ice skating! I've found that a few simple tips to dress right will help you to deal with the plunging temperatures and stay both comfortable and safe out there. Keep yourself moving outdoors this winter by using these 8 tips for exercising in the cold weather…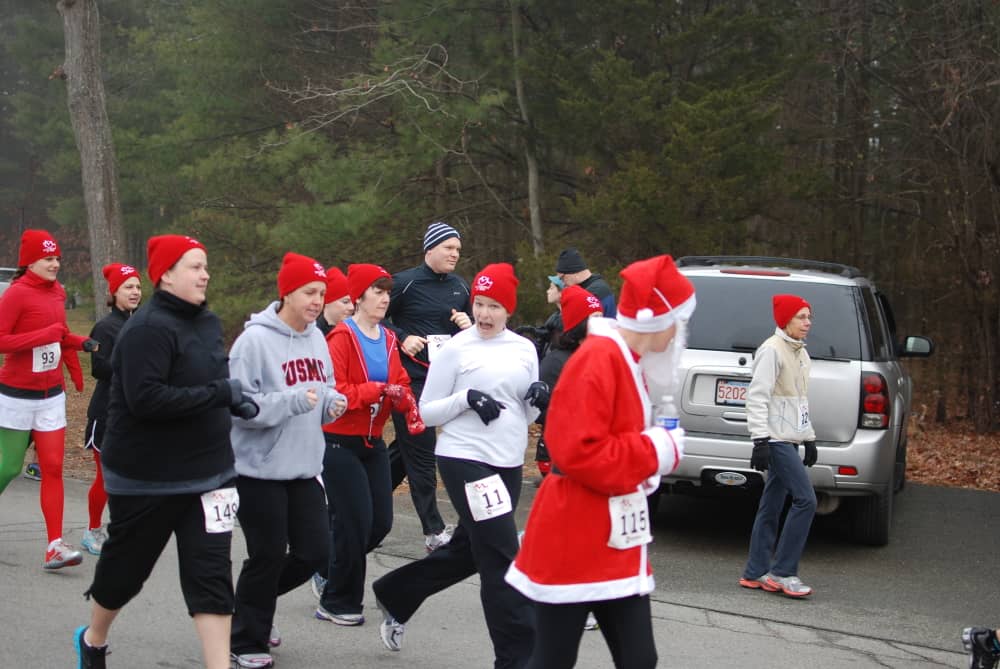 1) Stay bright. The days are shorter in the winter, meaning there are more times you may be exercising in the dark. If you are, be sure to wear reflective clothing. This will help cars to see you as they drive past. Also consider wearing a headlight so you can see any obstacles ahead of you and avoid injuries.
2) Skip cotton. Cotton soaks in sweat and doesn't dry quickly, which can cause you to get very chilly on a long run or walk in the winter! Go for synthetic sweat wicking materials as a base layer.
3) Speaking of layers – use them! When you exercise, you get hot and sweaty. But when that sweat starts to cool, you get cold again. It's best to wear a few layers that you can remove and put back on as needed for your body. Think a base technical shirt, followed by a warm insulating layer like fleece, and topped with a waterproof layer to protect you if it's raining/snowing. If you get warm, you can just take a layer off and tie it around your waist.
4) If you're hot before you've walked out the door, take off a layer. As mentioned above, exercise produces heat. If you're hot or starting to sweat already, you probably have too much clothing on. You should probably feel slightly chilly (but not freezing) when you start, and you'll warm up to a comfortable level as you continue.
5) Don't forget about your head and hands. A hat and gloves can go a long way in helping you to feel warmer and more comfortable in cold weather, and protects the areas vulnerable to cold sensitivity like your ears and fingers. The fancier running gloves/hats/headbands are nice, but no one says you have to get those – a simple pair of dollar gloves from Target or Walmart will work just fine. In addition to sometimes wearing a winter hat, I also wear old school headphones when I'm running in the winter, which end up keeping your ears a whole lot warmer than regular ones. (Who cares if it looks like I'm stepping out of 1987?)
6) If you struggle with asthma in colder weather, try tricks to breathe warmer/moister air. Pulling a thermal turtleneck over your mouth, wearing a balaclava, or wrapping a scarf around your mouth can help to warm air before it travels into your lungs. Because you exhale moisture, when you inhale again into the scarf or turtleneck it also helps to moisten the air. Dry, cold air can irritate asthma symptoms in some people, so using this method may help them feel more comfortable exercising outside.
7) Wear sunscreen. You can still get sun damage in the winter, particularly when there's snow on the ground since it reflects harmful rays from the sun. You're exposed to almost double the UV exposure on a winter day with fresh snow than when there's no snow on the ground!
8) Skip the extremes. Just like you'd avoid exercising outside on a 105 degree day, you also want to avoid outdoor exercise during winter weather extremes to reduce your risk of hypothermia. If it's very cold with a serious wind chill, head for the gym instead of the sidewalk. Along the same lines, even mild temperatures like a 40 degree day can be risky if combined with heavy rain over a long period of time, as being wet in cold temperatures for many hours can increase your risk of hypothermia.
Do you have any more tips for exercising in the cold weather? Share with me!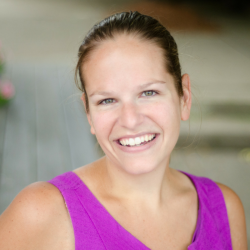 Chrissy Carroll is a Registered Dietitian and USAT Level I Triathlon Coach. She specializes in sharing nutrition and fitness tips, as well as recipes, for runners, triathletes, and active women.Chrissy holds a Bachelor's Degree in Nutrition, a Masters Degree in Public Health, and is also an ACSM Certified Personal Trainer.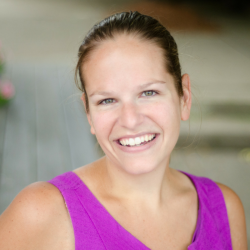 Latest posts by Chrissy Carroll (see all)