I am definitely a fan of cardio compared to strength training.  I feel like people always usually have a preference.  Some people would much rather get in the gym and pump some iron, while I would hands down choose a long run every time.
Of course, I know that when I do actually make a concerted effort to regularly strength train, it helps me in my athletic goals.  When I was consistently doing 5×5 strong lifts training with my hubby two winters ago, I coincidentally had my best 5K and triathlon season that following spring/summer.  One of my goals for this off season is to get back into a more consistent strength training routine.
You certainly don't have to go to the gym to strength train, though!  If you're not a fan of it, try circuit workouts like this arms, abs & cardio circuit I'm sharing with you today.  This is great for someone new or averse to strength training, since it's an equal mixture of arms & abs along with cardio.  You'll still get your heart-pumping cardio fix, but you'll also tone up too.
You'll want to start with a 5 minute warm up of your choice, which can be something simple like a quick walk or a comfortable jog.  Then go through each round of the circuit and complete 60 seconds of the two exercises (one strength, one cardio – 2 minutes total per round) and rest for 30-60 seconds (or more if needed) before moving to the next round.  You can choose to do the circuit once for a workout  of approximately 20-25 minutes, or you can choose to do it twice for a workout of approximately 35-45 minutes.
The only piece of equipment you'll need for this is a resistance band (or a set of dumbbells).  If you have a jump rope, use that for the jump roping section – otherwise just use an imaginary rope. 🙂
Here you go! (be sure to read below the image for links to "how-tos" for each exercise  and modification suggestions for each).
Arms, Abs & Cardio Circuit Workout: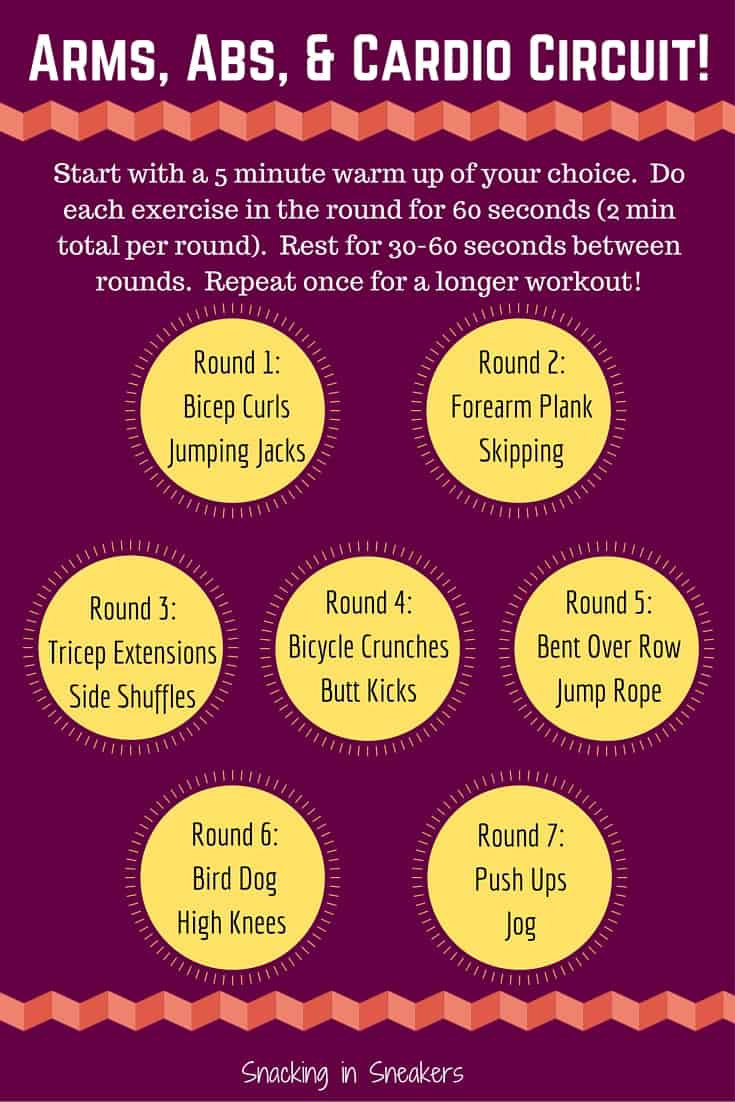 If you're not sure about how to do specific exercises, here are some images or videos of each to help you out:
Exercise Specific Modifications:
Bicep Curl – Use easier resistance band; do one arm at a time leaving more slack on band to make it easier
Jumping Jacks – Step out instead of jumping
Forearm Plank – Break 60 seconds into smaller chunks of time; Come onto  knees
Skipping – Go at a slower pace; walk instead
Tricep Extensions – Use easier resistance band
Side Shuffles – Go at a slower pace
Bicycle Crunches – Don't bring elbow and knee as close together, coming up only slightly
Butt Kicks – Slower pace – step with each kick rather than dynamic movement
Bent over row with band – Use easier resistance band
Jump Rope – Don't use the rope and just jump in place at a pace right for you; March in place instead
Bird Dog – Only do an arm or leg at once rather than both
High Knees – Go slow and step into movement rather than dynamic jogging in movement
Push-Ups – Modified on knees or against a wall/tree
Jog – Walk instead
Overall Modifications:
Can reduce each exercise time from 60 seconds to whatever is reasonable for you
Can increase rest time between exercises
Share with me:  Are you all about the strength training or the cardio?  What are your favorite arm and ab exercises?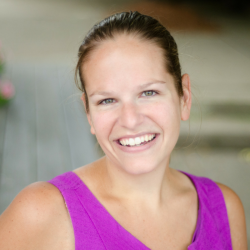 Latest posts by Chrissy Carroll
(see all)