At-home workouts can be extremely useful if you have family obligations that prevent you from heading to the gym, if you don't have a gym membership, or if you want something inexpensive that can be done at any time.
There are plenty of different body weight exercises that can be done at home using absolutely no equipment.  But if you want to invest in a piece of equipment to add some variety, consider a simple pair of dumbbells.  These can be used in many different exercises.  You may find it beneficial to get two sets if you're just starting out – a lighter one and a heavier one – as you may need the different size weights depending on the exercise you're doing.
The at-home circuit workout in today's post contains both body weight exercises and dumbbell exercises to strengthen and tone your muscles.  You'll get a well-rounded workout that includes exercises for the legs, butt, arms, shoulders, chest, and core – along with small bursts of cardio to keep your heart rate up and those calories burning!
I'd encourage you to warm up with a few minutes of walking or marching in place before you start this high intensity workout.  Then complete each of the three mini circuits listed (give yourself 30-60 seconds of rest in between each) – and then run through the entire sequence again.  It should take you about 25 minutes to complete the entire workout.  At the end, take a few minutes of walking or marching to cool down.  Then pat yourself on the back for a job well done!
Share with me:  What are your favorite exercises to do at home?
At-Home Circuit Workout!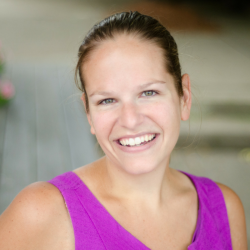 Latest posts by Chrissy Carroll
(see all)