With the opening ceremonies for the Olympics in Rio kicking off tomorrow, I've been so inspired by stories of different athletes and their experiences in games past and present. Given the fact that I run about as slow as turtle in peanut butter, being in the Olympics is one of those things that is crazy for me to imagine but so aw-inspiring to hear about.
So today, what better to post than an interview with Olympian – and one of the best female runners of all time – Lynn Jennings. In case you aren't familiar, Lynn is a 3x Olympian, winning the bronze medal in the 10,000m in 1992, and a 9x USA Cross Country champion.
On a personal note – it's funny how small this world is. Lynn is someone I very much admired in the running community, but what were the odds I'd ever meet her? Well, turns out that my grad school adviser knew Lynn and recommended my name when she was looking for a dietitian to do a sports nutrition talk at a running camp she led. I quickly accepted the opportunity and spoke quite a few times at the running camps she was directing at the time. I also was able to do some of the group workouts & lectures while visiting, and it was always great to connect and learn from Lynn.
I approached her about doing a blog interview and she graciously accepted. Read on to hear about Lynn's experiences getting started with running, participating in the Olympics, advice for new runners and more.
Be prepared – I legit got teary eyed reading her responses because there is some serious girl-power & pump-you-up motivation in this interview.
Without further ado, meet Lynn Jennings.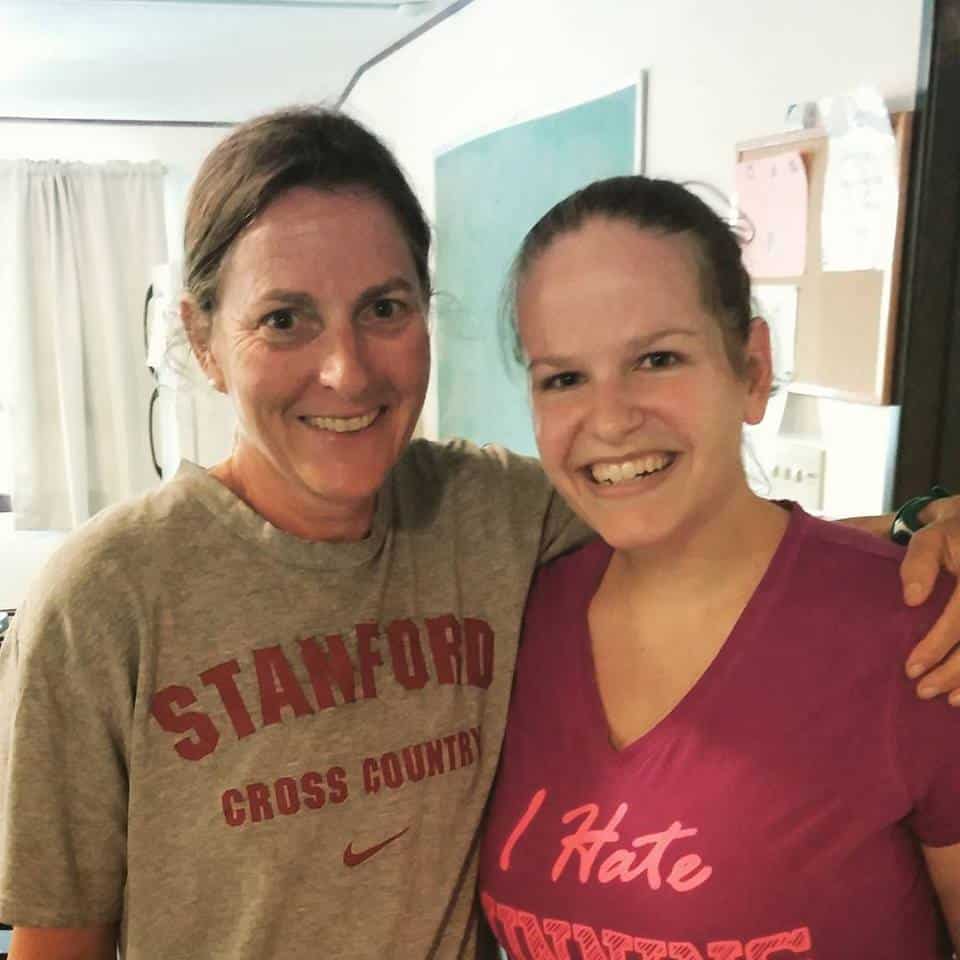 1) Obviously, you are kind of a big deal when it comes to the sport of running. 😉 Tell us a little bit about how you got started with running. Were you a runner as a child, or did you start later in life?
I began running in the 9th grade by joining the boys' cross country team at the Bromfield School in Harvard,MA. I was the only girl on the team, the only girl in the league. I hadn't done any formal training and, those first weeks, struggled to run 3 miles without stopping. I was so slow I would go home after school to get my springer spaniel Otis so I would have someone to run with. Whenever I raced against boys on other teams, my goal was never to finish last. I would race with my head up, eyes ahead looking to see what poor trundling boy I could catch and outsprint. That lesson of racing, to stay alert and to keep focused until the end, stayed with me my entire career and I still think of it today.
[Tweet ""That lesson of racing to stay alert + to keep focused until the end stayed with me"-Lynn Jennings"]
2) In the peak of your career, what was a typical training week like for you?
My year of racing included outdoor track in the spring and summer, cross country and road racing in the fall and indoor track in the winter. I was a Jill of all trades and I raced everything from the mile (PR 4:24.14) to the 15k on the roads. The specific sort of faster running I did would correlate to which surface I was racing on. During track season I spent a lot of time doing hard sessions on the track and I would mix in strong mileage on the roads. During cross country season, I would do a lot of interval work on grassy fields and also do lots of fartlek and tempo on the roads. I fared well when I kept my mileage between 70 and 95 miles per week. I was not a 100+ miles per week kind of runner. My forte was my leg speed and my ability to laser in during racing — I was a formidable competitor which was informed by my diligent and disciplined training patterns. I would do a long run on Sunday, have easy mileage days and intense days doing faster and longer interval work interspersed with shorter interval work to really hone my leg speed.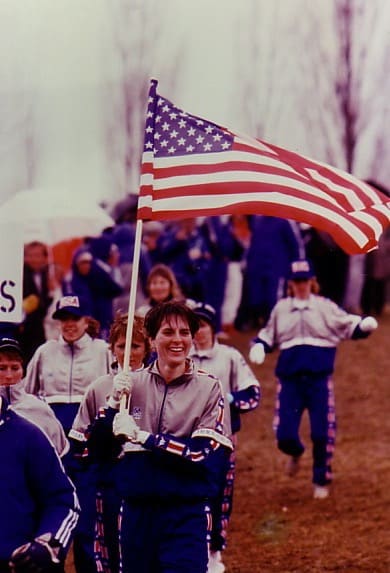 3) What were your experiences like in the Olympics?
The beauty of being a multi-time Olympian (three times for me) was that each successive Olympics I could feel myself get more and more dialed in. My first Olympics I had that feeling of, "Wow, I'm really here at the Olympics." I finished 6th in the 10,000m and set a PR of 31:39.93. My second Olympics, four years later, I was much more purposeful, focused and utterly prepared to bring home a medal. I placed 3rd in the 10,000m setting a new American record of 31:19.89, earning the bronze medal. My third Olympics I had the luxury of dropping down in distance and running the 5000m where I placed 9th. Each of my Olympics was memorable, special and is still now an enduring memory. "Once an Olympian, Always an Olympian, Never Former, Never Past" the motto I live by today. Being an Olympian taps into the best parts of myself. By running every day still, I keep myself centered and reminded of exactly who I am.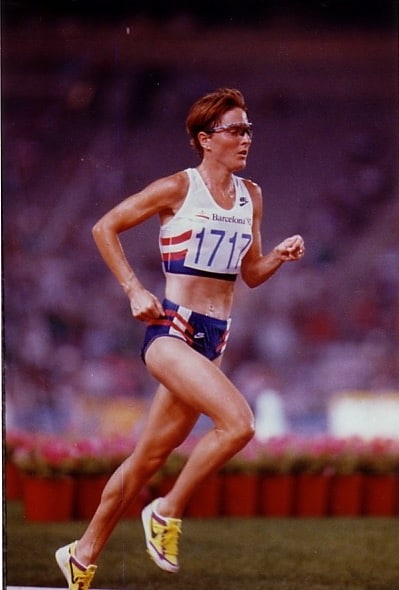 4) You've raced in some different distances in your career – what's your favorite race distance?
My favorite distance on the track was the mile. It's the classic historic distance. Though I had to go up in distance to race internationally in the big competitions (world champs, Olympics) in order to be in medal contention, I lived to race the mile especially in Europe. One of my very best memories is of racing the mile in the Bislett Games in Oslo, Norway. I was the world cross country champion and the Norwegian meet promoter was happy to give me a place in the mile at Bislett. I finished 3rd and ran 4:24.14, a creditable time for a middle-distance woman who specialized in cross country and the 5000/10,0000 distances. I grooved on the symmetry of the four laps and I would glue my eyes and my brain onto the pony tails of the women in front of me, hanging on for dear life as we raced swiftly around the track.
I also particularly felt at home on any cross country course anywhere in the world. The 6k distance was a favorite.
5) Take us on a journey through your most memorable athletic moment – when was it, what happened, how did you feel, how did it impact you…
My most memorable athletic moment had to be stepping up onto the Olympic podium to receive my bronze medal. My second most memorable moment was racing in the snow, wind and cold at Franklin Park in Boston to capture my third consecutive world cross country title. I had to race in a small and tight pack, stay alert for every single step and I had to be ready to pounce for the win at the exact right moment in very cold and windy and snow/mud underfoot conditions. I felt supremely powerful and strong that day — I knew I had what it took and I made it happen. A powerful athletic moment I will never forget.
6) Of course, as a dietitian, I've got to know – what's your favorite pre-race meal? What about recovery meals or snacks?
If there's one thing I had to completely dial in during my career, it was my eating habits and my understanding about how to eat so that I would be the strongest, fastest, leanest and most powerful version of myself. My athletic assets were my power, strength and speed. I need to be as lean as possible while not sacrificing one bit of my athletic and powerfully strong body. It was never about the scale and more about how I felt and how effective my body could become. I learned to eat real food, to never go hungry and to always be sure that I was eating the most nutritious thing for my body. I stayed away from food that had been invented in the last 50 years and anything packaged with red/yellow and too many ingredients on the label. The closer the food is to the earth, the more likely I am to eat it. This holds true today and I apply that to all drinks, bars and products like that. I like eating real food, not packaged food.
Snacks: apple and peanut butter, a handful of nuts, carrots and humus, fruit and wasa crackers.
Any meal can be a recovery meal as long as it's balanced with protein and complex carbohydrates.
7) Is there any running gear or type of product that you love? Anything you must have with you while going out on a run?
Some days I run with no running watch and other days I want to know how long a favorite route takes me. That's it for tech gear. I always wear my Nike sunglasses.
8) What motivates you to continue running?
On days when I am not motivated to win the Battle of the Doorknob, I go anyway. I don't wait to be motivated. If I waited to be motivated, I'd still be standing at my door in Newmarket, NH were I lived during my running career. Running every day reminds me who I am, it stimulates my brain and it fires up my physical self. I am balanced, centered and whole as a runner. Running's gifts are many and I am lucky to be able to get up in the morning and get out the door at first light with no coffee and with a body that is in perfect health and fitness. I treasure the power and beauty of my body and I am a better person every single day after my run than I was before. Running is a way to stay in full contact with nature, truth, reality and beauty.
[Tweet ""I am a better person every single day after my run than I was before." – Lynn Jennings. Read more"]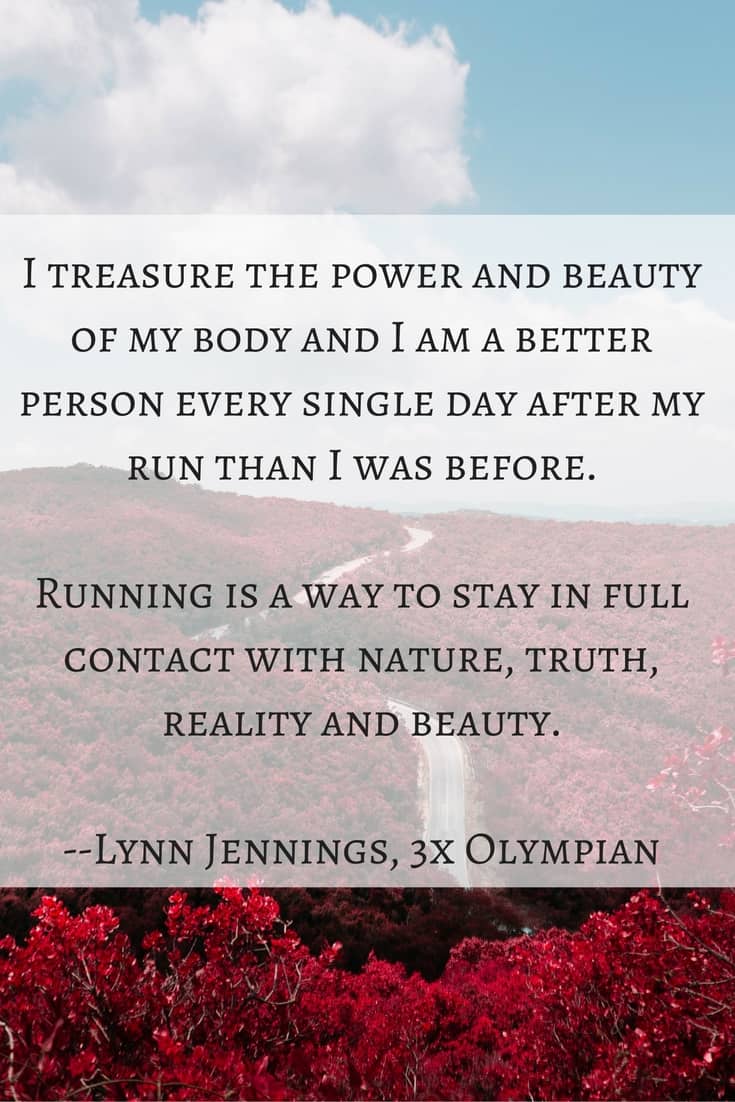 9) Do you have any tips for people new to running? Or for those people reading this saying "I could NEVER be a runner!"?
Get the right shoes and get out that door. Go out and move. Do it today! If you are a beginning runner, start walking. Slowly add in little bouts of running to your walks. Start with 15 second bouts and start adding seconds and minutes slowly and progressively. If you do this with some consistency and discipline you will surprise yourself with what your body can do. The days you do not want to go out and do it, are the days you need it the most. Talk yourself into it by putting on your shoes and going. Don't vacillate. If you have a body, you are an athlete so honor that truth and go out and use your functioning and beautiful body. Go and run!
[Tweet ""If you have a body, you are an athlete so honor that truth" -words of wisdom from Lynn Jennings"]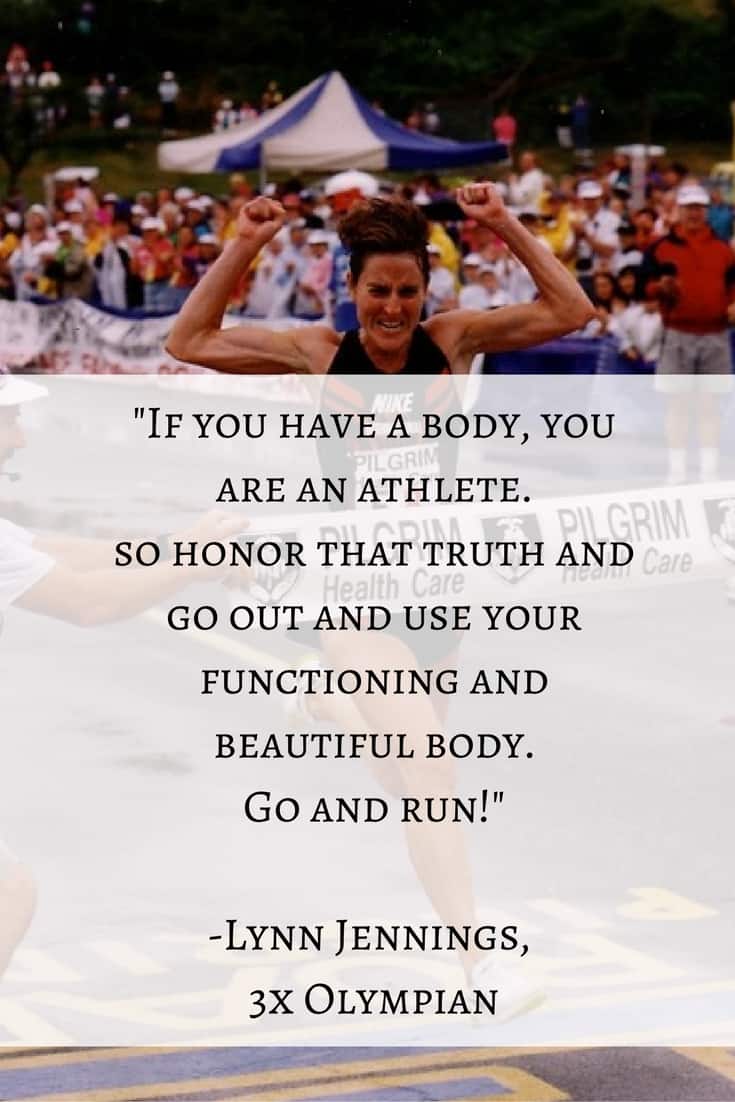 SO Powerful. Lynn, thank you SO much for your time and sharing this interview with me! 🙂
Readers, share with me: What inspires you most about Lynn's story? Can you imagine being in the Olympics?! What are you most excited to watch in the Rio games?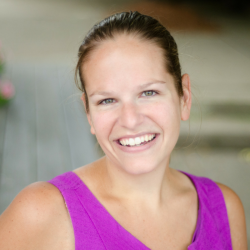 Chrissy Carroll is a Registered Dietitian and USAT Level I Triathlon Coach. She specializes in sharing nutrition and fitness tips, as well as recipes, for runners, triathletes, and active women.Chrissy holds a Bachelor's Degree in Nutrition, a Masters Degree in Public Health, and is also an ACSM Certified Personal Trainer.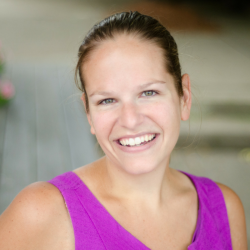 Latest posts by Chrissy Carroll (see all)