Thinking about training for your first ultramarathon? With this beginner's 50K training plan, you'll be able to expand on your running base and get ready to tackle this challenge in a little over 4 months. You'll love checking this 31 mile race (about 5 miles longer than a marathon) off your bucket list!
Getting Started with a 50K Training Plan
The full plan is located at the bottom of this post; however, I recommend reading the entire post before you jump into the plan. This will help you assess if you're ready to start training and will also provide details on all the workouts in the schedule.
Who is this training plan for?
This plan is designed for runners who have a solid running base but are new to the ultramarathon distance. This is a "cross-the-finish-line" kind of plan; not a plan for advanced athletes to PR.
What level of fitness do I need to start?
*Disclaimer: I am not a physician; check with your doctor prior to starting any new exercise program.
Before you start this plan, you should have a solid running history – around 1 year of consistent running without any major injuries or issues. This does not have to include very long-distance running or tackling any races, but you should be comfortable in your running stride and be able to run at least 10-12 miles.
If your race will be a trail 50K (as many are), you should have experience trail running. Road runners can definitely transition to trails, but keep in mind that pacing on a trail can be very different compared to the road. You may need a month of just getting used to distance on the trails prior to starting this plan.
What if I don't have that level of fitness yet?
If you haven't yet built up to being able to run 10-12 miles comfortably yet, spend some time working up to this prior to starting this beginner ultramarathon plan.
For example, you could use our 8 week half marathon training plan to build up to the 12 mile distance, and then segue that into this plan afterwards.
Schedule & Workout Descriptions
Here is helpful information regarding the schedule, types of runs you'll complete, and guidelines for pacing.
What is the time commitment for this plan?
The plan is designed to help you get from a solid running base to crossing the finish line of a 50K in 18 weeks. The schedule includes 5 run workouts each week. Mid-week runs range from 30 minutes to 90 minutes. Weekly long runs range from 8 miles to 26 miles.
Where should the runs be done?
You should do much of your training where your race will occur. In other words, if you are doing a trail 50K, you should be doing many of your runs on trails. It's OK to mix in road runs and treadmill runs, but you want to get a solid amount of experience (particularly with long runs) on the trails if that's where your race will take place.
What are the different run workouts? How should I pace myself?
The 5 runs per week are broken into several types – here are descriptions and pacing details for each:
Easy runs – These occur twice a week, and are meant to build your base. They should be done at a comfortable, conversational pace.
Long runs – These are one of the most important parts of your 50K training plan, as the long run will get your body used to being on your feet for the amount of time required for such a long race. You should run the long runs at a consistent pace that allows you to cover the entire distance as evenly as possible, or as a negative split. In other words, don't start out too fast and then struggle the second half. You should either have consistent pacing throughout, or run slightly faster on the second half then you did on the first half.
Recovery runs – These occur weekly on the day after your long run. They should be done at an easy pace. Do not challenge yourself on these runs; they are meant to promote active recovery.
Hills/Speed – These occur once a week. They are designed to challenge you. They include:
Hilly runs: These should be done on a hilly trail, or if training for a road 50K, a hilly road route.
Hill repeats: These should be done where there is a large hill that you can plan to use. These may be easier logistically on the road. For these runs, you'll do a certain distance but include a few best effort timed segments up a hill. I've found the best way to do these is to find a mile(ish) loop that includes a large hill so you have easy access to include those intervals.
Tempo: These runs include a portion at a comfortable pace, then a timed segment in the middle where you should run around 30 seconds slower than your 5K pace.
Speed intervals: These runs include a distance that should be done at a comfortable pace, with several best effort speed intervals couched in throughout. The speed intervals should be done at the best pace you can sustain for the length of the interval. If you stop the interval too early, pull back on the pace for the next one.
Other Helpful Training Tips:
On your runs, give your body a few minutes at the beginning at a slow pace to warm up. Similarly, when you finish, try walking around for a few minutes afterward just to give your heart rate a chance to drop back down gradually.
Save the static stretches for after your runs. If you struggle with tight muscles on a regular basis, consider adding foam rolling.
You can add cross training once a week if desired. Cross training – like cycling or swimming – helps to work different muscles and can be useful for injury prevention. I do recommend keeping at least one full day a week for complete rest (though things like a walk outside with your family are fine).
In the event of an injury, be sure to get medical advice, especially if an injury is affecting your stride. If you're changing your stride, you're likely to then cause other strains and injuries on top of whatever the initial problem was.
Beginner 50K Training Plan
Ready to get started? Just click here or on the image below to download your free beginner 50K training plan.
*Please note, this plan is for personal use only, and is not to be distributed on other websites or used for commercial purposes.*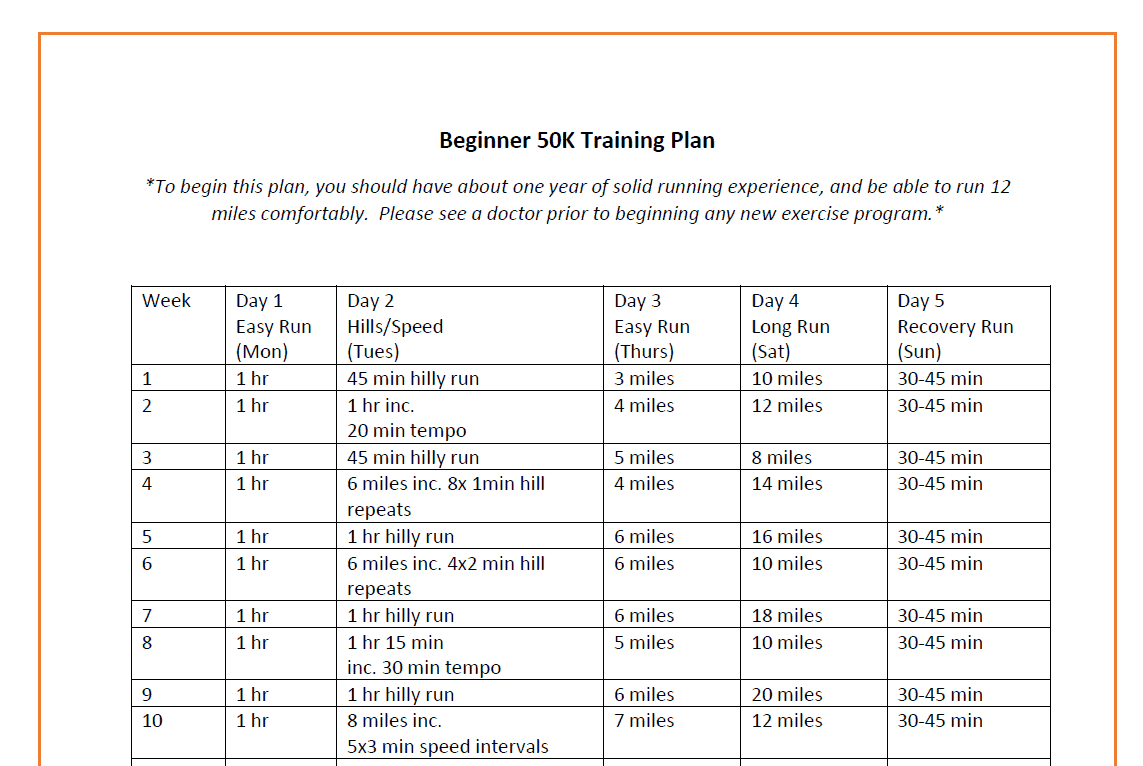 There you have it! All the key info you need to know to cross the finish line at your ultramarathon race.
Share: What race are you training for? If you used this beginner 50K training plan, how did it go?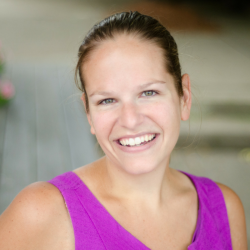 Latest posts by Chrissy Carroll
(see all)