Disclosure: This post is sponsored on behalf of the Columbia Threadneedle Investments Boston Triathlon. As always, all opinions are my own.
The last weekend in July was an exciting one for me, as I tackled the Columbia Threadneedle Investments Boston Triathlon! This was my "A" race of this year's tri season, and I was proud to be an ambassador for the race this year. It was a challenging distance for me so I've had some pretty focused training the last few months.
This was also my first post-kiddo Olympic Tri. While I've done a bunch of sprint races, my last (and only other) Olympic was five years ago, so it's been a while since I tackled this distance. Here's the play-by-play of how it went down…
Pre-Race
Getting to the race was easy – not something you can say about getting in and out of Boston most of the time, haha. Since the race started early on a Sunday, there were very few cars on the road which made it an easy ride to the venue.
Packet pick up was very fast as well. After that, all I had to do was get the race tattoos on – though in retrospect, I should have waited to do that until it got light out. Trying to peel the little plastic film off in the dark at 5:30am made it challenging, and I don't know why I didn't think to wait 30 minutes.
But I finally got 'em on, and from there, I set up transition then headed over to the beach for the pre-race meeting.
It was really a perfect morning for the race: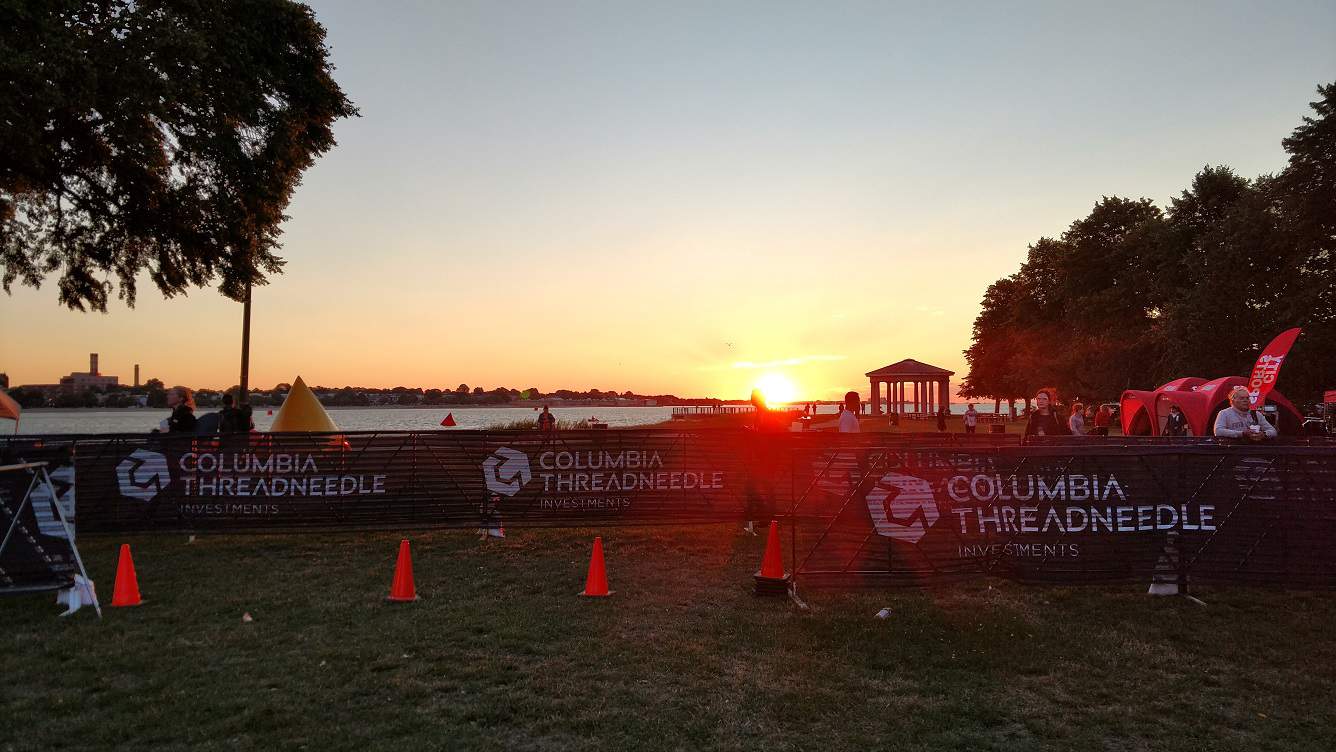 I'm not sure why I'm approaching the pre-race meeting looking like the Fonz, but I'll own that. 😉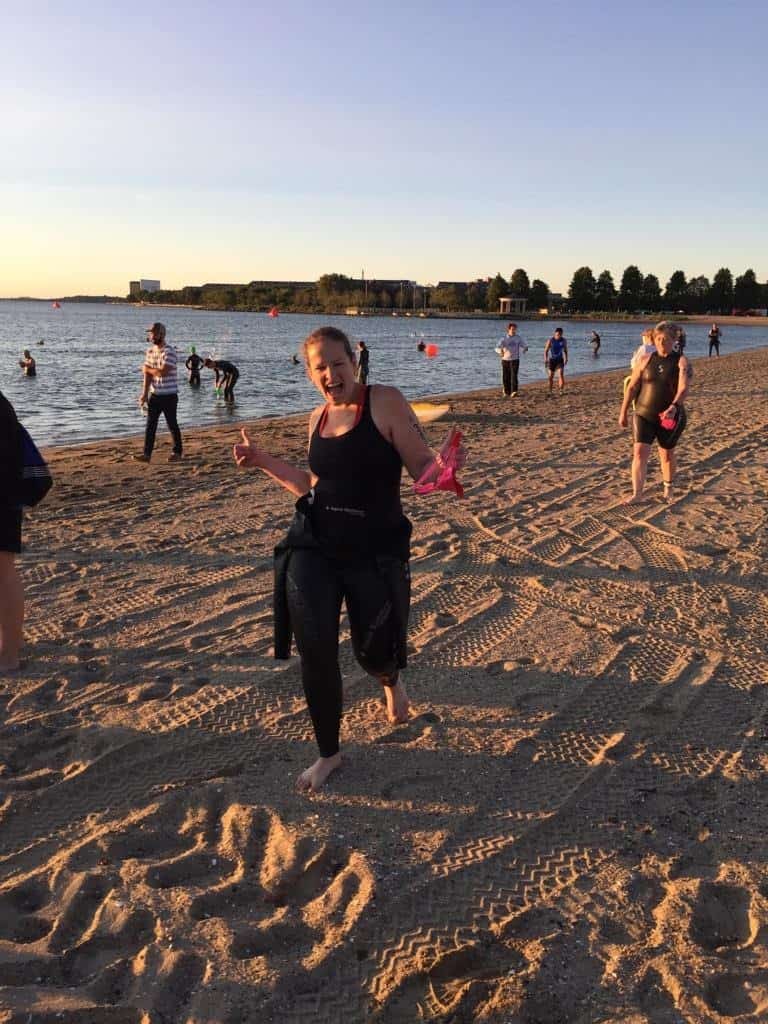 Swim (0.9 miles) – 45:16
The swim waves started around 6:30, though my wave didn't go off until around 7. The waves went in increments of 8-10 minutes. At first I wondered why such a long gap, but after I started swimming it made sense. I'm a slower triathlete – though swimming is probably my best discipline – so I often get passed by people. Maintaining a longer break between waves meant you didn't have too many people swimming up on you from later waves, which was pretty nice.
When my wave started, it took me a while to get into a rhythm. I always seem to go out a little too fast and start breathing too rapidly. By the time I hit the second bouy, though, I was in a good rhythm. The water was a little choppy, but such is the challenge of an ocean swim! Overall I felt good on my swim with a 45 minute finish (especially since I wasn't able to get much open water time to prepare for this race).
T1 – 3:19
Probably could have gone a little faster here, but I walked from the swim to transition. Anyone else sometimes feel a little wobbly right out of the water? Otherwise, T1 went exactly as it normally does.
Bike (35K = 22 miles) – 1:27:47
Cycling has always been my weakest of the three disciplines, so I structured my training plan to focus a bit more time on it. I think it paid off! (Though by consequence, I think my run took a little bit of a hit). I averaged around 15 mph while riding which is pretty good for me. The fact that the course was pancake flat helped of course. 😉
As far as the route – I wasn't sure if the loops would bother me but they didn't at all! The route was very pretty along the water, and I kind of liked being able to count down the four loops. I was actually surprised at how much I enjoyed the bike course.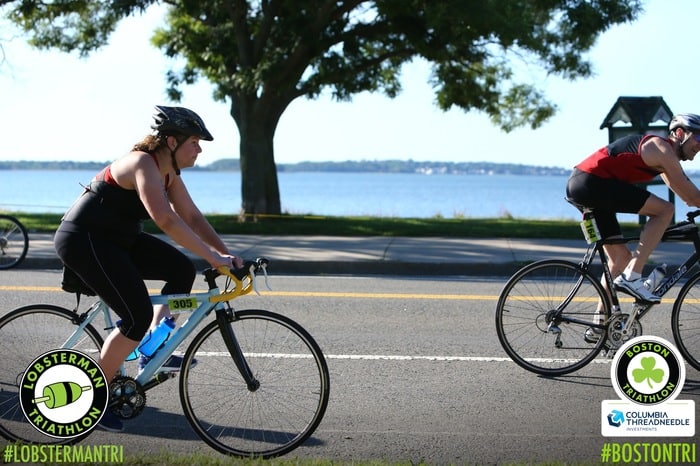 My only two pet peeves about the bike had nothing to do with the organization of the race or the course, and solely to do with race etiquette:
1) People were passing in zones that had GIANT orange "no passing" signs. Dude, I get that you want to do well, but if I have to follow the rules, so do you. Cutting someone off on a tight turn is just silly.
2) People were passing on a narrow windy straightaway over the water, without any communication (i.e. no "on your left"). I understand there are speed demons out there passing people like me frequently. I know how yelling out 'on your left' over and over could get old. And on a regular stretch of road I can hear you coming behind me, so no big deal. But on that narrow, windy straightaway? A little shout would be awesome.
With both of these though, I loved that the race volunteers were trying to address the issues throughout the race – yelling out about the no passing zones, and also encouraging people to communicate when passing on the straightaway. Major props for that.
T2 – 2:03
Normally my T2 is lightening quick because I don't wear cycling shoes, so it's just racking my bike and ditching the helmet. This one took a little longer because I was dying for some fuel and forgot to take my dried cranberries out of my bag ahead of time. I had to rummage through to find them for the run. But still, nothing too excessive.
Run (10K = 6.2 miles) – 1:21:45
I immediately lost about 3 minutes from my run at the start because I had to pee *so bad* by this point. I wasn't sure if there were definitely porta potties on the run course (now I know for next time that there were), so I went to the ones near transition before actually starting the run course. Then my bathing suit somehow got tangled and stuck when trying to get it back up over my shoulders, and I was shimmying around the porta potty for an extra minute. It was fairly comical, haha. 😉
That said, I can't tell you how much better it felt starting the run without a full bladder! It took me around a mile before I got into a good pace. I walked a lot of the first mile, and ate some of those cranberries. But after that, I fell into a nice run/walk pattern that worked well for the rest of the course.
The run weaved in and out of a park in South Boston, and again – was almost all flat, with the exception of a tiny little hill at the end. It was a two loop course, which worked well for the event. I actually was stronger during the second loop compared to the first.
When all was said and done, my run worked out to around a 13 minute pace – not bad, but I would have liked to see that around 12 instead. Next year!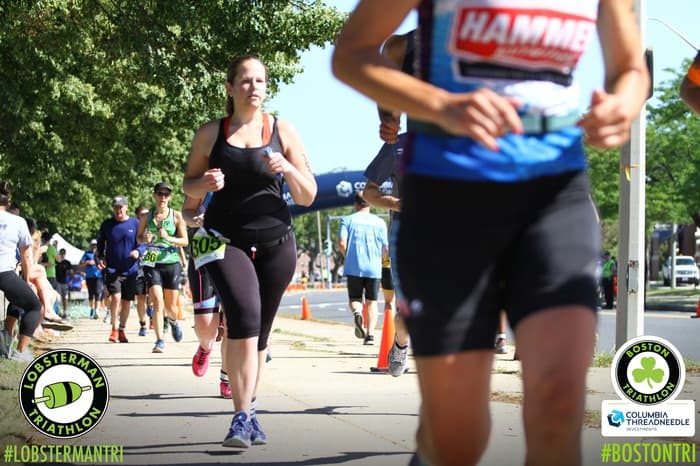 Side note – I wasn't able to grab a post-race photo with my fellow blogger pal Sue from Sparke Fitness, but luckily the photographers caught her and I in the two seconds we crossed paths on the run! Super proud of her for tackling her FIRST triathlon!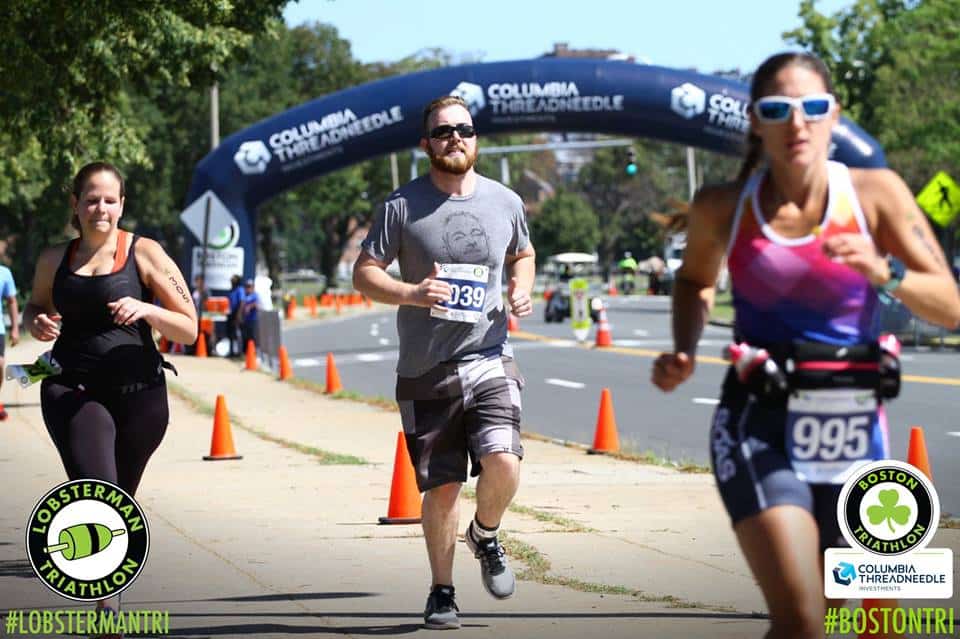 Total Time – 3:40
I'm really proud of this time. My hubby, Terry, and a good friend/fellow coach, Tony from Event Horizon Endurance Sport, were both at the finish line to cheer me on as I crossed the finish. Tony snapped this photo (which I love) of me and my hubby right after I finished: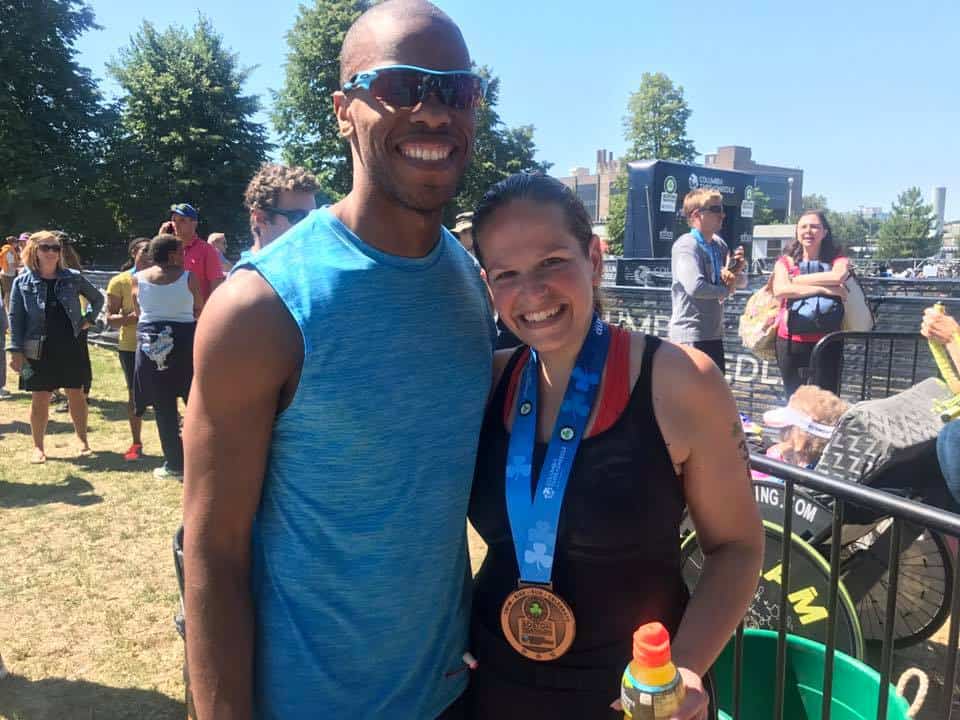 This time may not be what others consider fast or competitive, but it was actually only 3 minutes slower than my last Olympic 5 years ago. For a 5 year gap between races of this distance (that included having a child), I'll take it.
And one of the things that I love about triathlon is that you don't have to be super fast or competitive to enjoy the sport. You can be those things too, of course, haha. And don't get me wrong, I love trying to improve upon my own times at subsequent races. But I can go out there and be my own person, and be proud to finish in 3:40.
Post-Race
Good friends, unlimited free beer, and free pizza. It was awesome. I loved the actual "bar" set up in the athlete village because once the crowds died down a bit my friends and I were all able to sit there and hang out.
Plus, I was able to connect with some blog readers and a few Instagram connections post-race which is always fun! Here's Ashley from My Weekly Eats …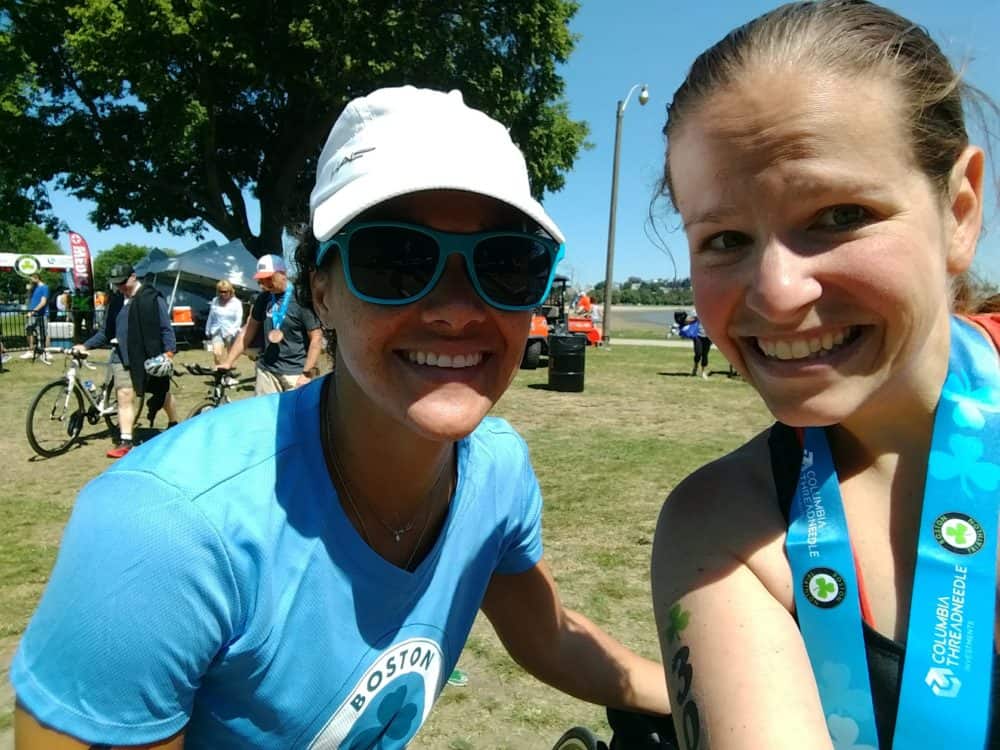 And Dani from Weight Off My Shoulders…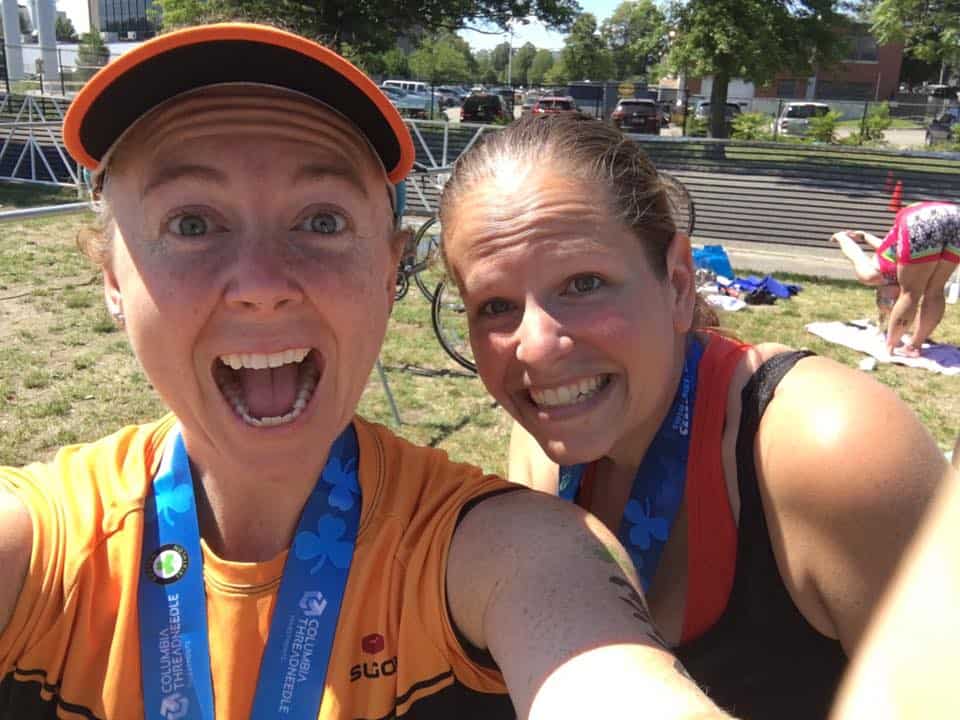 And me and my fellow RD pal, Lisa: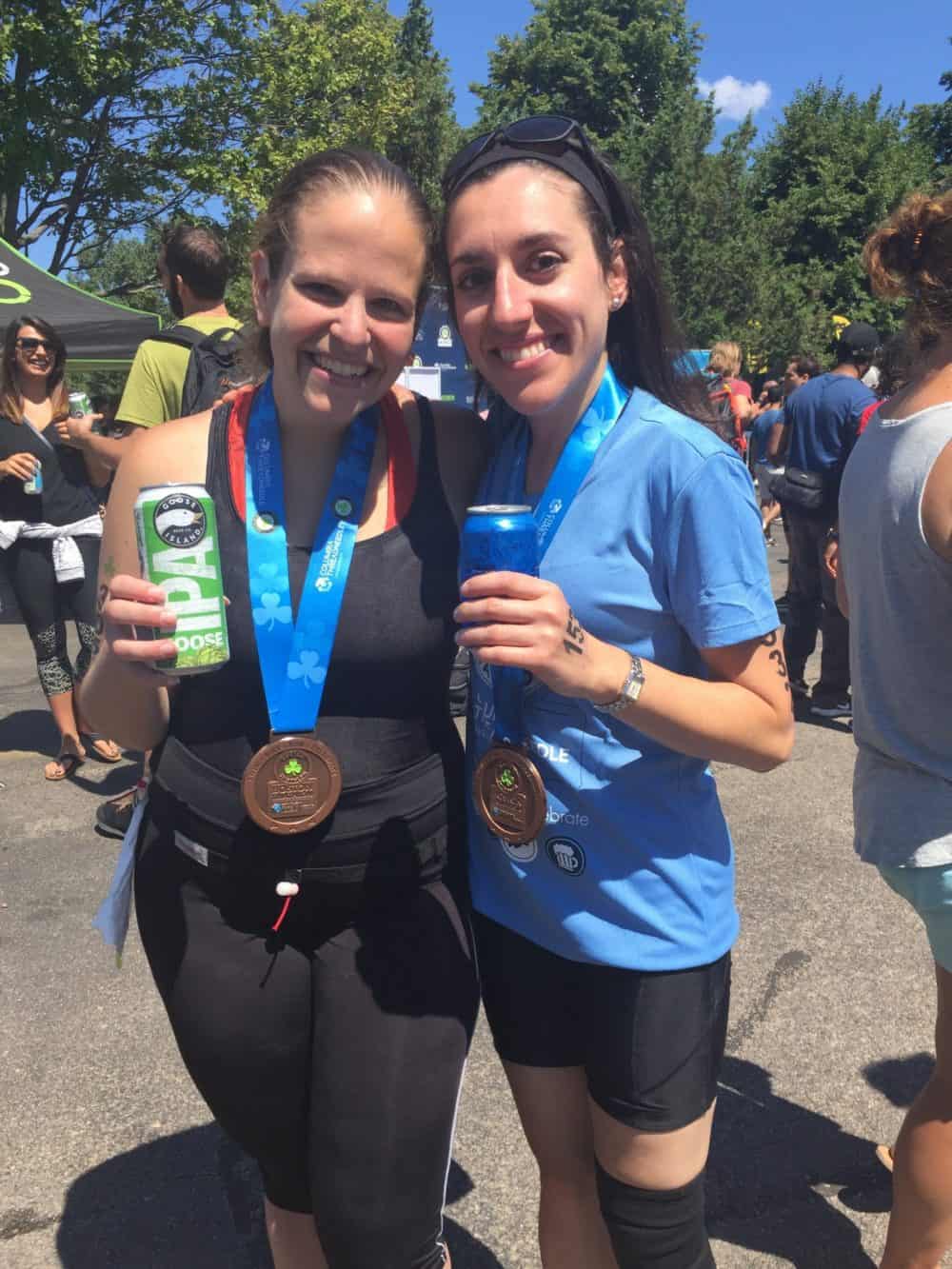 Final Thoughts
Overall, I LOVED the Boston Triathlon. It's the only triathlon that actually takes place in the city itself, and the waterfront bike ride is very pretty. And there are free race photos (any of them that are branded with Boston Tri are their photographers' free photos!).
If you're thinking about taking the plunge to do a triathlon next year, or you're already an experienced athlete just looking for another race for your calendar – I highly recommend this event. It's great for newbies and advanced athletes alike.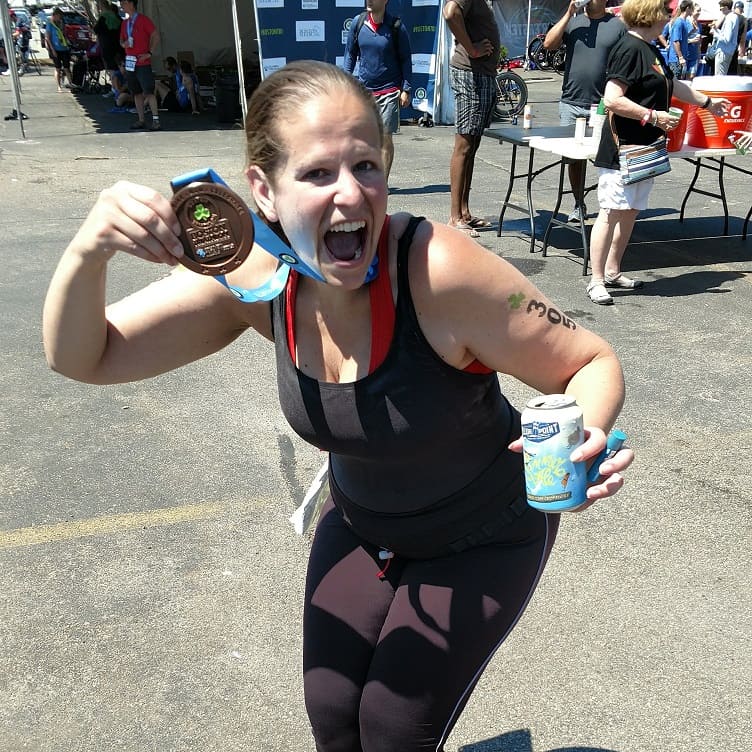 Share with me: Have you ever done a triathlon? If not, what's stopping you?! Did you also do the Boston Triathlon? What were your thoughts?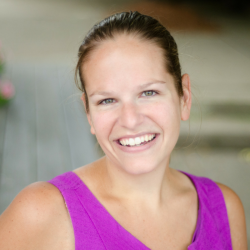 Latest posts by Chrissy Carroll
(see all)