I'd like to think those "I don't sweat, I sparkle" t-shirts are true, but let's be real – we're all getting pretty darn sweaty and gross during a workout. I don't know about you, but I've definitely had some of my workout clothes start to smell not-so-fresh over time. After some research on how to get rid of sweat smells on clothes, I decided to put together this handy list of tips for you!
Disclosure: This post was sponsored by all®. As always, all opinions are my own.
How to Get Rid of The Sweat Smell on Your Workout Clothes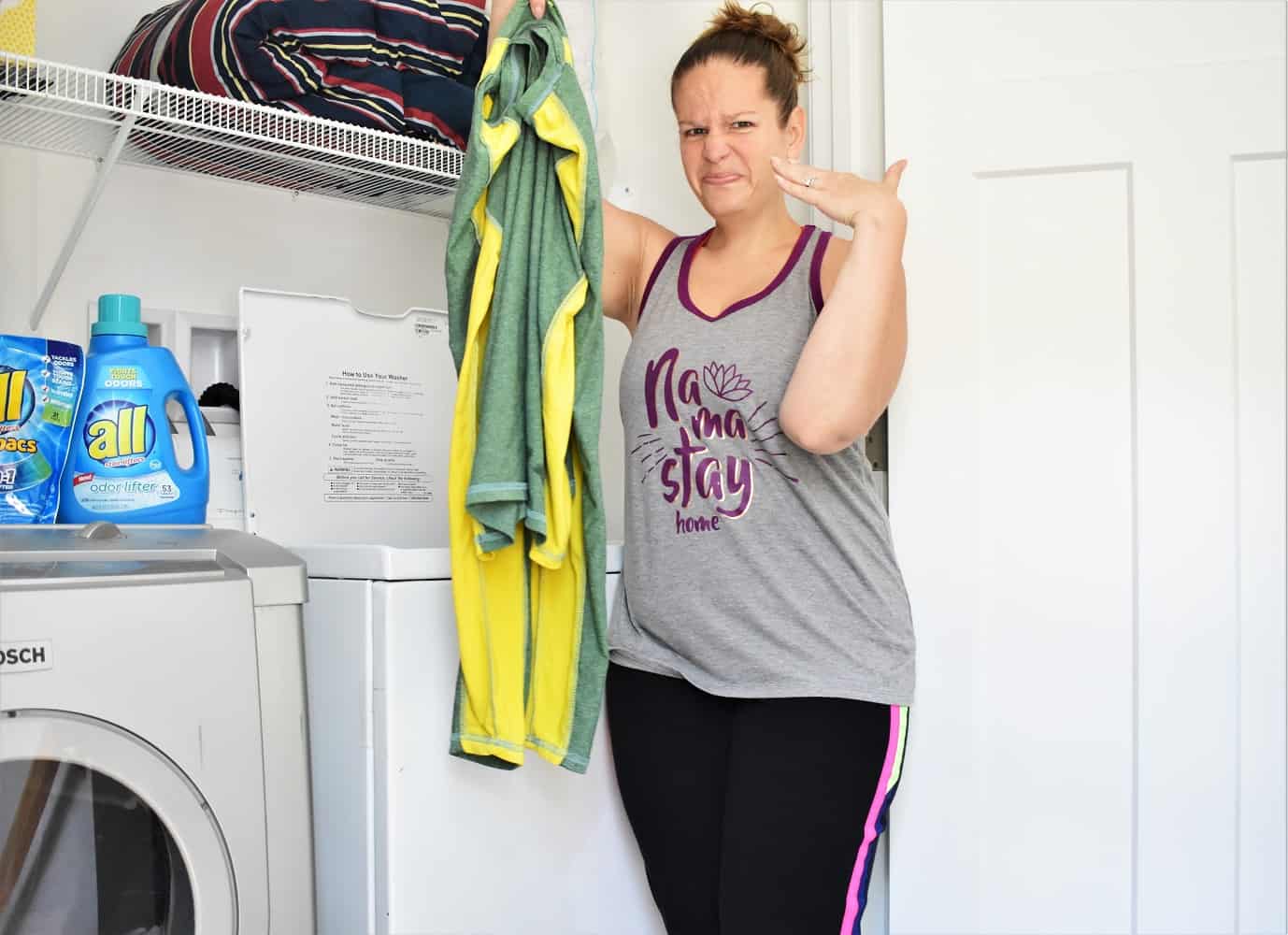 Wash them right away when possible.
Letting sweat-soaked clothes sit for too long is a recipe for lingering smelliness. Try to wash them right for the best chance at removing that sweat odor. If you can't wash them right after your workout, hang them up so they dry until you get a chance to wash them, rather than leaving them in a sopping pile in the hamper.
Wash your clothes inside out.
I don't know if this is actually grounded in truth, or if I'm simply imagining that it works – but I swear the clothes smell better when you wash them inside out. 😉 It makes sense in my head, because the inside is where they're touching your body and accumulating the most sweat. Take it or leave it, but I'm telling you, I'm convinced it works better this way.
Use a detergent for odor removal.
While your current detergent might get rid of the sweat smell on clothes, I find it worthwhile to look for a detergent that specifically addresses odor removal. There are specialty activewear detergents on the market but they can be a bit pricey. My favorite budget-friendly solution? I love all® odor lifter and all® mighty pacs® 4-in-1 with odor lifter!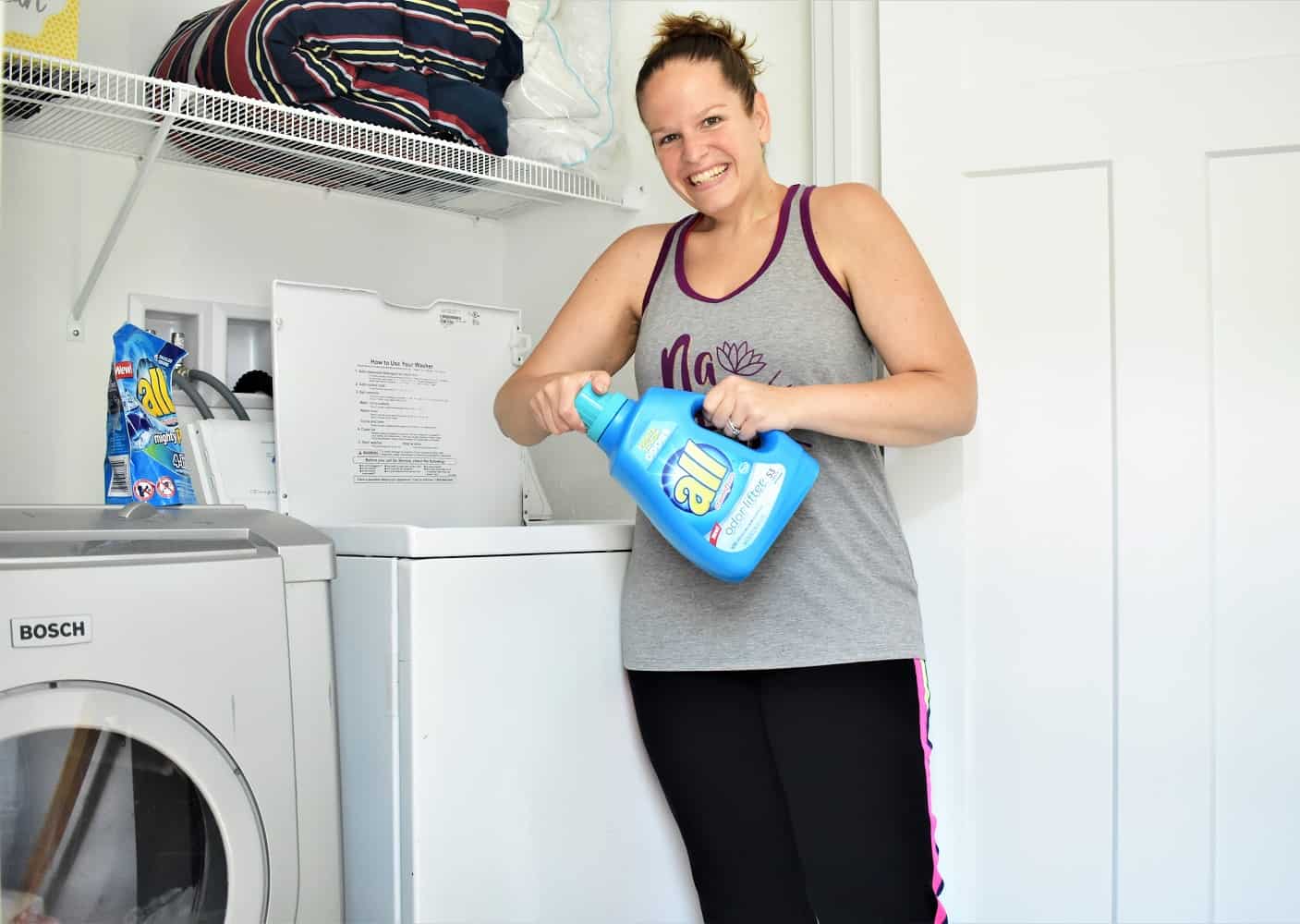 Either product is great depending on if you have a preference for a liquid or pac style detergent. I find that they do a great job getting those stinky smells out of workout gear. And they're also pretty gentle on clothes, which helps keep workout clothes lasting longer.
You can easily find all® detergent products at any major retail location. They're budget friendly and safe to use in any washing machine, at any washing temperature! Plus you can use them for all your other laundry too, so you don't need to worry about buying separate products for your workout clothes vs regular clothes.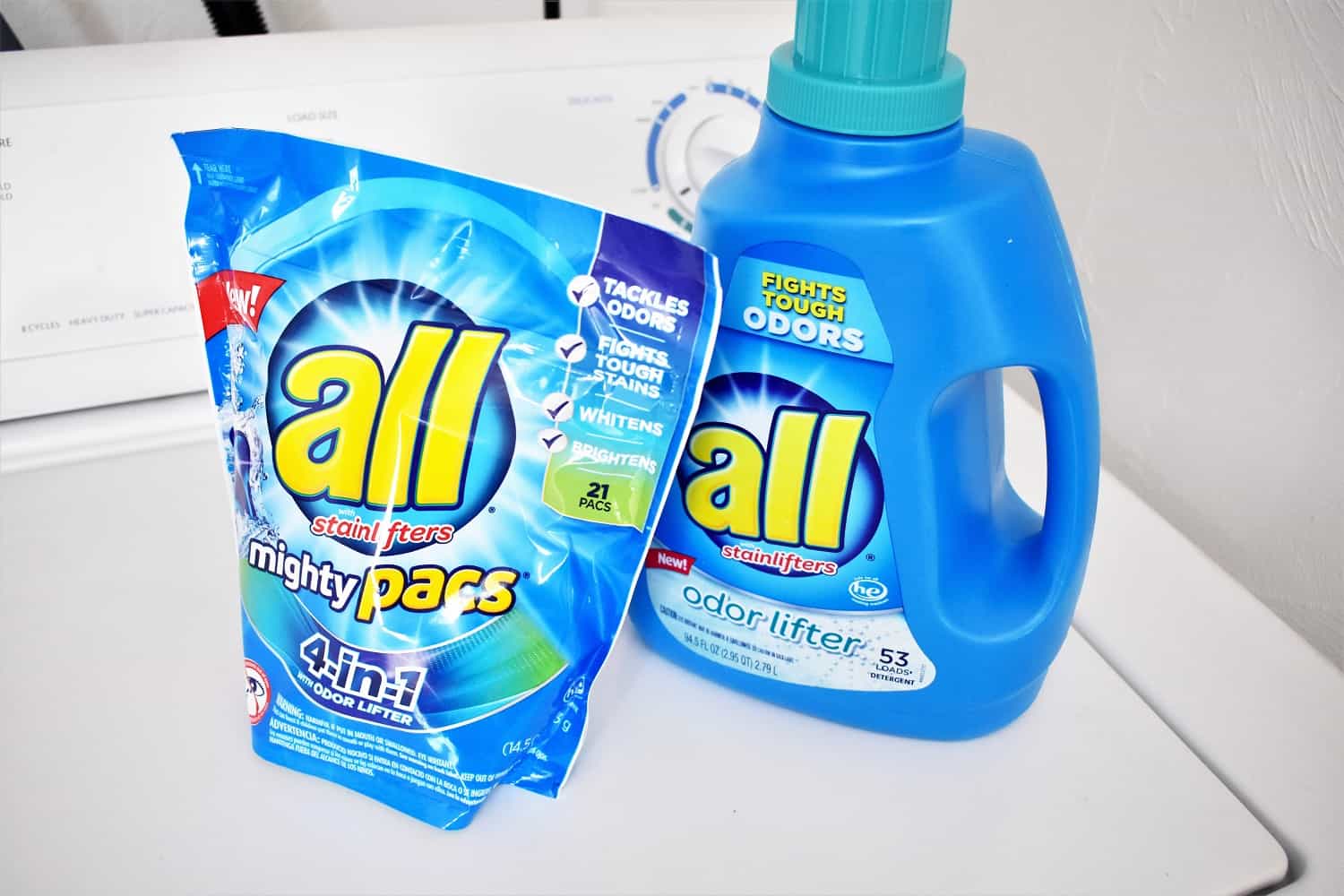 [Tweet "Wondering how to clean your workout clothes the right way?! Check out this post for lots of tips!"]
Use the right amount of detergent.
That whole theory of "if a little is good, a lot must be great" does not apply to laundry detergent and workout clothes. Adding too much detergent to a wash cycle is not only a waste of money, but it can actually keep your clothes smelly. The clothes end up with a build up of detergent that wasn't washed off, which essentially traps the odors for next time.
To remove sweat smell from gym clothes, you'll want to use the correct amount of detergent that's listed on the label for your particular load size.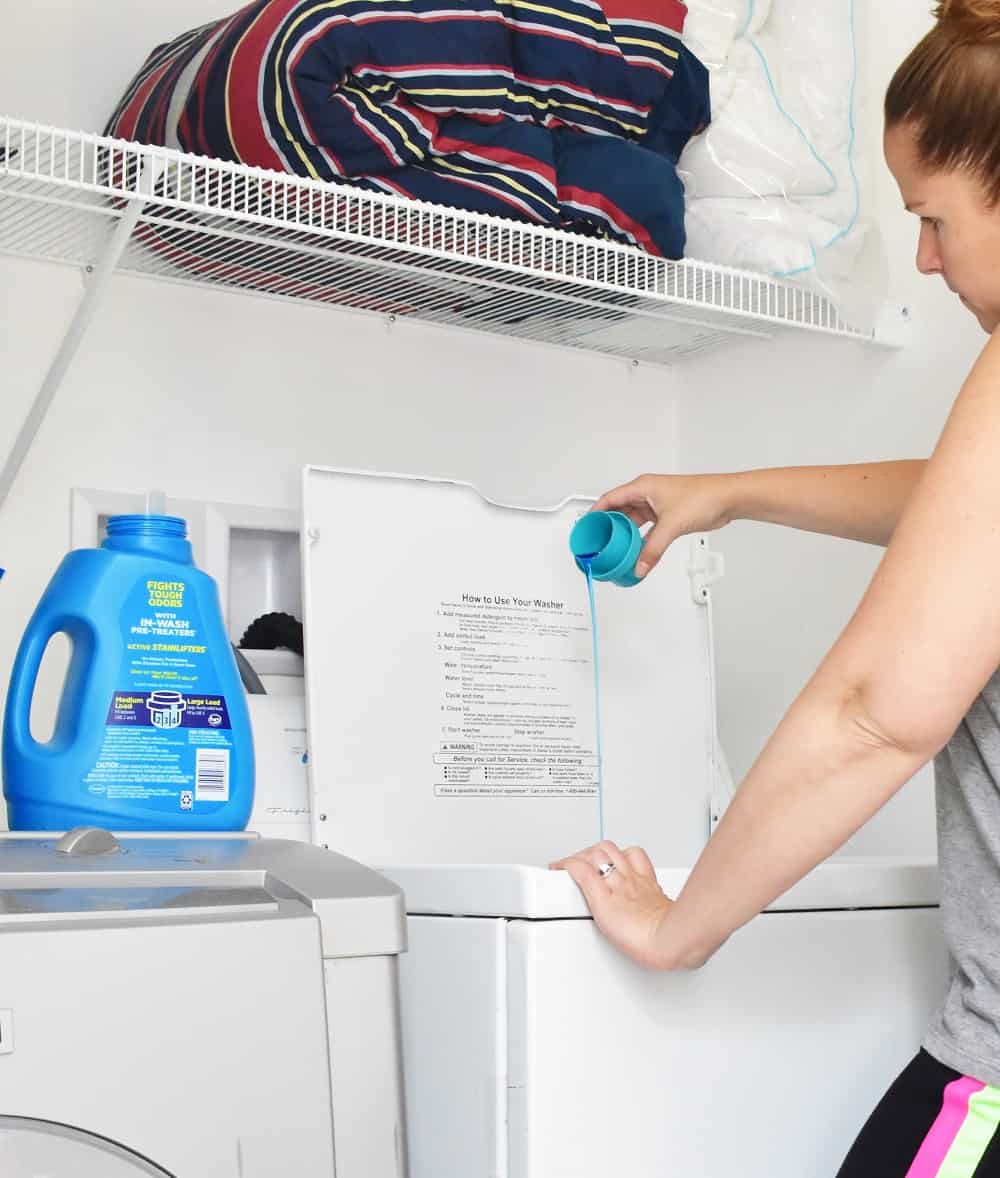 Skip the fabric softener.
Just like too much detergent can leave a residue on clothes, so can fabric softener. This can trap in odors. While those leggings or top might smell OK coming out of the dryer thanks to the fabric softener fragrance, the next time you workout you'll start to notice trapped stinky odors.
Side note – fabric softener can also breakdown some of the specialty elastic fabrics, so it's another reason to skip them when washing your workout clothes.
Dry on low – or dry outside!
High heat can accentuate any lingering smells – but even more so, it can also damage those specialty workout fabrics. Instead, dry on the lowest setting.
Or, dry outside in the sun. The sun's heat will help to dry the clothes, and once dry, the UV rays from the sun might actually help reduce any odor-causing bacteria left on the clothing.
Try a soak before you wash.
If you have some clothes that seem to have an ongoing odor that is not going away with the tips above, try a pre-wash soak. Take your clothes and put them in a bucket or bathtub with one part vinegar and four parts water. Let them soak for about 30 minutes, then continue with your normal washing routing using that all® odor lifter detergent. This should take care of any really stubborn smells!
I hope these tips are helpful for removing the sweat smell from your workout clothes.
Share with me: What are your best tips to remove sweat odor from clothes? Any secret strategies you use when washing workout gear? Were any of these tips helpful for you today?
PS – Don't forget to check out the all® odor lifter and all® mighty pacs® 4-in-1 with odor lifter!
This is a sponsored conversation written by me on behalf of all. The opinions and text are all mine.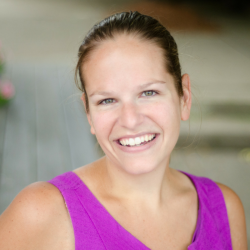 Latest posts by Chrissy Carroll
(see all)