Craving cookies for breakfast? This healthy cookie dough oatmeal is a nutritious alternative!
My two-year-old is my mini me when it comes to the kitchen. He loves to bake. The other day in the car I mentioned we might make chocolate chip cookies, and he started rattling off "cookies: sugar, nilla (vanilla), flour…"
I try to keep the traditional chocolate chips ones for a monthly indulgence. Side note, this chocolate chip cookie recipe from Allrecipes has been the best cookie recipe I've found. I prefer it to the tollhouse cookie recipe!
Anyway – we love to bake regularly, so sometimes I'll look for better-for-you baked goods to whip up in between. Or sometimes I'll just throw a bunch of things in a bowl and hope it comes out good.
That's how this healthy cookie dough oatmeal was born.
This was actually meant to be a baked cookie recipe. I thought I could do a no-added-sugar (well, aside from that which is already present in the chocolate chips and coconut) cookie recipe that was sweetened with banana and applesauce. I figured the greek yogurt would add some moisture, and made the base with oats rather than flour.
Well, I plopped half the dough onto a pan, popped 'em in the oven, and…they baked up like absolute crap, haha. The minimal fat (compared to traditional dough) made them incredibly non-cookie-like and they tasted weird out of the oven.
BUT – the "dough" itself tasted absolutely awesome. Rather than bake off the second half, I just ate the dough straight up.
I played around with the recipe several times after that in smaller portions until I finally perfected this single serve portion for breakfast. You can also make this and divide it into two servings for a filling snack.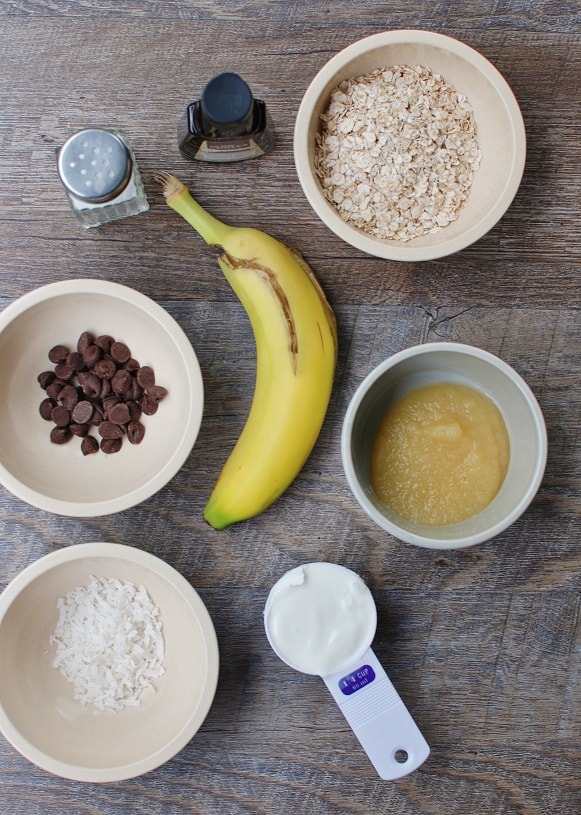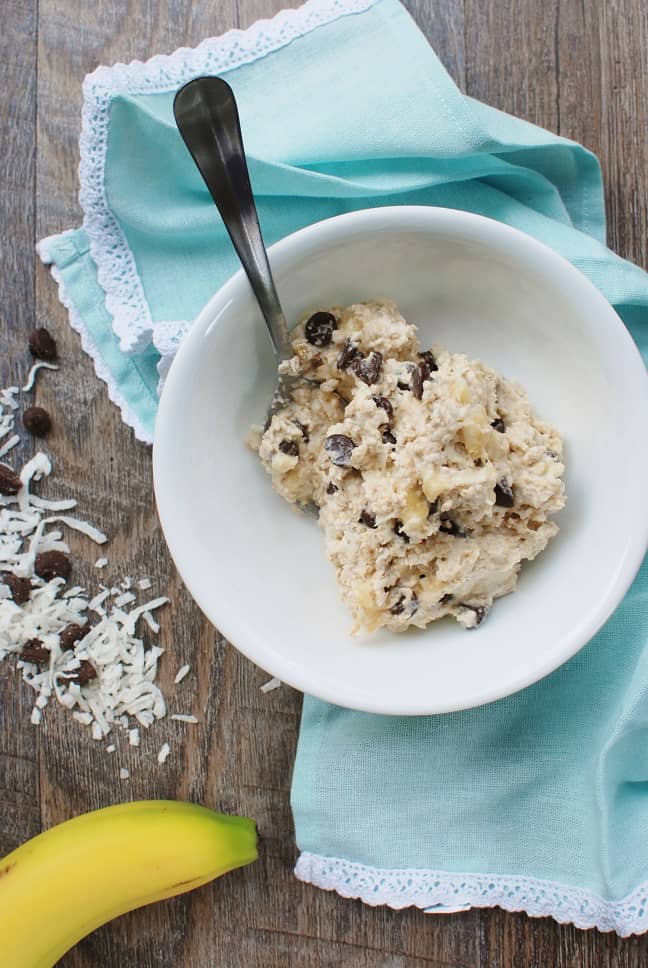 Why I love this healthy cookie dough oatmeal recipe:
Um, because you're eating something reminiscent of cookie dough for breakfast?! 🙂 I mean, it's not going to taste exactly like regular chocolate chip oatmeal cookie dough – but many of the key flavors are there and I find the texture spot on. It's not like you're eating regular creamy oatmeal; this gives you that soft cookie dough texture.
Plus, besides the coconut (which you can choose to use sweetened or unsweetened) and chocolate chips – there isn't any added refined sugar in this. It's naturally sweetened with fruit and yogurt.
For athletes, I like this breakfast because it's rich in healthy carbs (banana, yogurt, oatmeal) to help fuel you. I probably wouldn't eat it right before a long run since it's got a considerable amount of fat/fiber, but as a breakfast option to mix in sometimes throughout the week? Heck yes.
[Tweet "Start your morning off in a fun way with this healthy cookie dough oatmeal!"]
You can also use this as a great recovery meal. You can add a little more greek yogurt, or you can add a half scoop of vanilla or unflavored protein powder along with a splash of milk. This raises the protein content to the range of 15-25 grams for a post-workout meal, and it settles out within that 3:1 to 4:1 carb to protein ratio for endurance recovery.
Also, for those of you with dietary limitations: this healthy cookie dough oatmeal is easily made gluten free. Just be sure you use certified gluten free oats, and double check that your chocolate chips and coconut are not made/contaminated with gluten ingredients. And while I haven't tried it myself, I imagine you could make it vegan by subbing coconut or almond milk yogurt for the greek yogurt.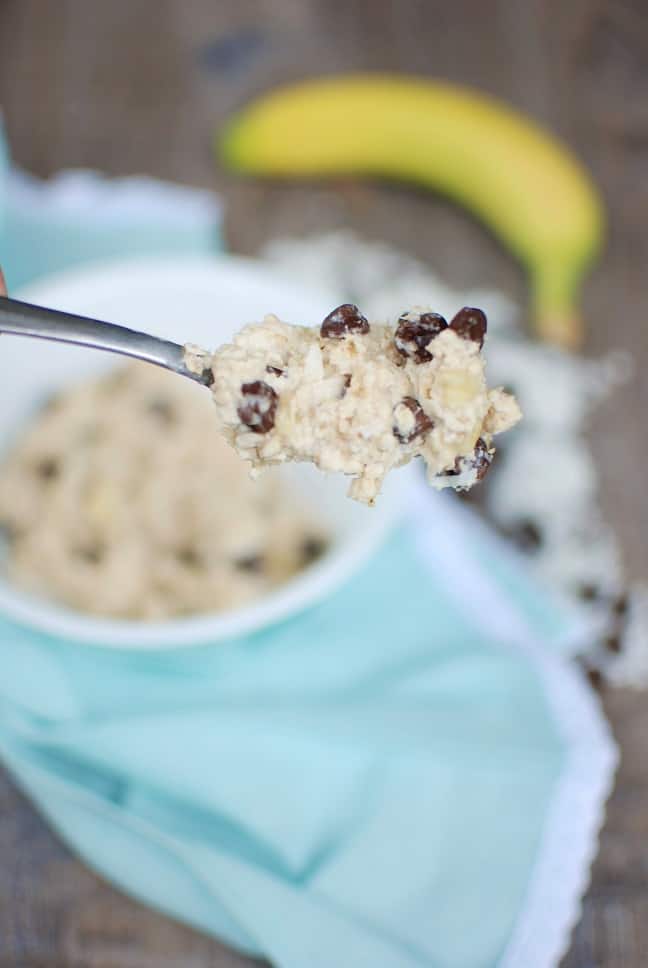 Product suggestions:
Disclosure – This contains Amazon affiliate links. We are a participant in the Amazon Services LLC Associates Program, an affiliate advertising program designed to provide a means for us to earn fees by linking to Amazon.com and affiliated sites.
I've made this healthy cookie dough oatmeal with several brands and types of oats. You'll want to use unflavored quick/instant oats or rolled oats. I personally think they come out best with Flahavan's Irish Oatmeal (their regular oatmeal, not the steel cut). They randomly sent me a few samples to try out. I don't know if it has to do with where the oats are grown (Ireland) or the way that they're cut, but their oatmeal seemed to create a better texture than some other types. (Note that their oatmeal is not certified GF though).
That said, any brand of quick/instant oats works pretty well, so feel free to use whatever you've got in the cabinet!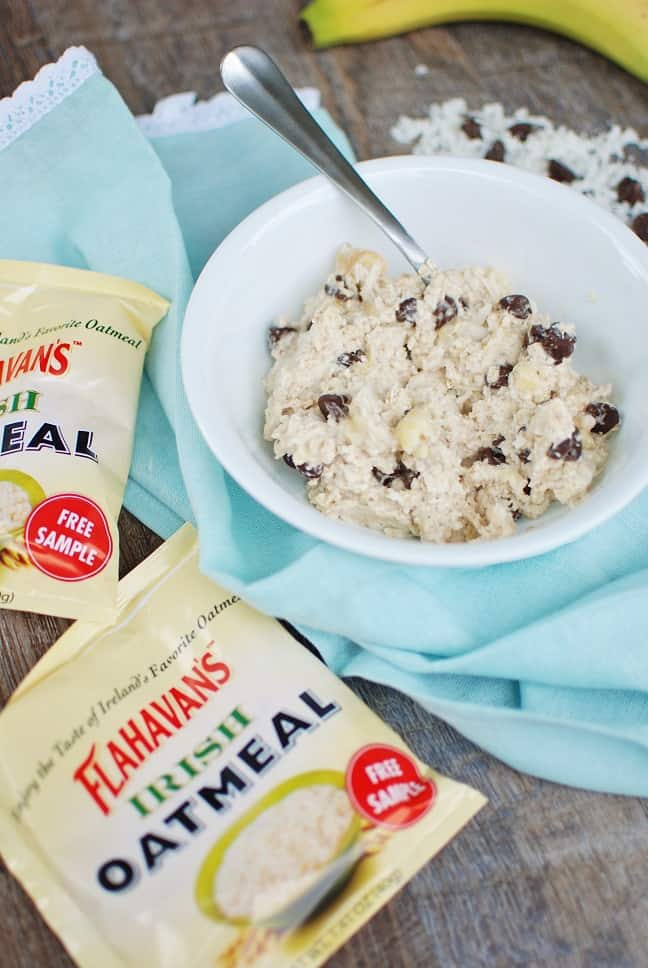 Slight tangent – Are uncooked oats safe to eat?
I've gotten questions on some of my past posts regarding the safety of eating raw oats. People sometimes wonder whether it's OK due to the fact that raw oats have phytic acid. Phytic acid can bind to essential minerals like iron and zinc. However, as long as you're getting a variety of food in your overall diet and you're not eating a truck load of uncooked oats each day, there is absolutely no problem with eating uncooked oats. Heck, in many other countries uncooked oats and milk is the way they start their day (like museli).
Now go enjoy this recipe and be sure to let me know what you think!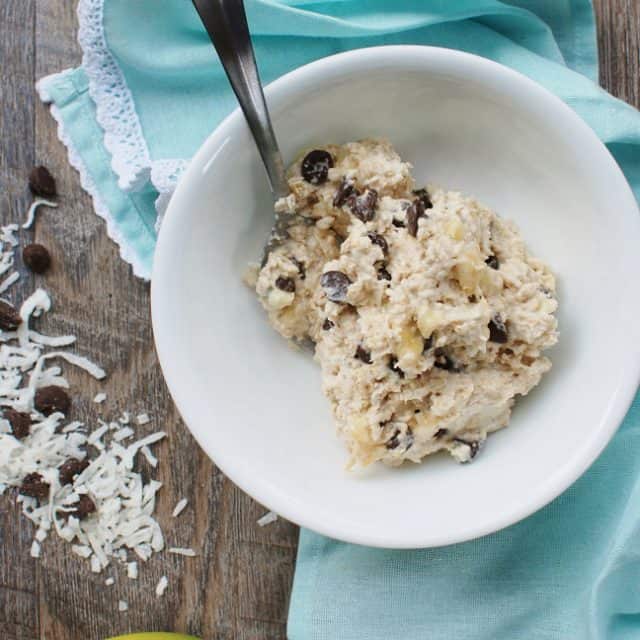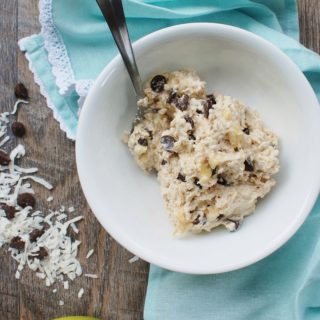 Healthy Cookie Dough Oatmeal
If bananas, cookie dough, and oatmeal all had a baby - this is what you'd get! This cookie dough oatmeal has the texture and important flavors of an oat cookie dough, and is naturally sweetened with bananas and yogurt.
Ingredients
Ingredients:
1/2

small banana

(I've found starchier yellow bananas work better for this compared to brown so the banana taste isn't overpowering)

2

tbsp

unsweetened applesauce

1/4

cup

plain nonfat greek yogurt

(or full fat if you prefer!)

1/2

cup

quick/instant or rolled oats

(not steel cut – for gluten free choose certified GF oats)

1/2

tsp

vanilla

Pinch

salt

1-2

tbsp

dark chocolate chips

1-2

tbsp

shredded coconut

(unsweetened or sweetened, your choice)
Instructions
Directions:
Add banana to a bowl and mash with a fork. Add applesauce and yogurt and stir with a spoon until relatively smooth.

Add oats and mix with a spoon until well combined. Stir in vanilla and salt, then fold in chocolate chips and coconut. Enjoy!
Notes
Nutrition analysis (approximate for entire recipe; assumes 2 tbsp chocolate and coconut; assumes sweetened coconut):
431 calories, 13 g fat, 8 g sat fat, 157 mg sodium, 68 g carbohydrate, 8 g fiber, 31 g sugar, 12 g protein, Vitamin A: 1%, Vitamin C: 18%, Calcium: 10%, Iron: 16%
Nutrition
Share with me: What's your favorite oatmeal recipe? Have you ever made a recipe that didn't turn out the way you hoped – but you realized you could use it in a new delicious way? Will you be trying this healthy cookie dough oatmeal?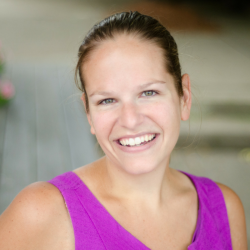 Latest posts by Chrissy Carroll
(see all)