If you said to me 10 years ago – "I bet you'll be a triathlete and blog about fitness" – I would have thought you were craaaazy.
Even though 10 years ago I was in college for nutrition, I was not really "active" by any means.  Kind of hypocritical, I know.  Even though I knew I should workout, I couldn't figure out a way to stick with a routine at that time.  I'd do things here or there, but nothing consistent.
After college, I settled into a pretty standard routine with my then-boyfriend.  We lived together, and we'd go to work each day, come home, eat dinner, and watch television.  There were times when I tried to get into a fitness routine, but it was easy to slip out of it and blame it on excuses.  You know – "I'm tired", "I don't have enough time", etc.  [And let's be real, those are 100% excuses.  I did have time.  I just didn't prioritize fitness at the time.]
When my ex and I broke up about a year after moving in together, I went through a really tough time – like I'm sure many women do in those situations (little did I know I had so much more waiting for me down the road!).  I moped and struggled for a few months.  But then a friend asked me to sign to sign up for a sprint distance triathlon.  It was the first race I would ever participate in.  I figured it couldn't hurt to try to find something to take my mind off things, so I said yes to doing my first triathlon.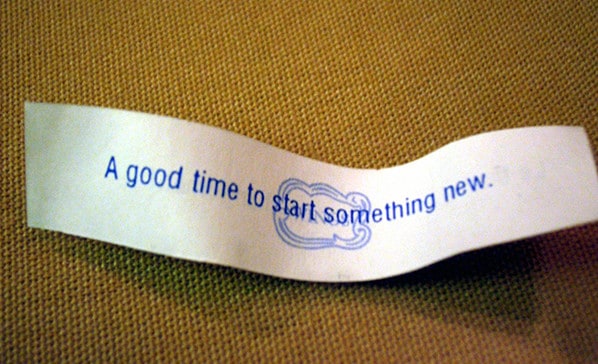 A month or two later, my friend ended up hurting her back during training, leaving me with the decision of whether or not to participate on my own.  I could have given up at that point, but I was realizing something during that time.  Exercise was not the "chore" it had always seemed like.  Instead, it was making me feel stronger, more powerful, and more at peace.  So I pushed through and decided to train on my own.
I knew pretty much nothing about triathlon training back then.  I did my swimming in an apartment pool (what?  I was supposed to practice in open water?).  I didn't even have a bike, so I borrowed one from a friend (a mountain bike with a warped back tire).  I was too scared to ride on the streets – rocks, gravel, and cars, oh my! – so I would 'train' in the Walmart parking lot near my apartment.  I'd go there before it opened and ride around in circles in the parking lot.
The point is, I made do.  I didn't worry about it and I just did what I thought would help me get ready for the race.
Needless to say, when I got to my first race, I wasn't really prepared for the hills, haha.  But I got through the bike portion along with the rest of the race, and was SO proud of myself.
That first triathlon showed me just how amazing it feels to be active.  That sense of accomplishment when you cross the finish line for something you've trained for.  That competitive drive to want to continue and do better.  I felt amazing.
Who would've thought a breakup could have led me to that?
Ever since then, I've embraced an active lifestyle – participating in road races and triathlon, teaching fitness classes, blogging about fitness, and more.   When I married my hubby – who I met online by noticing he was a runner and reaching out to him based on that – we tied the knot at the finish line of a 5K road race in Carmel, California.  Fitness became and remains a part of my life that I enjoy and embrace.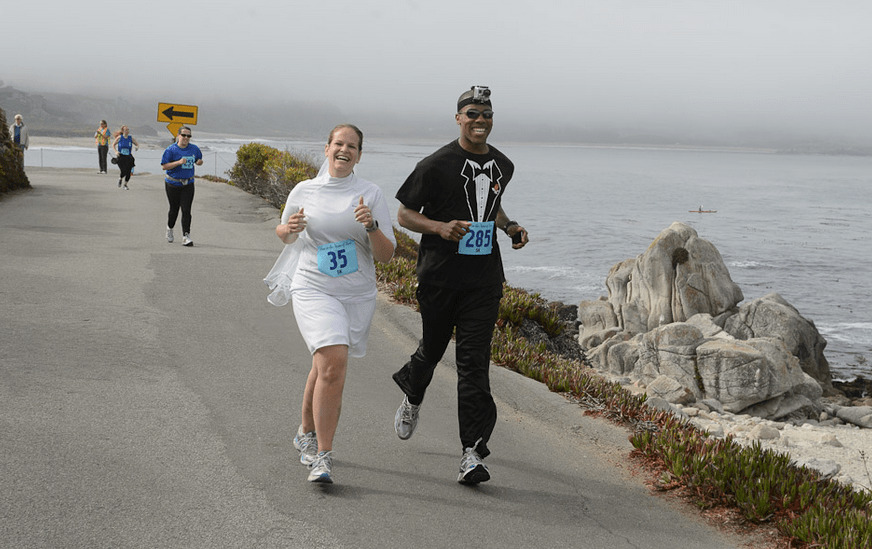 I know this post is a bit of a ramble, but I'm just being real with you.  Here are the takeaways I hope I can leave you with…
1)  What seems like an awful or trying time is often just an opportunity to learn and better yourself.  From the lovely Eleanor Roosevelt:  'A stumbling block to the pessimist is a stepping-stone to the optimist.'
2)  Exercise can be enjoyable!  Find something you love and embrace it.  That's not to say that every training run or ride feels fabulous.  But there is a purpose for those workouts and to me, crossing that finish line makes everything worth it.
3)  Your body is amazing.  You CAN do a triathlon, marathon, etc.  If you put the time in training, you can do it – no matter your current shape or size.
4)  And if you're scared of bike riding on roads, Walmart parking lots are pretty awesome. 😉
Share with me:  What got you started on your fitness journey?  Was there a defining moment or two, or did you always love being active?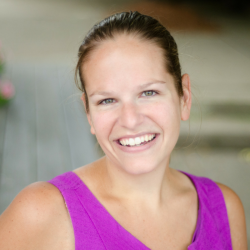 Latest posts by Chrissy Carroll
(see all)