If you're thinking about starting to run for exercise, you may feel a little overwhelmed. Rest assured, this guide to jogging for beginners will help you start pounding the pavement safely and successfully. Jogging is a powerhouse of an exercise that will help you feel healthier and fit! Learn all about the benefits of jogging, how to start, and how to build up your endurance.
Disclaimer: This post is written Chrissy Carroll, an RRCA Certified Coach and USAT Level I Triathlon Coach. This post is for informational purposes only and should not be construed as individual advice. Always consult a physician prior to beginning any new exercise program.
What's the difference between jogging and running?
While various sources offer up different perspectives on jogging vs running, the truth is that there is not an exact definition that separates the two. Jogging is generally accepted as a slower form of running. Many classify running as a challenging pace (over any distance), while jogging is a more comfortable pace.
However, there is not an exact pace cut off. Some sources define jogging as moving at a pace under six miles per hour, or a 10:00 mile. However, average running paces in research in the US vary from around 9:44 to 11:47 (source) – so by the 10:00 definition, most US runners would be classified as "jogging." In reality, most of these individuals are likely moving at a challenging pace that they'd classify as running.
Some people are offended by the term jogging, suggesting that any pace other than walking is considered running. It's totally a personal call as to how you define and interpret it. For the purposes of this post, though, we'll assume jogging is a comfortable running pace, and you can call it whatever you'd prefer! 🙂
Benefits of jogging
Jogging can be beneficial to just about anyone that is trying to improve their health in some way, shape or form. Here's just a few of the benefits:
Beginner-friendly. The younger sibling to the fast-paced, heavy-breathing run, jogging is generally less intense and less intimidating. You don't have to be fast or at peak fitness to jog; it can be performed by novices or elite alike.
Minimal costs. Aside from a good pair of sneakers, there are almost no costs associated with jogging. While gym memberships and weight equipment can be pricey, jogging is just about free.
Burns calories. If you're looking to lose weight, jogging can be a great exercise to burn some extra calories through cardiovascular training. According to Harvard Medical School, a 155-pound person will burn 186 calories jogging at a 4.5 mph pace for 30 minutes. Boost that up to a 5 mph pace, and you'll burn 298 calories in those 30 minutes. (Keep in mind you can burn more or less depending on your individual weight.)
Builds strong bones. Exercise scientists refer to jogging as a "weight-bearing exercise", which helps to build strong bones. As you jog, you place pressure and load onto your bones, muscles, and joints. In order to compensate for this stress, your bones thicken and strengthen to help prevent injury and issue. Isn't that smart? This can aid in prevention of bone issues such as osteopenia and osteoporosis (source).
Works muscles. When jogging, you're working your quads, glutes, hamstrings and core the entire time you are moving. For brand new joggers, this can help strengthen muscles to a degree – though after a while, you don't gain additional strength from jogging. (However, adding in sprint workouts later on can improve muscle strength – read more about that in our sprinting vs. jogging article.)
Improves cardiovascular health. You know that when you start jogging, you feel your heart beating faster and working harder. This can improve your cardiovascular health and reduce the risk of problems down the line. The American Heart Association recommends that adults get at least 150 minutes of moderate intensity activity each week, or 75 minutes of vigorous activity, to improve heart health.
May reduce anxiety. While you may not be able to see the physical benefit of it on the outside, jogging can also do wonders for your mind. Remember the famous Elle Woods quote from Legally Blonde? "Exercise gives you endorphins. Endorphins make you happy!" While it may not have been a legal defense, her point on exercise was pretty accurate. Exercise does boost your endorphins–the little feel good chemicals. Jogging and exercise overall can also help to clear your mind, reduce your stress levels and make you feel happier and more positive day to day.
May help you sleep. While there haven't been many studies that can actually cite this, it seems as though people who exercise early in the day may sleep better overall. The theory is that exercise may raise your body temperature a bit, so later on in the evening when it drops back down, it can trigger feelings of drowsiness and tell your body it's ready for sleep. For this benefit, try jogging in the morning or early afternoon. If you have trouble with sleep, avoid jogging in the evening as the stimulation may keep you awake later (source).
Before You Get Started
Before beginning any new exercise program, you may want to consult with a physician to ensure that it's a proper method for you. This is especially true if you have had any prior issues with blood pressure, cholesterol, your heart or any injuries that could be worsened by jogging, or exercise in general.
You'll also want to grab any necessary gear that you'll need. Luckily, you probably don't need to buy anything besides a decent pair of running shoes. This is the one thing you'll want to invest money in, because good shoes can help support your body and even prevent certain injuries.
Pick a pair of sneakers that fits comfortably but leaves a bit of space in the toe area to accommodate for some potential foot swelling as you hit the pavement. You don't need the most expensive pair of shoes on the market, but you'll want to find a quality pair that offers the right level of support for your feet. Try on a few pairs to see what feels best for you.
Ideally, it's best to visit a running shoe store that has staff who can help you find the right pair based on your foot physiology and the way you run. Many stores will actually assess your walking and running patterns and foot pronation right in the store, and can help you find a pair of shoes that will work best for you.
Aside from sneakers, you can wear just about any comfortable workout clothing that you own. Of course, if you don't have any yet, grab a few inexpensive pieces of clothing and (for women) a supportive sports bra. Now you should be ready to hit the road (or treadmill)!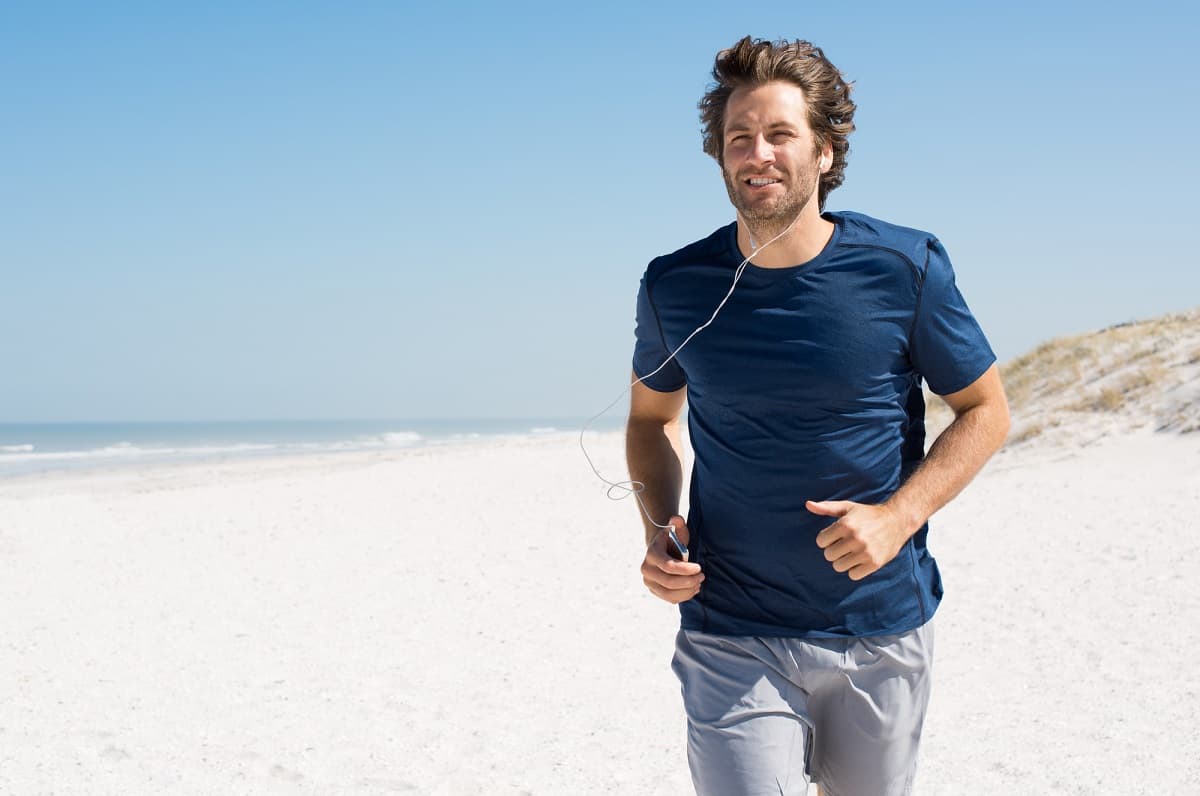 How to Start Jogging
When it comes to jogging for beginners, there's no one "official" way to get started. For most brand new runners, using a run/walk combination is one of the best ways to get started.
While it's tempting to want to just open the door and head out on the open road for as long as you can, many runners are surprised that they can't get as far as they'd like. This can cause frustration and potentially wanting to give up.
Of course, some people can use that strategy just fine. Years ago when I started running, I decided on a distance and just jogged 'til I was tired, than walked, then jogged again when I could, then walked again. It worked for me at the time.
That said, I probably could have progressed more quickly if I had followed a smart run/walk pacing strategy. That's what I recommend most people start with, thought the above option is acceptable too if you're comfortable with it (and determined not to quit).
A smart run/walk strategy uses defined time intervals, rather than just going to exhaustion. This can help keep your heart rate in check throughout the workout and allow you to jog overall for a longer period of time. It also prevents injury risk by starting out slowly.
Try starting out by running 1 minute and walking 3 minutes, and then repeating that interval several times. This is a reasonable start for just about anyone who is brand new to jogging. If you feel like this is too easy, you can always shorten the walking time.
Repeat that workout a couple times, and then the following week, you can increase the jogging time or decrease the walking time. Continue to do this progressively each week until you're jogging consistently.
12 Week Run/Walk Plan
If you'd like a defined plan to use, here is a 12 week run/walk plan that's perfect as a start to jogging for beginners. To use this plan, you should be able to comfortably walk for 25 minutes without stopping. If you can't do that yet, work your way up to doing that comfortably for at least a month, then switch over to this.
You'll see the amount of running and walking time listed, plus the number of intervals you should do for that workout. You also always want to start these workouts with 5 minutes of walking.
For example, if we look at the week three workout, we see 3 minutes running and 2 minutes walking, and total intervals listed as 5x. That means your total exercise session would look like this:
5 minute warm up walk
3 minute run / 2 minute walk
3 minute run / 2 minute walk
3 minute run / 2 minute walk
3 minute run / 2 minute walk
3 minute run / 2 minute walk
Total time = 30 minutes
Note that the runs refer to a comfortable jogging pace.
You can pin the image below to save it, or you can save/print a PDF version of this run/walk plan here.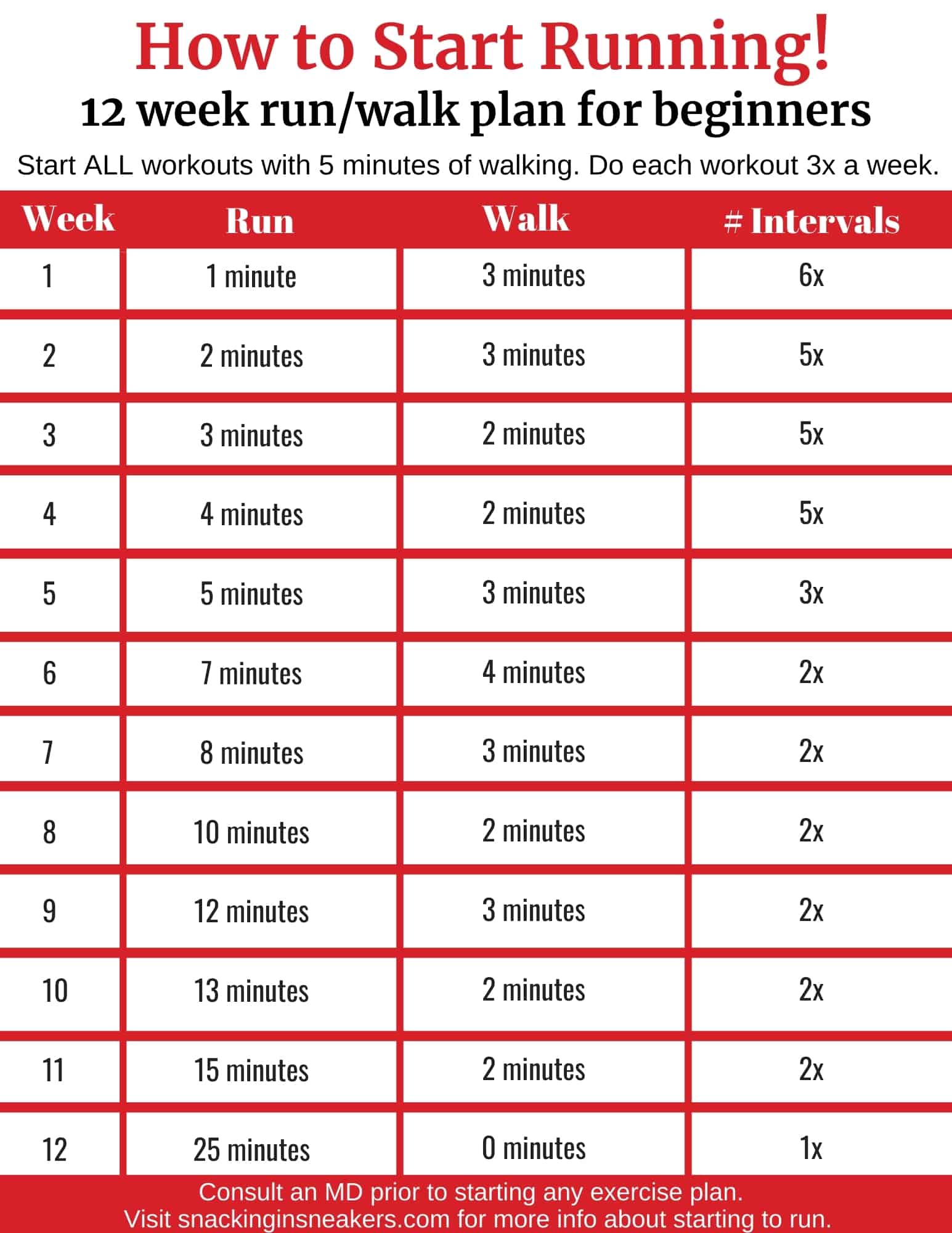 Additional Jogging Tips
Here are some additional tips that may be helpful as you start jogging!
Fueling: When it comes to fueling, luckily there's nothing special you need to do for jogging. Generally, eating a small snack with carbohydrates about an hour before your jog can help give you energy for your workout – but this is an individualized choice.
Hydration: Drink water to thirst as desired during a short jog. There's no need for sports drinks on jogs under an hour.
Restarting after time off: If you're not new to jogging but you haven't done it in a while, it's probably a good idea to begin as a newbie again for a week or two to get back into the game, then progress from there.
Road safety: When running on the road, keep an eye out for cars. Run against traffic so that you can see cars coming at you and move out of the way safely if the driver is not paying attention.
Situational awareness: These days, it's more important than ever to be aware of your surroundings. While many safety experts would advise running outdoors without headphones, I know that's not realistic for many people. If you do run with headphones, though, keep them out of one ear so you can hear around you. Every so often, take a second to glance around and behind you so you are aware if someone is following you or is too close. Keep a phone with you (either in an arm band or sport belt) so you can reach out to someone if an emergency arises.
Listen to your body: If you ever feel like you can't catch your breath, your heart is racing too fast or you feel lightheaded, be sure to stop jogging, start walking and then find a safe place to sit down for a minute. If you are worried something may be wrong, call for medical attention.
In Conclusion
Wherever you are in your fitness, jogging is a great way to get moving on your goals, feel better and be healthier overall. Follow steps to start slowly and consistently, and in a few months you'll be able to run comfortably and feel great.
Share: Are you thinking about starting to jog? What questions do you have? Any tips you want to share with others?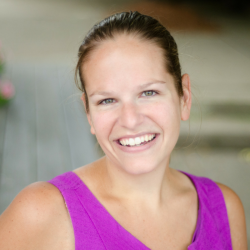 Latest posts by Chrissy Carroll
(see all)