Looking for leftover ham recipes? Ham and quinoa casserole is an easy way to use up extra holiday ham – and enjoy a whole new tasty meal!
Can ya'll believe Easter is approaching? The pending snow storm this week is making it hard for my brain to jive with the fact that it's March. But I sure am looking forward to the start of springtime and the Easter holiday in a few weeks.
Easter always reminds me of two things:
Easter egg hunts.
My dad – bless his heart – still holds an Easter egg hunt for us every year if we decide to make the trek to NY to visit. And it's not like he's doing it now because I have a kid. Nope. He's done it every year, even before I had a child.
For pretty much all of my twenties it was me and my similarly-adult-aged siblings racing around the yard in pajamas. But he puts dolla dolla bills in those eggs, so you better believe I'll run around on a Sunday morning and try to beat out the rest of my family.
Leftover ham dinners.
The actual Easter ham dinner with my family is a special treat, but you all know how it goes – you end up with tons of leftovers. I personally love that part of Easter. Anyone can put together a basic ham dinner, but it's what to do with that ham afterwards – that's where true culinary creativity kicks in.
If you're smart with repurposing that leftover ham, you can get quite a few new meals out of it and save money on food that week! And that's why I'm sharing one of my favorite leftover ham recipes with you today – ham and quinoa casserole.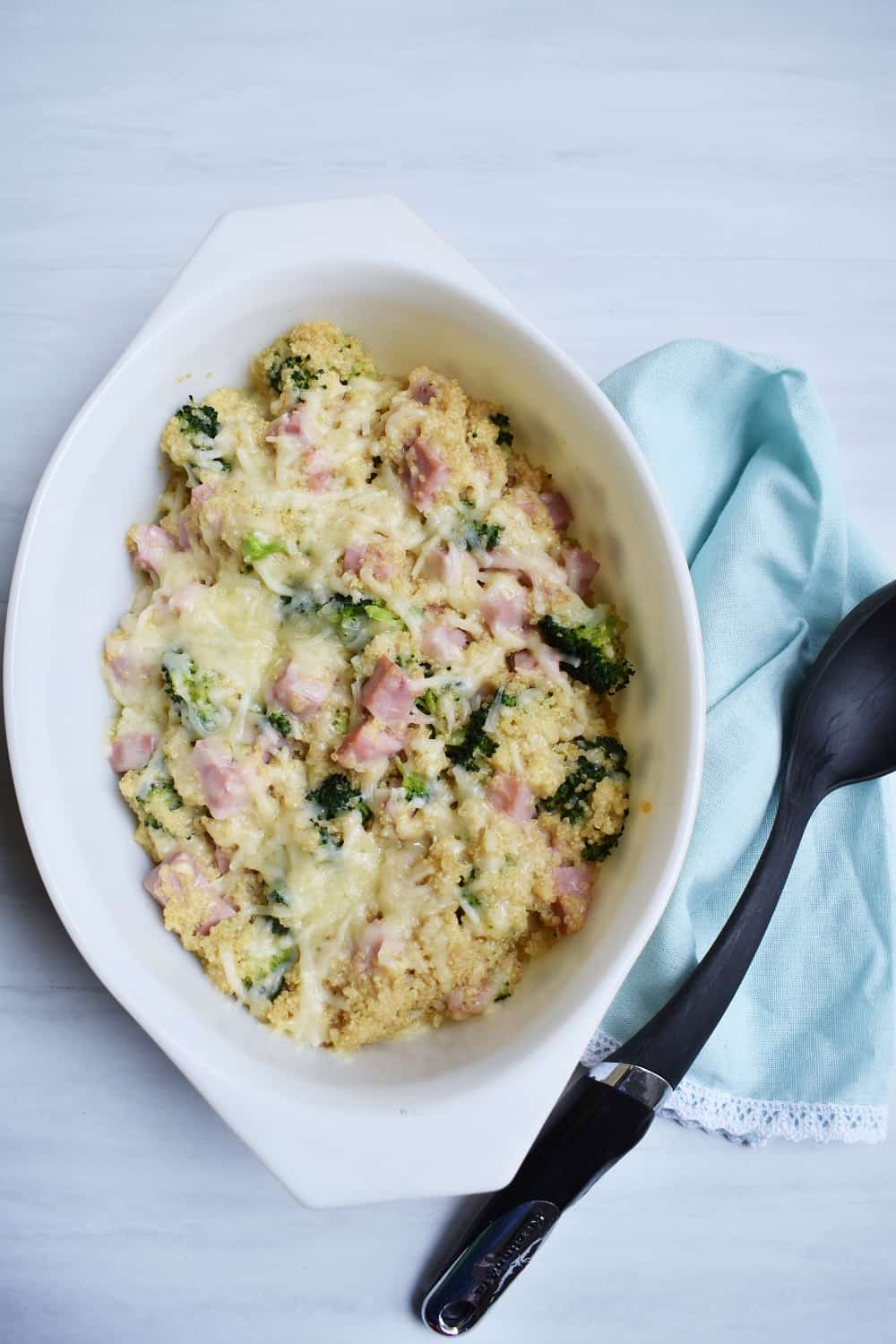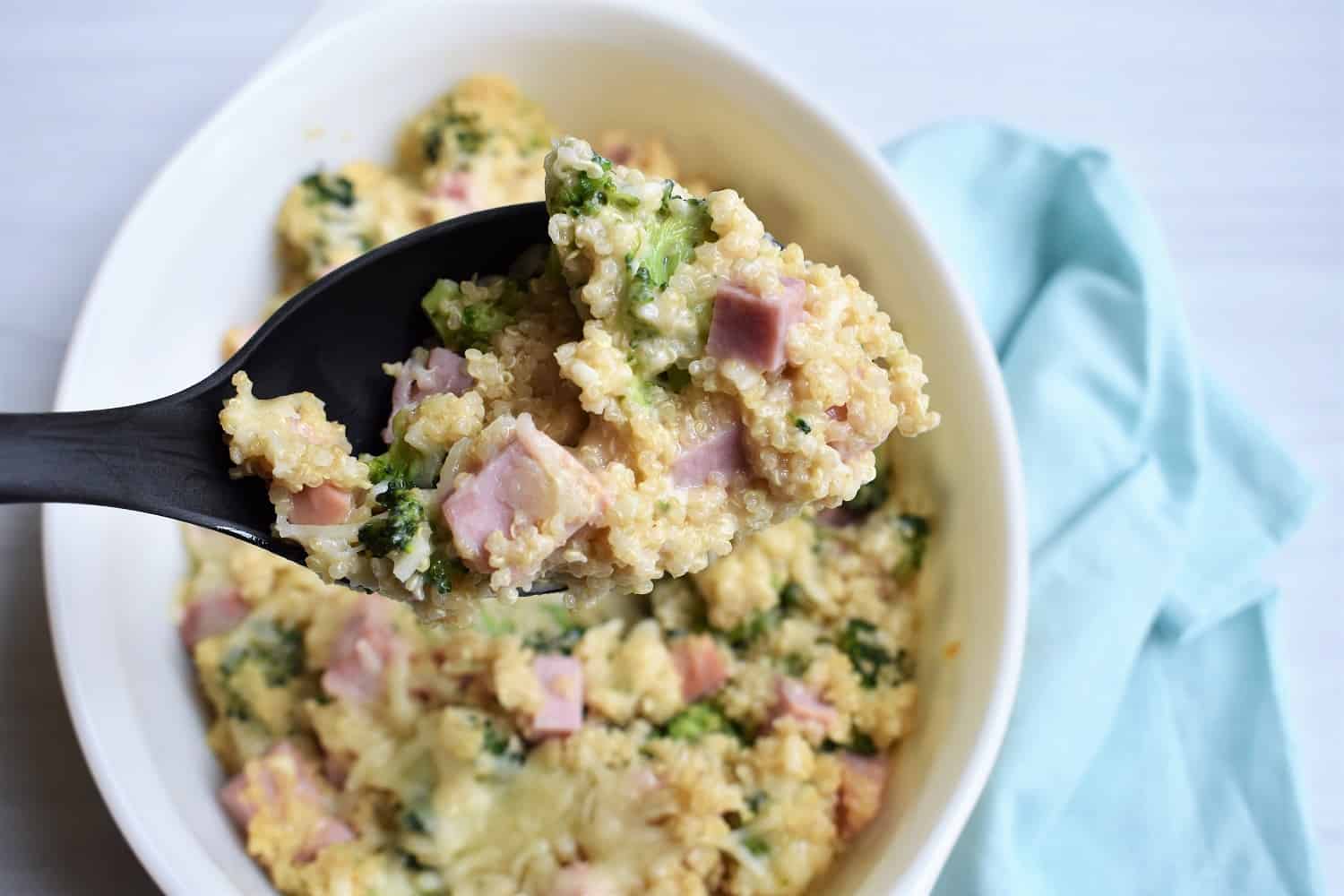 Why should you try this leftover ham casserole?
It's more nutritious than many leftover ham recipes. Yes, it's still high in sodium – I mean, hey, it's ham. But a lot of recipes will call for many processed ingredients, cream-of-something soups, and boatloads of cheese. I tried to stick with more reasonable amounts of whole food ingredients in this.
But don't be scared – you're still totally going to get cheesiness and rich flavor. I've just tamed down the total amount of cheese a bit so you're getting a more balanced meal. And I've added lots of broccoli; perfect for boosting your green veggie intake.
You'll also use quinoa as the base for the casserole instead of noodles. This makes it a good option for those who are gluten free, as the rest of the recipe can easily be modified to fit a gluten-free diet. Just use rice flour rather than all-purpose flour for the roux, and remember to check the ham and mustard for gluten. Occasionally these will contain wheat (in the glaze of the ham, for example) so you'll want to double check your ingredients.
[Tweet "Looking for something to make with your holiday leftovers? Try this cheesy leftover ham casserole!"]
And for all the active ladies reading this post, this is a nice dish since you're getting a blend of satiating fats in the cheese (no feeling hungry an hour later), healthy carbohydrates from the quinoa (to help fuel your fitness), and protein from the ham (for building those muscles).
Plus, it's incredibly easy to make! Just a few basic steps:
1. Cook the quinoa in a pot, and towards the end, toss the broccoli in so it steams in the pot. Add that to a bowl.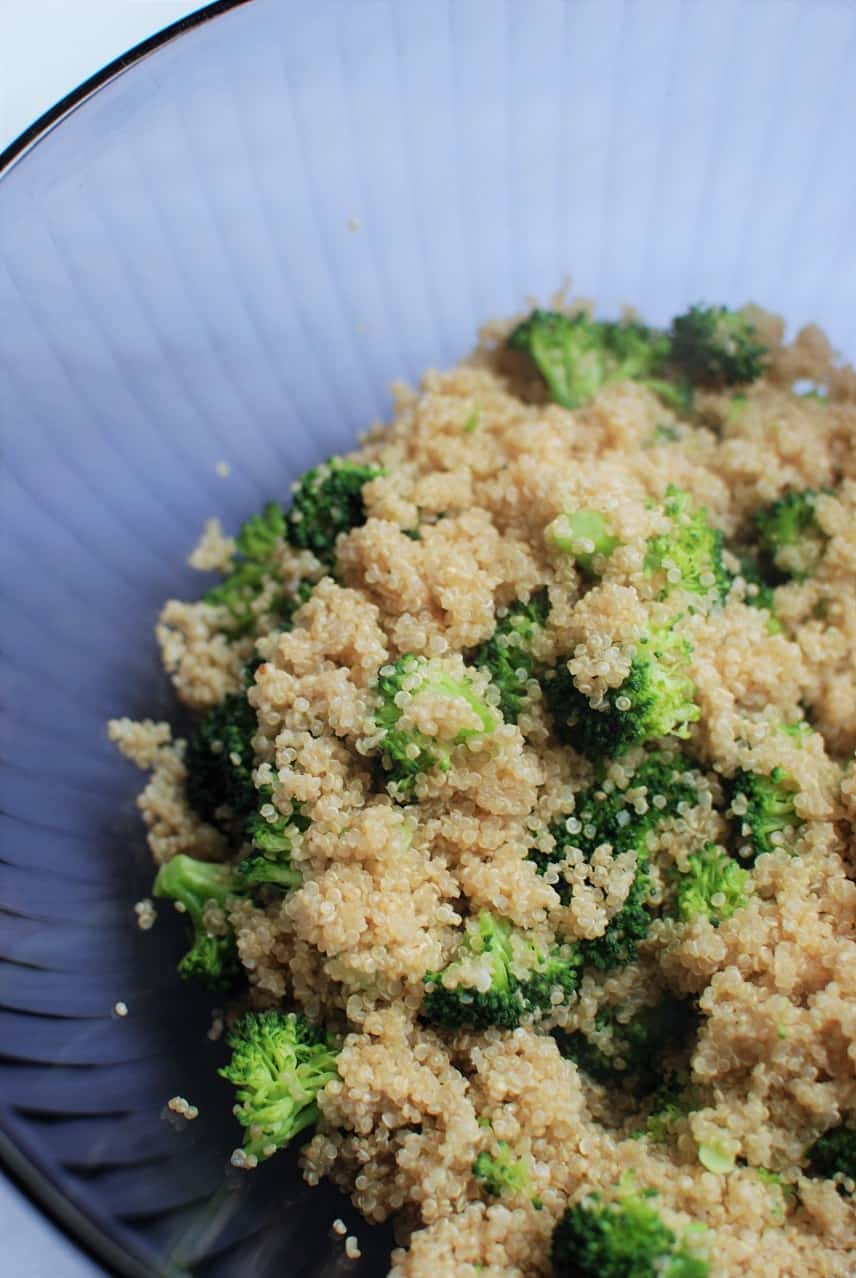 2. Make a quick, easy cheese sauce, and mix that up with the quinoa/broccoli mixture and your leftover ham.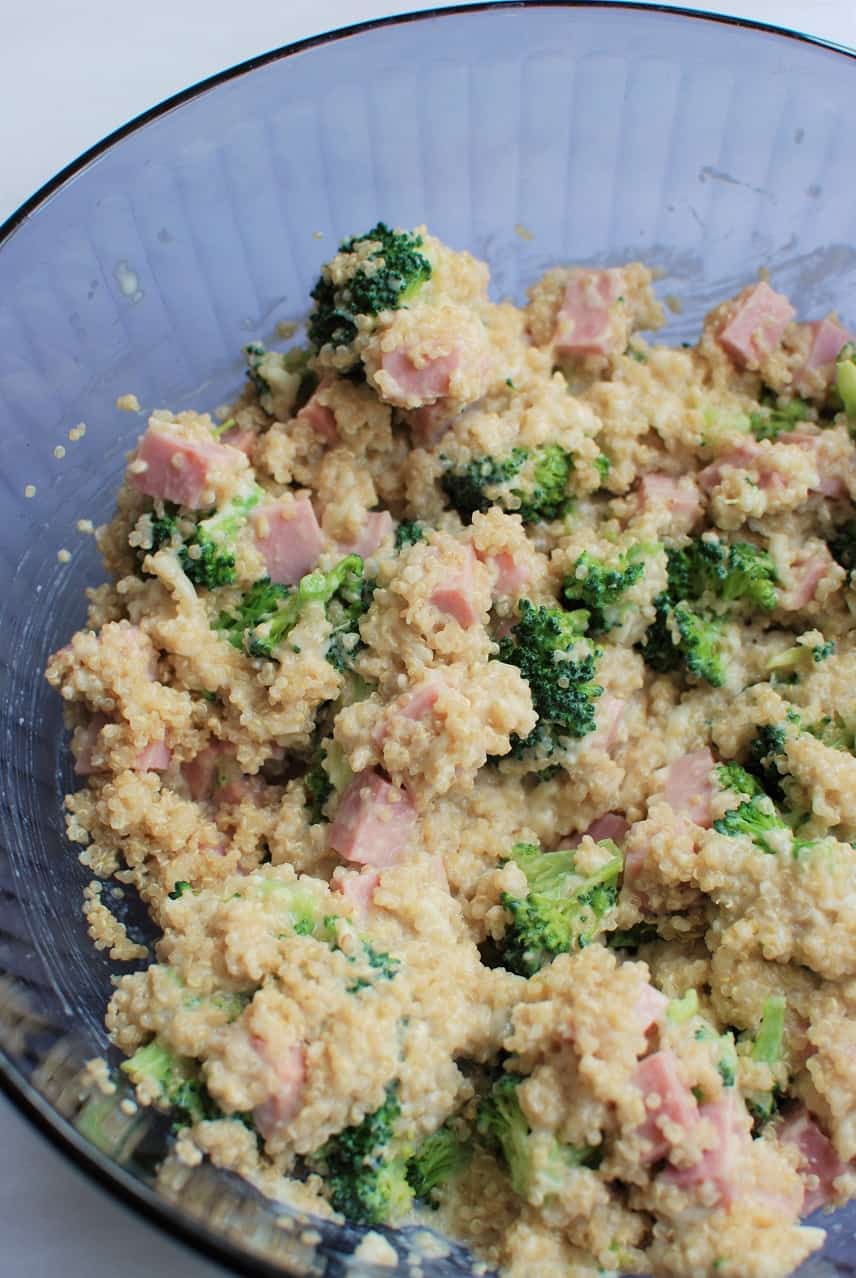 3. Toss it all in a casserole dish and top with some extra cheese.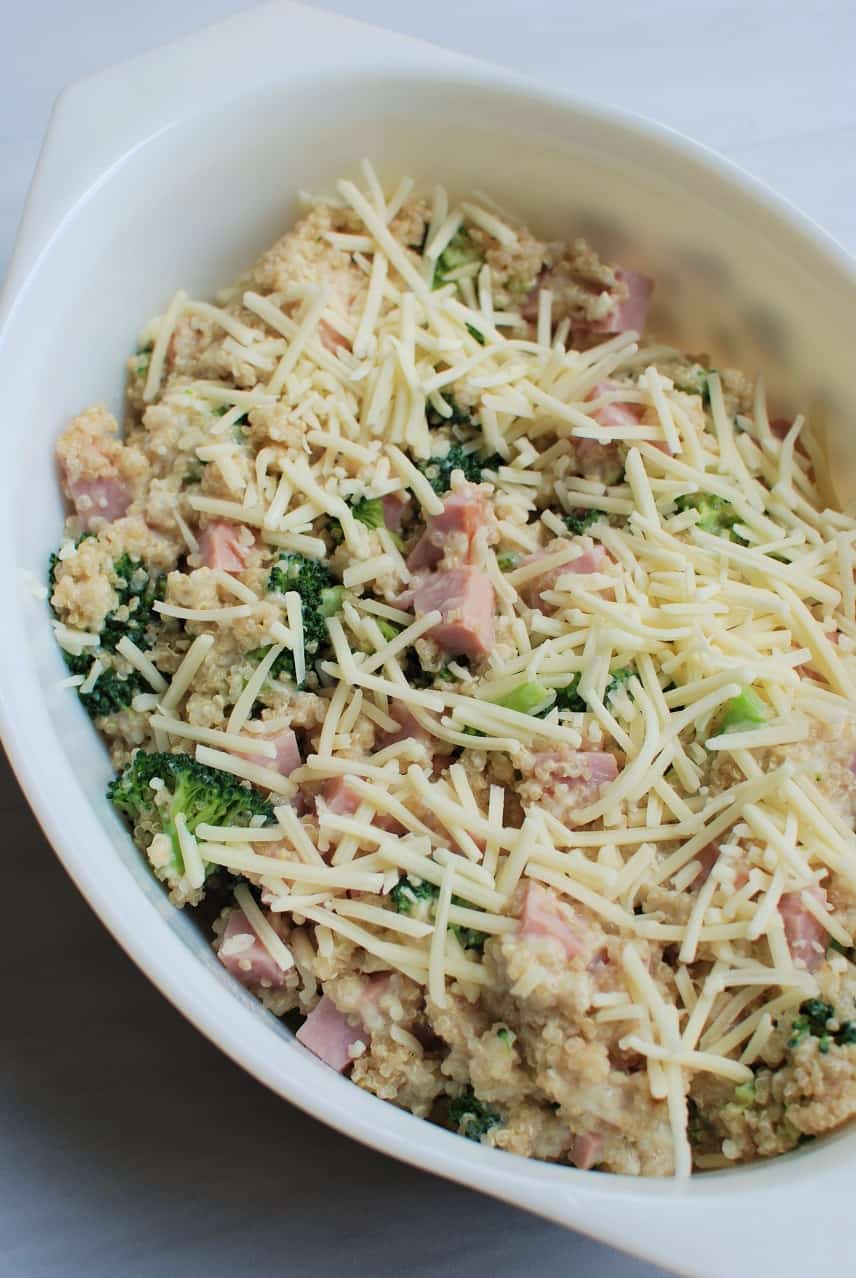 4. Bake the leftover ham casserole until everything is hot and melty and delicious!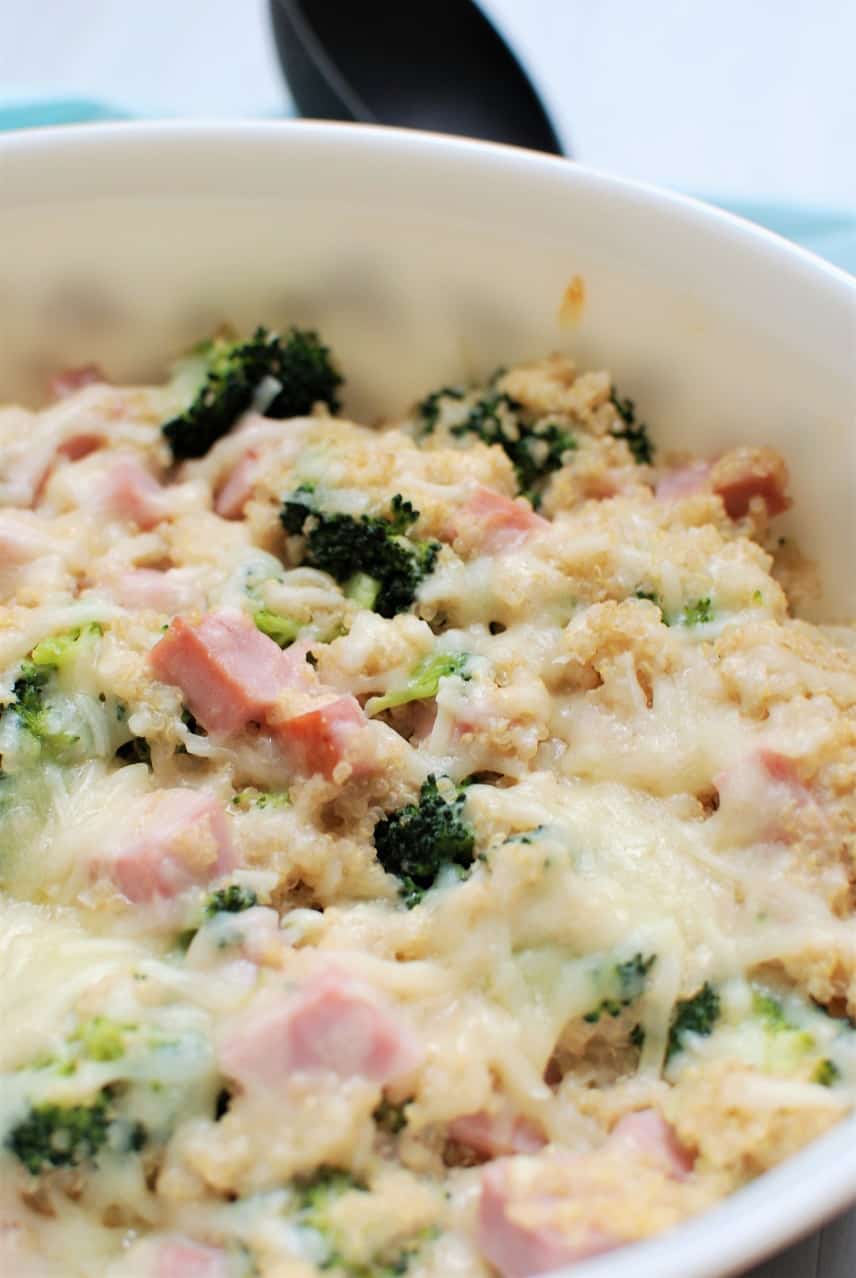 Super simple, right?!
Looking for more healthy leftover ham recipes?
I reached out to fellow food bloggers to grab some links to some more healthy leftover ham recipes that taste great! Try one of these options:
I hope you'll give this leftover ham recipe a try this year with your post-holiday food! Don't forget to pin this recipe in case you want to use it again at Thanksgiving or Christmas-time.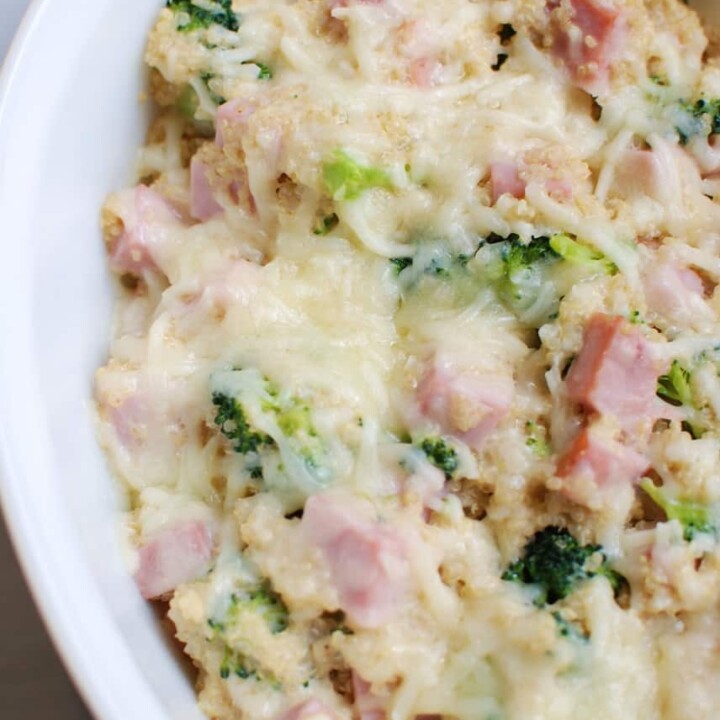 Cheesy Leftover Ham Casserole
This cheesy leftover ham casserole is actually surprisingly healthy! Made with broccoli and quinoa, you'll get a balanced meal that tastes great.

Ingredients
1

cup

dry quinoa

2

cups

water

3

cups

fresh chopped broccoli

(about one small head)

1 1/2

cups

leftover chopped ham

2

tbsp

butter

2

tbsp

all-purpose flour

(if gluten free use rice flour)

1

cup

milk

1 1/2

cups

shredded cheddar

(divided into 1 cup and 1/2 cup)

1

tsp

spicy mustard

½

tsp

garlic powder
Instructions
Preheat oven to 350 degrees.

Add 1 cup of quinoa and 2 cups of water to a medium size pot. Bring to a boil, then cover and simmer over medium-low heat for around 10 minutes.

Add broccoli to the pot with the quinoa and give everything a good stir. Cook for another 4-5 minutes, or until quinoa is fluffy and broccoli is just tender.

Pour the quinoa and broccoli into a large bowl. Add in the chopped ham and set aside.

Give your pot a quick rinse and wipe with a paper towel. Heat 2 tbsp of butter in pot over medium heat. Stir in 2 tbsp flour and cook for a minute, until golden brown but not burnt.

Slowly whisk in milk. When combined, stir in 1 cup of cheddar cheese along with the 1 tsp of spicy mustard and ½ tsp garlic powder.

When cheese is melted, pour sauce into the bowl with your quinoa, broccoli and ham. Stir everything well to combine and then pour into a casserole dish.

Top with the remaining 1/2 cup of cheddar cheese and bake for 10-15 minutes, until cheese is melted and everything is piping hot.
Notes
Notes:
This dish can be made gluten free by using rice flour for the roux rather than all-purpose flour, and as long as a gluten-free ham and gluten-free spicy mustard is purchased. Note that some glazed hams contain gluten in the glaze and/or some hams can be subject to cross-contamination in processing).
You can optionally add ¼ to ½ cup Greek yogurt to the cheese sauce for additional creaminess and protein. It does add a bit of tanginess though, so I didn't include it in the base recipe. If you don't mind the tanginess, go for it!
Nutrition facts (approximate per serving, assumes 6 servings):
357 calories, 18.5 g fat, 10 g sat fat, 771 mg sodium, 26 g carbohydrate, 3.5 g fiber, 22 g protein, Vitamin A: 15%, Vitamin C: 68%, Calcium: 29%, Iron: 13%
Nutrition facts (approximate per serving, assumes 4 servings):
535 calories, 28 g fat, 15 g sat fat, 1156 mg sodium, 39 g carbohydrate, 5 g fiber, 33 g protein, Vitamin A: 23%, Vitamin C: 102%, Calcium: 44%, Iron: 20%
Nutrition
Share with me: What kind of leftover ham recipes do you like to make? Have you ever made a ham and quinoa casserole?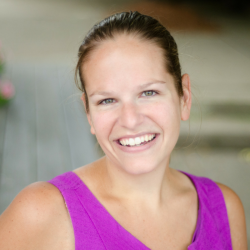 Latest posts by Chrissy Carroll
(see all)