Although it may not seem like it right now with our recent warm weather streak, winter is coming (WINTER IS COMING!).  Most runners and triathletes (at least those of us in the Northeast) will likely have some offseason time over the next few months – unless of course you're training for a winter or early spring marathon, or a destination triathlon.  But no matter what time of year you take your off-season, a few helpful nutrition tips can maximize the benefits of that time and ensure you start your next training season refreshed, healthy, and in good shape.
1.  Cut back on calories and carbs.
When you're in the peak of training, your body needs those extra calories – most in the form of carbohydrates – to supply your muscles with energy.  However, in the off-season, most people significantly reduce their time training/exercising.  You may be cutting back on the intensity or length of your workouts, you may take time off completely for a few weeks, or you may try other activities that you don't normally have time for.  Your overall calorie burn is likely less than in-season, which means you need to eat fewer calories to avoid weight gain.
Here's an example.  Let's say you're a runner and you're putting in about 40-50 miles per week in your training season.  For a 150 pound person, that's somewhere in the range of 4000-5000 calories burned each week through running.  If that person cuts down to 20 miles per week in the off-season (about 2000 calories burned), they'll need 2000-3000 fewer calories from food each week – or about 300-400 less each day.  That makes offseason a great time to put some focus into hunger/fullness cues – eat when you're hungry, stop when you're comfortably satisfied – to try to eat less overall compared to training time.
2.  Eat cleaner.
During the training season, you may rely on some engineered sports products (like bars or shakes) to help meet your nutritional needs – and that's fine because that's when your body may need that!  But during the off-season, try cutting back on those and focusing on eating cleaner with whole foods.  Avoid foods that have a laundry list of ingredients and additives.  Instead, focus on fresh fruits and vegetables, whole grains, lean proteins, and healthy fats.
3.  If you want to lose weight, now is the time to go for it.
If you're concerned about the impact your weight is having on your health/performance, the off-season is a great time to try to work on weight loss.  During training, the level and intensity of activity can increase your appetite significantly, and it can be quite difficult to meet your fueling needs for maximum performance while trying to lose weight at the same time.  In the off-season, though, the lighter training volume means a smaller effect on appetite, and you don't have to worry as much about the impact of under-fueling on your training sessions.
Try addressing both the diet and body composition aspects of this.  You don't want to lose lean mass (muscle) so doing a few strength training sessions each week in the off season is smart (plus, it'll most likely help you athletically when the new season kicks off).  From a diet perspective, focus on those hunger/satiety cues, and/or try keeping a food journal (either pen and paper, or online) to see what your current habits are.  Aim to make a few small changes each week to cut back on calories to support weight loss.  For example, maybe in the first week you cut your portions of grains at dinner.  Maybe in the 2nd week, you only have one glass of wine a week instead of a few glasses of wine.  You get the idea.  Think about what your personal challenges are and work on those.
4.  Get some blood work done.
Many runners and triathletes may struggle meeting certain vitamin and mineral needs.  For example, African American athletes – especially those who are vegan – typically struggle with low levels of Vitamin D.  And actually, a lot of athletes may be Vitamin D deficient regardless of ethnicity or diet – I ended up finding out I had a deficiency earlier this year.  Along the same lines, young female athletes may need additional iron.
With a busy training schedule, setting aside time to see a doctor can feel overwhelming.  But with more flexibility and free-time in the off-season, it can be easier to find a day to stop by your MD.  Get quick round of blood work done to check for deficiencies.  You may need to start adding certain foods to your diet or taking a supplement – and it's much easier to focus on implementing these changes now rather than later.
Share with me:  Do you change your diet at all in the offseason?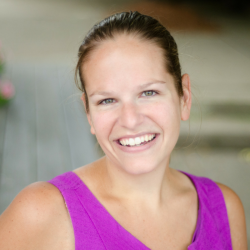 Latest posts by Chrissy Carroll
(see all)