When it comes to running, a lot of athletes ask whether they should train by miles or by minutes. There's not actually a clear cut answer to this question. There are benefits to both training methods depending on the type of training, your running speed, and other factors. Here's my breakdown of the pros of each type of training…
Training by Time
Easier to schedule.
While you can estimate how long a distance-based run will take you, there are factors that might affect this – for example, the weather, muscle fatigue, etc. With a time-based run, you can write it into your schedule and know exactly how long you'll be out there.
Better adherence to training zones.
If you do any kind of heart rate training or zone based training, you know that there are different types of runs. Some might be an easy run and others might be a tempo run. For many athletes, running by time makes it easier to adhere to these zones better. Mentally, going out for a 45 minute easy run makes more sense to our brain. Sure, you can say you're going to do an "easy" 4 or 5 miles – but the incentive to go faster is always there if you want to finish faster.
No routes necessary.
If you don't feel like planning a route, you don't have to. Just start running, and when you reach the half-way point for time, turn around and run home. This can be ideal for those of you who travel for work frequently.
Eases stress during the off-season or coming back from injury.
Running based on time can be really helpful in the off-season or when you're coming back from an injury. You're able to pound the pavement without worrying about just how many miles you're covering and how fast you're doing so. This can help a lot mentally during those times.
Training by Distance
Helps you learn pacing.
The large majority of races we run are in distance – 5k, 10k, half, full, 50K, etc. While there are some time based races out there (for example, around here we've got the RI 6 hour ultra and the Anchor Down Ultra with 6/12/24 hours) you're far more likely to encounter races in distance. It's important to learn how to pace yourself over the miles (no matter what distance) so that you can finish effectively. This is especially true if you always tend to start fast and fade at the end.
Can mean better training accuracy for slower runners.
This isn't because a slower runner can't train by time. However, slower athletes can run into problems with generic time-based plans that haven't been customized specifically for them. These plans don't take into account the fact that a 60 minute run might mean 8 miles for some runners, and 5 miles for others.
For example, let's say someone finds a time-based marathon training plan on the internet and the longest run on the plan is 3 hours. That may be fine for training if you're a 7 mph runner – it means you'll finish around 21 miles for your longest run. But if you're a slow runner (myself included) around the 5 mph range, that's only putting you at 15 miles for the longest run of your plan. I would definitely not feel prepared for a full 26.2 with that.
Keeps you accountable.
Many athletes enjoy a mileage based plan because it can keep you accountable. If you feel like you might be a little "lazy" on time based runs – aka not pushing yourself when it's needed – you might end up skimping on the effort/mileage needed. This could affect your success in your race. In that case, a mileage based plan might work better for you.
[Tweet "Should you run for time or for distance? Find pros and cons of each approach here!"]
Which to choose?
Ultimately, the right method is all about figuring out what will work best for you. You might focus on one type of training during part of the year or for some of your workouts, or you might decide to stick with a fully time or mileage based plan if it feels best.
No matter which method you choose, you'll still be able to see your improvements. If you run for time, as your fitness level improves you'll see a greater mileage in that same time. If you run for distance, as your fitness level improves you'll see a quicker time for the same distance.
Share with me: Do you run by time, by distance, or by a mixture of both?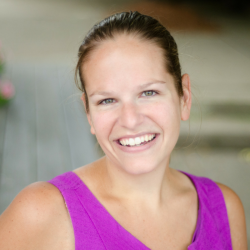 Latest posts by Chrissy Carroll
(see all)