This is a sponsored post written by me on behalf of Seafood Nutrition Partnership for IZEA. All opinions are 100% mine.
Back in high school, I used to work as a banquet waitress at a local hotel. I'd be a server at all kinds of functions: baby showers, business meetings, class reunions, and – my favorite of all – weddings. Despite the fact that the job required long hours on your feet without much acknowledgment (I mean think about it, who really pays attention to servers at a wedding), I really enjoyed working there. I loved bouncin' around to Cotton Eyed Joe while I served tables, enjoyed seeing the wedding guests having a fun time, and I always had a ball watching the different traditions and surprises that took place.
Oh yea… And I LOVED when there was extra food.
You see, when there were extra hors d'oeuvres left on those little trays that we passed around, that meant we got to snack on them. And nothing pleased me more than some bites of scallops wrapped in bacon. We never ate scallops at home as a kid and it was the ultimate treat to get to eat them at work. It's still my favorite appetizer and to this day if I'm at a wedding where these are being served, watch out peeps – I'm going in.
Of course, now that I've got my own family I can make scallops at home when I want and experiment with them outside of the bacon comfort zone. The local farmer's market here sells fresh caught scallops and they are just SO good. I know they can be a smidge pricey but I do like to indulge in them every few weeks. When you purchase something that's such high quality and make it in a way that honors the seafood, it's totally worth it.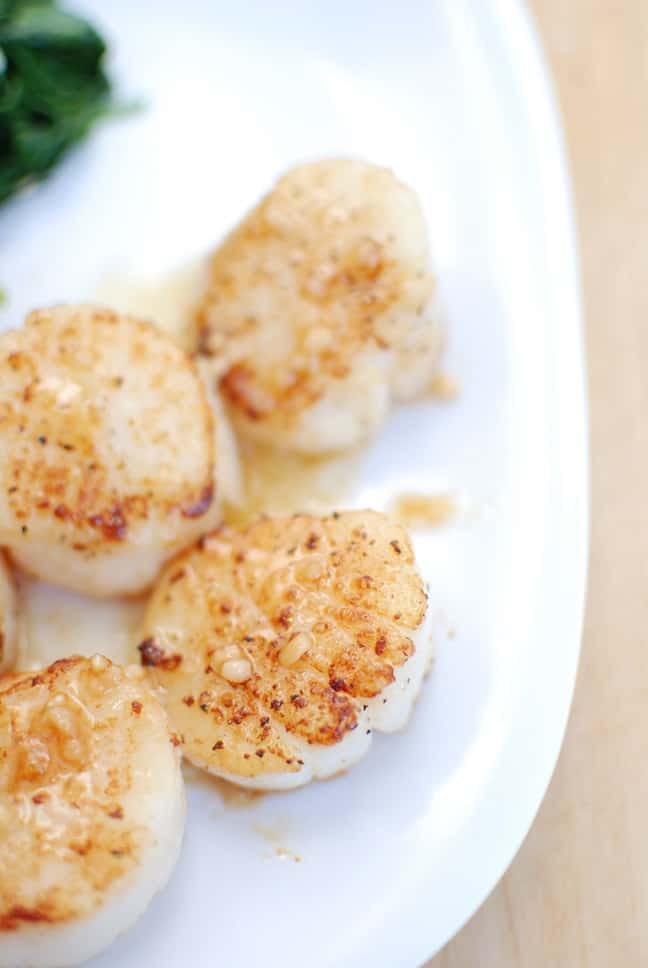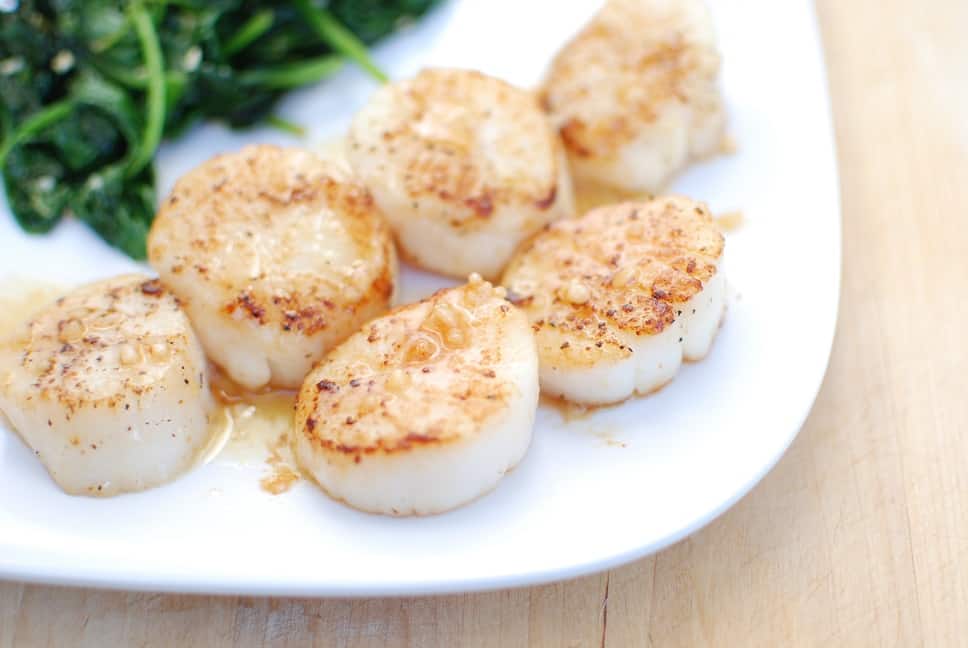 And it's important to me to include these – along with other seafood – in my family's diet on a regular basis. Fish and shellfish are great sources of lean protein, provide various vitamins/minerals, and contain omega-3 fatty acids which are associated with heart health and cognitive benefits. In fact, the Seafood Nutrition Partnership estimates that eating seafood two to three times per week can reduce the risk of death from any health-related cause by 17%! That is crazy, in an amazing I-need-to-buy-more-seafood kinda way.
Since the USDA recommends eating seafood twice a week, I'm taking the Seafood Nutrition Partnership Healthy Heart Pledge to commit to striving to eat two servings each week. I know that might be a jump for many families, but it's easier than you think! Fish and seafood are actually easy to prepare (like my scallops) and can be quite affordable (frozen fillets and canned tuna are two great economical options). So hop on over and take the pledge to encourage your crew to start feasting on more fish ! 🙂
Lately, my favorite way to get one of my servings of seafood is cooking those gorgeous fresh farmer's market scallops with a grapefruit brown butter sauce. It.is.amazing. Seriously, the sauce (despite being quite simple) is lick-the-pan good. You are sure to impress anyone with it. And the best part? This recipe is just 5 ingredients (plus salt & pepper), only uses 1 pan and is done in less than 20 minutes.
I like to serve these alongside a vegetable, and you can totally pick whatever floats your boat. My favorite is some type of green (like spinach, beet greens or mustard greens) because you can sauté that up with some butter and garlic in another pan while you're making the scallops. And since you're already using butter and garlic in this recipe, it only adds one extra ingredient to purchase for your side.
I've been pretty generous and listed this recipe for two because hey – if you love scallops as much as we do, I'm thinking you want quite a few on your plate. But if you added another side to this meal (like a starch in addition to the vegetable), you could definitely get away with splitting it into three or four portions.
Now grab some scallops and get to cookin', my friends!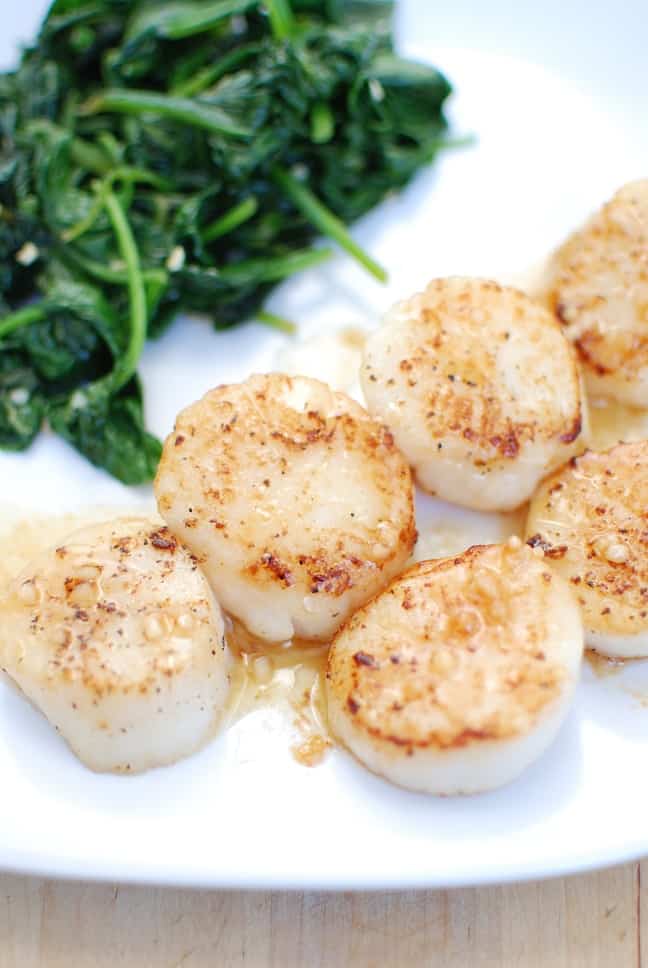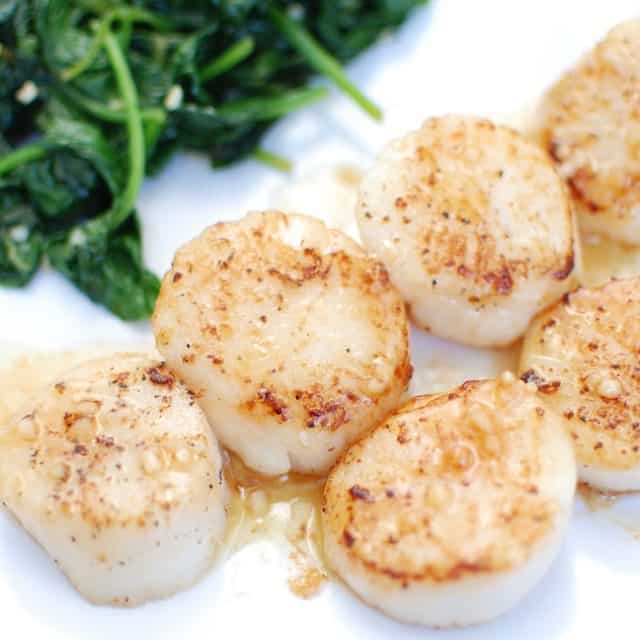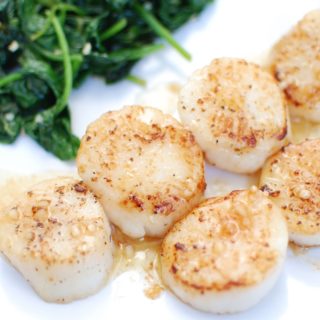 Seared Scallops with Grapefruit Brown Butter Sauce
Seared scallops with grapefruit brown butter sauce? Um, YES please! This healthy recipe is just 5 ingredients and is done in under 30 minutes.
Ingredients
1

lb

sea scallops

Salt & pepper

(to taste – I used approximately 1/8 tsp each)

3

tbsp

butter

(divided into 1 tbsp and 2 tbsp)

1/4

cup

fresh squeezed juice from a grapefruit

1/4

cup

white wine

1

teaspoon

minced garlic
Instructions
Thoroughly dry scallops. Season with salt and pepper according to taste preferences.

Heat 1 tbsp butter over medium heat. Add scallops and cook for 2-3 minutes per side, until scallops are milky white and reach an internal temperature of 145 degrees. Remove scallops from pan using a slotted spoon and set aside. Leave any remaining butter in pan.

Turn heat to medium-high and add garlic. Cook for 1-2 minutes or until fragrant.

Add white wine and cook for another 1-2 minutes, until some of the alcohol cooks off.

Add 1/4 cup grapefruit juice and 2 tbsp butter and cook for another 3-5 minutes, until sauce has reduced and butter has started to brown. Remove from heat and spoon over scallops. Serve alongside your favorite vegetable (I like some gently sautéed spinach with garlic – it's only one extra ingredient to add to your list!).
Notes
Nutrition analysis (approximate per serving):
347 calories, 18 g fat, 11 g sat fat, 11 g carbohydrate, 29 g protein; Vitamin A: 15%, Vitamin C: 29%, Calcium: 6%, Iron: 4%
Nutrition
Share with me: Do you love scallops as much as I do? What's your favorite seafood dish to cook?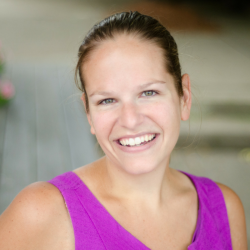 Latest posts by Chrissy Carroll
(see all)