If you ever browse the dairy aisle at the supermarket for yogurt choices, you'll notice that many of them have a considerable amount of added sugar.  It's a little confusing, because yogurt naturally has sugar from the milk it's made from.  But any flavored yogurt typically has extra sugar added, and it doesn't always come from the "fruit" blended in there – you may see high fructose corn syrup, dextrose, cane sugar, or any other number of "sugar words" on the ingredient list.  Or, you may see artificial sweeteners like sucralose or aspartame on the labels.
To avoid the overly sweetened types, my standard recommendation for people is to use plain greek yogurt but add your own fruit for natural sweetness.  The amount of sugar you get by adding your own fruit is typically much less than is added in many flavored varieties.
The objection I usually hear is that people don't like the taste of the plain yogurt even with the fruit, or that it's too thick.  Not to worry, my friends!  Here's my secret trick that solves both of these problems:
First, instead of buying fresh fruit, buy frozen fruit.  Frozen fruit is actually just as nutritious as fresh, since it's been frozen at the peak of ripeness, and is often cheaper.
Place a cup of frozen berries (or other frozen fruit of your choice – berries are my favorite because they are a little higher in fiber) in a bowl.  Pop these in the microwave for about 30 to 60 seconds.  The fruit will defrost, and when it does, it'll also release some of its natural juices.
Then simply take your plain greek yogurt, and mix it together with the fruit!  The juice from the fruit will distribute evenly throughout the yogurt, leaving it a bit thinner and more like a flavored variety, and you still get chunks of yummy berries throughout the bowl.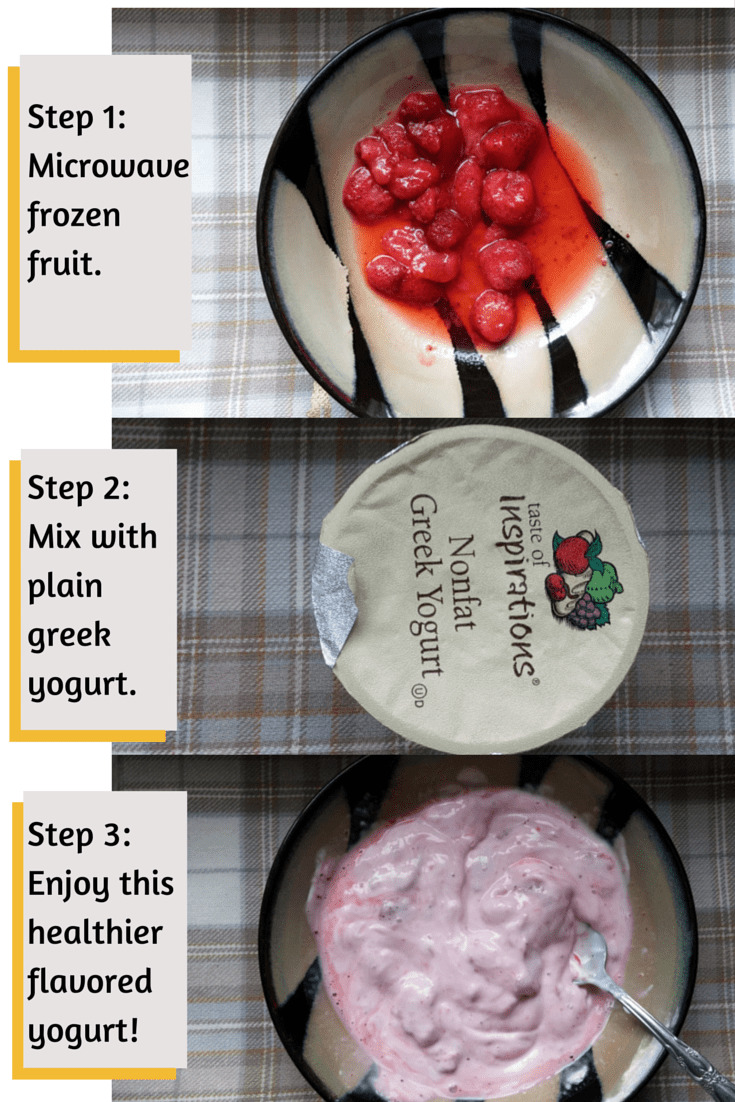 Brilliant, right?  Nothing but natural ingredients!  Greek yogurt contains less sugar and more protein compared to regular yogurt, and the plain varieties don't have any added sugar.  By adding your own fruit, you add sweetness from the sugar naturally occurring in the fruit – along with a host of other vitamins, minerals, and fiber.
If this seems like too much trouble for ya, compare the labels on your favorite flavored varieties and go for the one with the least amount of sugar.  Siggi's is one of my favorite flavored brands because it tastes good and it's very low in added sugar.  Of course, if flavored yogurt is one of the only things you eat with added sugar each day, then you're probably fine sticking to whatever brand you love.  Just consider that now a days, there's added sugar in tons of products, from cereals to salad dressings to pasta sauces – it always helps to cut back where you can.
Share with me:  What is your favorite kind of yogurt?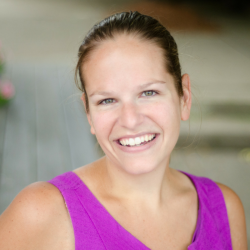 Latest posts by Chrissy Carroll
(see all)