Disclosure: This post was sponsored by Better Than Bouillon as part of an Influencer Activation for Influence Central and all opinions expressed in my post are my own.
Whether it's a chilly, snowy night or you've just finished up a weekend long run in the cold – there's just nothing better than a piping hot bowl of soup. This soba noodle broth bowl is a great way of adding some variety to your normal soup routine. You're treated to a savory mushroom soup base, tons of vegetables, a hint of soy sauce, and hearty Japanese soba noodles.
Key Ingredients in This Soba Noodle Broth Bowl
You'll want to grab two helpful ingredients that you may not already have on hand – but probably will always keep stocked after you try this!
I love keeping Better than Bouillon stocked in our kitchen. This brand has a line of concentrated pastes for different types of stock – and they can be also used for things like marinades and glazes.
For this soup, I use the mushroom base – it's packed with that rich, salty, umami flavor. It really helps create the overall flavor profile for this dish.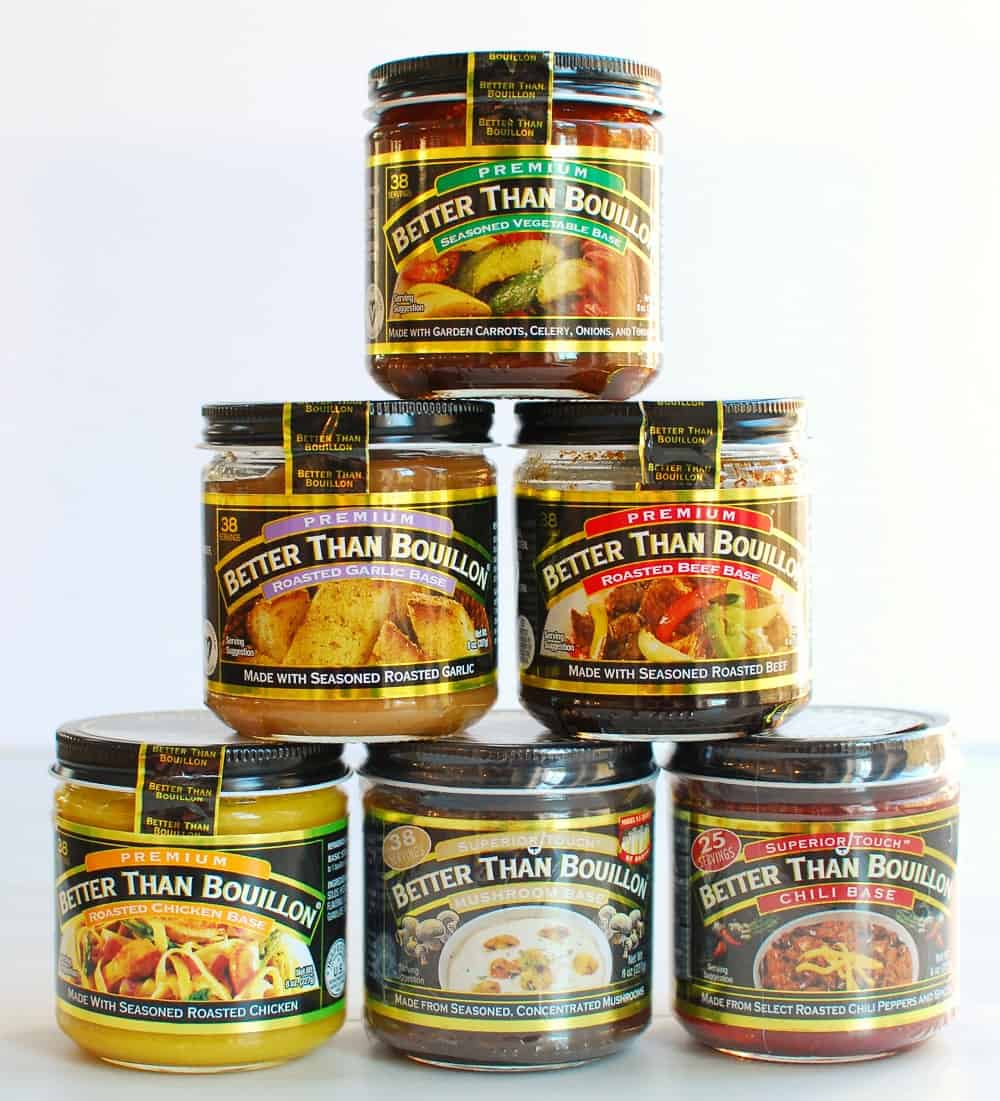 As an aside, I highly recommend keeping a few of them on hand regularly in your kitchen. They come in four categories of flavors, including premium (the delicious soup bases you've come to know and love), vegetarian (for all my no-meat friends), organic (key flavors made with organic ingredients), and reduced sodium (great if you're trying to cut down on sodium intake).
Plus, because it's concentrated, you can get 38 cups of stock from most of the small jars! Since we cook at home pretty much every night, it's so much more convenient than keeping tons of those giant 32-ounce packages of broth in the pantry. (And by pantry, I mean the random white cabinet we bought to keep in our kitchen since our house doesn't actually have a pantry. You can imagine why space would be a concern, haha!)
2. Soba Noodles
Soba is the Japanese word for buckwheat, and soba noodles are traditionally thin buckwheat noodles. Despite the name, buckwheat is actually completely different than wheat – though most soba noodles on the market these days are a combination of buckwheat and wheat.
The noodles are delicious, and add a heartiness and earthy flavor to this soup.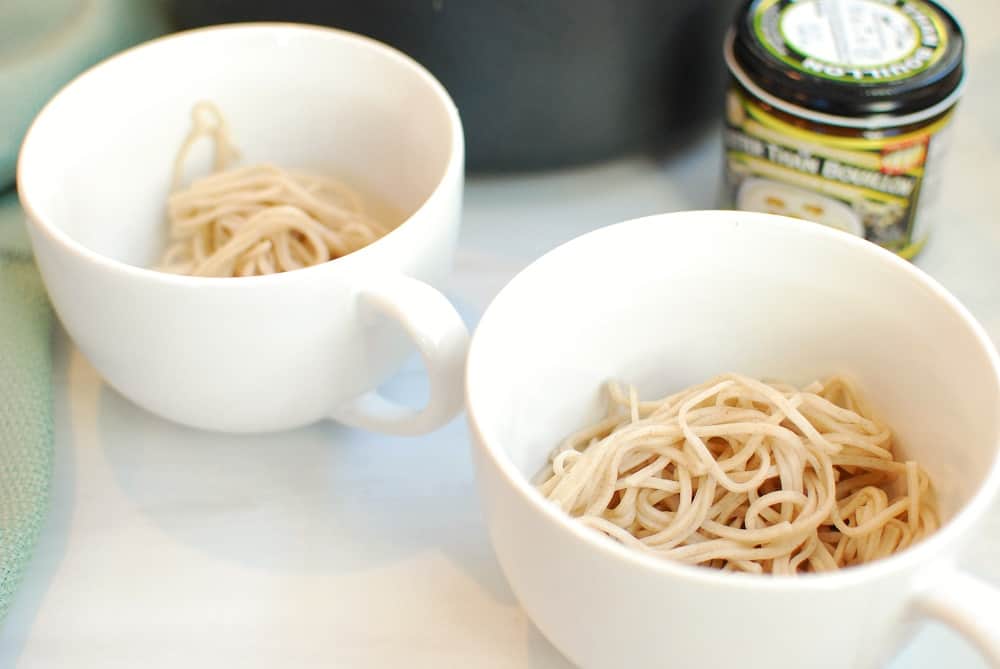 Why I Love This Soup
Besides the fact that it's delicious, this soup is also quite nutritious. It's packed with veggies like onion, mushrooms, carrots, and cabbage. Most people don't automatically think of adding cabbage to a soup, but it works so well here!
You can serve this as an appetizer sized portion, or you can add some chicken or tofu to it to make it a full meal. A portion without any added protein clocks in right at 168 calories, while a bowl with some added chicken is just over 300.
I also enjoy eating the veggie-only version as a snack. It's so much more filling than a granola bar or something!
And because I'm sure someone is curious about the sodium – yes, it's got a bit of sodium in it, but that's true of all soups! If you minimize high sodium foods the rest of the day, it's completely fine to enjoy a higher-sodium meal. (Especially for those of you who might eat this after a long run!)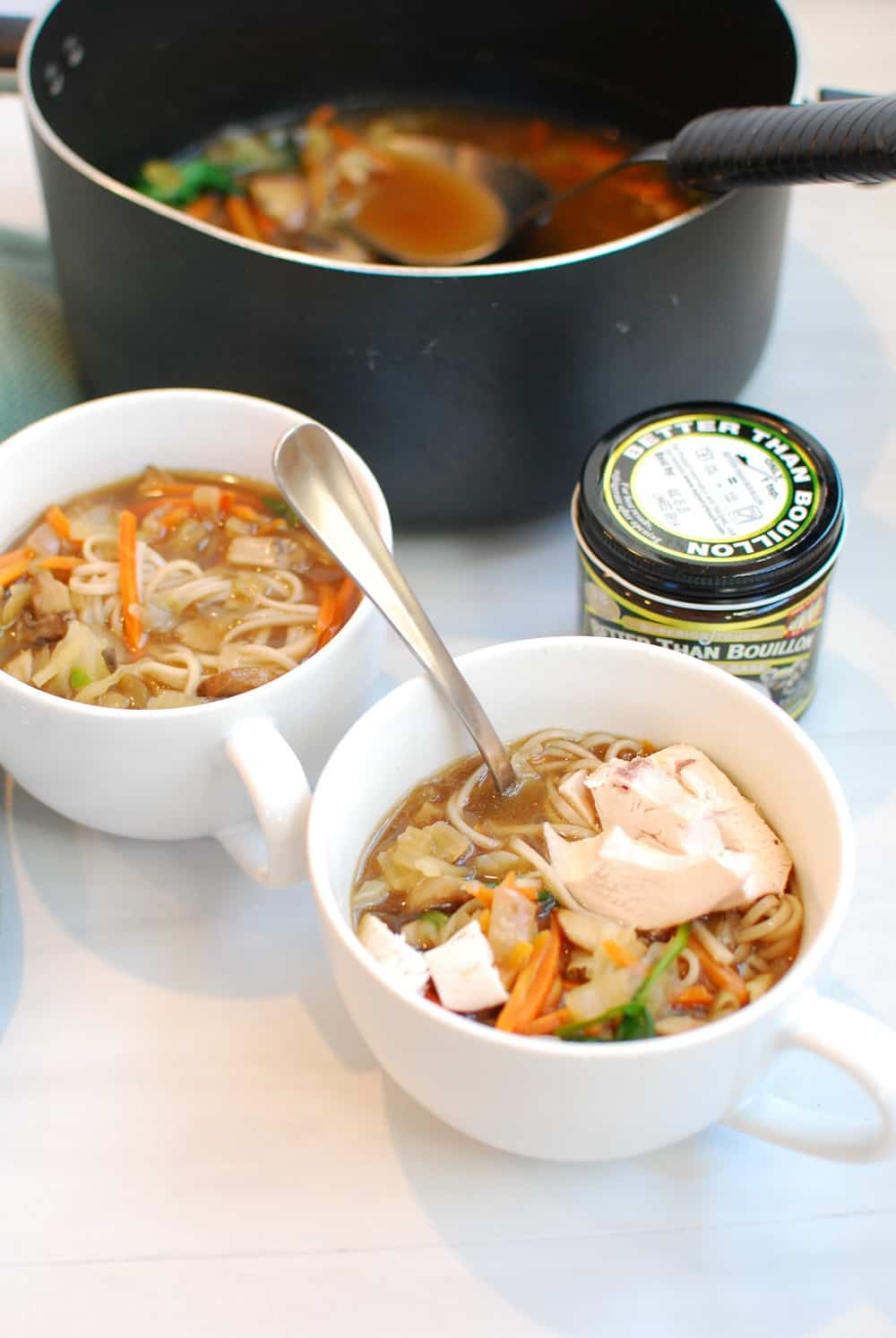 Tips for Making This Soba Noodle Broth Bowl
Here are a few tips to help you make this recipe in the quickest and most delicious way possible!
Purchase shredded cabbage at the store to save time prepping a full head of cabbage. (You can just buy the plain bags of coleslaw mix). Same goes for buying shredded carrots and pre-sliced mushrooms! Of course, you can also buy them all whole if you'd prefer and DIY. If you go that route, you can maximize time by chopping your veggies while you're waiting for the water to boil for the soba noodles.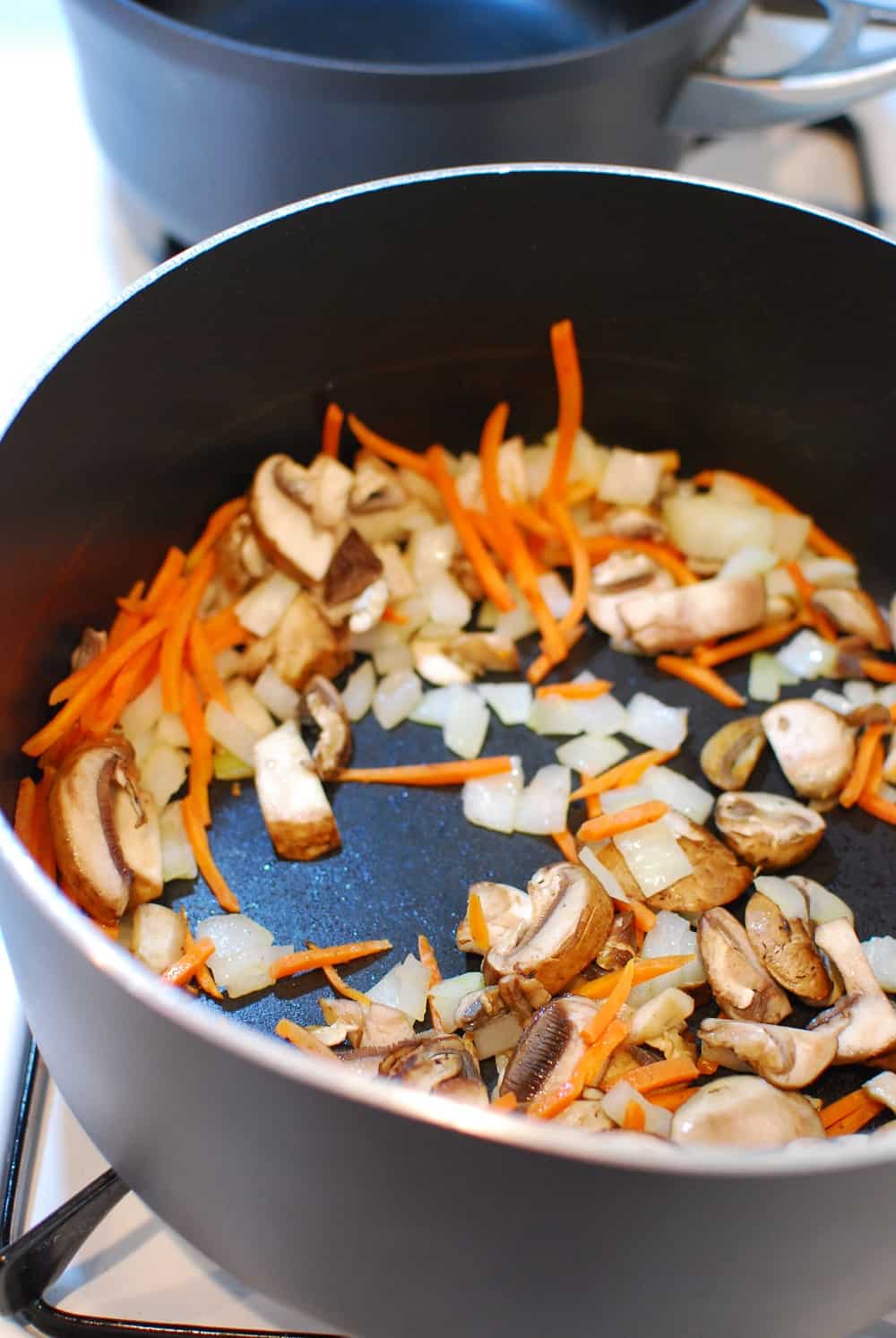 Cook the soba noodles separately and then be sure to rinse them with cold water when they're ready. This will help them keep their texture and prevent them from becoming gummy in the soup. Once they're cooked, you'll just divide them up into the bowls and ladle the broth in when that's ready.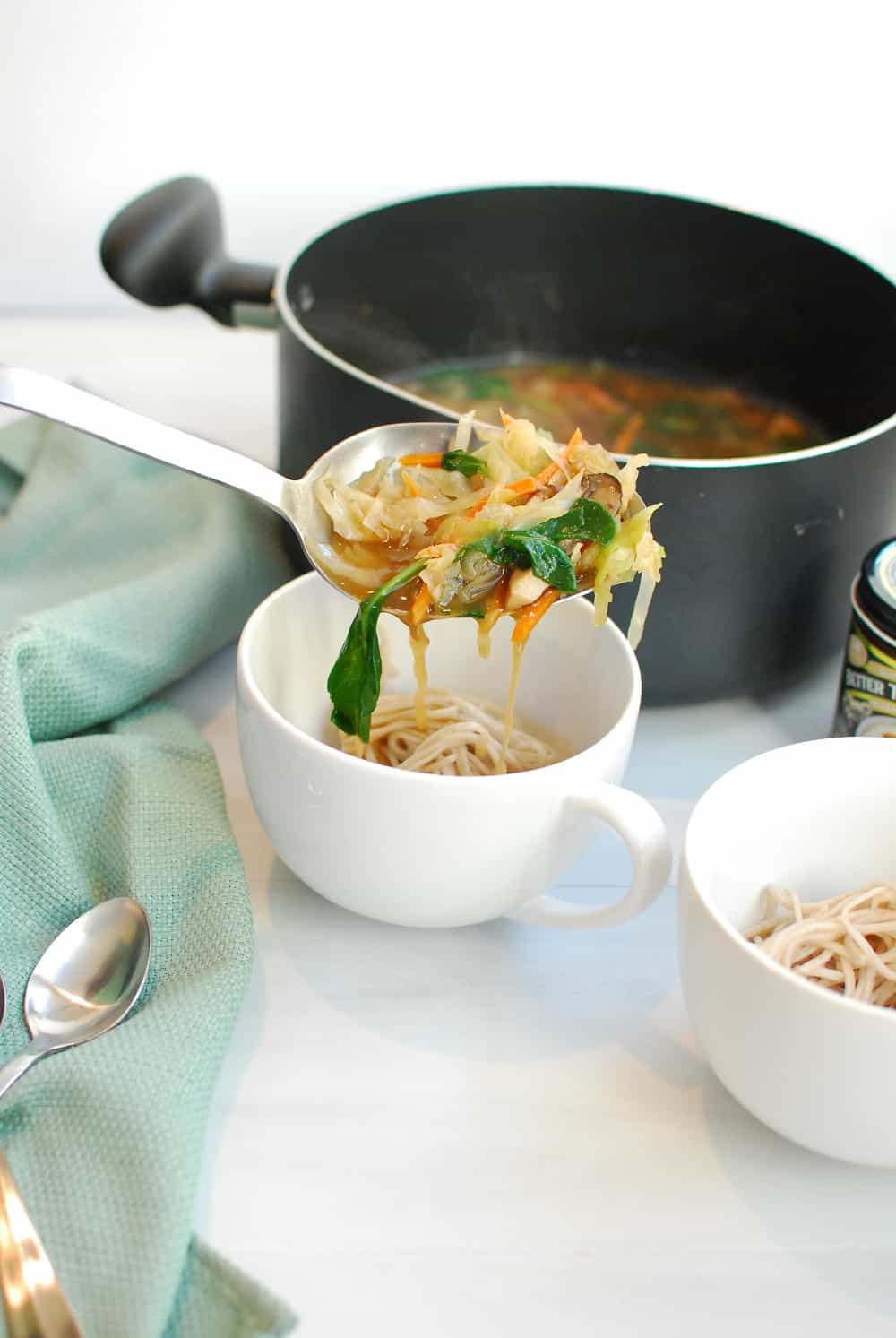 If you want to top this with sliced chicken, either pre-cook extra chicken on another night or buy a rotisserie chicken at the grocery store. You can top each bowl of soup with about 3 ounces of cooked chicken for a meal!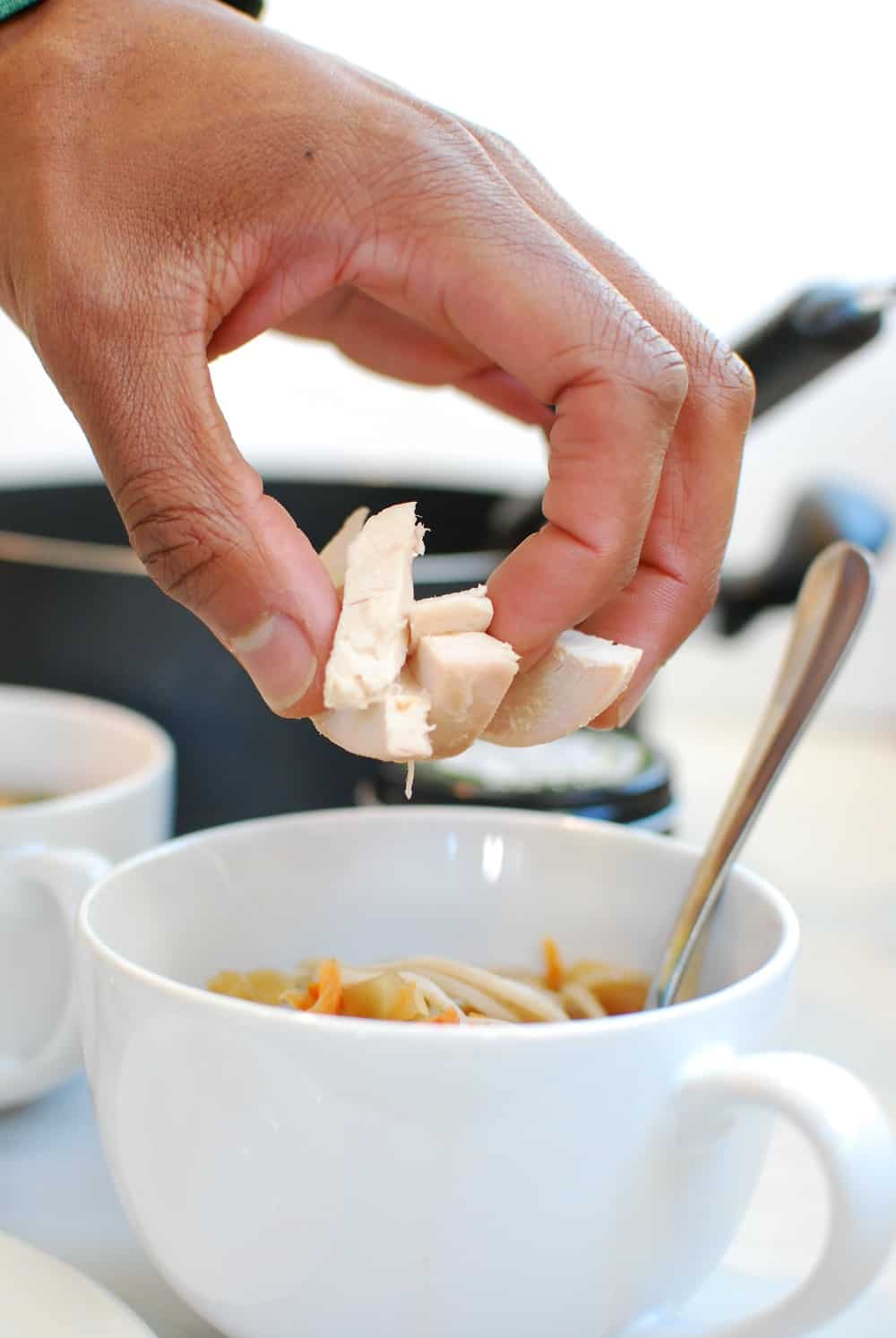 Giveaway:
To help you stock up on groceries to make this delish soba noodle broth bowl, be sure to enter this giveaway! You could win a $50 Visa Gift Card or a BTB Variety Gift Pack. (Note: I-C will randomly select winners from all program entries and will facilitate fulfillment of the winning prizes 9 winners.)
Better Than Bouillon Sweepstakes
Soba Noodle Broth Bowl
This soba noodle broth bowl is full of umami deliciousness! Think of a savory mushroom base, tons of vegetables, a hint of soy sauce, & hearty soba noodles.
Keyword:
soba noodle bowl, soba noodle broth bowl
Ingredients
For soup:
4

ounces

dry soba noodles

1

tbsp

olive oil

1/2

cup

diced yellow onion

1/2

cup

shredded carrot

1 1/2

cups

sliced baby portabella mushrooms

1

tbsp

lower-sodium soy sauce

4

tsp

Better Than Bouillon Mushroom Base

4

cups

water

1 1/2

cup

shredded cabbage

3/4

cup

baby spinach
Instructions
Cook soba noodles in water according to package directions (generally 4-5 minutes). After cooking, immediately drain and rinse under cold water (this helps prevent them from becoming gummy).

Heat the olive oil in a pot over medium heat. Sauté the onion, carrot, and mushrooms for 6-7 minutes, or until tender.

Stir in soy sauce and cook for another minute. Add Better Than Bouillon mushroom base and water to the pot, and bring to a boil.

Reduce heat to a simmer and stir in cabbage and spinach. Cook for 1 minute then remove from heat.

Divide the cooked soba noodles equally among four bowls. Spoon the broth with veggies into each bowl. Optionally, add some pre-cooked rotisserie chicken to each bowl as well. Enjoy!
Recipe Notes
Nutrition analysis (approximate per serving, no chicken):
168 calories, 3.5 g fat, 0.5 g sat fat, 1061 mg sodium, 30 g carbohydrate, 2 g fiber, 3 g sugar, 6 g protein, Vitamin A: 57%, Vitamin C: 22%, Calcium: 4%, Iron: 8%
Nutrition analysis (approximate per serving, with 3 ounces of chicken breast):
306 calories, 6.5 g fat, 1.5 g sat fat, 1123 mg sodium, 30 g carbohydrate, 2 g fiber, 3 g sugar, 30 g protein, Vitamin A: 57%, Vitamin C: 22%, Calcium: 5%, Iron: 13%
Share with me: Did you try this soba noodle broth bowl? If so, what did you think? What would you love to make with Better Than Bouillon bases?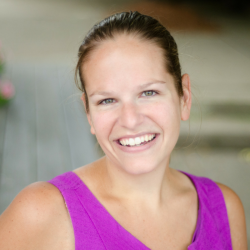 Chrissy Carroll is a Registered Dietitian and USAT Level I Triathlon Coach. She specializes in sharing nutrition and fitness tips, as well as recipes, for runners, triathletes, and active women.Chrissy holds a Bachelor's Degree in Nutrition, a Masters Degree in Public Health, and is also an ACSM Certified Personal Trainer.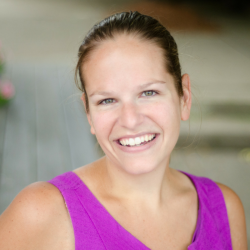 Latest posts by Chrissy Carroll (see all)