If you're trying to beat that elusive 2-hour time goal at your next race, check out this free sub 2 hour half marathon training plan. Find pacing info, a full 12-week schedule, and some helpful training tips too.
*Disclaimer: This plan is provided by a running and triathlon coach for informational purposes only. It should not be construed as individual training advice. This is a strenuous plan and is not meant for beginners. Always consult a doctor prior to beginning any fitness program.
Training Overview
The sub 2 hour goal is challenging but achievable for many runners. You'll need to be able to maintain a 9:09 pace or less throughout the 13.1 miles in order to get in under that time frame.
While that pace may not seem outrageous at shorter distances, it certainly becomes tougher as you try to maintain it for almost two hours straight.
A such, your goal during training is to include enough mileage to increase your endurance, while also including speed workouts each week that help train your body to run faster. Over the 12 weeks in this plan, that should prepare you for tackling your race and hitting your time goal.
You can find the full plan at the end of this post, but please be sure to read all the tips and workout descriptions in this post so you understand how the plan works.
Who is this plan for?
This plan is meant for runners who…
Have completed one half marathon before in the 2:01-2:10 range, and are looking to shave their time down
Have not completed a half marathon yet, but have ample running experience and can currently run a 10K in under 55:00.
This plan is not meant for beginners who have just started running. If you're looking to do your first half marathon, I recommend checking out some of our other beginner-friendly plans, like our 20 week half marathon training plan for beginners, which will help you gradually build up from just a couple miles to the half marathon distance. Or, if you've been running for a bit but can't sustain the pacing in this plan, try our 8 week half marathon training plan.
What level of fitness do I need to start?
To start using this plan, you should currently be running at least 15-20 miles per week, and have been running consistently for at least 4 months. You should be comfortable running short distances at a 9:09 pace.
You should also be free from any medical conditions or injury that affect your ability to exercise safely or maintain good running form.
Schedule overview
This sub 2 hour half marathon training plan includes a minimum of four runs per week, and most weeks include a fifth recovery run. Here's how it's broken down:
Mondays – Easy run
Tuesdays – Speed workout
Wednesdays – Rest or Cross Train
Thursdays – Variable (easy or pace-based runs)
Fridays – Rest
Saturdays – Long run
Sundays – Recovery run
The mileage each week ranges from around 16 miles at the start to a peak of around 28-30 miles.
Workout Descriptions:
This section breaks down the type of runs you'll see on the plan and the pace you should use for each of them.
Easy Runs – You should run these at a comfortable, conversational pace – generally around 30-60 seconds (or more) slower than your goal half marathon pace. For the purpose of this plan, the range is set at 9:45-10:30 per mile, and you can find a pace that feels easy within that range. Don't be tempted to go out too fast on your easy runs, as you want to save your speed for the challenging speedwork days.
Long Runs – The goal of long runs is to build your endurance. Most long runs should be run at a comfortable, steady pace, around 30-90 seconds slower than your goal half marathon pace. For the purpose of this plan, the range is set at 9:45-10:45 per mile. There are a few long runs that include some speed aspects. You'll find a few that call for the last mile or two run around race pace, which will help you learn to challenge your body when it's tired. There's also one long run that's a negative split run (where you should try to run the second half faster than the first half) and a couple that mix in a race pace interval.
Speedwork – Each of these Tuesday runs will challenge you to improve your speed. For track workouts (i.e. 2×1 mile, 8×800, etc) – be sure to start each of these with a 10-minute comfortable paced jog to warm up, and finish each with a 10-minute jog to cool down.
Variable – The variable day on Thursdays simply refers to a day where there are different pacing strategies depending on the week. Some will be easy runs (and should be run at that pace), others will include pacing details. There is also one fartlek run built into the first week on Thursday. For this, spend the first 5-10 minutes warming up at a comfortable pace. Throughout the rest of your run, build in short sprints. Let them be fun and random – make it to the next mailbox, go fast until your song ends, etc.
Recovery run – Most Sundays include short recovery runs. These should be done slowly, around 1:00-2:00 slower than your goal race pace. For the purposes of this plan, aim for around 10:10-11:00 per mile. Do not try to add extra speed into these. If you need to skip a run during the week, or want to substitute another day of cross training, this would be the best day to skip/modify.
Cross training – There is an optional cross-training day here, depending on your goals and fitness level. You can either rest on this day or do activities like strength training, yoga, cycling, or swimming.
Shakeout run – This is optional the day before your race; some people do better with a full day of rest before the race and others do better with a quick run. If you want to do a shakeout run, plan to jog for 5-10 minutes, then do the following four times: 3:30 easy, 0:30 building speed, 0:30 fast.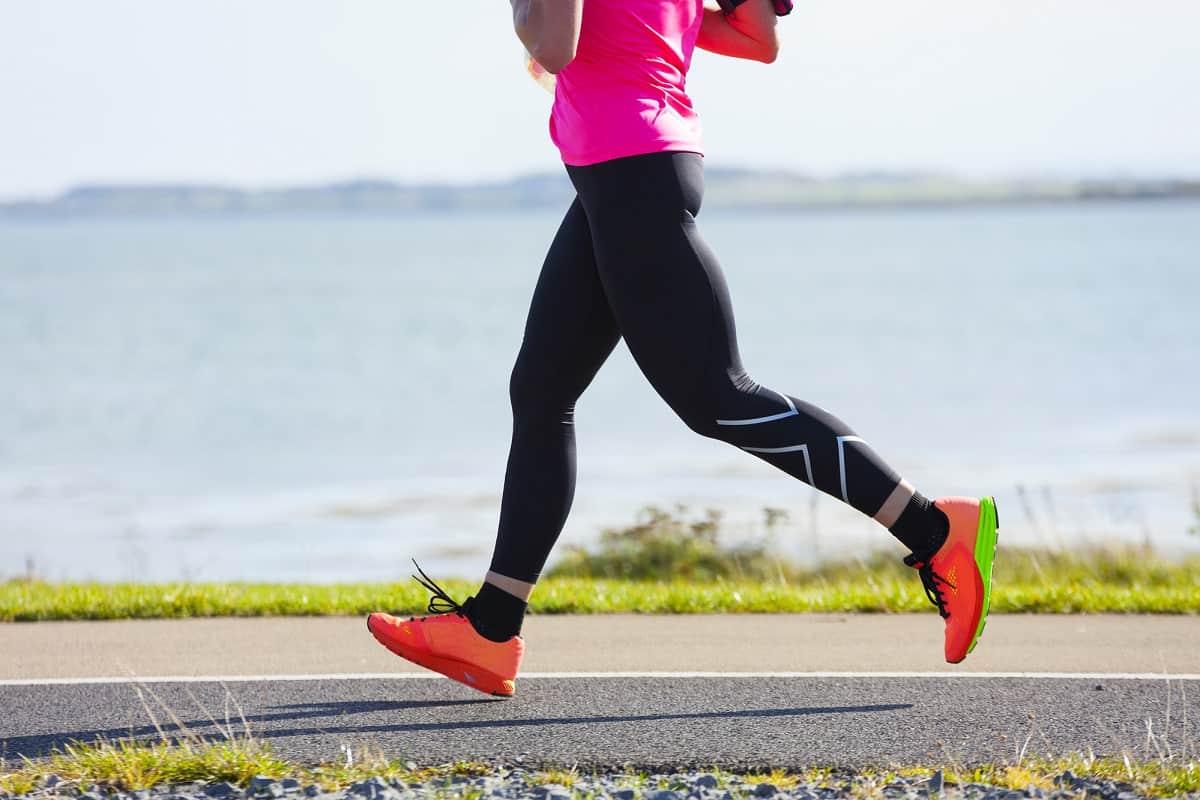 Training Tips
Outside of the workouts themselves, here are some other helpful tips you'll want to put into place as you train for a sub 2 hour half marathon:
Warm Ups and Cool Downs
Warming up will help your body prepare for speed, which is very important. It's essential that you include a warm up on the speed workout days in order to prepare your body for the hard work. Just 10 minutes of comfortable running before those workouts should have your heart and muscles warmed up and ready to work.
Similarly, take 10 minutes at the end of those speed workouts to cool down, letting your heart rate gradually come back down.
Fueling
Fueling improves performance in exercise lasting over 75-90 minutes. Since you'll be out there close to two hours for your race, you'll want to have some fuel during your race.
This applies to training runs as well. In fact, it's really important to practice fueling on your long training runs so that you know what fuel works best for your body as you approach race day.
The rule of thumb is around 30-60 grams of carbs per hour, starting at 30-45 minutes. If you're doing a 2.5 hour training run, that might look like a gel at 30 minutes, 60 minutes, 1 hour 30 minutes, and 2 hours.
Recovery
When it comes to recovery from each run, there are a few things you can do that may proactively help.
First, be sure you're fueling your body properly. Ideally after tough runs (speed work) and long runs, you want to make sure you're eating a meal or snack that contains both carbohydrates and protein. This will help restock the stored energy in your muscles, and also help with muscle repair and recovery.
Second, perform some static stretches after your runs. While the merits of stretching have been questioned the last few years, I'm still a huge fan of them. Not only does it feel amazing, but it can help keep your body limber and help the legs feel fresh the next day.
If you tend to struggle with very tight muscles, you might also consider adding in some foam rolling or using a percussion massager device. Both of these may help with muscle tightness or soreness.
Overtraining and Injuries
This plan is relatively conservative for experienced runners, but that doesn't mean it's the right fit for everyone. If you jump into this plan and are constantly feeling exhausted or hurt, you probably need to pull back. There's no shame in reducing training intensity for a while until your body is where it needs to be to continue.
Also, if you ever experience an injury that changes the way you run – for example, you start shifting your stride because your hip is bothering you – that's a sign that you need to stop and get advice from your doctor. A little soreness can be normal; a lot of pain and any pain that changes the way you run is not.
Strength Training
Ideally, most runners should focus on a solid strength training routine during the off-season. When strength is built during that time, most runners are able to maintain those improvements with just 1-2 sessions a week during a training cycle like this.
Strength workouts for runners should include core work for the abdominals and back, which are key in maintaining proper form during runs. You'll also want to focus on exercises for the legs and glutes, which can help power your stride.
You can add in a strength training day on the Wednesday cross training option on weeks where there's an EZ run on Thursdays.
Alternatively, you can add it on Mondays either as an AM/PM option – i.e AM strength, PM easy run – or in a concurrent session after your easy run. If you do the strength training on Mondays, make sure there's at least 24 hours between that and your Tuesday speed workout. (In other words, don't do the strength session Monday night and your speed workout Tuesday morning. Ideally, do the strength session Monday morning and speed workout Tuesday night.)
Sub 2 Hour Half Marathon Training Plan
Here is your plan! Feel free to download it, print it, or pin it so you can refer to it later. If you'd prefer a PDF printable with the plan that includes rest days and pacing details, you download that here.
*This plan is for individual use only; it is not meant for commercial use or display on other websites.*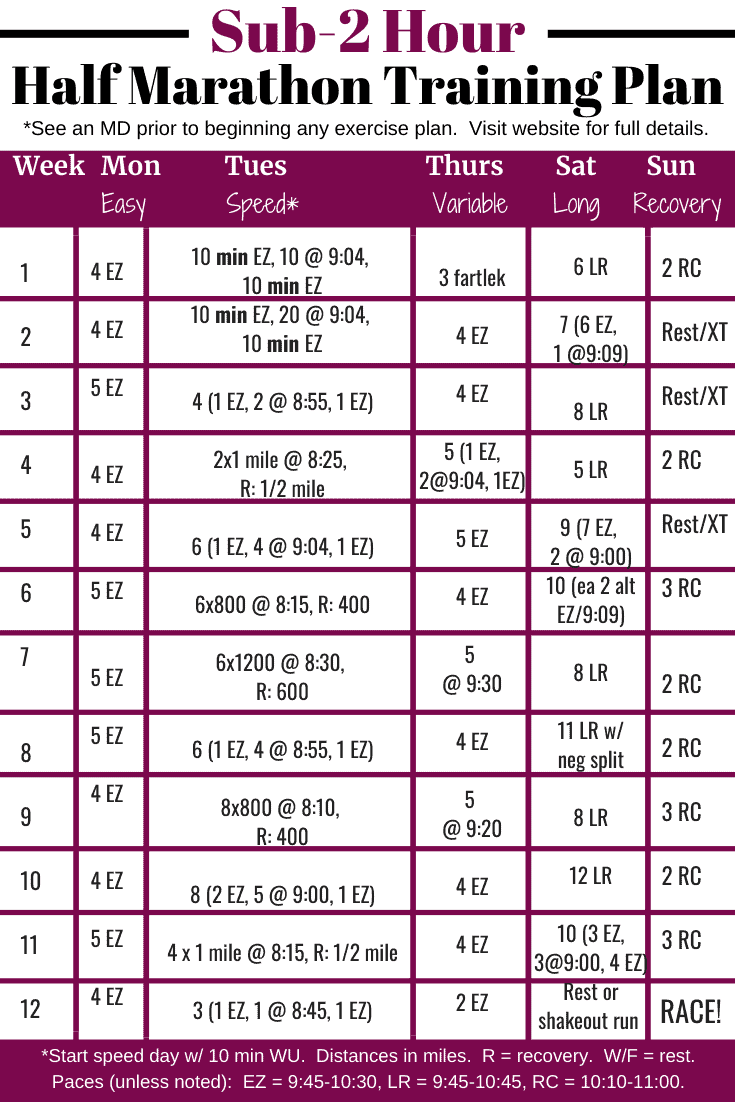 Good luck with your upcoming races!
Share: What half marathon are you training for? What's the time goal you're trying to hit?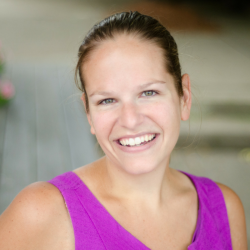 Latest posts by Chrissy Carroll
(see all)