Have you heard of 10-20-30 training before? It's basically an interval training method that can be used by runners to improve 5K performance!
Now, this training method not a magical formula or anything. It's another form of speed work among many forms that can help runners improve. BUT I like the idea of the 10-20-30 workout because:
There are a few research studies that have shown both physiological (VO2max) and performance improvements
It's a structured interval plan
It's an easy formula to remember that doesn't require any attention to distance during the intervals themselves – just attention to time.
Here's a quick look at the results from two peer reviewed research studies:
A 2014 study divided 160 recreational runners into either a control group or a 10-20-30 training group. The 10-20-30 group replaced two of their normal weekly training sessions with the 10-20-30 protocol. After 8 weeks, the 10-20-30 group improved 5K time by 38 seconds.
A 2012 study looked at moderately trained runners and found similar results. They broke 18 runners into either a control group or a 10-20-30 group for a 7 week intervention. The 10-20-30 group in this case replaced all of their running training with 10-20-30 training – a reduction of more than 50% of regular training volume. 5K run performance improved by an average of 48 seconds.
Pretty cool, huh? Want to try it?
Here's the 10-20-30 workout:
1. Warm up for 1km to 1 mile.
2. Do this sequence:
Jog for 30 seconds at a comfortable pace (around 30% of max effort)
Run for 20 seconds at training pace (around 60% of max effort)
Sprint all-out for 10 seconds (around 90% of max effort).
3. Repeat this sequence a total of 5 times in a row. This is one set.
4. Recover for 2 minutes by walking or jogging slowly.
5. Repeat 3 to 4 more sets.
6. Cool down with an easy jog or walk for 1km to 1 mile.
You can do this workout on a track or on a road – wherever you'd like. You don't need to worry about distance or GPS; a regular old watch that can track time is all you need. You can also download an interval training app to your phone and create a customizable set of the 30-20-10 second intervals.
Keep in mind that if you are a new runner, or you have never done speedwork before, I wouldn't recommend switching all of your weekly workouts for these like the one study did – that's probably a recipe for injury. That study used relatively experienced runners who are likely able to handle an increased intensity better than more inexperienced runners.
Instead, it seems prudent to start with these once a week if you are a newer runner or don't have speed work experience. If you've incorporated speed work before but haven't stuck with a regular schedule, maybe try using these as 1-2 days of your training plan and seeing how it helps performance in your next race.
Based on the research, this seems like a really promising way to improve 5K running times for those runners looking to PR! I'm going to give it a shot later this year when I'm back in post-baby running shape (after I've built up my regular running base, of course).
Share with me: Will you try 10-20-30 training? What's your favorite kind of running interval training?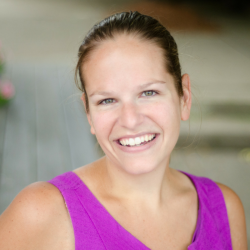 Latest posts by Chrissy Carroll
(see all)