Need an easy dinner that's done in 20 minutes? Try this tasty tuna quesadilla! Imagine sustainably caught wild albacore tuna mixed up with creamy mashed avocado, stuffed into a tortilla with sharp cheddar cheese, cooked until it's warm and melty, and topped with pico de gallo… Yes, please!
This is a sponsored post written by me on behalf of Blue Harbor Fish Co. for IZEA Worldwide. All opinions are 100% mine.
Crazy times, easy recipes
Does anyone else feel like September through December is just a season of craziness? From back to school to holidays to a busy work season, it just always feels like go-go-go this time of year.
Don't get me wrong; I love the fun of it all! But I also know some nights are going to be crazy and only leave me a half hour to get something nutritious on the table.
Enter this tuna quesadilla. Quick, healthy, simple…everything you want after a hectic day! Not only is it great for fueling your body, but it's kid-friendly too.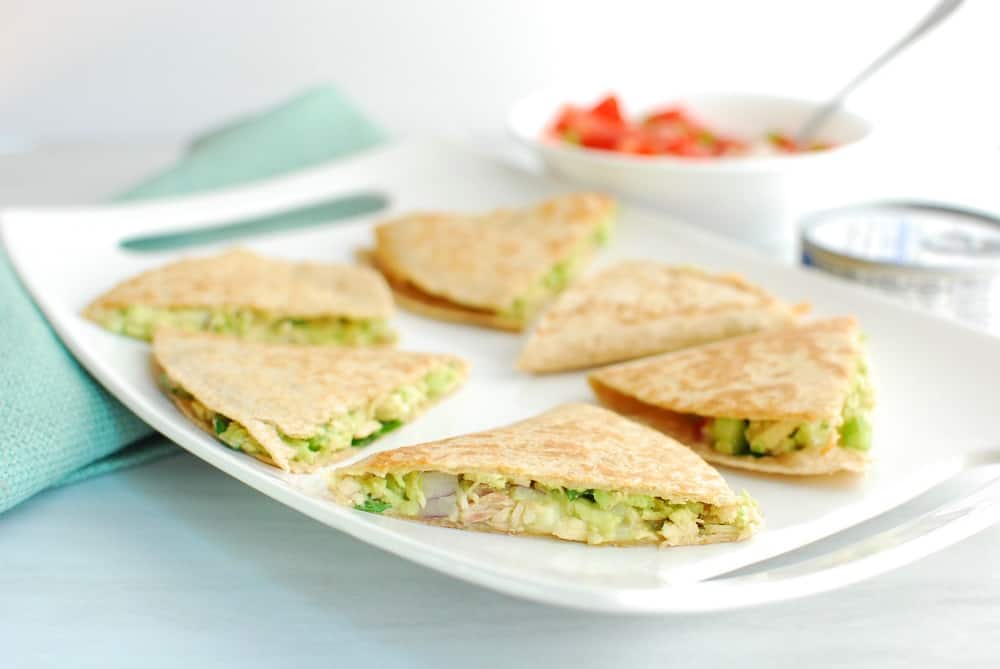 How to make a tuna quesadilla
This recipe is really flexible. I've jazzed things up a bit by using an avocado tuna salad and topping the quesadillas with fresh pico de gallo, but you can also go super simple and just make a standard tuna salad (good 'ol tuna and mayo) for this recipe too.
Here's what you'll do to make my version, listed in the recipe card below. First, make a quick pico de gallo. For this, you'll need:
Tomatoes
Yellow onion
Jalapeno
Lime juice
Just give the first three a good chop, and mix it with the lime juice. Easy peasy.
Of course, if you want to save time, you can also buy a store bought pico too. Either way works!
Alright, when that's done, set it aside for a few minutes. Now, you'll make your avocado tuna salad. For this, you'll need:
Avocado
Lime juice
Blue Harbor Wild Albacore Tuna in Water with Sea Salt
Red onion
Celery
Cilantro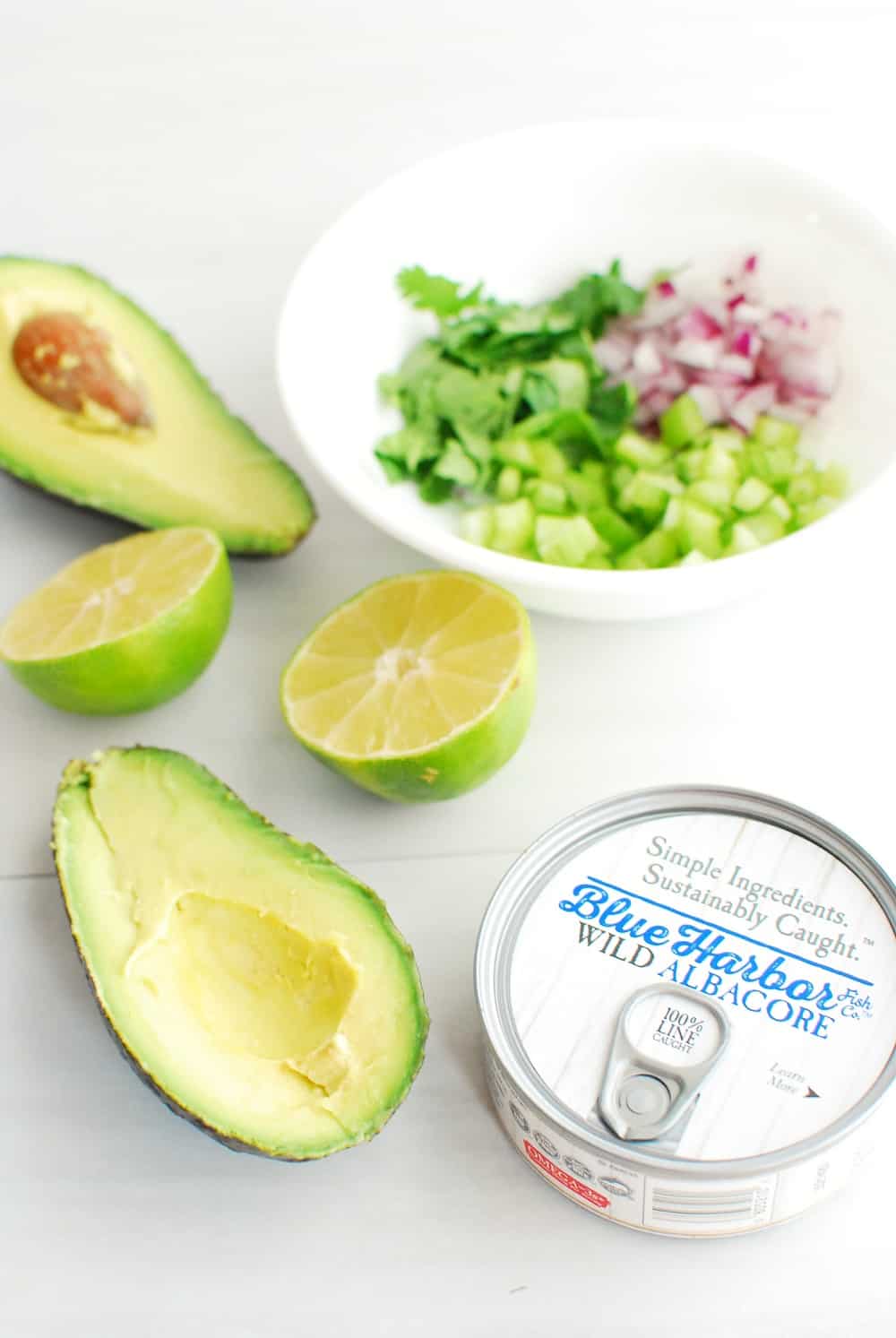 Mash up the avocado with the lime like you're making guac. Then, mix in your tuna and chopped red onion, celery, and cilantro. (Side note – this avo tuna salad is also awesome on a regular sandwich or on top of some greens).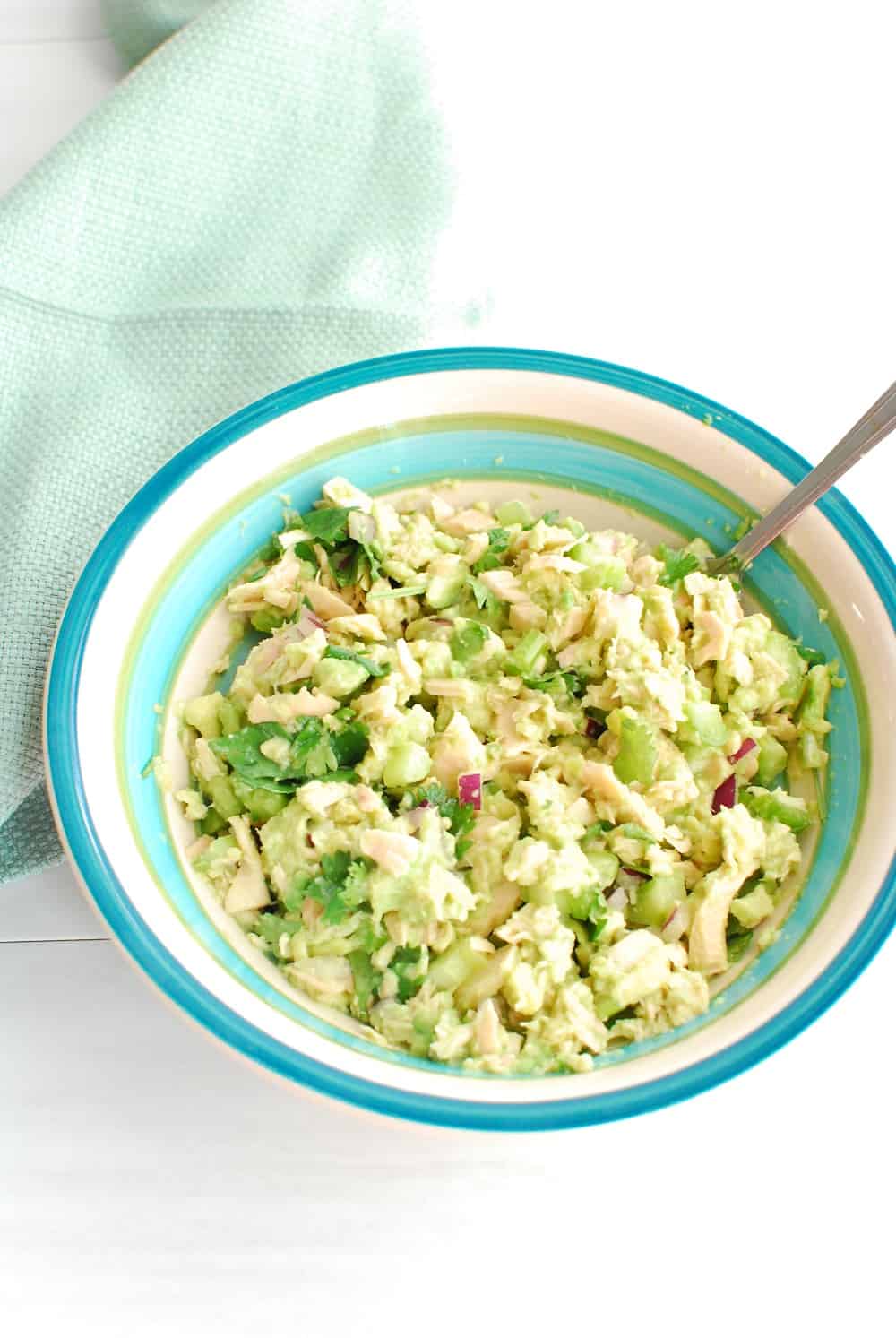 Last step is to make the quesadillas themselves! You'll need the tuna salad you just made, plus:
Whole wheat tortillas
Cheddar cheese
You'll put the tortilla on a skillet over medium-low heat, and add some cheddar and avocado tuna salad to it. Then fold it down in half. This is so much easier than doing a full tortilla topped with an additional full tortilla! By folding one in half, the whole thing stays together easier and makes for the perfect portion. (Forgive the bad kitchen lighting pic below, but I thought it might be helpful to see what this looks like just in case I'm not being clear.)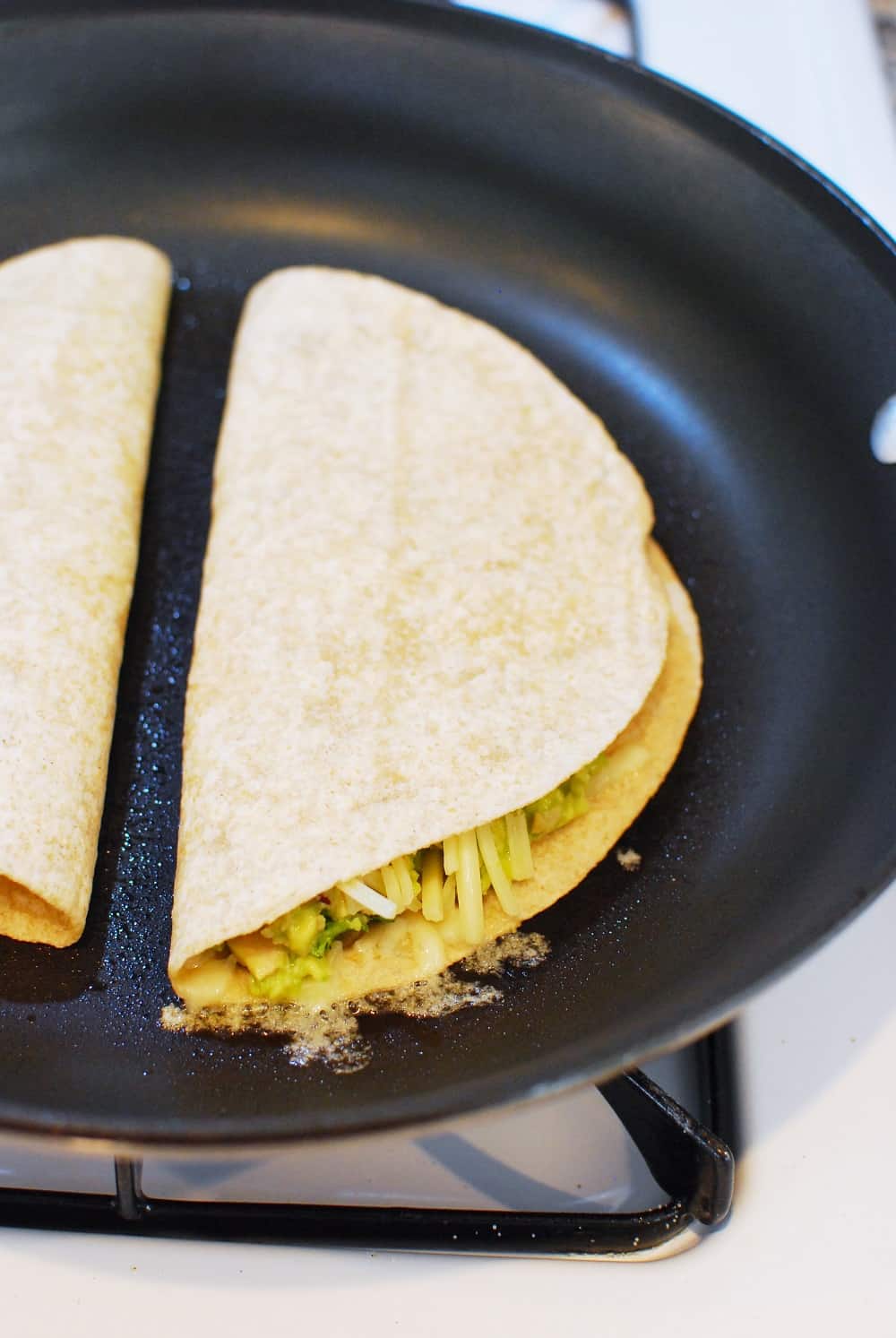 Cook it for a minute or two on each side, and that's it! Load it up with your pico de gallo and dig into deliciousness.
Why Blue Harbor Fish Co.?
You'll notice I used Blue Harbor Fish Co. tuna for this recipe. I recently discovered this brand and am obsessed with it! The quality of the tuna is fabulous and tastes amazing in any recipe. And canned tuna (and salmon) are both great inexpensive protein choices to add to a meal.
Plus, Blue Harbor's products are Marine Stewardship Council Certified. This means that they come from fisheries that have healthy levels of the fish population, that have minimal impact on the overall ecosystem, and that have effective conservation measures.
Be sure to grab a can of their tuna for this recipe – up here in the Northeast, you can find it at stores like Market Basket, Hannaford, and Stop and Shop. (Check the "where to buy" website to find a location near you.)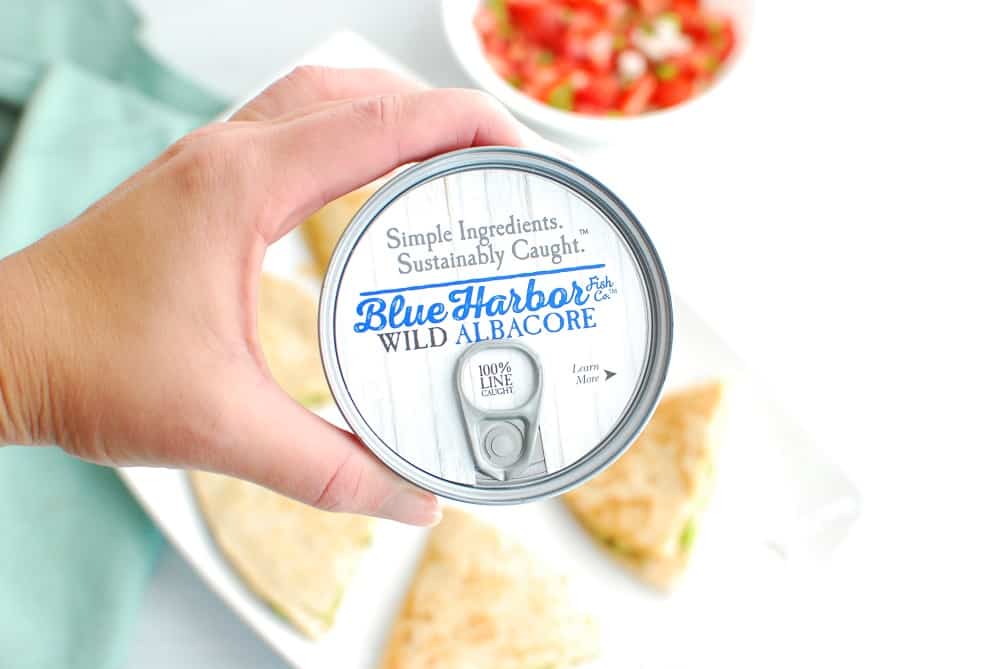 Why I love this meal for active folks
Besides the fact that this only takes about 15-20 minutes to throw together, I also love the nutrition facts for this dish. The meal has a great blend of fat, carbs, and protein to keep you full and satiated – no hunger games an hour later, you guys. 😉
Plus, tuna contains omega-3 fatty acids that are beneficial for your health – and may be particularly useful for athletes. For example, a 2019 review in Research in Sports Medicine concluded:
"Based on available information, there is some scientific evidence that n-3PUFA supplementation may improve endurance capacity by reducing the oxygen cost of exercise. Moreover, several studies report a benefit of n-3PUFA supplementation in promoting recovery from eccentric-based muscle damaging exercise."
So you're getting a filling meal, omega 3 fatty acids….but wait, there's more! (Boom, classic infomercial tactic right there.)
This meal also packs in fiber, along with about a third of your daily calcium needs (for bone health) and Vitamin C needs (for immune health).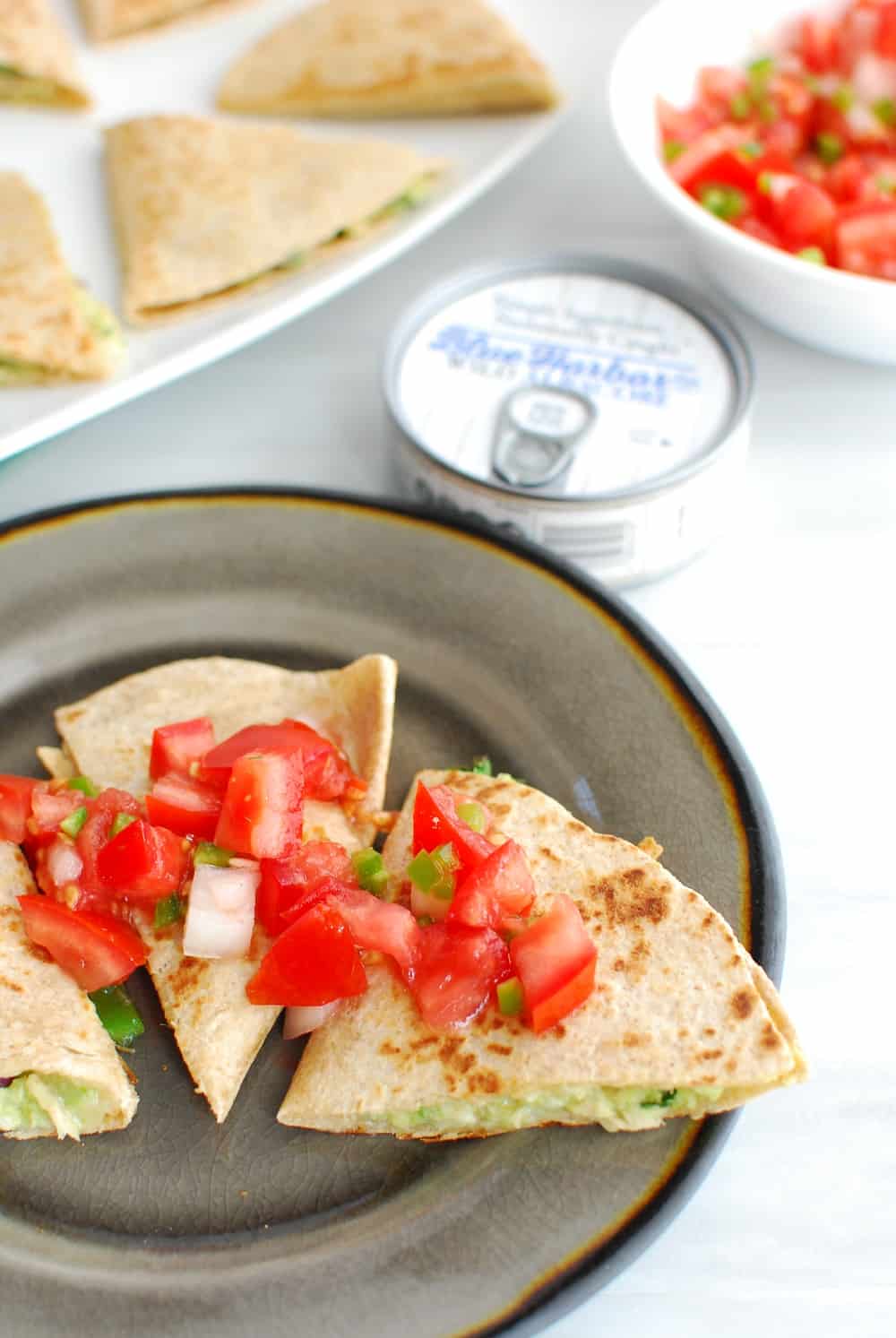 Hopefully that all convinces you to give this a try. I hope you love it as much as my family and I do! If you get a chance to try, be sure to leave a recipe rating and comment below.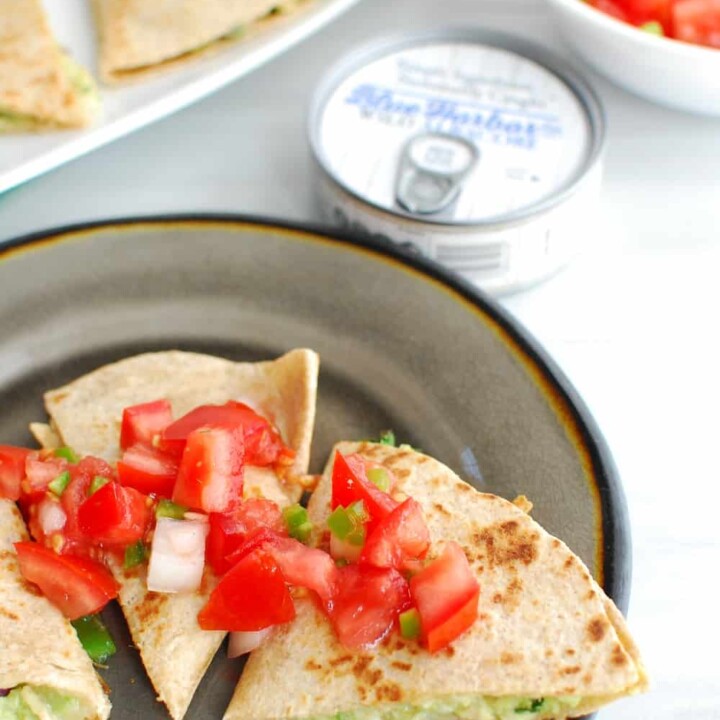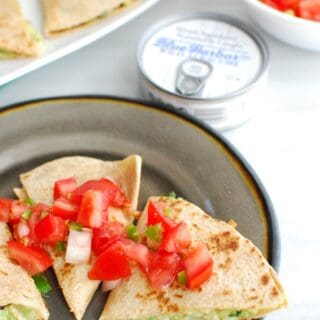 Tuna Quesadilla
Need an easy dinner that's done in 20 minutes? Try this tasty tuna quesadilla! 
Ingredients
Pico de gallo:
2

tomatoes, chopped

1/4

cup

yellow onion, minced

1

jalapeno, minced

1/2

lime, juiced
Avocado tuna salad:
1

avocado

1

lime, juiced

4.6

ounce

can of Blue Harbor Wild Albacore Tuna in Water with Sea Salt

1/4

cup

celery, minced

2

tbsp

red onion, minced

2

tbsp

cilantro, chopped
Quesadillas:
4

whole wheat tortillas

1

cup

cheddar cheese
Instructions
Prepare the pico de gallo first by combining the tomato, onion, jalapeno, and lime juice. Set aside for now.

Prepare the avocado tuna salad: Add the avocado and lime juice to a bowl and mash with a fork. Stir in the tuna, breaking it up with a fork. Stir in the celery, red onion, and cilantro.

Heat a large skillet over medium-low heat. Place a tortilla in the pan, and add 1/4 cup of cheddar cheese and 1/4 of the tuna salad mixture to half of the tortilla. Fold over the other half. Cook for 1-2 minutes per side, until crisp on the outside and cheese is melty on the inside.

Repeat with the remaining tortillas, cheese, and tuna salad. Slice each quesadilla into thirds and top with pico de gallo.
Notes
Notes:
A serving = one tortilla with filling, folded in half, topped with pico de gallo
Nutrition analysis (approximate per serving):
375 calories, 19 grams fat, 7 grams saturated fat, 610 mg sodium, 34 grams carbohydrate, 7 grams fiber, 3.5 grams sugar, 19 grams protein, Vitamin A: 21%, Vitamin C: 37%, Calcium: 31%, Iron: 11%
Nutrition
Share with me: What's your favorite way to use canned tuna? If you tried this tuna quesadilla, what did you think?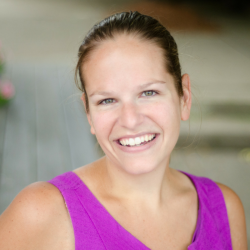 Latest posts by Chrissy Carroll
(see all)