This 20 week marathon training schedule for beginners will help you cross the finish line of your first marathon race!
So you've taken the plunge and decided you want to do your first marathon? First off, give yourself a giant "woooohoooo!" – because you are pretty darn amazing for taking the first steps towards achieving this goal.
Now, let's break down all the nitty gritty of marathon training to help you get to the finish line of your first race.
Marathon training is an exercise in endurance and durability, both of the body and mind. You'll push yourself to physical limits that you may have once thought were impossible. And you'll find that the mental back and forth ("you got this" – "I'm so tired! I need to stop!" – "no, keep going!") is just as big of a challenge.
But if you follow this 20 week marathon training schedule for beginners and stick with it – you will be successful in crossing that finish line of your first race. And that's what this plan is designed for. It's not designed for runners that have a PR they want to hit or runners trying to qualify for Boston. It's designed for the average runner who has built up the courage to give this marathon thing a try, and just wants to finish it.
[Tweet "Want to run your first marathon? Check out this 20 week marathon training plan for beginners!"]
How to use this 20 week marathon training schedule:
You should be able to use this plan if you have been running a few times a week for several months, and can comfortably run 3-4 miles at a time. If you aren't there yet, spend a month or two building up to being able to run 3-4 miles comfortably. (If that sounds overwhelming, you might want to take a look at my 20 week half marathon training plan, which you can start if you feel comfortable running (or run/walking) 1-2 miles right now.)
If you are at the point of doing 3-4 miles (or more) comfortably, then you're ready to roll! Here is everything you need to know about this 20 week marathon training schedule for beginners (or you can scroll to the bottom to check out the plan first, then come back and read all the deets)…
Training Volume:
You'll only run four days a week, which makes this a very feasible plan for those who lead busy lives.
With a 20 week training plan, you're giving yourself 5 months to get ready for your race. Weekly mileage increases relatively slowly (10-20%), starting at 13 miles total miles run in Week 1, and peaking at 34 total miles run in Week 17. Long runs taper back every few weeks in the beginning, and every other week towards the end of the plan. All of these considerations help build your endurance base gradually and reduce the risk of injuries. It also helps you to develop confidence week by week, and reduces the risk of giving up or quitting (as many plans that are too aggressive can make you feel tempted to do).
If you need to cut this to 3 days a week of running, remove the "variable" runs from Day 2. You should still be able to train to finish the race with 3 days of running (and I have personally done so in the past) but you may find that the race feels a bit more challenging.
Time vs Distance:
I personally prefer mileage-based plans over time-based plans for first time athletes, especially if you happen to be on the slower side. As a back-of-the-pack athlete myself, I believe that time-based plans can leave those slower runners under-prepared. For example, a time-based plan may max out at a long run of 2.5-3 hours – which may be fine for an athlete planning to run in 3:30-4 hours, but I don't think it adequately prepares those who are on the opposite spectrum of 5-6 hours. (There's some arguments about this in the running world, but that's my belief).
Pace:
This 20 week marathon training schedule for beginners can be used for solely running, or a combination of run/walk. You can certainly also use it to prepare for only walking, but double check that the race in which you hope to participate does not have a time cut off that would eliminate the option of walking.
Run (or run/walk) at the pace described based on each type of run.
Don't forget that there's nothing wrong with adding in walking breaks every so often! Even experienced runners may add these in in order to keep their legs fresh throughout the race.
Warm Up & Cool Down:
You can start each run with a few minutes of brisk walking or a slower paced jog to warm up. After each run, give yourself a few minutes of brisk walking to cool down. Stretch after your runs.
Types of Runs:
Your plan is broken down into 4 days of running. Days 1 and 3 are easy short runs. Day 4 is your long run. Day 2 is variable, meaning it can be either another easy short run, a fartlek session, a marathon pace run, or a midweek long run.
Descriptions of each are included below – you'll want to refer to these descriptions when using the plan:
Easy Short Runs (ESR) – You should run these at a comfortable, easy pace. Do not be tempted to run these fast, or you'll have trouble maintain energy for your other running days.
Long Runs – Your long runs should be run at a comfortable, steady pace. That pace will likely feel more challenging as the runs progress and get longer, simply due to the nature of being on your feet longer. You can certainly add in walking breaks as needed for your long runs.
Fartlek – For these runs, you should warm up for about 10 minutes at a comfortable pace. For the rest of the run mileage listed, add in fun bursts of speedwork to break up the distance. For example, you might decide to run fast to the next mailbox, then recover to the one after. Or you might decide to pick up the pace a little bit for the length of the next song. Don't push yourself too hard, but challenge yourself a little. Fartleks add variety and keep things interesting. You can find a bunch of ideas for fartlek workouts here.
Midweek Long Run (MWL) – A midweek long run is simply a run that's a bit longer than your short runs, but is shorter than your main weekly long run. You should run this at a comfortable pace.
Marathon Pace (X @ MP) – In your plan, you'll see these listed as X miles @ Marathon Pace (MP). You should run the distance listed and pace yourself at the pace you'd like to run your marathon. For most beginner runners, your goal marathon pace might be only a little faster than your long runs. That's OK. For those who have been running a while, it might be a more pronounced difference.
–> Important – If all the mumbo jumbo for the Day 2 Variable runs feels overwhelming, you can simply ignore it and just do easy runs at the distances listed!
Scheduling Your Runs:
Spread out your running days during the week. I recommend a Tues/Weds/Fri schedule for Days 1, 2, and 3, and then a Sat/Sun long run. You can shift these to fit your work and lifestyle, but try to avoid lumping all the days back-to-back.
Strength Training:
Strength training isn't an absolute must for being able to reach the finish line of a marathon. However, strength training will help you become a better runner and (perhaps even more importantly) can reduce injury risk if done correctly. This is because when you strengthen weak muscles (like those in the hip or core, for example) it helps keep you running in proper form for longer periods of time.
If you're already strength training regularly, see if you can stick with your normal routine 1-2 days per week.
If you're not already strength training, I recommend adding some simple body weight exercises to your routine – such as squats, lunges, hip raises, and planks. These can be done on 1-2 of your off days (such as on the days you cross train) or simply at another time of day on your short run days.
Cross Training:
If you can fit it in, I also recommend cross training in some form 1-2 days a week. You might use the elliptical, go swimming, ride a bike, or take a yoga class. This helps you work other muscle groups and rounds out your training. It may also help prevent overuse injuries from only running. Don't get overwhelmed if you can't fit it in, though.
Rest Days:
Leave at least one day a week completely dedicated to rest. If you're following the guidelines, your total week might look something like this:
Mon – rest
Tues – body weight strength exercises (AM) + easy short run (PM)
Weds – variable run
Thurs – cross train + light strength at gym
Fri – easy short run
Sat – rest
Sun – long run
Signing up for your first marathon:
If you haven't already done so, go sign up for your first race! Once you've got some skin in the game (aka you've paid for your race and put it on your calendar!), you'll be much more committed to your training schedule.
If you're not sure what race to sign up for, try asking running friends or running Facebook groups for some recommendations. Or you can take my approach and decide to run your first marathon in Maui, because, well – it's Maui. ?
Your 20 week marathon training plan for beginners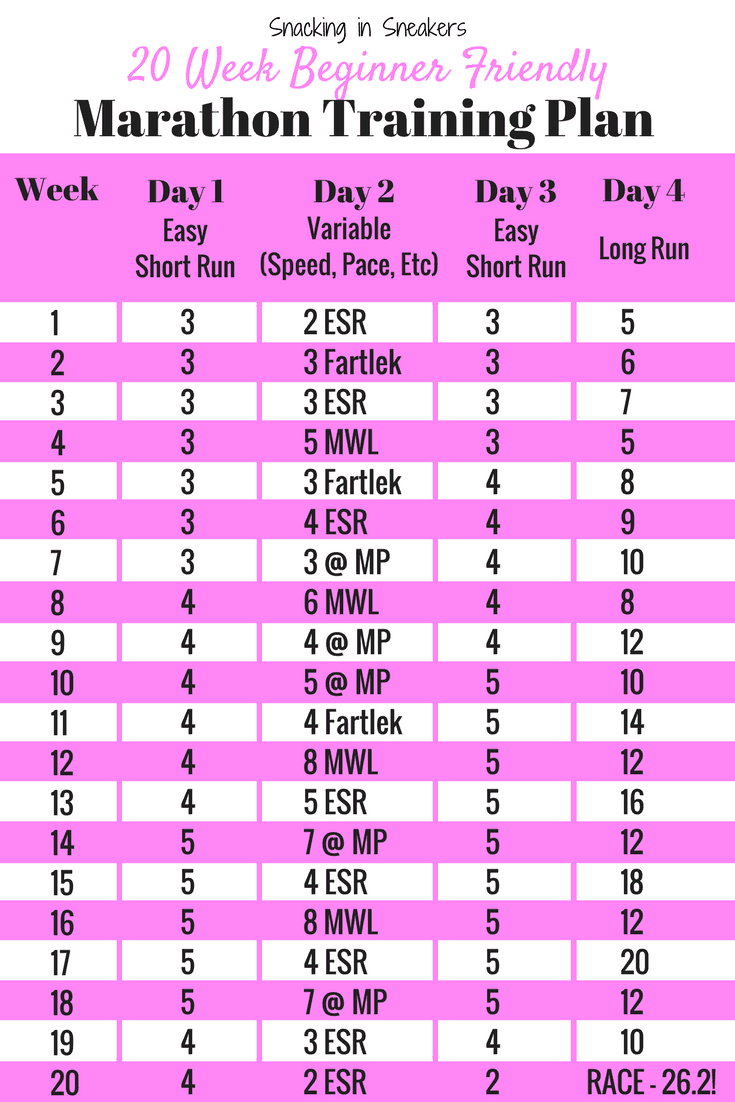 Share with me: Do you think you could use this 20 week marathon training schedule for beginners? What questions do you have about marathon training? Have you signed up for any upcoming races?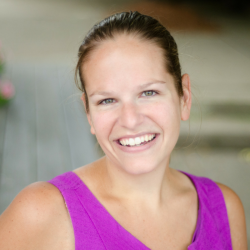 Latest posts by Chrissy Carroll
(see all)