Need an easy lunch or dinner? Try these air fryer salmon patties! This recipe makes a perfect single serving meal, though you can easily scale it up for a family. With just a few simple ingredients, you'll love this seafood recipe.
Disclosure: I created this recipe under partnership with Blue Harbor Fish Co® for social media – though this blog post itself was not sponsored.
How to make salmon patties
If you've never had salmon patties before, they're pretty easy to make. Usually they're lightly pan fried on the stove top, but this recipe puts a healthy spin on things by using the air fryer. The air fryer reduces the amount of oil used, and still allows them to get crisp on the outside (while retaining a tender texture on the inside).
Here's what you'll need for this recipe:
Canned salmon
Plain Greek yogurt
Ground flaxseed
Cajun seasoning
Green onion
Seasoned breadcrumbs
Cooking spray
Full recipe instructions are at the bottom of this post in the recipe card, but as an overview: You'll start by mixing all these ingredients except the cooking spray together in a bowl, then form it into two patties. Give each of those two quick shots of cooking spray, which will help the outside crisp up.
Now pop 'em in the air fryer for 10 minutes or so, and you're all set! They'll come out a nice golden-brown color like the photo below. From here, I like to top them with mashed avocado. It adds a nice contrast of texture and flavor to the dish.
Here's a quick video showing you how to make these that might be helpful:
Nutrition benefits
This is one of those recipes that feels indulgent but is still very nutritious – pretty much my favorite type, as a dietitian! Here's a few highlights:
Packed with protein: Together, the two salmon patties pack in 29 grams of high-quality protein. Protein is key to keeping you full and satisfied after a meal, and is also important for muscle repair and recovery.
Offers Omega-3's: At this point, I'm sure you've heard the hype about omega-3 fatty acids. From cardiovascular benefits to cognitive health to potential impacts on exercise performance, it's wise to make sure you're getting good sources of omega-3's in your meals.
Provides Vitamin D: Fatty fish like salmon is one of the few natural sources of Vitamin D in the diet. This recipe provides 50% of your daily Vitamin D needs. Vitamin D is connected to bone health, immune health, and just like with omega-3s, may also be connected to athletic performance.
Fiber: Adding the mashed avocado on top, along with the ground flax in the patty, means this recipes serves up 8 grams of digestive-friendly fiber.
Recipe FAQ
Here are a few questions that may come up as you prepare these:
Do you need to preheat the air fryer? I don't! I just throw it in there, turn to 400, and let it do it's thing. It's always worked fine for this recipe.
Can you use fresh salmon instead of canned? Sure! This can be a great way to use leftover salmon from the night before. Just weigh out about 3.5 to 4 ounces of it (that's about how much you end up with from a 5 ounce can of drained salmon).
Can you use full fat Greek yogurt? Sure, any plain variety will work.
What can you substitute for flaxseed? The ground flax helps to hold everything together – I recommend grabbing it at the store for this recipe. If you don't want to buy any though, you can try substituting extra breadcrumbs. If the patty seems too dry that way or doesn't hold together properly, add an egg white.
What if you don't have cooking spray? That's no problem; just brush a little oil on top of each patty.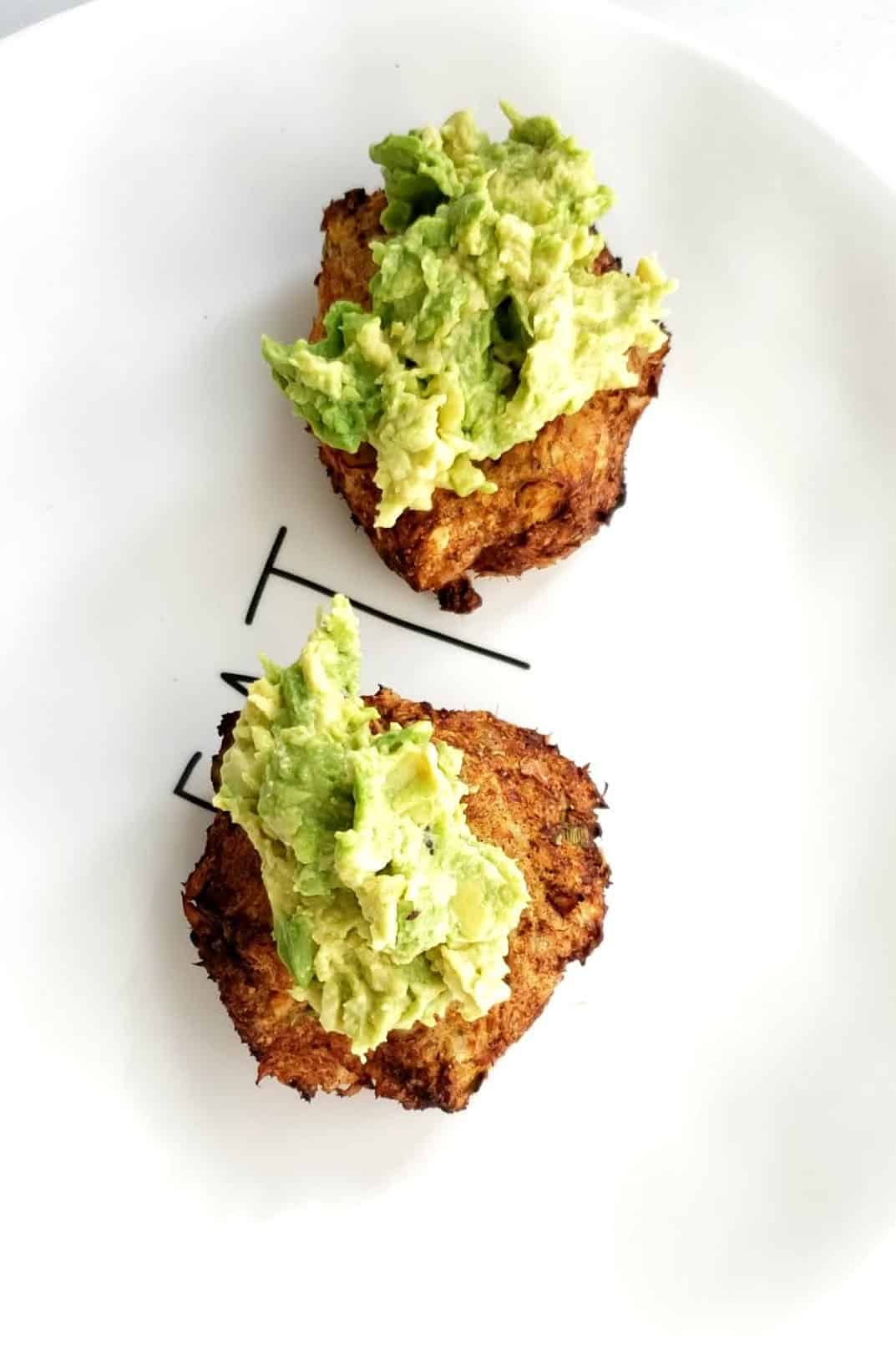 Side Dish Suggestions:
I recommend rounding out these air fryer salmon patties with an easy vegetable side dish. Asparagus, green beans, broccoli, cauliflower…any of them are delicious alongside this.
Using a steam bag of frozen veggies is super convenient because you can cook that in the microwave while you've got your patties cooking in the air fryer.
You can also add some veggies right into the air fryer with the salmon patties. Large florets of broccoli and cauliflower tossed in a little olive oil and seasonings work well for this and generally cook around well at the same time and temp. If they're smaller florets, though, you'll probably want to add them to the air fryer basket about halfway through the total cooking time instead.
I hope you enjoy these air fryer salmon patties! If you get a chance to try them, please feel free to leave a recipe rating or comment letting me know your thoughts.
PS – Looking for more canned salmon recipes? Try my canned salmon dip or pesto salmon pasta!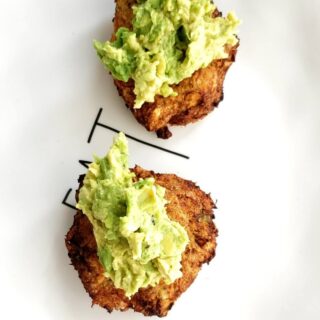 Air Fryer Salmon Patties
These air fryer salmon patties are a nutritious lunch or dinner recipe, packed with protein and omega-3s!
Ingredients
(1)

5-oz.

can Blue Harbor Fish Co.® Wild Pink Salmon, drained

2

tbsp

plain nonfat Greek yogurt

1

tsp

ground flaxseed

1

tsp

cajun seasoning

1

green onion, chopped

2

tbsp

seasoned breadcrumbs

4

sprays of cooking oil spray

1/2

avocado, peeled, pitted, and mashed
Instructions
In a medium mixing bowl, combine the salmon, yogurt, flaxseed, cajun seasoning, green onion, and breadcrumbs. Stir until combined, then form into two patties.

Spray each patty with two shots of cooking oil spray, then place in the air fryer. Turn the air fryer to 400 degrees and cook for 10-12 minutes, or until the patties are crisp on the outside.

Top the patties with the mashed avocado and enjoy!
Notes
This recipe makes two salmon patties, which could be 1-2 servings depending on preference.  For the purposes of the nutrition analysis, the recipe has been calculated for one serving of the entire recipe.
Nutrition facts (approximate for full recipe): 360 calories, 19 g fat, 3 g saturated fat, 780 mg sodium, 21.5 g carbohydrate, 8.5 g fiber, 29 g protein, Calcium: 8%, Iron: 16%, Potassium: 23%, Vitamin D: 50%
Nutrition
Share: What's your favorite air fryer recipe?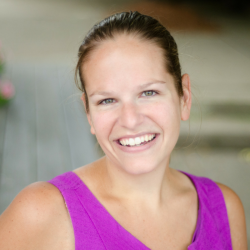 Latest posts by Chrissy Carroll
(see all)