This canned salmon dip is a great option when you want an easy, quick snack! It's a unique way to use canned salmon that might be hanging around your pantry, and this better-for-you dip also packs in some key nutrients. It can be served cold or hot, making for a perfect party appetizer or a simple weekend hors d'oeuvre at home with the family.
Disclosure: This post is sponsored by Blue Harbor Fish Co. As always, all opinions are my own.
Why canned salmon?
Salmon dip might seem a little unconventional, but I promise you it is crazy good. And using canned salmon means you amp up the nutritional content of your dip!
I use Blue Harbor's Wild Pink Salmon for this recipe, which is packed with protein and omega-3 fatty acids (important for active women). Omega-3 fatty acids are involved in heart health, cognitive health, and may even play a role in endurance exercise performance.
Salmon (and other fatty fish) are also one of the few natural dietary sources of Vitamin D. There is so much emerging research on why Vitamin D is important, including bone health, immune health, and (just like above) it may also impact athletic performance.
I personally veer canned salmon specifically from Blue Harbor because I find the product to always be high quality and taste great. Plus, the company prioritizes sustainability. They make sure to use waters with healthy levels of fish species and focus on minimal ecosystem impacts. You can find locations where it's sold (or buy it online) using their product locator.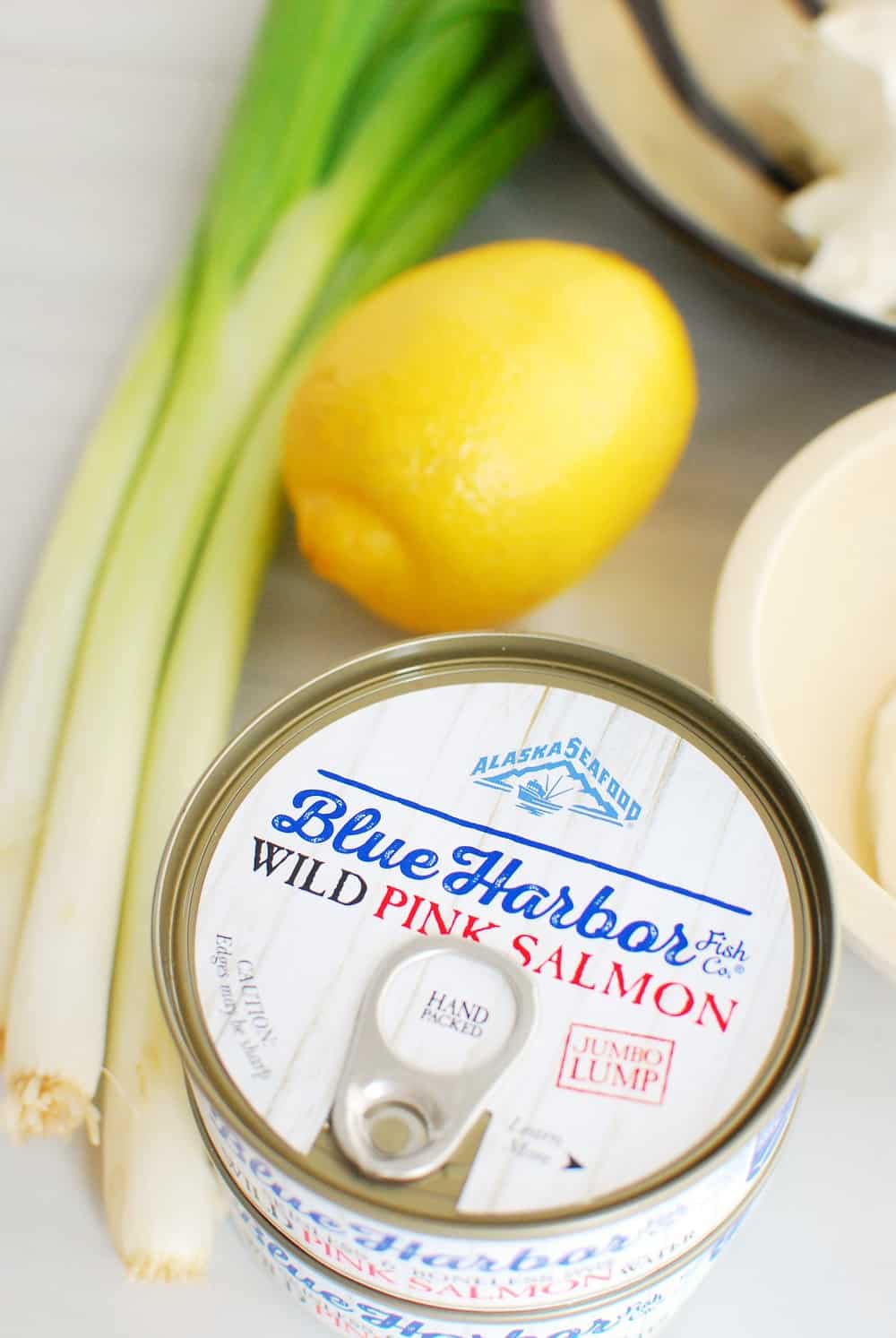 How to make canned salmon dip
One thing I love about this dip is you can make both a cold version or a hot version. They both start out the same exact way, but for the hot version, you add one extra ingredient and then bake it in the oven.
Here's the ingredients you'll need to gather up to make your dip (specific amounts in the recipe card at the bottom of the post):
Neufchatel (aka reduced fat cream cheese)
Plain Greek yogurt
Lemon
Green onions
Salt
Pepper
Parmesan (optional for the hot version)
Ready for how easy this is? All you need to do is mix together the Neufchatel, yogurt, and lemon juice, and then stir in the salmon, green onions, salt, and pepper. That's it for the cold version! Chill and enjoy whenever you're ready.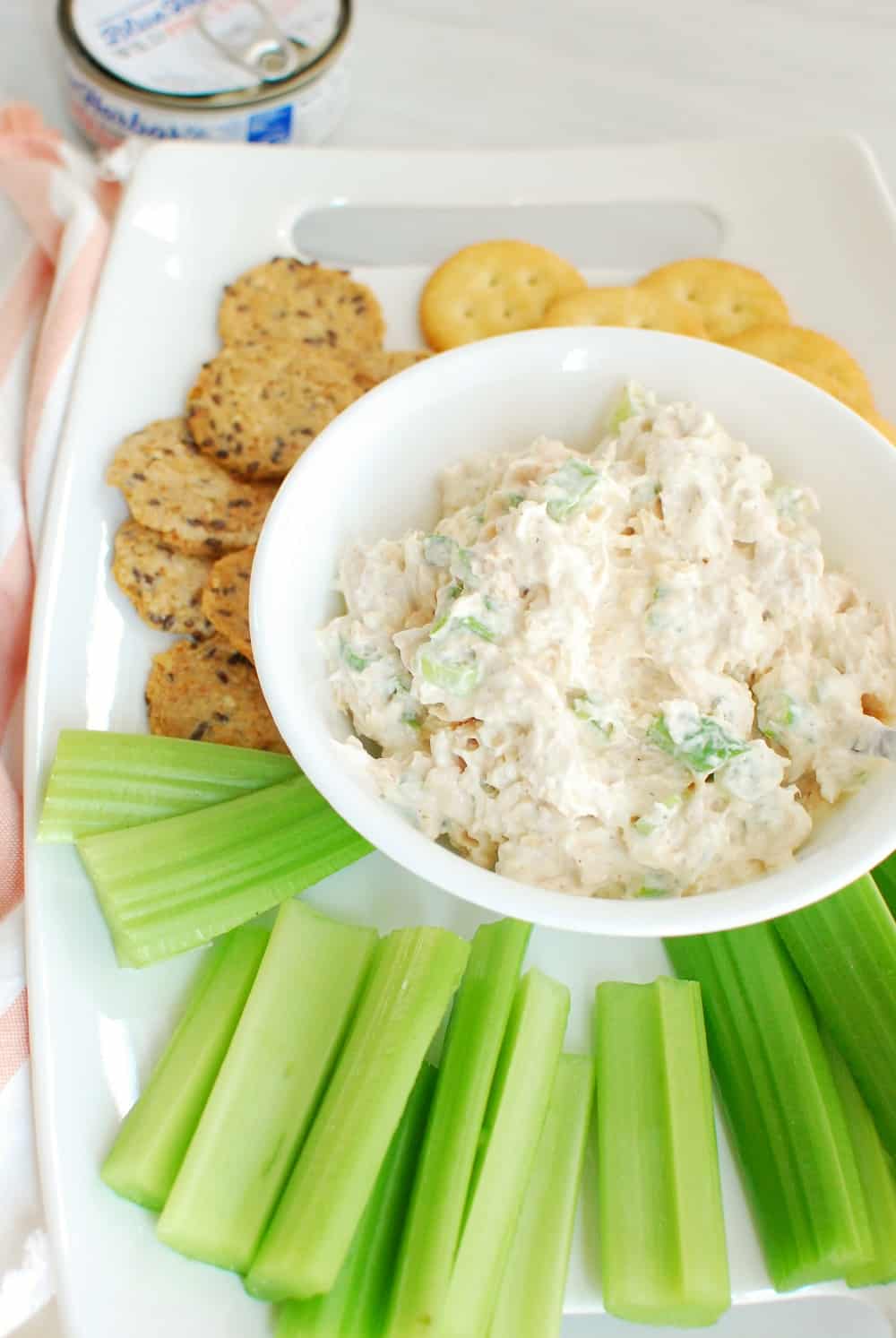 If you do want to make the hot version, you'll just mix in the parmesan cheese too, and then pop it in the oven for about 15 minutes. Warm and delightful!
What to serve with this dip
You can serve this salmon dip with a variety of accompaniments:
Baguette slices
Celery sticks
Sliced cucumbers
Baby carrots
Sliced bell peppers
Sliced radishes
Buttery crackers
Seed-based crackers
We love making this on the weekend to snack on in the afternoon, and put out a variety of dippers so everyone in the family can enjoy it with their favorite. I prefer baguette slices and celery sticks, while my son loves buttery crackers.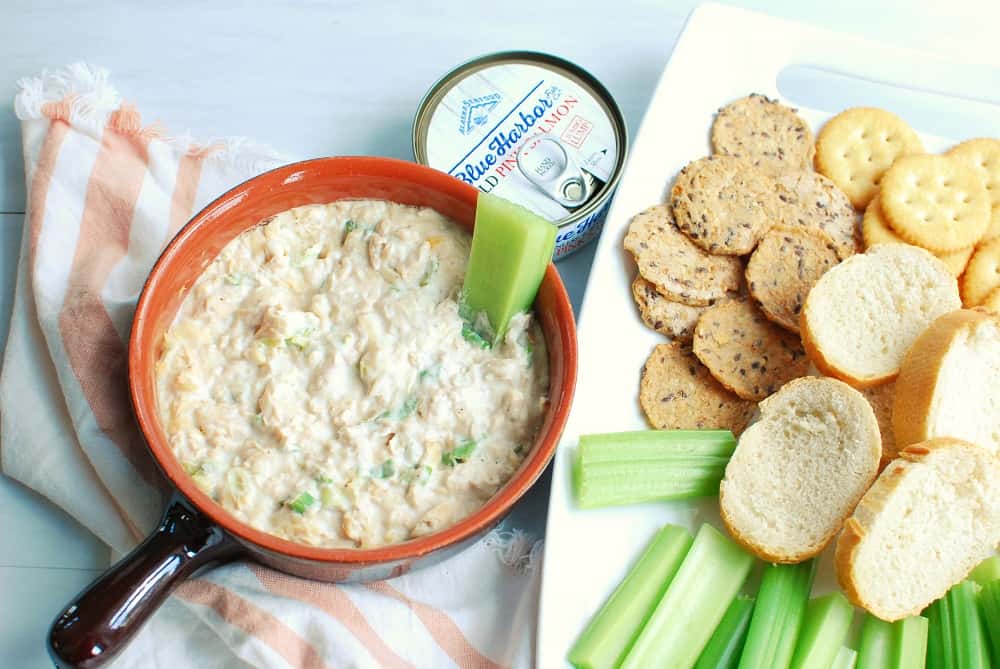 Recipe Tips and FAQ
Here's a few common questions that may come up as you're making this recipe:
Where do you find Neufchatel? While this seems like an exotic product, I can almost guarantee that your grocery store carries this. It's typically right next to the regular cream cheese. While I would never trade off regular cream cheese on a bagel, Neufchatel is a great alternative for dips as it keeps it from being overly heavy.
Should I make it cold or hot?! Haha, that choice is up to you my friend. I love it both ways. Make it cold first and give it a taste, and the you can decide whether you'd like to add the parmesan and bake it into a hot dip.
Can you mix up the flavor? Yes! I went pretty simple here, but you can add in chopped dill or parsley to add some more herbaceous flavor. You can also try adding a few drops of liquid smoke.
How do you store this? Store any leftovers in an airtight container (or a bowl covered with plastic wrap) in the fridge for up to 3-4 days.
Why is this dip more nutritious than others? Unlike some other dip recipes that are mainly just mayonnaise-, dressing-, or cheese-based, this dip is kept from being too heavy by using a combination of reduced fat cream cheese and plain Greek yogurt as the base. A serving of cold canned salmon dip packs in 10 grams of protein and just 90 calories. Even the hot dip with cheese still clocks in at under 140 calories. You'll also get omega-3 fatty acids, and more than 30% of your daily Vitamin D needs.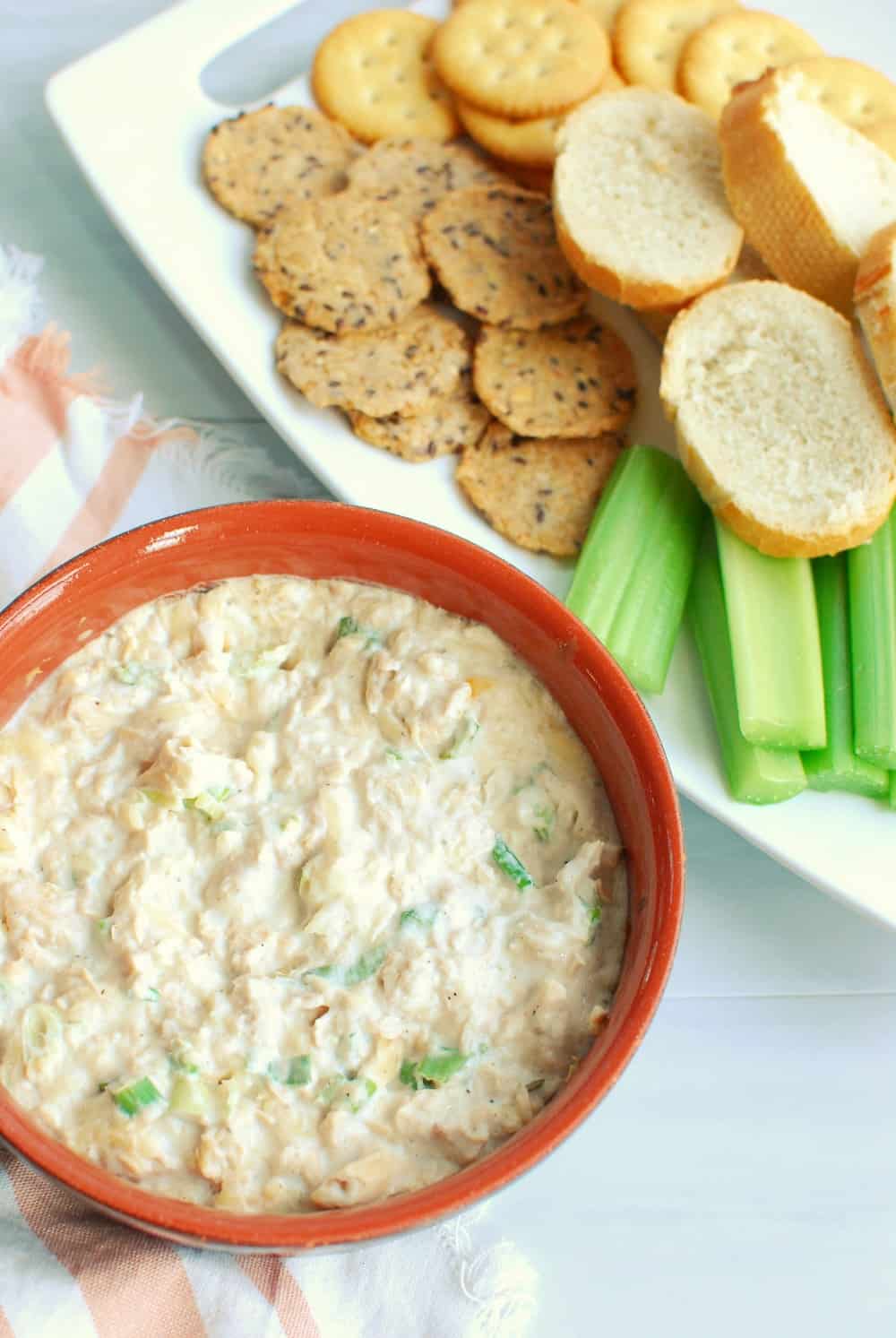 I hope you enjoy this yummy snack. If you get a chance to make it, don't hesitate to leave a recipe rating or a comment.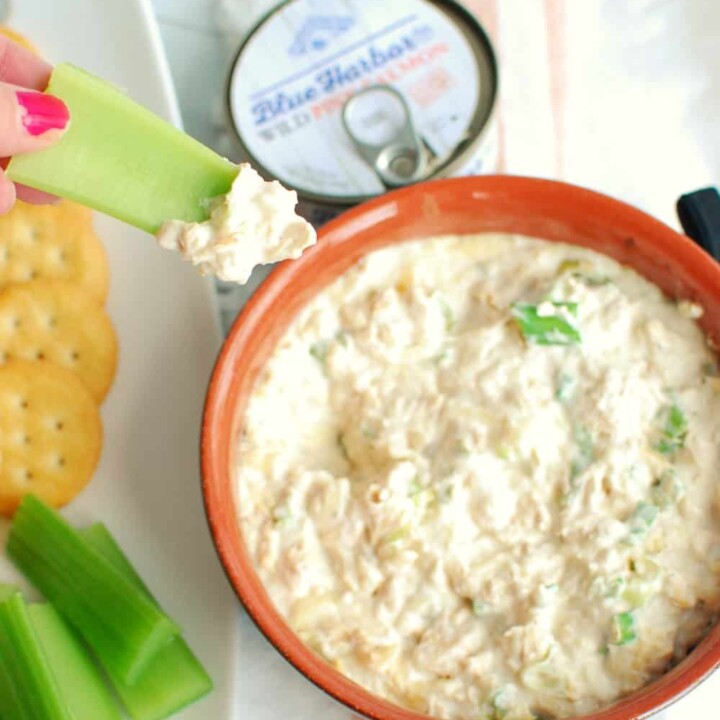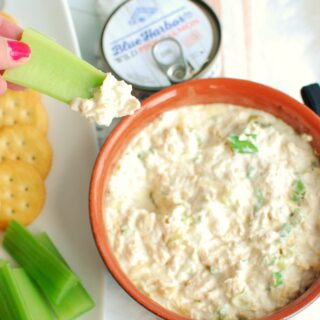 Canned Salmon Dip
This canned salmon dip is a great option when you want an easy, quick snack!
Ingredients
4

ounces

Neufchatel cream cheese, softened

(aka reduced-fat cream cheese)

1/4

cup

plain Greek yogurt

1/2

lemon, juiced

2

5-ounce

cans Blue Harbor Wild Pink Salmon, drained

1/2

cup

thinly sliced green onions

1/8

tsp

salt

1/8

tsp

pepper

1/3 to 1/2

cup

fresh shredded parmesan cheese

(optional for hot version)
Instructions
In a medium bowl, combine the Neufchatel cream cheese, Greek yogurt, and lemon juice. Whisk together until creamy and smooth.

Add in the salmon, green onions, salt, and pepper. Continue stirring until the dip is well combined. If serving cold, stop here and chill it until you're ready to eat it (or enjoy right now).

If serving warm, mix in the parmesan cheese. Transfer the dip to an oven-safe dish and bake at 350 degrees for about 15 minutes, or until the dip is warm and cheese has melted.
Notes
Nutrition analysis (approximate per serving, cold version, no cheese): 90 calories, 5 g fat, 2.5 g saturated fat, 260 mg sodium, 2 g carbohydrate, 10 g protein, Vitamin A: 8%, Vitamin C: 6%, Calcium: 4%, Iron: 3%, Vitamin D: 33%
Nutrition analysis (approximate per serving, hot version, with cheese, assumes 1/2 cup cheese): 139 calories, 8 g fat, 4.5 g saturated fat, 405 mg sodium, 2.5 g carbohydrate, 14.5 g protein, Vitamin A: 10%, Vitamin C: 6%, Calcium: 18%, Iron: 4%, Vitamin D: 34%
Nutrition
Share: What's your favorite appetizer to make at home for your family to snack on? If you tried this canned salmon dip, what did you think?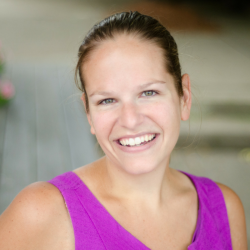 Latest posts by Chrissy Carroll
(see all)