Under 10 ingredients yet super flavorful, this sausage and apple stuffed acorn squash is a great family dinner.
I was visiting a friend last week who has a young baby, only about 8 weeks old. It was crazy to see how big my son looked compared to her – I already forgot how tiny babies are at the start. Devon loved hanging out with her, including giving her kisses on the feet and then clapping in celebration that he'd shown her some love.
Visiting my friend also reminded me just how consuming those first few months can be with the baby. You know – figuring out when to cook, workout, get to the store, and all the other normal life things that need to happen.
The thoughts about cooking reminded me of this dish that we made a lot over the past 10 months since Devon was born: sausage and apple stuffed acorn squash. This has been one of my go-to dishes for several reasons:
We got a ton of acorn squash in our CSA last fall.
This meal fit my dietary restrictions for nursing a baby with MSPI (milk soy protein intolerance).
There are only 7 ingredients (plus salt & pepper), and while the cook time is somewhat long, the active prep time is short.
Once Devon started eating solids, we figured out that he loved all kinds of squash, so he's a fan of this dish too.
[Tweet "Apple and sausage stuffed acorn squash is a tasty meal the whole family will love!"]
I actually totally forgot that I had photographed it a few months ago in preparation to post on the blog and then it slipped my mind! I'm glad I have this to share because I think it's a great go-to dish for busy nights. Apple and sausage stuffed squash is easy to make, relatively healthy, and tastes delicious using a minimal number of ingredients.
You can also change it up a bit according to your liking – for example, using ground turkey rather than Italian sausage to make it a bit leaner, or using quinoa instead of brown rice.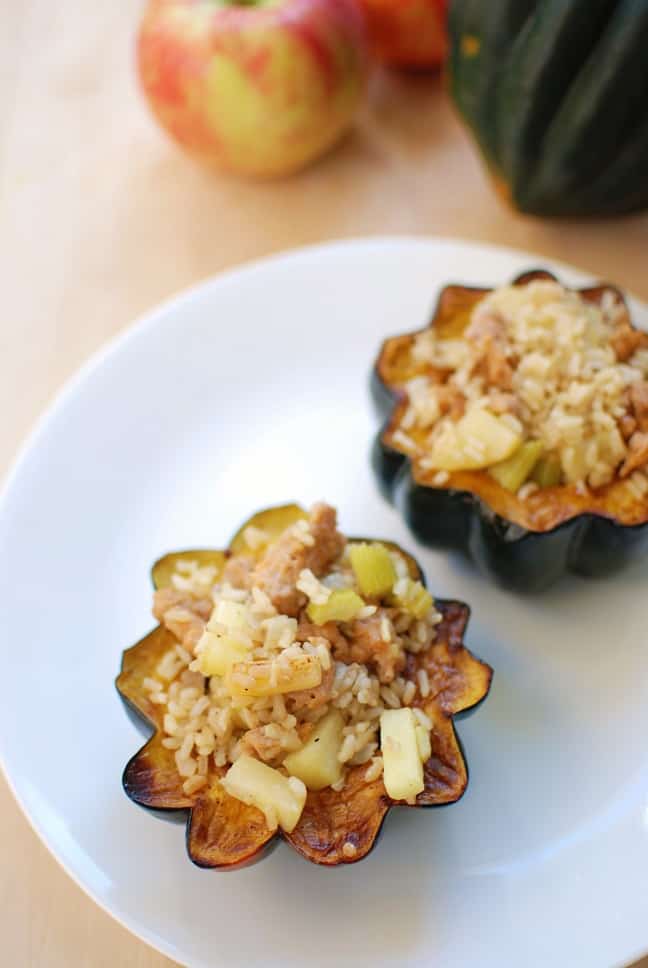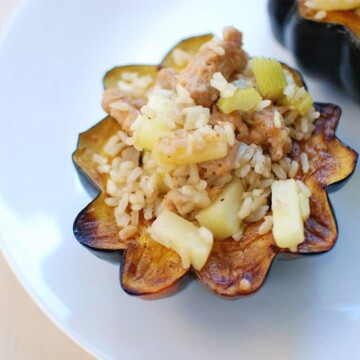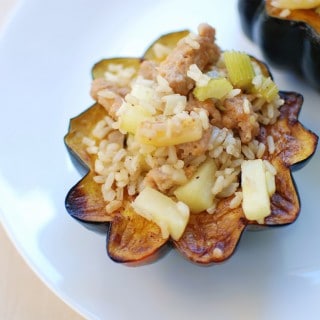 Sausage and Apple Stuffed Acorn Squash
Under 10 ingredients yet super flavorful, this sausage and apple stuffed acorn squash is a great family dinner.
Ingredients
2

tbsp

olive oil

(divided into 1 tbsp + 1 tbsp)

3

acorn squash, cut in half and seeds removed

3

celery stalks, diced

1

yellow onion, diced

2

apples, peeled and diced

1

pound

Italian sausage

(alternative: ground turkey)

1

cup

dry instant brown rice, cooked according to package directions

(alternative: quinoa)

salt and pepper to taste
Instructions
Preheat oven to 400.

Cut acorn squash in half, remove seeds, and drizzle lightly with 1 tbsp olive oil or spray with cooking spray. Place face down in a casserole dish. Bake in the oven for 45-60 minutes, or until fork tender.

When squash has about 15 minutes remaining, heat remaining 1 tbsp olive oil in a large skillet. Add celery, onion, apples, and sausage. Cook until the sausage is browned and the vegetables/fruits are tender (about 10-15 minutes).

Meanwhile, cook instant brown rice separately according to package directions.

Mix celery/onion/apple/sausage mixture with cooked brown rice. Remove acorn squash from the oven and stuff each with filling. Season with salt and pepper to taste (though I find it typically doesn't need any). Serve and enjoy!
Notes
Dietary Notes:
Dairy-free and gluten-free as long as sausage is a "safe" brand.
Nutrition Analysis (approximate):
480 calories, 28 g fat (9 g sat fat), 577 mg sodium, 43 g carbohydrate, 5 g fiber, 14 g protein, Vitamin A: 18%; Calcium: 10%; Vitamin C: 49%; Iron: 15%
Nutrition
Share with me: What are some of your favorite meals to make when you need something easy to make with minimal ingredients? Have you ever tried sausage and apple stuffed acorn squash?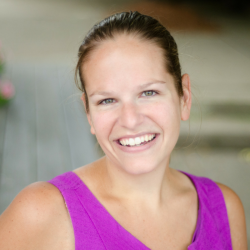 Latest posts by Chrissy Carroll
(see all)