Disclosure: This post contains Amazon affiliate links. As an affiliate, I earn a commission on qualifying purchases. I also received a complimentary copy of the Beautiful Smoothie Bowls book from the author and have her permission to post this carrot cake smoothie bowl recipe.
Has anyone else been a little behind on the smoothie bowl trend? I've made a few in the last couple of months, but most of the time laziness takes over and I just throw everything in the blender together. 😉
But there's something to be said for taking the time to make those gorgeous smoothie bowls. Did you know that visual appearance and presentation influences your perception of taste? That's right, we're more likely to perceive pretty food as being more delectable. Even the way you perceive the texture or color of a dish can change what flavor notes you detect or what taste rating you would give the food. (Here are a couple fascinating articles about sensory perception: one about color, one about texture, and another about presentation).
Plus, I love that smoothie bowls offer a little extra textural variety with the different tasty toppings you can add on.
So when fellow blogger Carissa Bonham from Creative Green Living mentioned she had a book coming out on smoothie bowls, I jumped at the chance to take a look! When Beautiful Smoothie Bowls arrived at my door, I was impressed by all the gorgeous smoothie bowls and "nice cream" recipes. Everything in the book is so bright and colorful and fresh.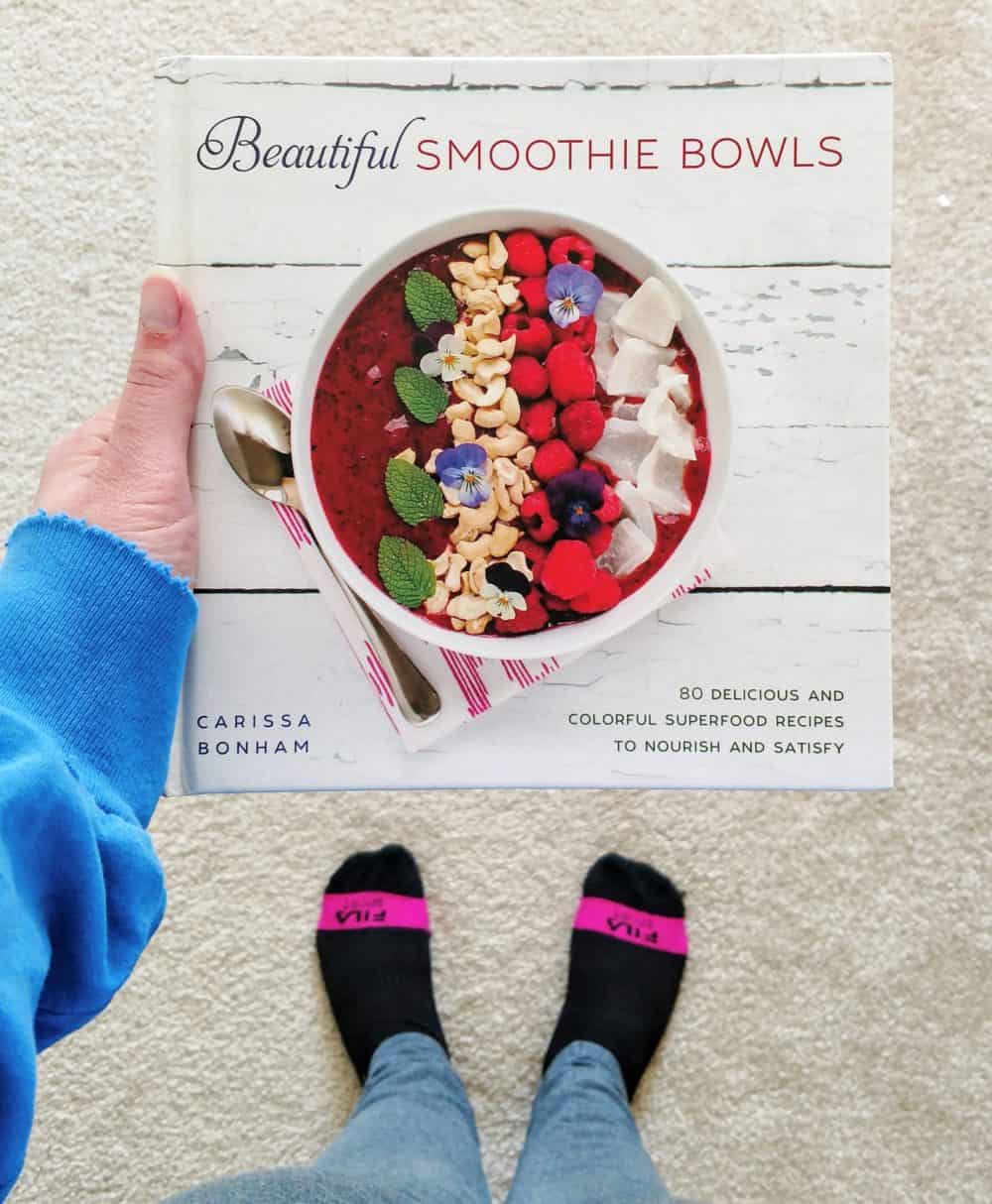 I decided to test out the carrot cake smoothie bowl, because I thought this would be a great recovery meal for all you runners & triathletes after a long run or ride. It's quite rich in carbohydrates from the bananas, carrots, oats, and raisins, which helps to restock that energy in those muscles. The yogurt and the almonds contribute protein to help with muscle repair. And dairy protein in particular is an especially good source of leucine, an amino acid that's key for recovery.
[Tweet "Looking for a new recovery meal after your long runs? Try this carrot cake smoothie bowl!"]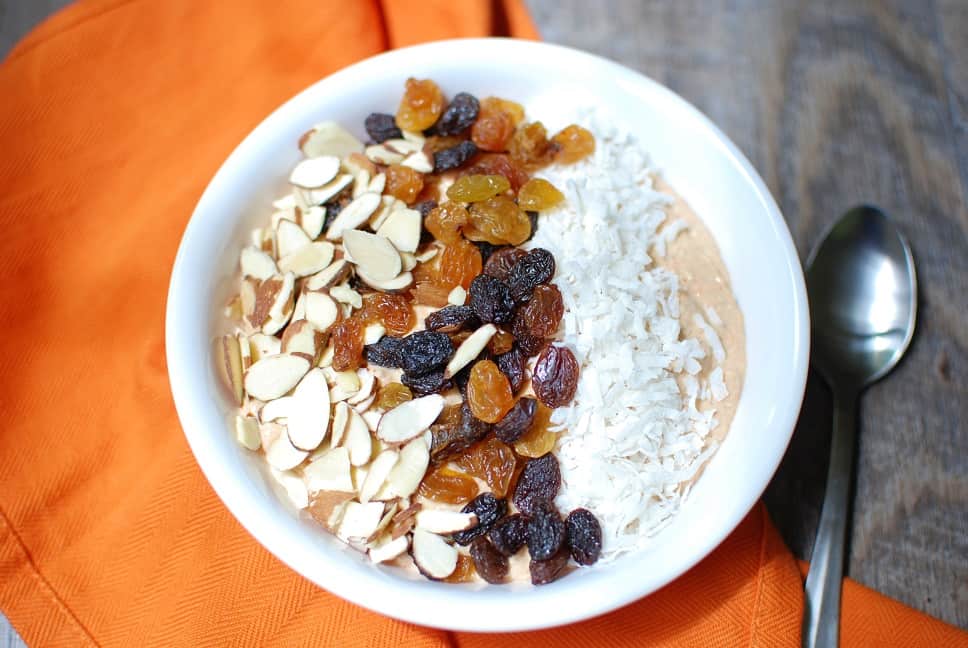 If you're an athlete that has high calorie needs or are an athlete trying to put on weight, you might dig into the whole smoothie bowl post-workout. But for athletes with lower needs – which would be most female athletes, leaner male athletes, and any athlete trying to lose weight – I recommend splitting the bowl with a friend!
A half size portion runs about 450 calories with around a 4:1 ratio of carbs to protein (78 g carbs / 17 g pro), making it a really nice recovery meal after those long workouts. And this bowl is rich in vitamins and minerals help support training, like calcium, magnesium and potassium.
One quick note: You'll want to make sure you have a decent blender for smoothies like this that contain veggies outside of the typical leafy greens. If you have a low quality blender, you'll get chunks of carrots – no bueno. But a good quality blender will be able to process them to a relatively smooth texture. I have a middle of the road model (think $100ish range) and it worked just fine for this. But my old $25 blender wasn't ideal for these kinds of recipes.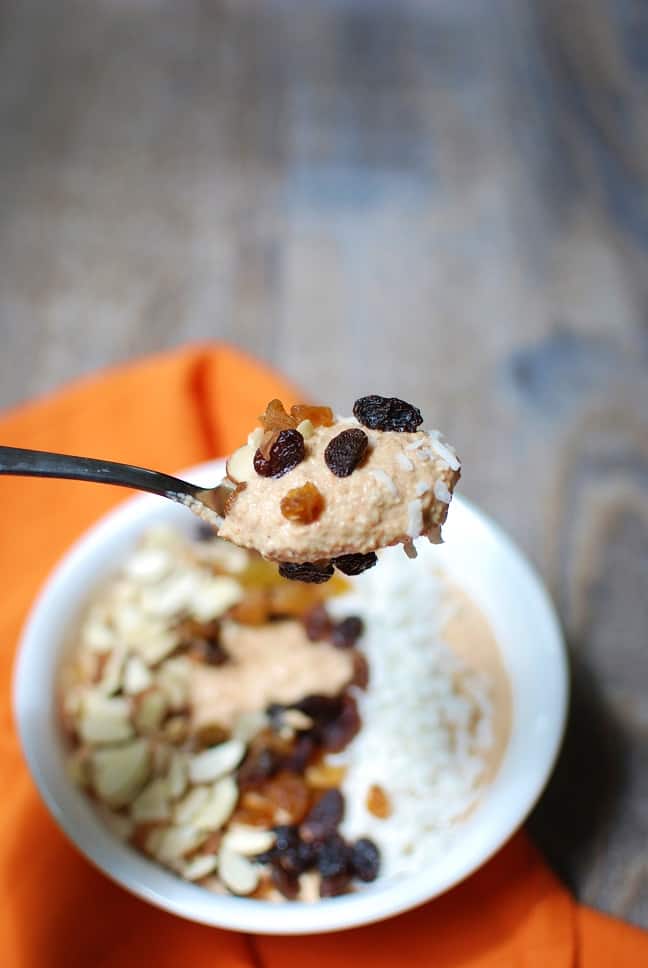 I hope you get a chance to try out this recipe. Don't get me wrong, it's not equivalent to a giant slice of cream cheese frosted carrot cake 😉 But some of the key carrot and spice flavors are there which makes it quite yummy, and it's packed with far more nutrition than your average slice of cake.
And I definitely recommend checking out Beautiful Smoothie Bowls book, as there are tons of nutrient-dense smoothie bowl and nice cream recipes! These things are packed with vitamins, minerals, and phytochemicals to support health. And the portions are usually enough to split, so my husband and son are always happy when I'm making them.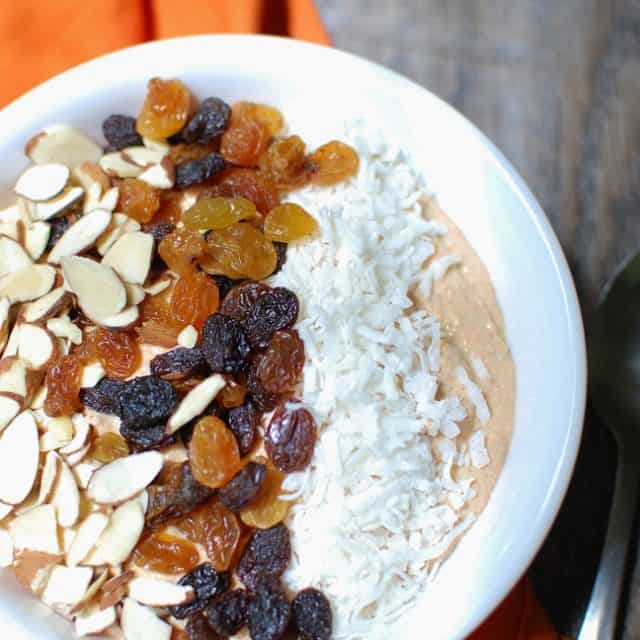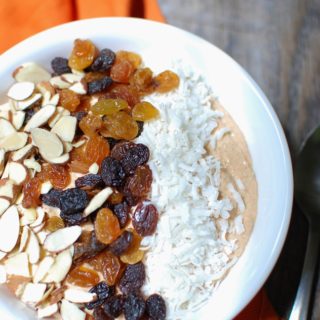 Carrot Cake Smoothie Bowl
A tasty carrot cake smoothie bowl makes a perfect post-workout treat!
Ingredients
Smoothie Bowl Ingredients:
2

medium carrots, tops and tips removed, peeled & roughly chopped

1

cup

plain greek yogurt

(the book calls for whole milk yogurt, but I went with a nonfat greek – personal preference!)

1/2

cup

rolled oats

(if gluten free look for certified GF oats)

2

tsp

agave or honey

1

tbsp

ground flaxseed

1/4

tsp

pumpkin pie spice

(or add more to taste)

1 1/2

frozen sliced bananas
Toppings:
2

tbsp

shredded coconut

2

tbsp

chopped nuts of choice

(I used slivered almonds)

1/4

cup

mixed color raisins
Instructions
Directions:
Combine all smoothie bowl ingredients except frozen banana in a blender. Blend until no chunks remain.

Add frozen banana and blend until smooth.

Pour into a bowl for one serving or split between two bowls for two servings. Add toppings and enjoy!
Notes
Nutrition analysis (based on 2 servings):
450 calories, 8.5 g fat, 78 g carbohydrate, 9 g fiber, 17 g protein, Vitamin A: 205%, Vitamin C: 20%, Calcium: 20%, Iron: 12%, Vitamin B6: 25%, Folate: 11%, Magnesium: 25%, Potassium: 23%
Nutrition
Share with me: Are you a fan of smoothie bowls, or do you prefer your smoothies all in one drinkable cup? What's your favorite smoothie bowl recipe?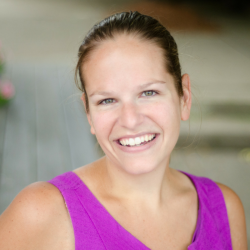 Latest posts by Chrissy Carroll
(see all)