Want a breakfast treat that will please the whole family? Cast iron banana bread is nutritious, delicious, and can be made ahead of time for the week!
Pinterest is such a great source of recipe inspiration. I can legit get lost in there for hours, just browsing new meal ideas, flavor profiles, and global cuisines. Is it just me, or does that happen to you too?!
When it comes to this cast iron banana bread, the inspiration came straight from an amazing maple pecan breakfast bake pin that I found on Pinterest from Paleo Running Momma.
This is actually one of the few recipes where I used another recipe as a starting point and worked from there. Usually I work from scratch, testing and retesting amounts. But Michele's version was already so delicious as is, I just wanted to change some of the ingredients to put my own spin on it.
While her version used almond flour, I decided to use oats in mine. I'm not paleo so I don't avoid grains – and I love that oats are a lower-calorie baking option compared to almond flour. (If you are paleo, the original recipe is perfect for you.)
Plus, oats are so cheap, which makes this a great inexpensive, family-friendly breakfast (or snack, or even dessert)! My kiddo has become a big fan of cooking it with me on the mornings we're home together: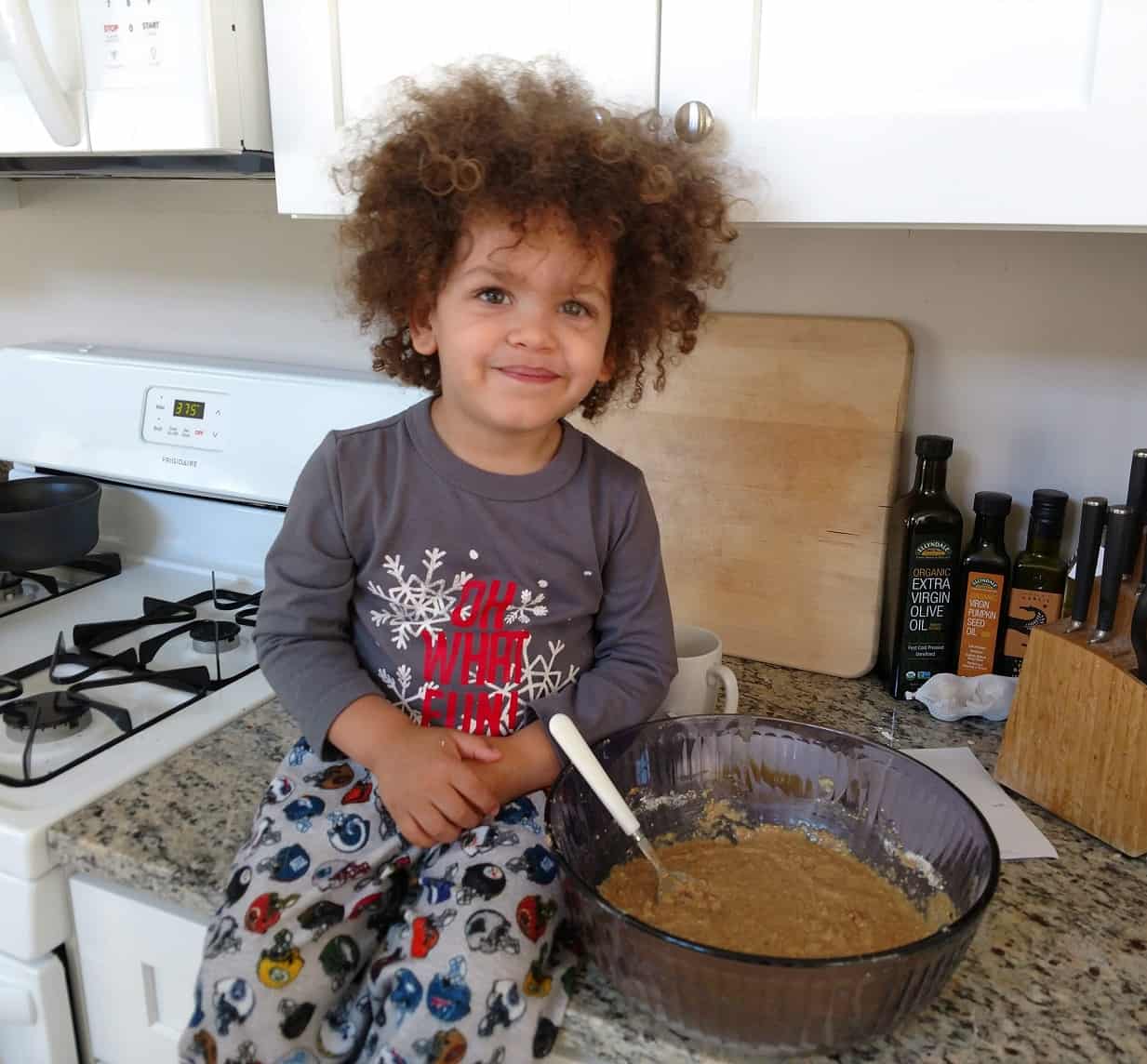 Here are a few other things I love about this cast iron banana bread:
1. This is a gluten free dairy free banana bread – great for anyone with celiac disease or dairy allergies! And it's soy free as well, so it's perfect for any MSPI mamas out there.
Now if you're gluten free, keep in mind you want to look for certified gluten-free oats. While oats themselves do not contain gluten, current agricultural practices mean certain oats may be contaminated by gluten due to the proximity of wheat in the fields. Just look for oats that list themselves as certified gluten free and you're good to go with this recipe.
2. Most traditional banana bread recipes use butter or oil – but this version uses peanut butter instead. The result is a skillet banana bread that is still tender and still has satiating fat, but also has a nutty flavor and a little extra boost of protein.
You'll also add walnuts into the batter and on top of the bread too, for a boost of extra healthy fats, vitamins, and minerals.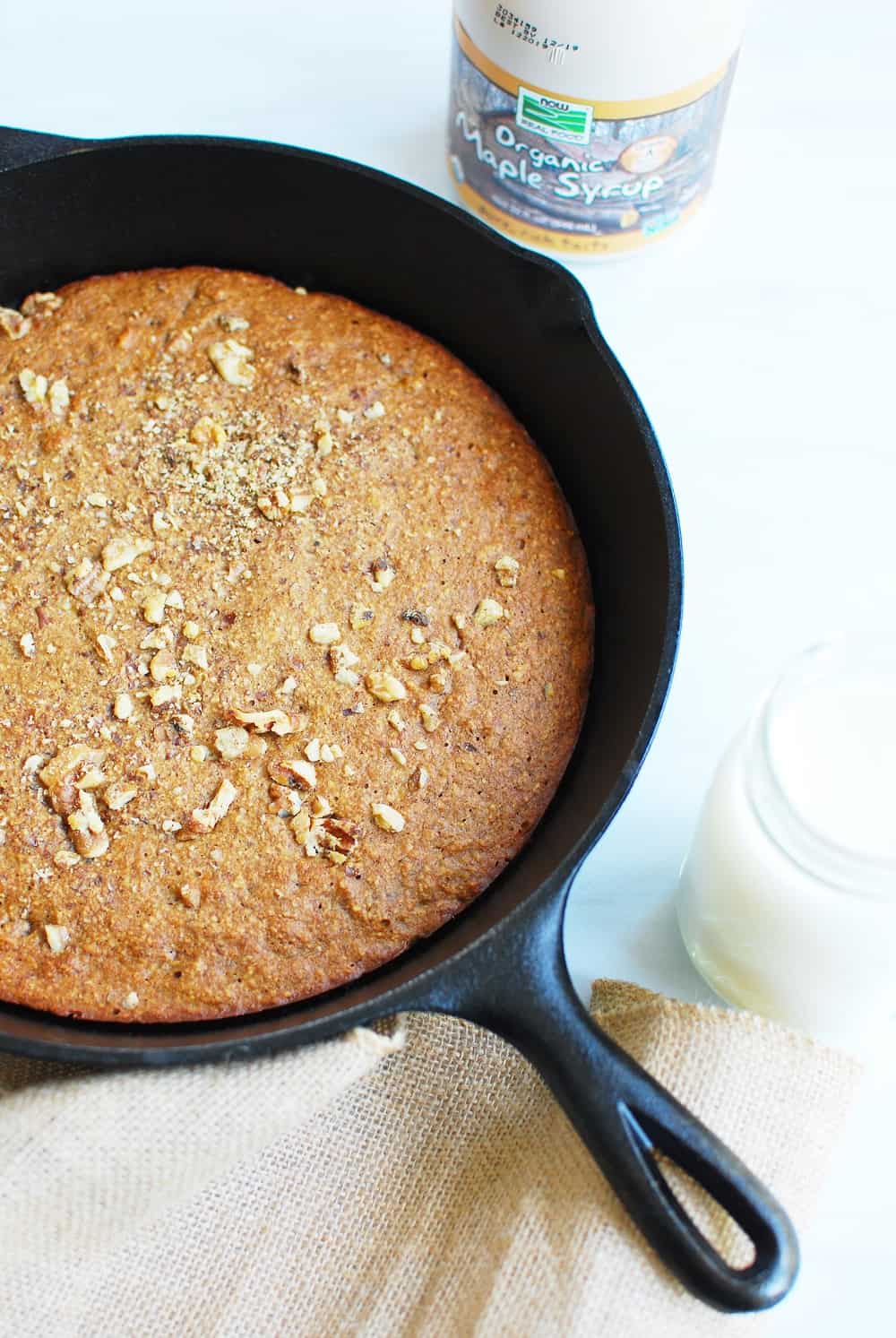 3. You can meal prep this in advance! Just bake it and then portion it out into meal prep containers and store in the fridge for up to 5 days. Pop it out and microwave for about 30 seconds, and you've got a tasty hot breakfast ready to go. It's ideal for any of you ladies with a busy schedule, or for kiddos that need to get out the door to school.
4. Of course, it's super tasty! The finished product is kind of like a mix between banana bread baked oatmeal, a banana pancake, and healthy banana bread. The best way to eat it for breakfast (in my humble opinion) is warm, topped with a little extra maple syrup. Serve it alongside a cold glass of milk or almond milk.
If you want it dessert style at night, top it with a scoop of vanilla ice cream or dairy-free coconut "nice" cream. 🙂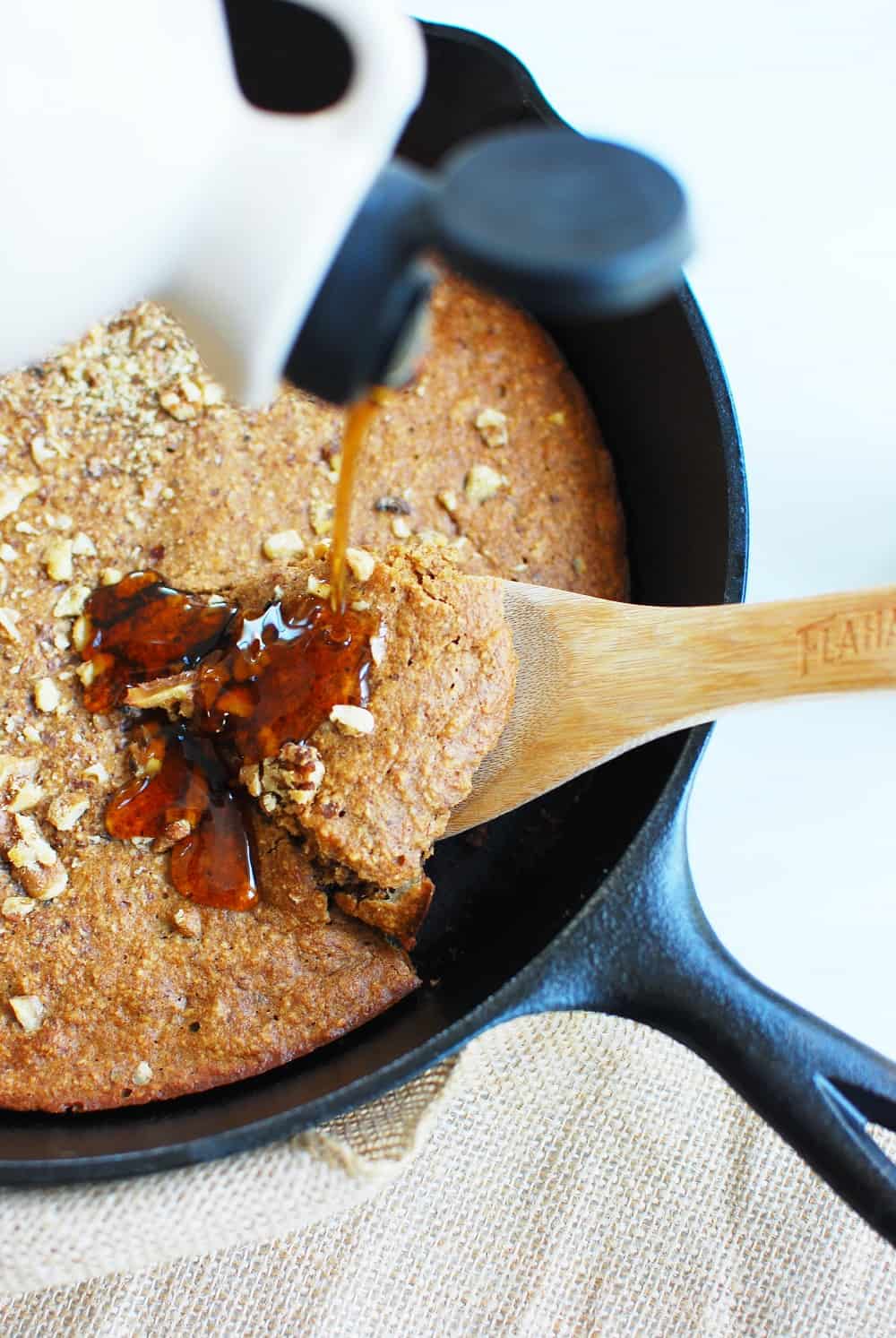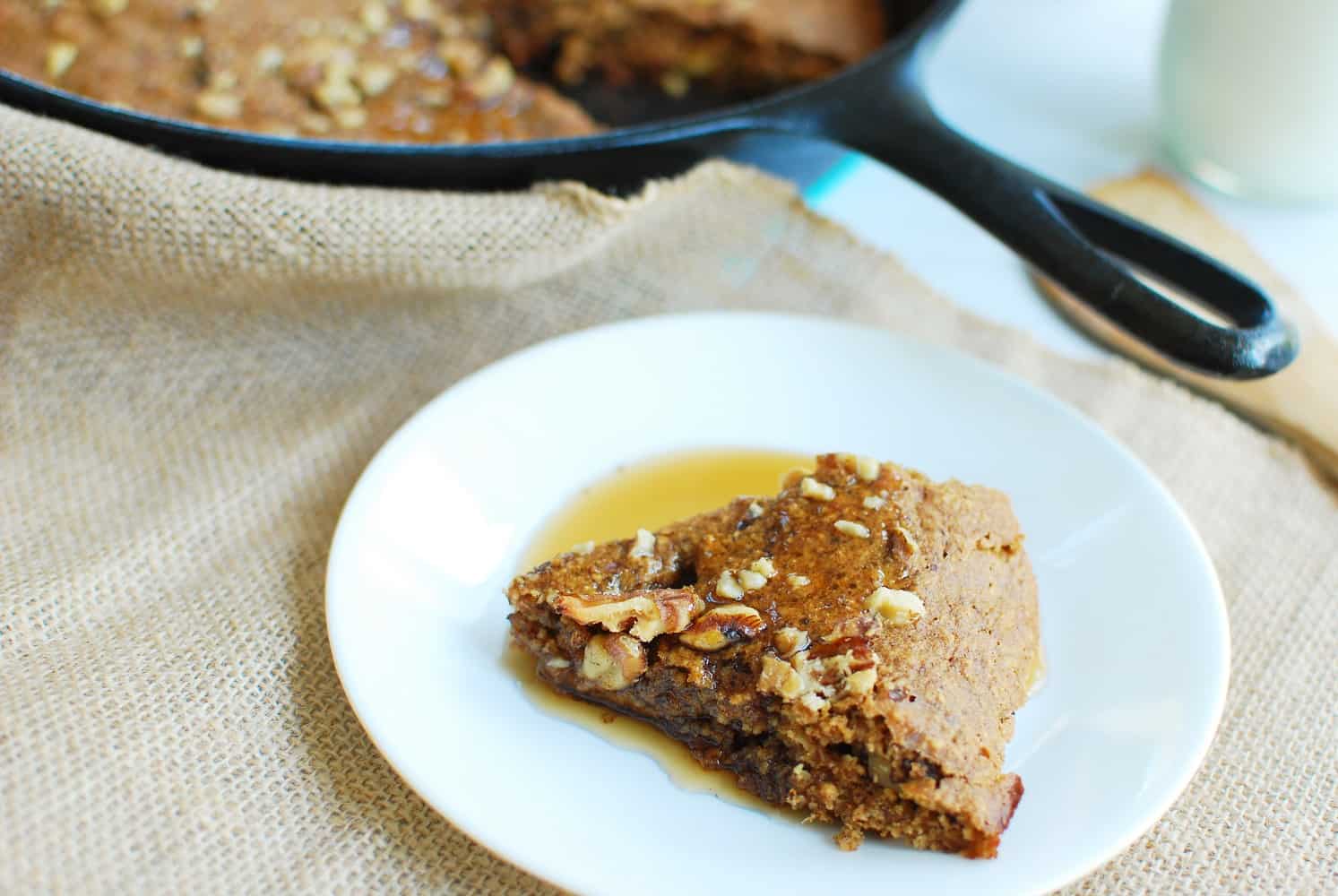 I hope you enjoy this recipe! Be sure to leave a rating in the comments if you try it out.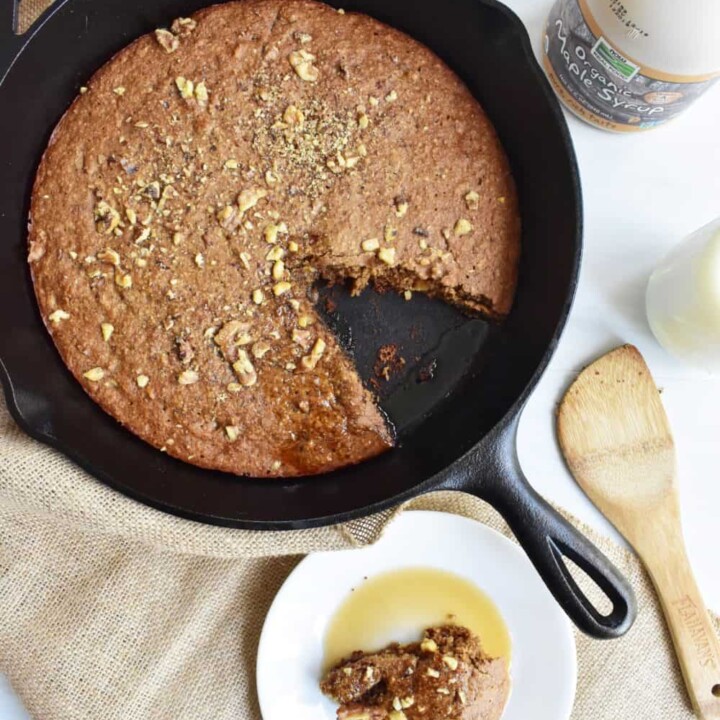 Cast Iron Banana Bread
Upgrade your breakfast with this delicious cast iron banana bread! This gluten free dairy free banana bread is wonderful topped with some pure maple syrup.
Ingredients
2

overripe bananas

1/3

cup

natural peanut butter

3

tbsp

pure maple syrup

3

tbsp

applesauce

2

tsp

vanilla

2

eggs

1 1/3

cups

rolled oats

(if gluten free, look for certified gluten free oats)

2

tsp

cinnamon

1/2

tsp

baking soda

1/4

tsp

salt

1/2

cup

chopped walnuts
Instructions
Preheat the oven to 375 degrees. Grease a large cast iron skillet with an oil of your choice.

In a large bowl, mash the bananas with a fork or potato masher. Add the peanut butter, maple syrup, applesauce, vanilla, and eggs. Whisk together.

Add the oats to a blender or food processor. Pulse several times until the oats form a coarse, flour-like consistency.

Pour the oats (now processed into flour), cinnamon, baking soda, and salt into your bowl with the wet ingredients. Stir until just combined.

From your 1/2 cup of walnuts, set aside a few spoonfuls that you'll use for topping. Add the rest of the walnuts to the batter and stir until just combined.

Pour the batter into the cast iron skillet. Top with your remaining walnuts. Bake at 375 degrees for 20-25 minutes, or until a toothpick comes out clean.

Let cool for a few minutes, then serve still warm topped with maple syrup!
Notes
Nutrition analysis (approximate per serving, does not include maple syrup for topping):
240 calories, 12 g fat, 2 g sat fat, 26 g carbohydrate, 4 g fiber, 9.5 g sugar, 7.5 g protein, Vitamin A: 2%, Vitamin C: 6%, Calcium: 4%, Iron: 8%
Nutrition
Share with me: Do you also love Pinterest for recipe inspiration? Do you think your family would enjoy this cast iron banana bread? What's your favorite sweet breakfast option?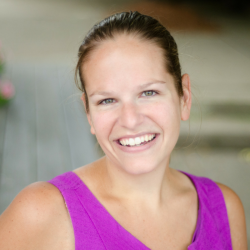 Latest posts by Chrissy Carroll
(see all)