There is nothing quite as amazing as digging into a big 'ol plate of fried chicken parmesan, topped with gooey mozzarella cheese and served over a big bed of pasta. But of course, we all know that's not exactly the most nutritious dish. In these chicken parm stuffed peppers, you'll get those same key flavors as your favorite Italian dish – in a lower calorie, healthy dinner!
Disclosure: This post is sponsored by Monterey Mushrooms. As always, all opinions are my own.
How to Make Chicken Parm Stuffed Peppers
This is seriously one of the simplest dinner ideas you could imagine! You only need 7 ingredients:
Bell peppers
Chicken broth
Ground chicken
Let's Blend Italian mushrooms
Marinara sauce
Mozzarella cheese
Parmesan cheese
You'll slice the bell peppers and put them in your casserole dish.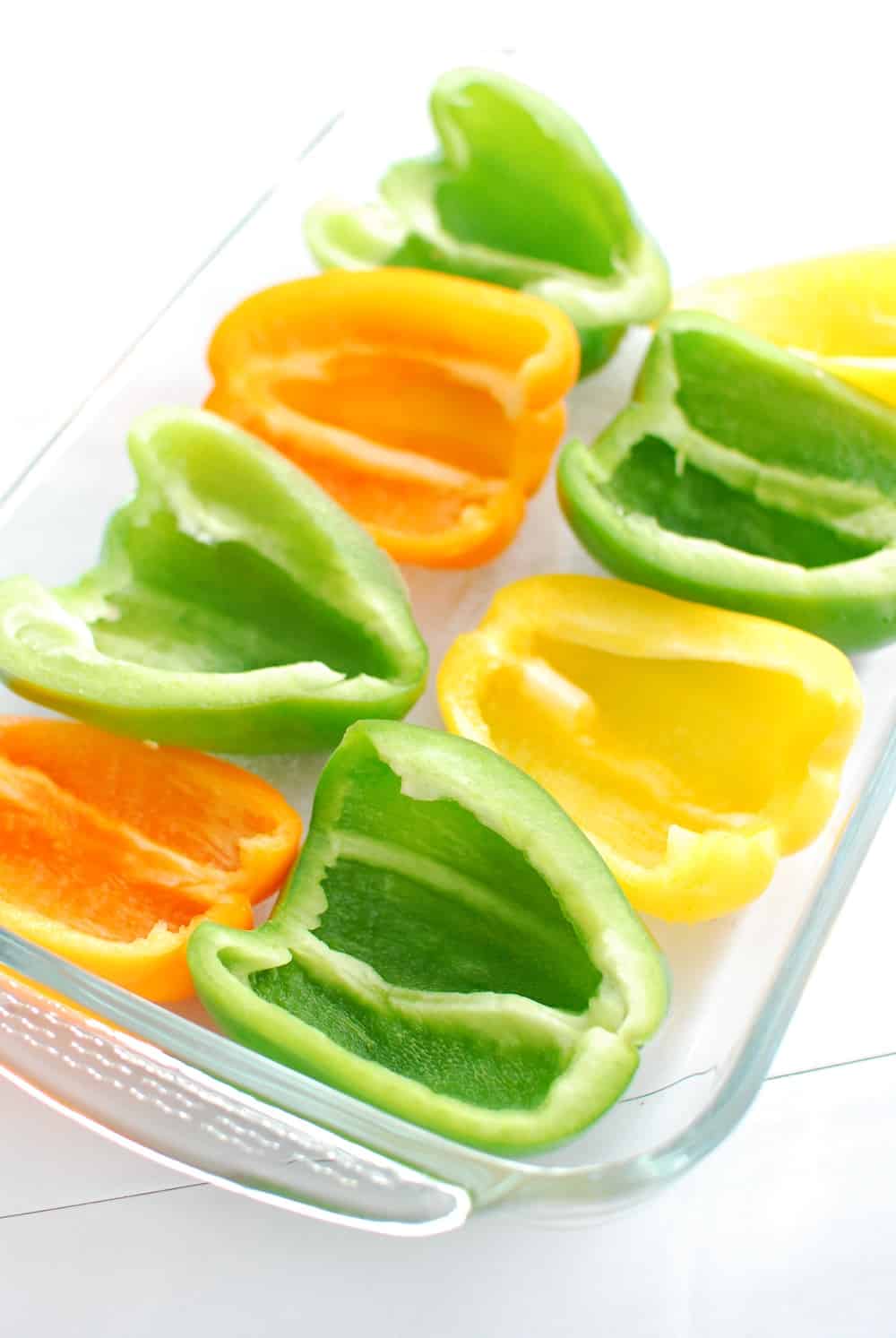 Then you'll add a little chicken broth on the bottom of the casserole dish. The broth simply serves to help steam the peppers and cook them in the oven.
In a skillet, you'll sauté up your chicken and mushrooms. Instead of breaded fried chicken, I'm using ground chicken in this dish to keep things simple and lower calorie. Toss this chicken mushroom mixture with marinara sauce and mozzarella cheese.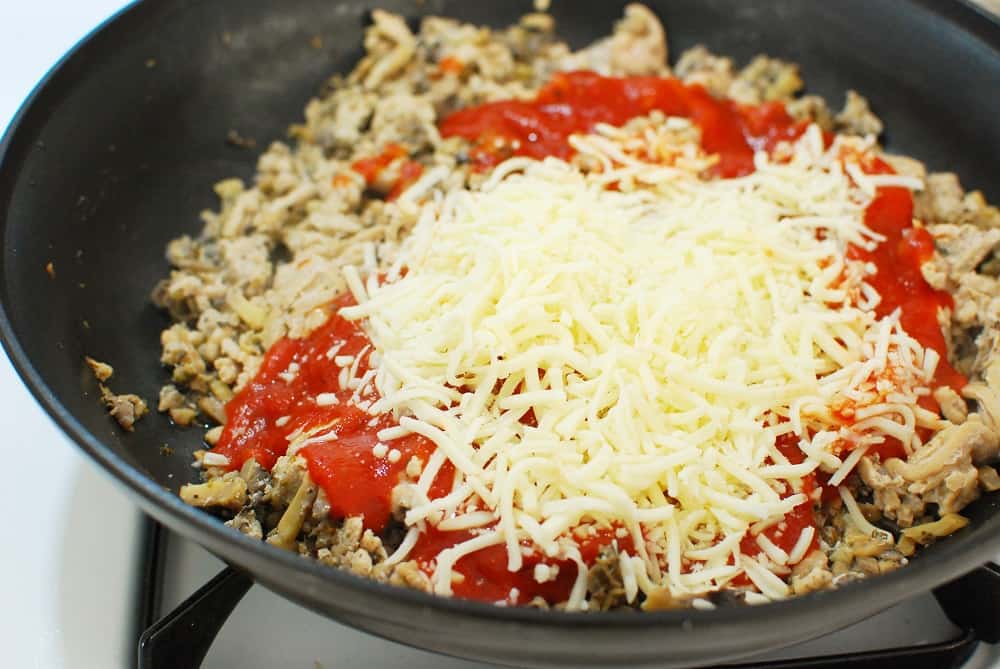 Give everything a good mix, then pop this filling in the pepper halves. Add a little more sauce and some parmesan on top, and you're ready to cover and bake.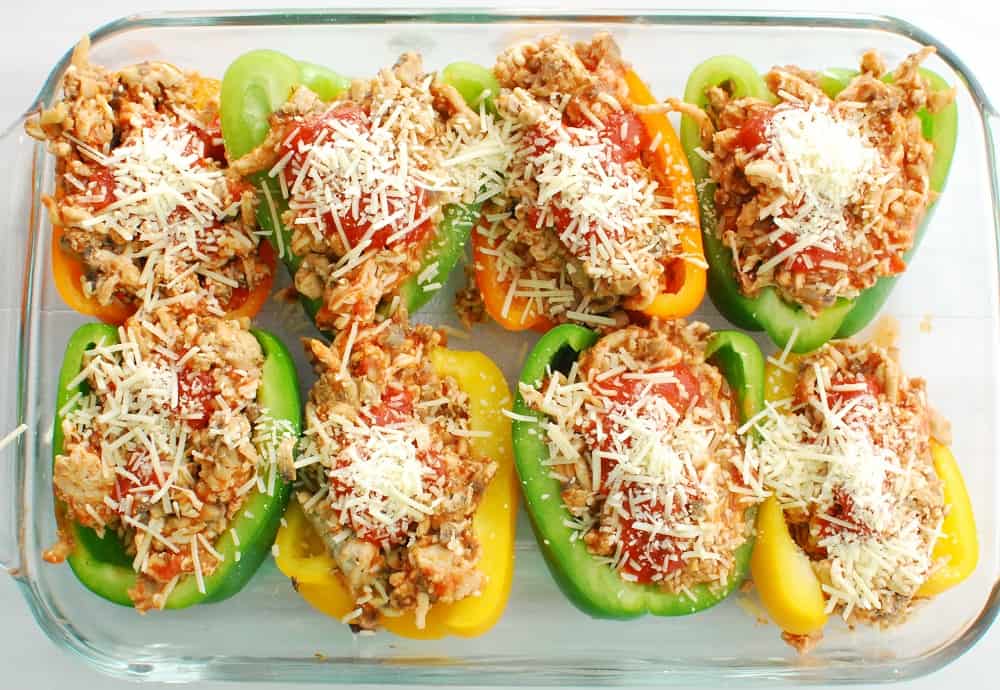 What are Let's Blend Mushrooms?
Only one of my favorite ingredients ever, that's what! 😉
Let's Blend are pre-chopped, pre-seasoned mushrooms that come in three different flavors: original, Italian, and Mexican. They're a brilliant way to add extra veggies to a dish.
In this case, I use the Italian mushrooms help to both add flavor to the chicken mixture (thanks to the seasonings!) and make it more filling.
Want to grab some for yourself to make this dish? Check out what retailers near you carry Let's Blend.
(PS – Looking for more ways to use Let's Blend? Check out my Szechuan pork recipe or these leftover turkey meatballs!)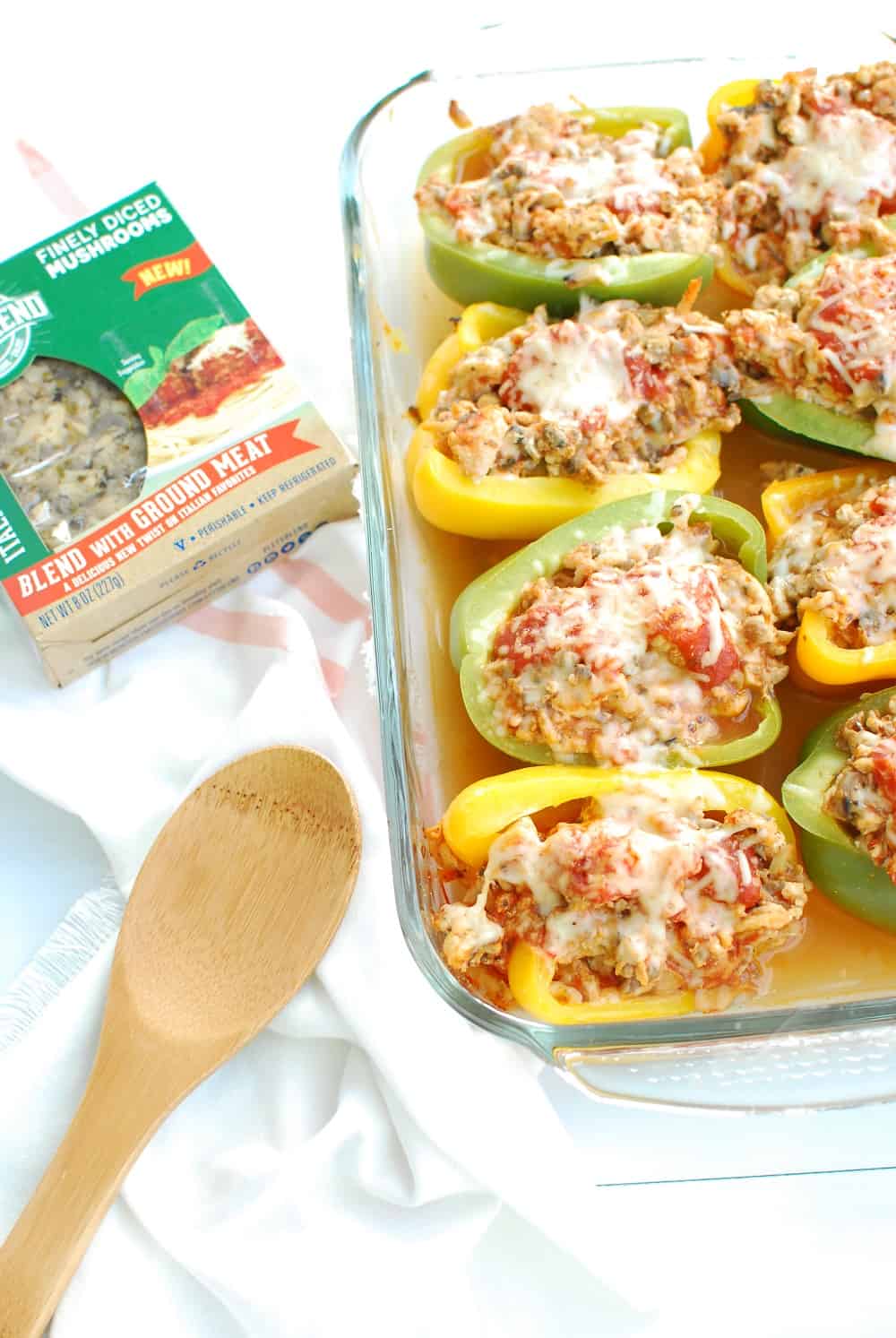 Are Chicken Stuffed Peppers Healthy?
Yes! They clock in just under 400 calories, but these stuffed peppers are packed with protein – 33 grams in a serving. That protein is important for keeping you full, as well as promoting optimal muscle health.
You'll also find a range of vitamins and minerals in this dish. For example, it's an excellent source of Vitamin A, Vitamin K, calcium, and potassium. And it packs in more than a day's worth of your Vitamin C needs!
And though it's a little higher in sodium than some meals, that's completely fine as long as the rest of your day is balanced with lower sodium meals.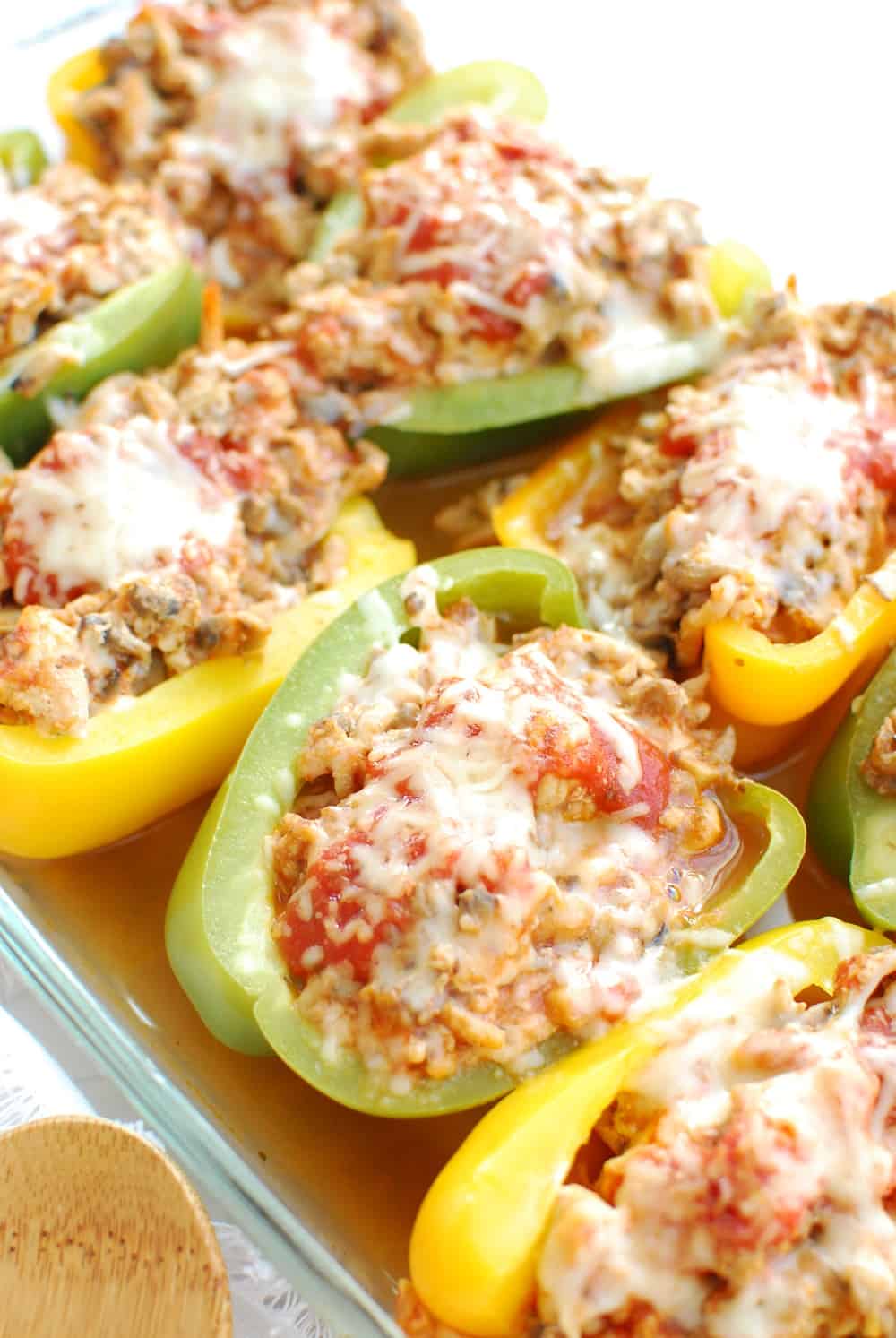 Why I Love This Meal for Runners & Triathletes
These chicken parm stuffed peppers are a great dish for active folks, specifically in the off season or on rest days.
During tough training days, your body needs a good number of calories and carbs to fuel endurance training. But as you shift training in the off-season – generally a bit more unstructured, or focused on simple low intensity aerobic base building – it can be wise to cut back a bit on the calories and carbs.
This stuffed pepper dish is calorie-controlled and lower in carbs, which makes it a nice meal to mix into the rotation in that off-season.
And during tougher training times, you can boost the carb content of this meal with a whole wheat dinner roll on the side, or add some rice into the filling.
Not a runner or triathlete? No need to worry! While a lot of my readers fit that niche, know that this meal can be a great addition to anyone's diet! 🙂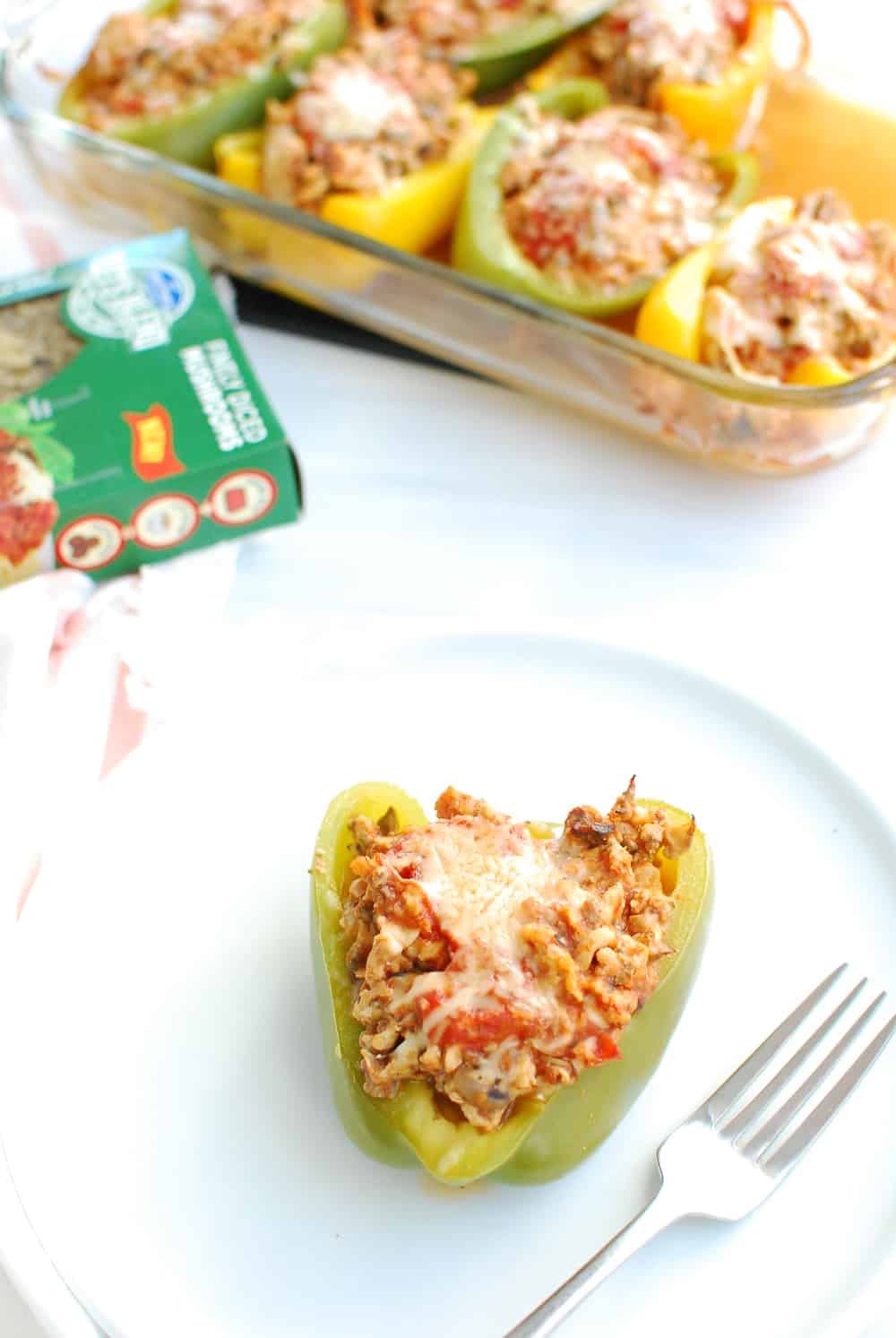 I hope you enjoy these chicken parm stuffed peppers – if you make them, be sure to leave a recipe rating and comment. And don't forget to grab your Let's Blend mushrooms so you can cook these up ASAP!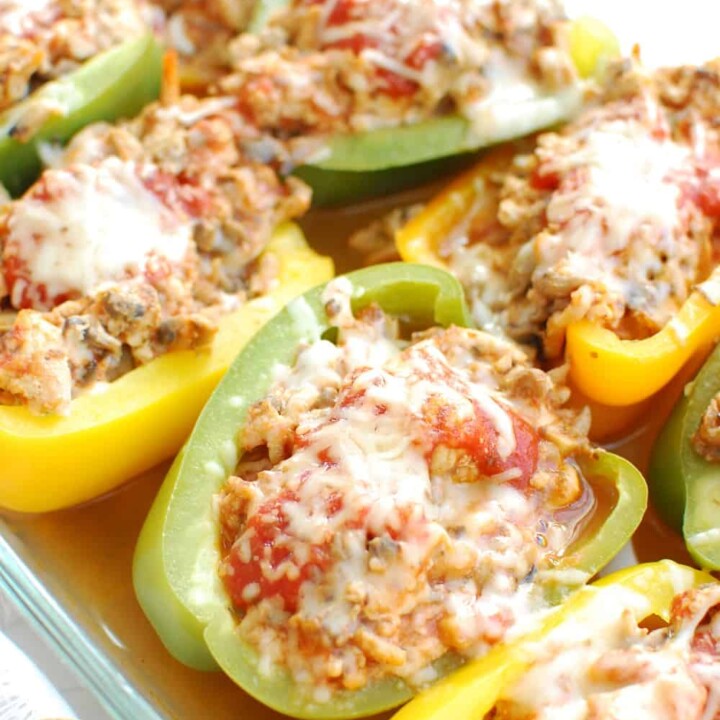 Chicken Parm Stuffed Peppers
Looking for a healthy stuffed peppers recipe? Try these chicken parm stuffed peppers! All the flavors of chicken parmesan in a much more nutritious way!
Ingredients
4

bell peppers

1/2

cup

chicken broth

1

pound

ground chicken

1

package of Let's Blend Italian mushrooms

1 ½

cups

marinara sauce, divided into 1 cup and 1/2 cup

1

cup

shredded part-skim mozzarella cheese

1/4

cup

parmesan cheese
Instructions
Preheat oven to 350 degrees.

Slice the peppers in half and remove the seeds. Place them cut side up in a casserole dish. Add 1/2 cup chicken broth to the bottom of the casserole dish.

Heat a large skillet to medium high. Spray it with a quick pop of cooking spray, then add ground chicken and Let's Blend mushrooms. Sauté until chicken is fully cooked, about 6-8 minutes.

Stir 1 cup of marinara sauce and mozzarella cheese into the skillet. Remove from heat.

Scoop the chicken filling into the pepper halves. Top with the remaining half cup of marinara sauce, the with the parmesan cheese.

Cover with foil and bake for 40-50 minutes, until peppers are tender. Enjoy!
Notes
Notes:
The chicken broth is simply to help the peppers cook in the steam that forms when there is foil on top in the oven. You can use water or tomato sauce instead if you don't have stock on hand.
This makes 4 servings, where each serving equals two pepper halves.
Nutrition analysis (approximate per serving):
386 calories, 18 g fat, 7 g sat fat, 1120 mg sodium, 23.5 g carbs, 6.5 g fiber, 12.5 g sugar, 33 g protein, Vitamin A: 30%, Vitamin C: 223%, Calcium: 33%, Iron: 13%
Nutrition
Share: What's your favorite stuffed pepper recipe? If you tried these chicken parm stuffed peppers, what did you think?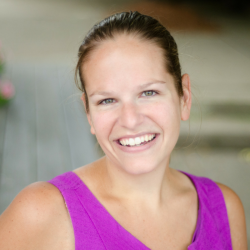 Latest posts by Chrissy Carroll
(see all)