Who else always buys a way-too-big turkey for Thanksgiving? I'm not sure why I feel a 15-pound turkey is necessary for my tiny family of 3, but hey – it was $5.87 on sale so I'm going to roll with it. 😉 Of course, after that bird is cooked and I have about 10 pounds of leftover meat, I'm always on the hunt for good leftover turkey recipes. These turkey mushroom meatballs are a favorite!
Disclosure: This post was sponsored by Monterey Mushrooms. As always, all opinions are my own.
Why these turkey mushroom meatballs are great for active folks
Whether you're a weekend warrior doing winter road races or you're hitting up the gym to focus on strength work right now, these leftover turkey meatballs can help support your fitness goals.
In particular, a serving…
Clocks in at just 234 calories, making it a great base for building a healthy lunch or dinner
Is loaded with veggies – mushrooms, sweet potato, and carrots!
Contains 22 grams of protein, helping with muscle repair after those gym sessions as well as keeping you full longer
Contains 11% of your daily iron needs, especially important for female athletes
Packs in 12% of your daily potassium needs, an electrolyte involved in muscle contraction and blood pressure regulation.
And of course, even if you aren't active, these remain an excellent, nutritious choice for everyone! (And a great way to reduce food waste by making something new out of your leftovers).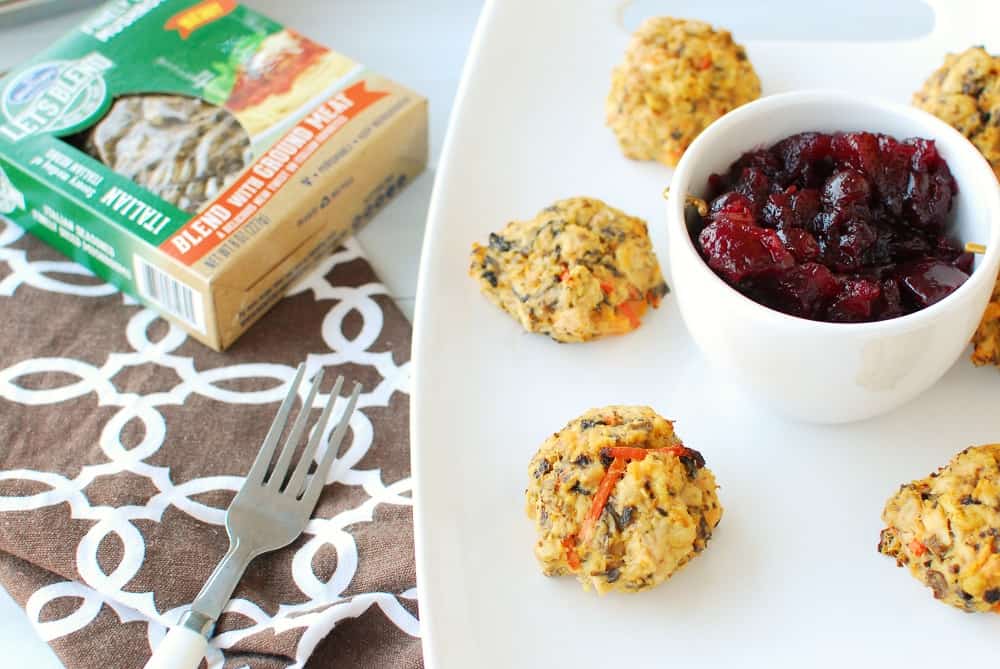 How to make these leftover turkey meatballs
This recipe really couldn't be any easier. You'll just take a bunch of your leftover turkey and chop it up finely – or, if your food processor is always on the counter like mine is, just pop it in there! Pulse it a few times so it looks more like ground meat and you're good to go.
As a heads up, I like to use a combination of about half light meat and half dark meat turkey for these, as I usually end up with plenty of each leftover. But if you only have one or the other, that's fine – it'll work!
Then you'll mix that up turkey with the rest of your ingredients – Let's Blend finely diced mushrooms, eggs, cooked sweet potato, carrots, olive oil, milk, and leftover stuffing. Roll it into meatballs, bake it, and you're ready to enjoy! Start to finish, you can get these on the table in under 40 minutes.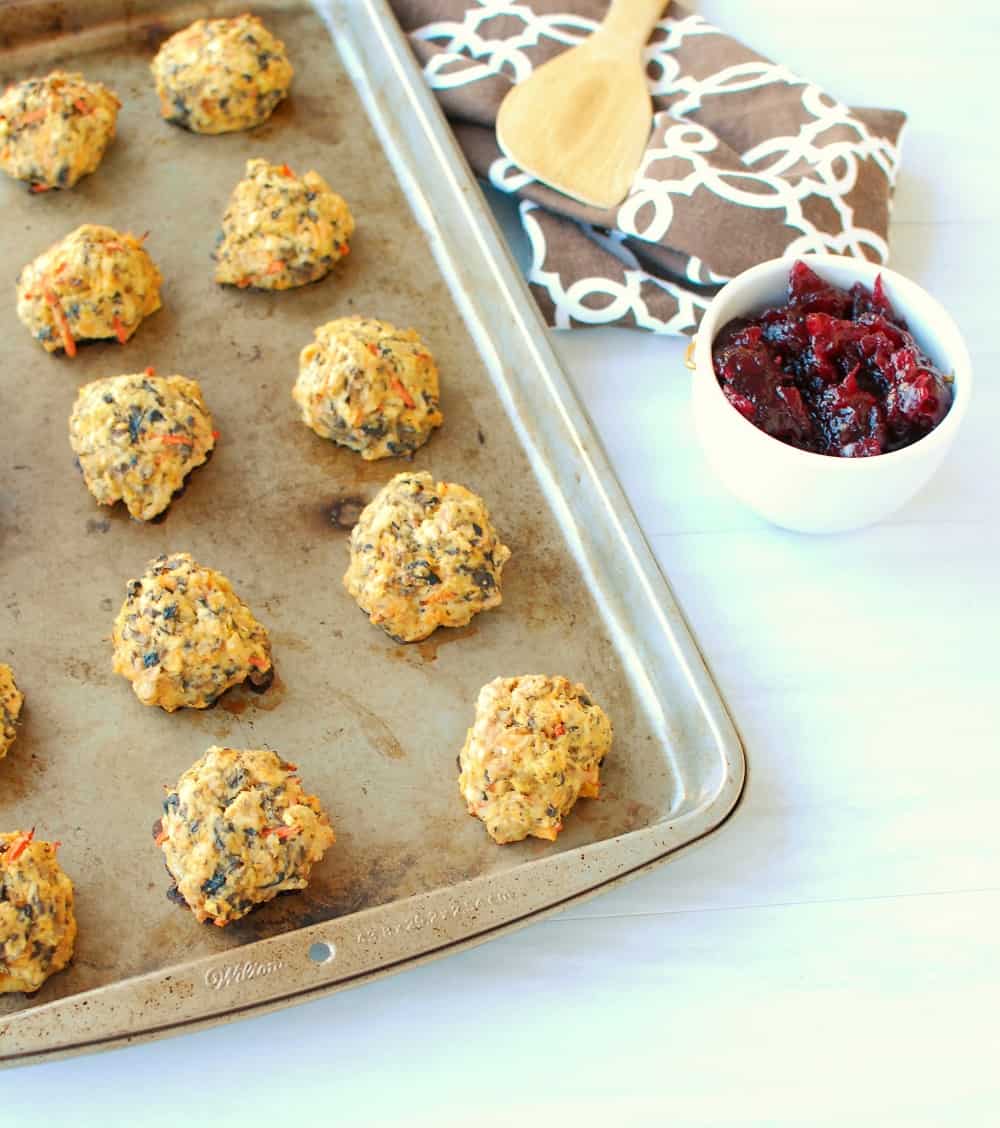 Because these have a little bit of a sweeter side to them with the carrots and sweet potato, I love serving them with this healthy cranberry sauce. The tartness pairs quite well.
But really, you can serve them with whatever dip your family likes. My kiddo likes these with ketchup (though I wouldn't put a ton of faith in that; he would eat ketchup by the spoon). My husband likes them with gravy. I've even had them with a little applesauce on top and it weirdly works well.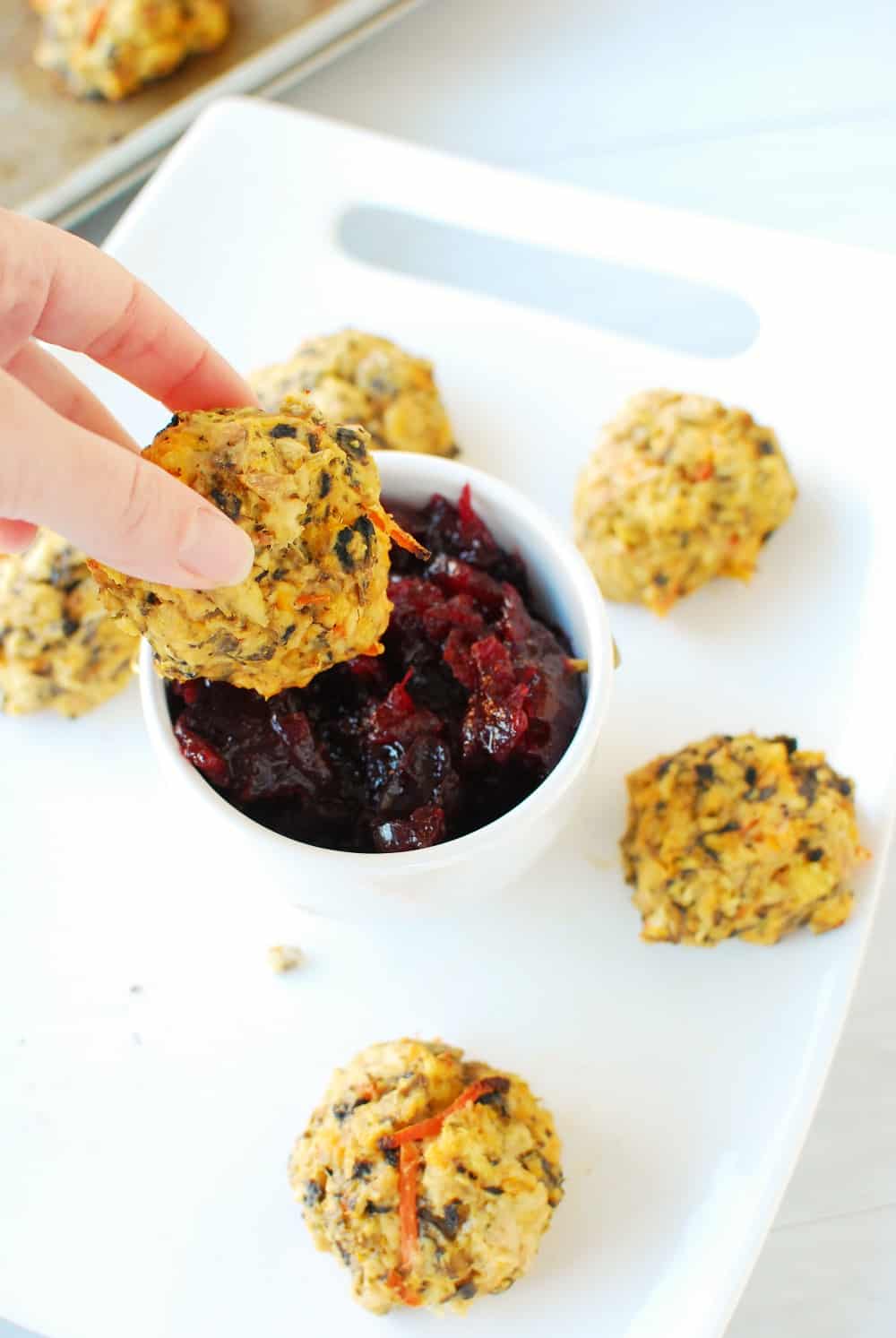 Why blend turkey and mushrooms together?
Because they're ah-mazing together, that's why! For real though, the combo is so much better than turkey alone in a meatball.
You might notice that I specifically use Let's Blend mushrooms for this leftover turkey recipe. Essentially, Let's Blend is package of pre-chopped, seasoned mushrooms that comes in three varieties – classic, Italian, and Mexican. (And I love them all!)
These are not much more expensive than whole mushrooms at the store – yet it saves a bunch of time compared to chopping, sautéing, and seasoning them yourself. And by mixing them with different types of meat, you're able to a) stretch your meat further, b) add a nutritious veggie to your meal, and c) enhance the texture and taste (hello, umami!).
Find out where you can buy Let's Blend here, and be sure to check out other recipe ideas using the product on the Monterey Mushrooms website.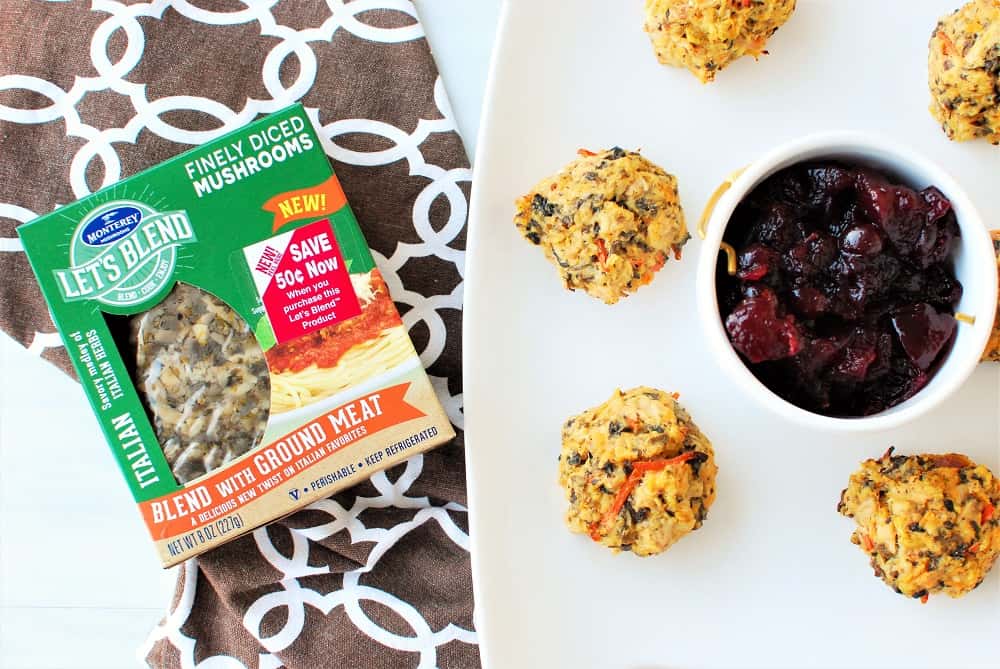 I hope you enjoy this recipe – be sure to rate it if you try it, or pin it for later so you can come back to it after Thanksgiving!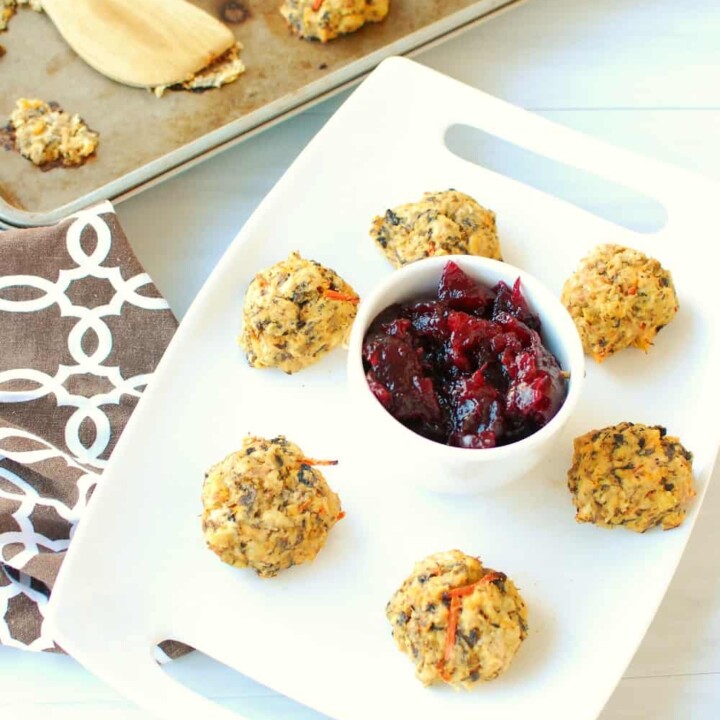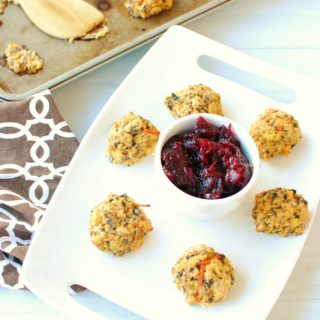 Healthy Leftover Turkey Mushroom Meatballs
These healthy leftover turkey mushroom meatballs are a perfect way to use up any extra turkey from your holiday dinners!
Ingredients
For the meatballs:
2

cups

leftover cooked turkey

2

eggs

1

package Let's Blend Italian finely diced mushrooms

1

cup

cooked sweet potato, mashed

½

cup

shredded carrots

(a smaller shred is ideal but any will work)

1

tbsp

olive oil

3

tbsp

milk

½

cup

leftover cooked stuffing

(or breadcrumbs or oats)
Instructions
Preheat oven to 400 degrees.

Either chop the cooked turkey finely, or place cooked turkey in the food processor and pulse a few times so it's ground up a bit.

In a large bowl, whisk the two eggs. Add your turkey, Let's Blend, sweet potato, carrots, olive oil, milk, and stuffing to the bowl. Stir until everything is well combined.

Shape into meatballs and place on a baking sheet. Bake at 400 degrees for 25 minutes or until cooked through. Let cool before removing from pan with a spatula. Serve with cranberry sauce.
Notes
Notes:
This recipe makes approximately 15 large meatballs, and one serving = 3 large meatballs.
If you use breadcrumbs or oats in this instead of stuffing, you may need to add a little extra milk – as cooked stuffing already has a bit of moisture in it.
Be sure to let the meatballs cool before removing from the pan, as it helps prevent crumbling.
Nutrition analysis (per serving of 3 meatballs, does not include cranberry sauce):
234 calories, 8.5 g fat, 2 g sat fat, 515 mg sodium, 15.5 g carbohydrate, 3.5 g fiber, 4 g sugar, 22 g protein, Vitamin A: 194%, Vitamin C: 14%, Calcium: 6%, Iron: 11%, Potassium: 12%
Nutrition
Share with me: What's your favorite type of leftover turkey recipe? If you tried these leftover turkey mushroom meatballs, what did you think?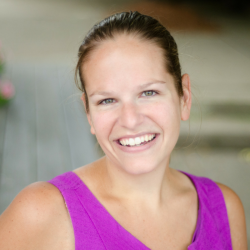 Latest posts by Chrissy Carroll
(see all)