I'm having a hard time coming to terms with the fact that summer is almost over. The temperatures have started cooling down a bit, and one of my fall courses kicks off today. I love all things fall, but I'm going to try to savor this last week of summer. Case in point: the fact that I'm clinging to one of my favorite summer desserts, this healthy peach blueberry crisp.
Made in my cast iron skillet (of course, I'm obsessed with this thing), this crisp recipe pairs sweet, juicy peaches alongside tart, tender blueberries; everything just bursting with color and flavor. An oat-based topping adds a lovely contrast of texture.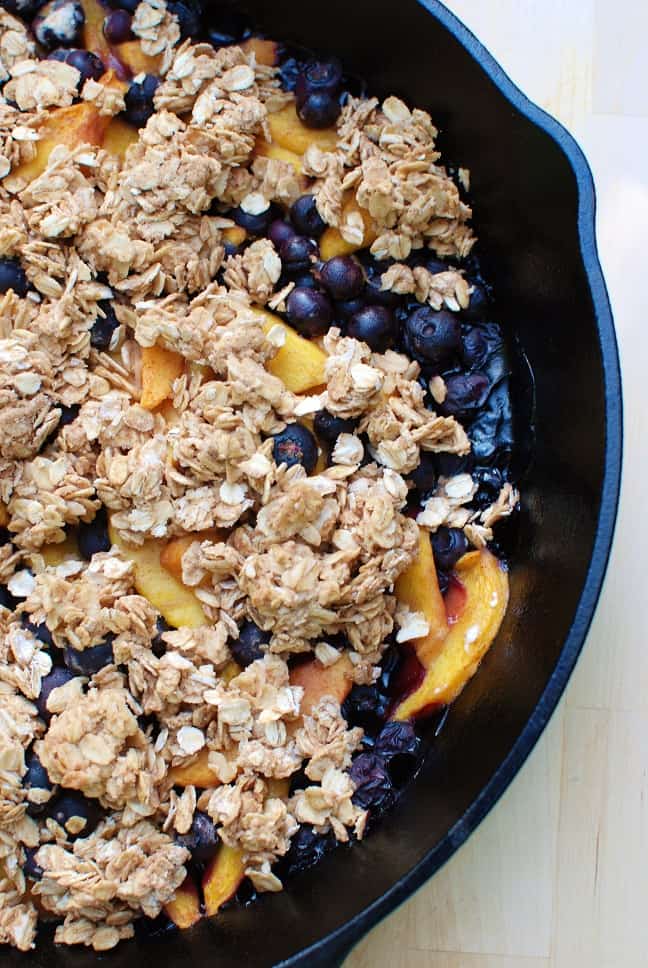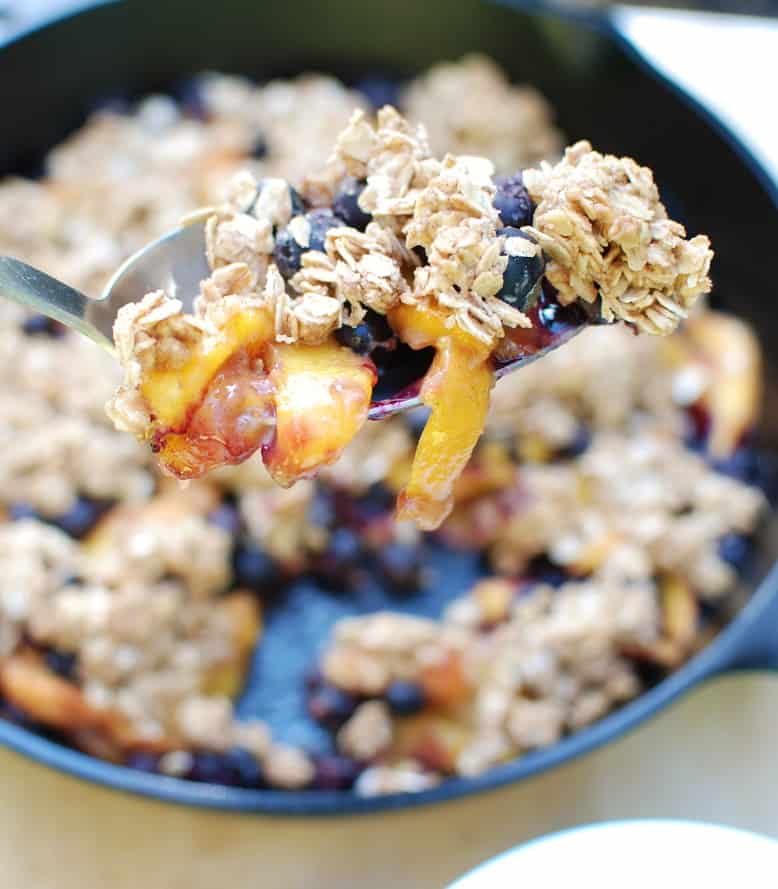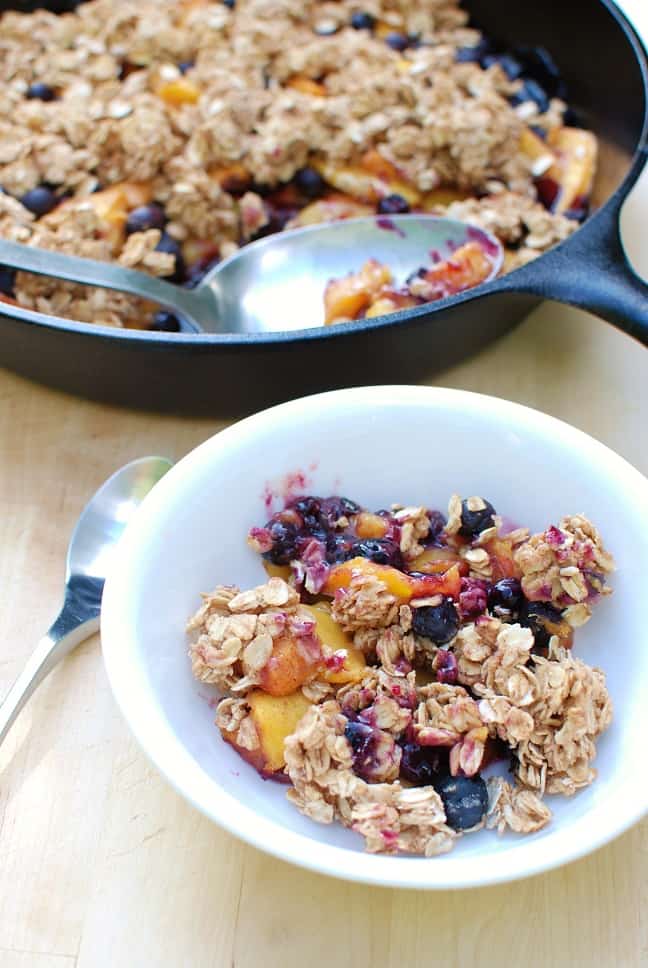 Rather than fill you up with 700+ calorie traditional recipe, I've made a few better-for-you changes to this healthy peach blueberry crisp:
I reduced the amount of butter in the topping. Just two tablespoons provides enough to add a little rich flavor while not massively increasing the calorie count.
I reduced the sugar across the board in both the filling and topping. The entire recipe uses less than a third a cup of sweetener.
And instead of refined sugar, I switched to pure maple syrup. I just love the taste of it, and I know a lot of you prefer natural sweeteners compared to refined ones.
This brings the calorie count down to just 200 calories per serving – and most of that is coming from whole grain oats and fruit! If you want to get a little crazy, you can add on a half cup of vanilla ice cream which brings you to 340 – not bad at all for an indulgent dessert.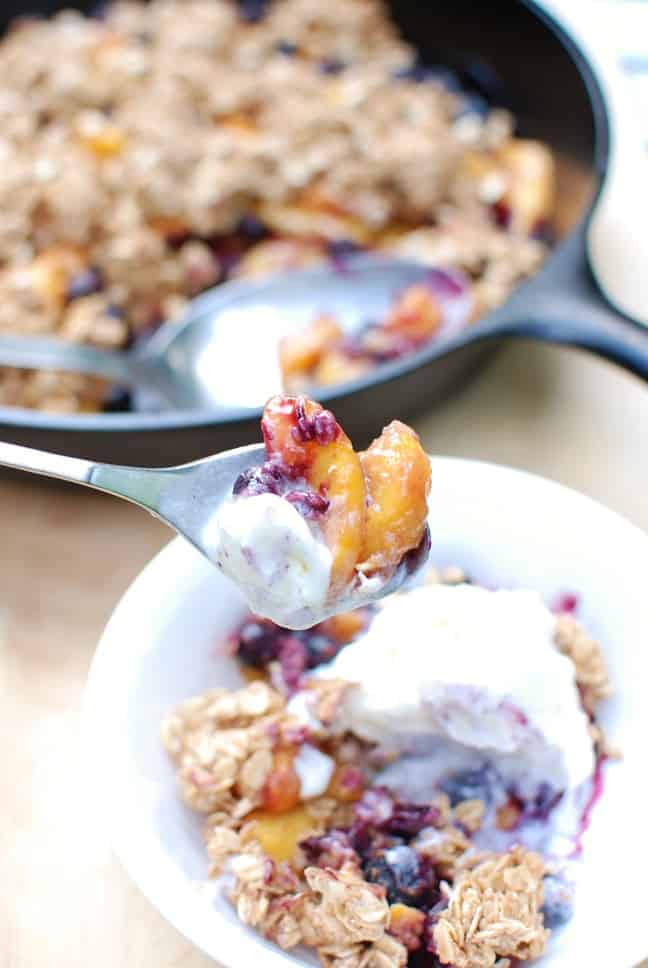 And the fact that this is a healthy version doesn't mean this lacks any flavor. Just the contrary; with less processed sugar the crisp really allows the naturally sweet flavors of the fruit to shine through.
For those of you with dietary limitations, there are easy ways to adapt this to fit your needs:
Gluten free – Switch from regular flour to a gluten free flour blend (I like Ryze but there are lots of other types too!), and be sure to use certified gluten free oats
Vegan – Instead of butter, use either a vegan spread like Earth Balance or use coconut oil in the topping
And for my runners in the house? Ain't no shame in building this baby into your meal plan, whether it's for a portion controlled treat in your week – or to help you carb load for your next event. 😉
Give it a try soon and let me know what you think!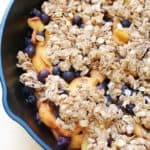 Healthy Peach Blueberry Crisp
This healthy peach blueberry crisp is a skillet dessert that is sure to please! Made with no refined sugar (it's sweetened with maple syrup!) and lightened up considerably from traditional versions for a 200 calorie treat.
Ingredients
Peach and Blueberry Filling
4

medium peaches, peeled and sliced

2

cups

blueberries

(about 1 pint fresh)

2

tbsp

pure maple syrup

2

tbsp

flour

(if gluten free use a gluten-free all purpose blend)

1

tbsp

corn starch

1/2

tsp

cinnamon

1

tsp

vanilla
Topping
1 1/2

cups

rolled oats

(if gluten free use certified gluten-free)

1/4

cup

flour

(if gluten free use a gluten-free all purpose blend)

1/2

tsp

cinnamon

Pinch

salt

1

tsp

vanilla

3

tbsp

pure maple syrup

2

tbsp

butter, softened

(if vegan use vegan spread or coconut oil)
Optional for Topping
vanilla ice cream or coconut milk ice cream
Instructions
Directions:
Preheat oven to 350 degrees. Rub a very small amount of cooking oil onto the cast iron skillet just to grease the skillet.

Mix all filling ingredients in a bowl. Pour into the cast iron skillet.

Wipe the bowl out and make the topping. First, combine the dry ingredients in the bowl: oats, flour, cinnamon, and salt. Mix together. Then add the wet ingredients: vanilla, maple syrup, and butter. Stir until well combined. Spread this topping on your filling in the cast iron skillet.

Place in the oven and bake for 25-30 minutes, or until fruit is bubbly and topping is browned and slightly crisped. Serve as-is or add a scoop of ice cream. Enjoy!
Recipe Notes
Note:
This recipe makes 6-8 servings. Nutrition analysis is done based on 8 servings.
Nutrition analysis (approximate per serving, assumes 8 servings, crisp alone):
199 calories, 4 g fat, 2 g sat fat, 95 mg sodium, 37.5 g carbohydrate, 4 g fiber, 18 g sugar, 3.5 g protein, Vitamin A: 7%, Vitamin C: 14%, Calcium: 3%, Iron: 8%
Nutrition analysis (approximate per serving, assumes 8 servings, crisp with ½ cup of ice cream):
339 calories, 11 g fat, 6 g sat fat, 145 mg sodium, 54.5 g carbohydrate, 4 g fiber, 31 g sugar, 5.5 g protein, Vitamin A: 13%, Vitamin C: 14%, Calcium: 11%, Iron: 8%
Share with me: Are you embracing the start of fall, or clinging to the end of summer? What's your favorite summer dessert? Do you love the flavor combos in this peach blueberry crisp?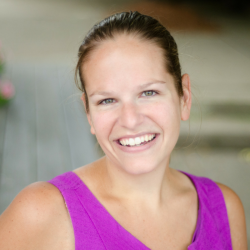 Chrissy Carroll is a Registered Dietitian and USAT Level I Triathlon Coach. She specializes in sharing nutrition and fitness tips, as well as recipes, for runners, triathletes, and active women.Chrissy holds a Bachelor's Degree in Nutrition, a Masters Degree in Public Health, and is also an ACSM Certified Personal Trainer.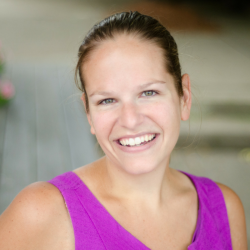 Latest posts by Chrissy Carroll (see all)