If you're looking for a refreshing dessert, this citrus watermelon pie is exactly what you need! It's got a rich nut-based crust and a sweet, fruity filling that's reminiscent of sherbet. Since you don't have to bake anything, it's a perfect dessert to make for hot summer days – but of course, you can enjoy it year-round whenever you need a burst of summer flavor.
Disclosure: This post is sponsored by the National Watermelon Promotion Board. As always, all opinions are my own.
How to make this pie
If you've ever made an ice cream pie or a freezer pie, this recipe is a very similar concept. It's a bit different than most watermelon pie recipes, though, which are often made with gelatin and whipped topping. I'm biased, but I like this richer, frozen-treat filling better!
Ready to make it? You'll start by making a simple nut-based crust. All you need to make this is walnuts and dates. I also like to add cocoa powder because I love the play on chocolate with both watermelon and orange flavors. But if you're not feeling the chocolate combo, just leave the cocoa powder out!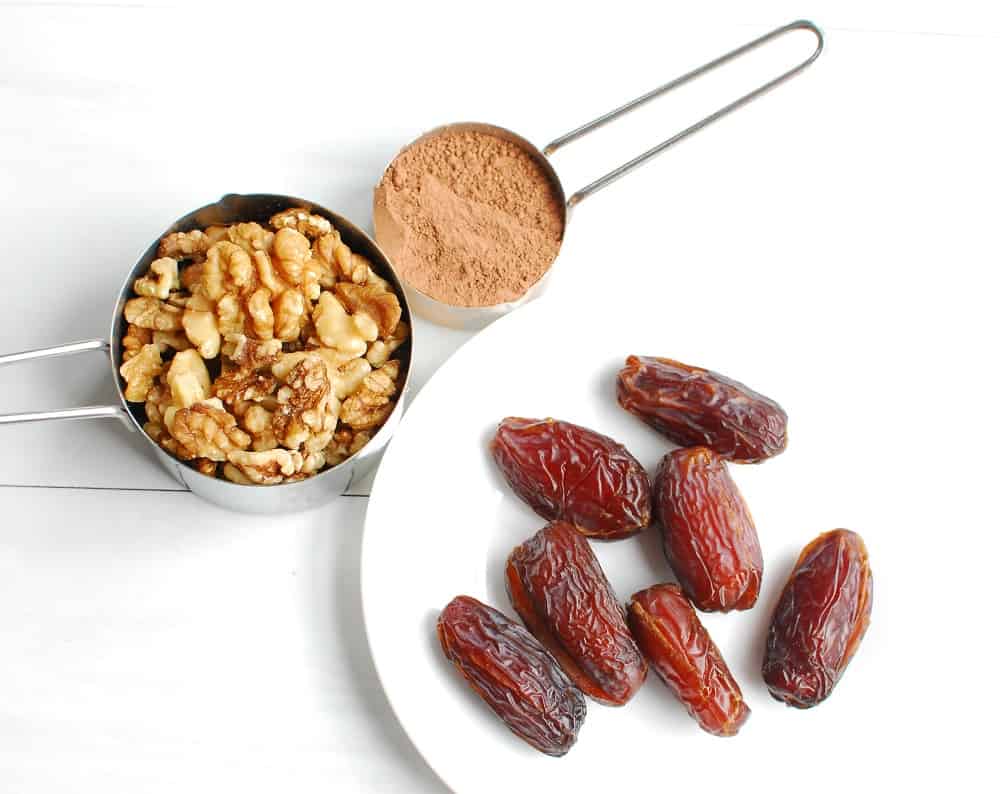 You'll place your crust ingredients in a food processor and pulse it several times. You want it to reach a texture where it starts to stick together if you smush it with your fingers. Generally, it only takes about 30 seconds or so of processing to get there – here's what it will look like: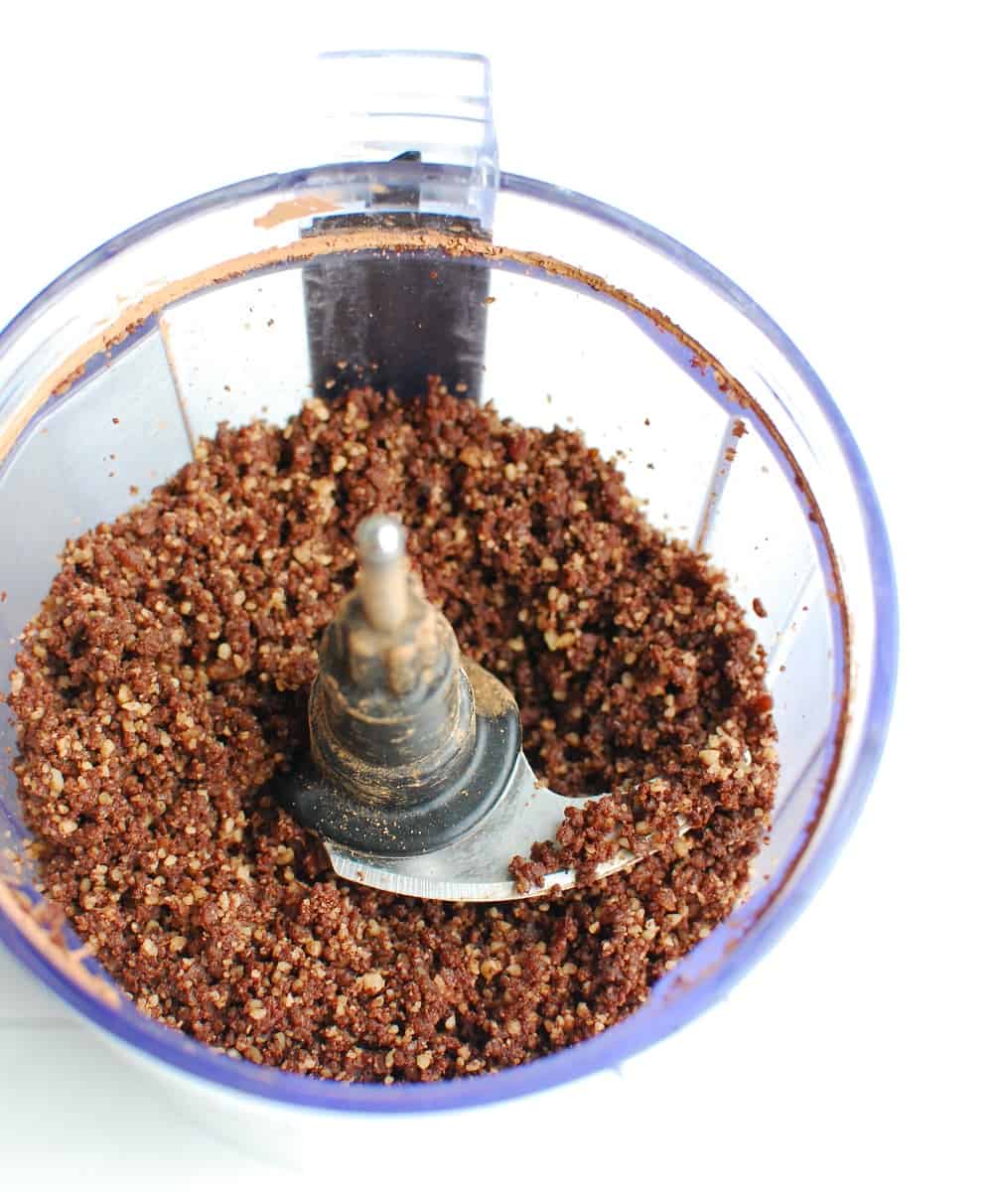 When it gets there, just dump it in a greased pie plate and press it down with the back of a spoon. Be sure to press firmly around the whole plate so that the crust stays intact when you are cutting the pie later.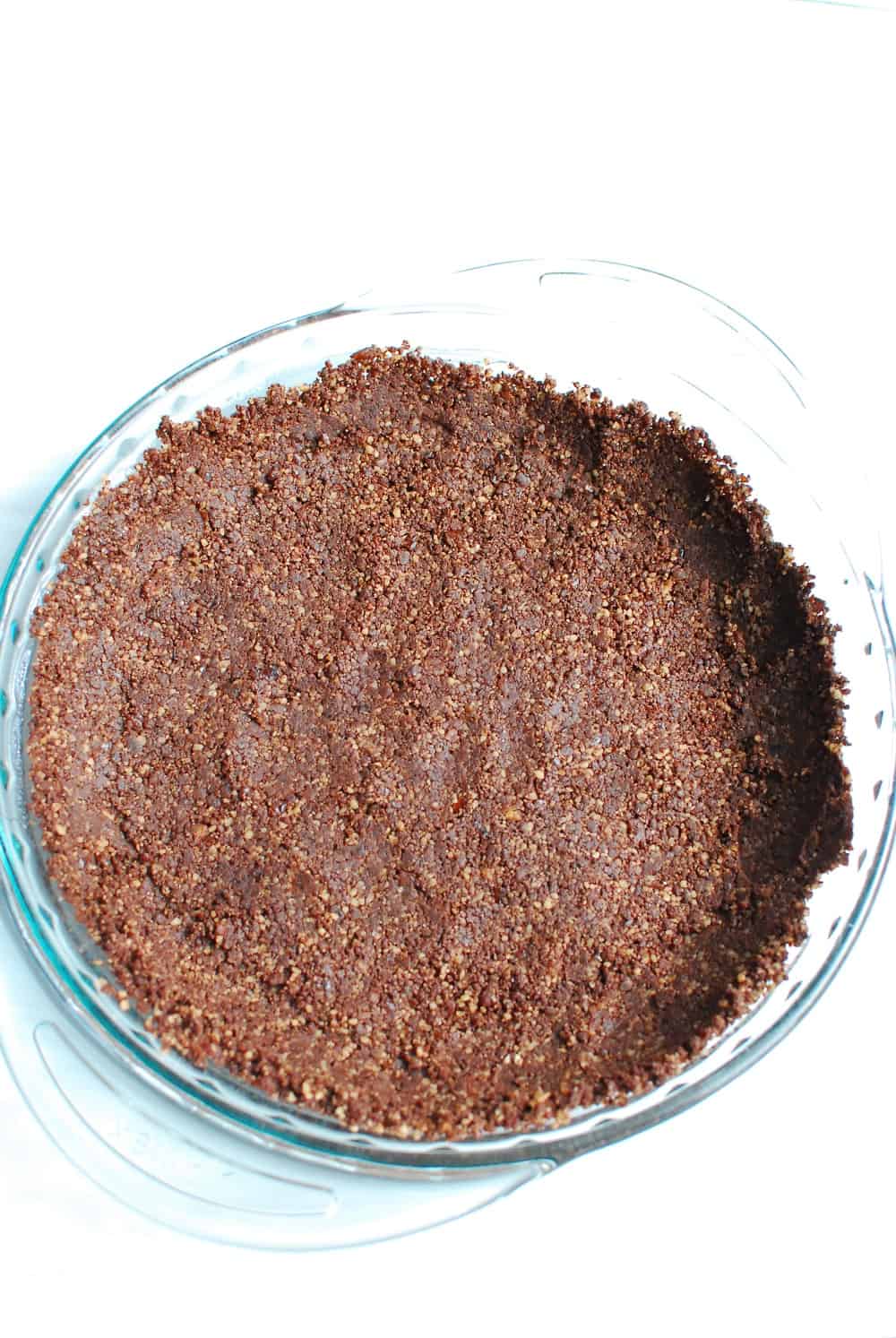 Now, pop that baby in the freezer while you work on your filling.
The list of ingredients for the filling looks a little long, but you literally just take all these and throw them in a blender together:
Watermelon
Orange (fruit + zest)
Greek yogurt
Heavy cream
Powdered sugar
Cream cheese
Vodka (optional, to prevent iciness)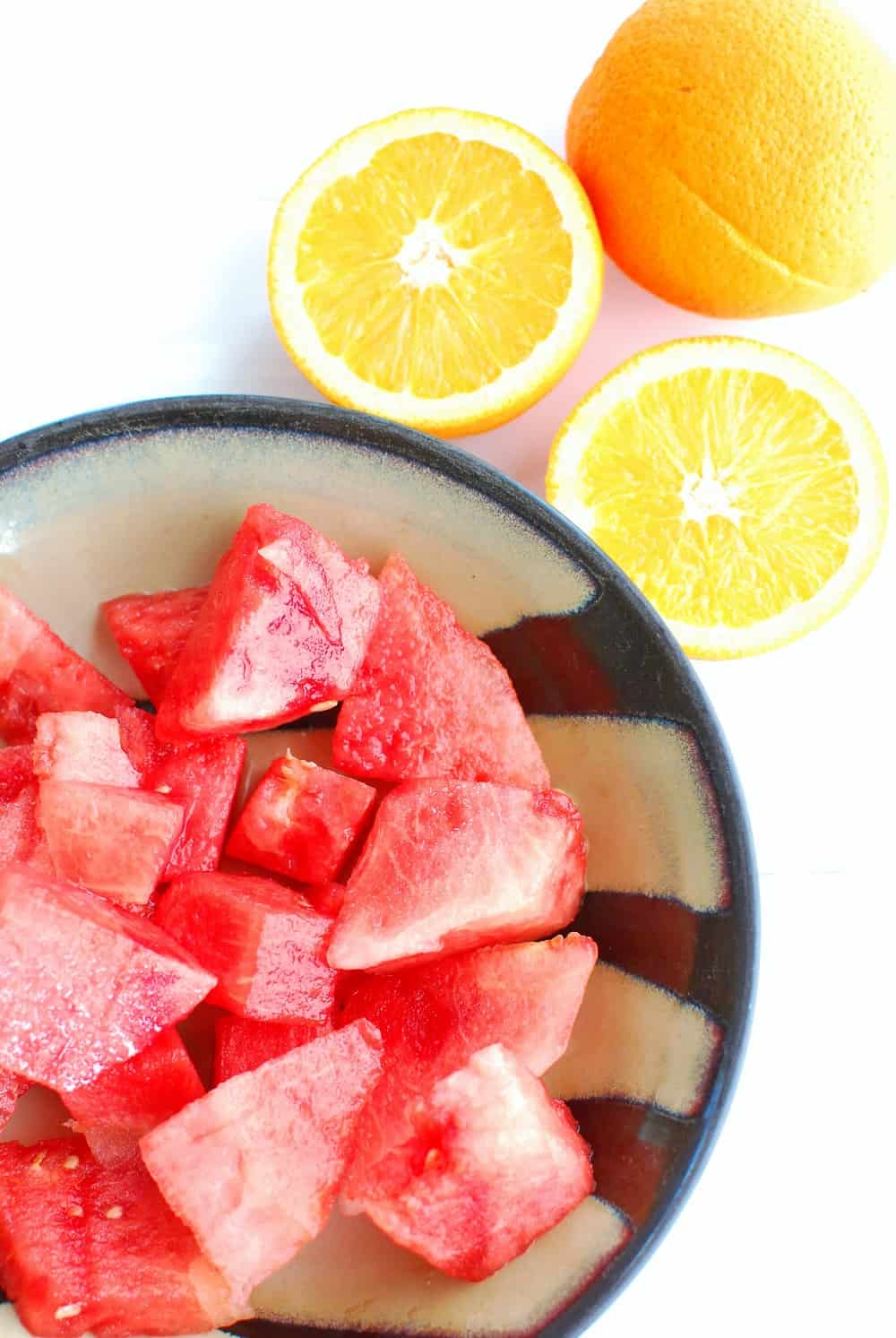 Just toss all that together in a high-speed blender until well combined. You definitely want to make sure you're using a good quality blender, because you want to make sure it breaks down the fibrous parts of the orange and thoroughly blends the cream cheese in there.
Then pour that liquid into your prepared crust and pop it in the freezer for a few hours – that's it! It's seriously so yummy; the flavor will remind you of a mixture between watermelon and an orange creamsicle.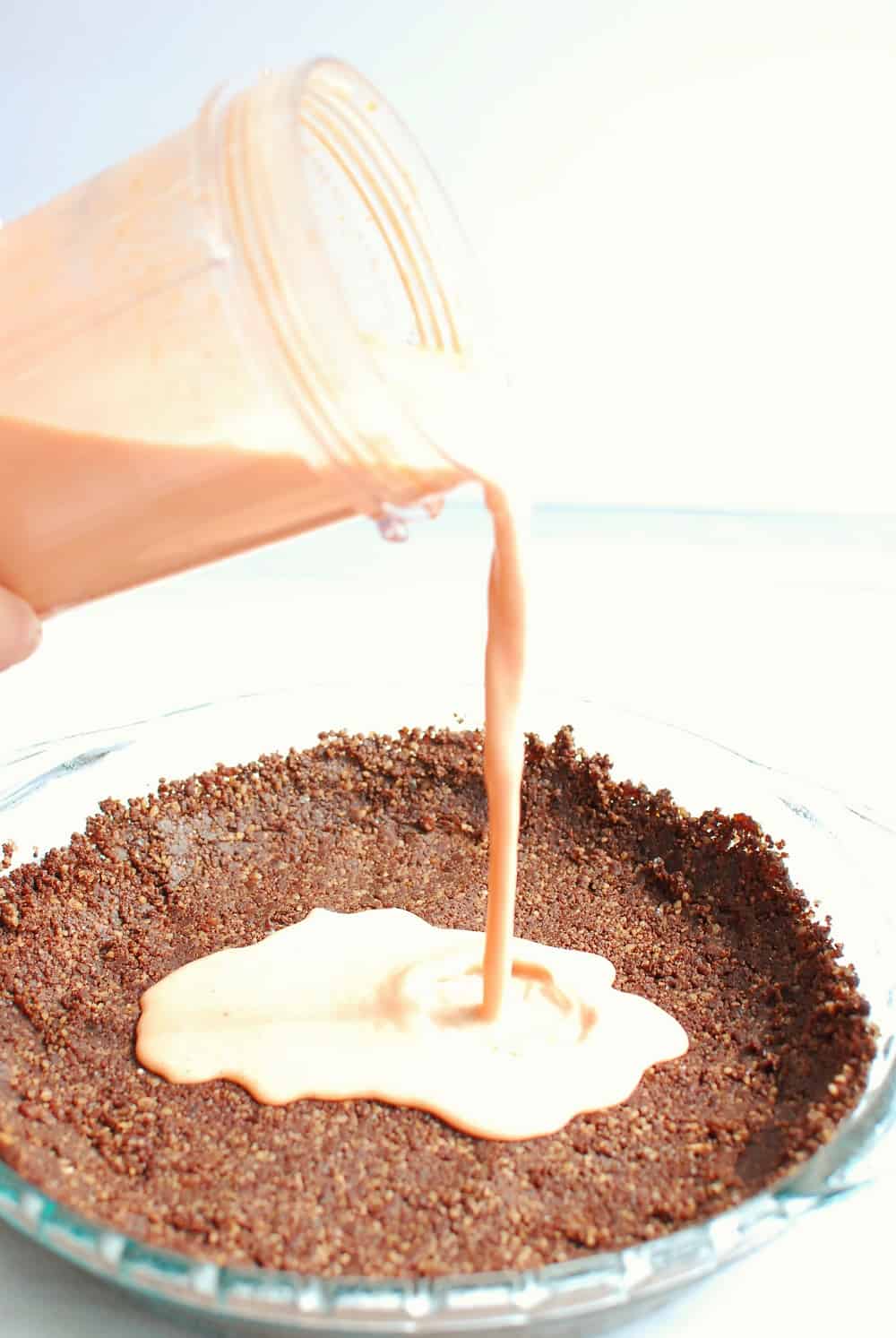 Recipe FAQ:
Why is there vodka in the recipe? This is a trick I learned from a cookbook a while back. Vodka doesn't freeze until it reaches -16 degrees, whereas most liquids freeze at 0 degrees (this is why you can throw a bottle of vodka in your freezer and it stays liquid). Because of that, adding a small amount to a frozen dessert (especially those with a higher water content, like this filling) helps prevent it from becoming overly icy. However, it is optional, so if you don't want to use any alcohol you can just leave it out.
What is the texture of the filling like? I find the filling texture to be somewhere between sorbet and sherbet, but closer to the later on that spectrum. It won't be as creamy as ice cream, because you're not churning it (which is the primary thing that prevents the it from getting a solid, icy texture). But it's also not nearly as icy as most popsicle recipes or sorbets. It's somewhere in the middle and quite enjoyable! (As an aside, if you're looking for a creamier texture, you could actually churn it, put it in the crust, then freeze just until it becomes standard ice cream texture and serve).
Can you substitute low fat or non-fat yogurt? I wouldn't recommend it. A high fat content helps add some creaminess, which is why I opt for whole milk yogurt in this recipe, along with the cream and cream cheese.
Can you make this ahead of time? Yes! If you make it a few days in advance, just make sure it's covered in the freezer, and take it out about 15 minutes before you plan to serve it to let it soften up.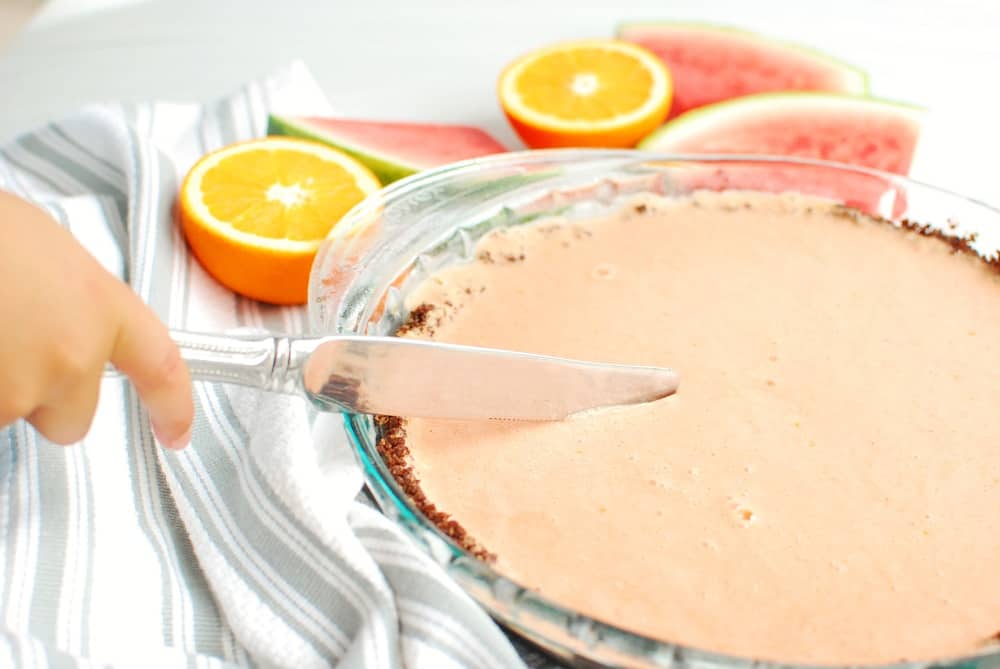 Nutrition Benefits
As a Registered Dietitian, I like fruit-based desserts because you're naturally treated to the nutrients in the fruit. In this case, combining fruit like watermelon and oranges alongside dairy like Greek yogurt, and using nuts in the crust, help boost these key nutrients:
Vitamin C: This vitamin, found in watermelon and citrus, is essential for immune health, as well as helping repair tissue and acting as an antioxidant. One serving of this pie provides 12% of your daily needs in a delicious way.
Magnesium: A serving of this provides 14% of your daily magnesium needs, involved in muscular and nerve function. For all my active pals, magnesium deficiency may affect performance for certain types of exercise, and may also affect exercise-related inflammation (source, source).
Potassium: This electrolyte is lost in sweat during exercise, and plays a key role in muscle contractions as well as regulation blood pressure. One serving of this pie provides 10% of your daily potassium needs.
Lycopene: Watermelon is the leading fresh source of this phytonutrient, which may be (but is not conclusively) linked to certain types of cancer prevention (source). Lycopene is also though to promote healthy skin by safeguarding you against some of the harmful UV rays in the sun (key for those summer workouts!) (source). Of course, that's not a substitute for sunscreen which is always your best defense against the sun's rays.
Protein: Each serving of this dessert has 6 grams of protein. While it's not a ton, it does beat out many other frozen treats, helping with satiety.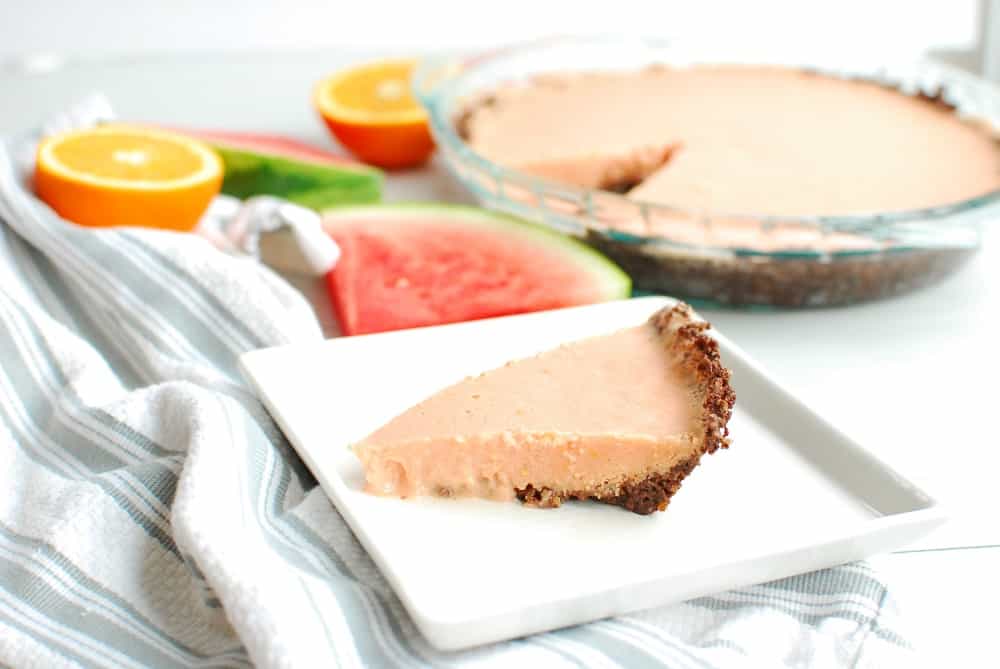 I hope you enjoy this no bake citrus watermelon pie! My son and I absolutely love this recipe, and I have a feeling you will too. If you get a chance to try it, be sure to leave a recipe rating or comment below. (And if you need more watermelon recipe ideas, don't hesitate to check out all the tasty options over at the Watermelon Board website, as well as my watermelon hot sauce and watermelon sports drink recipe).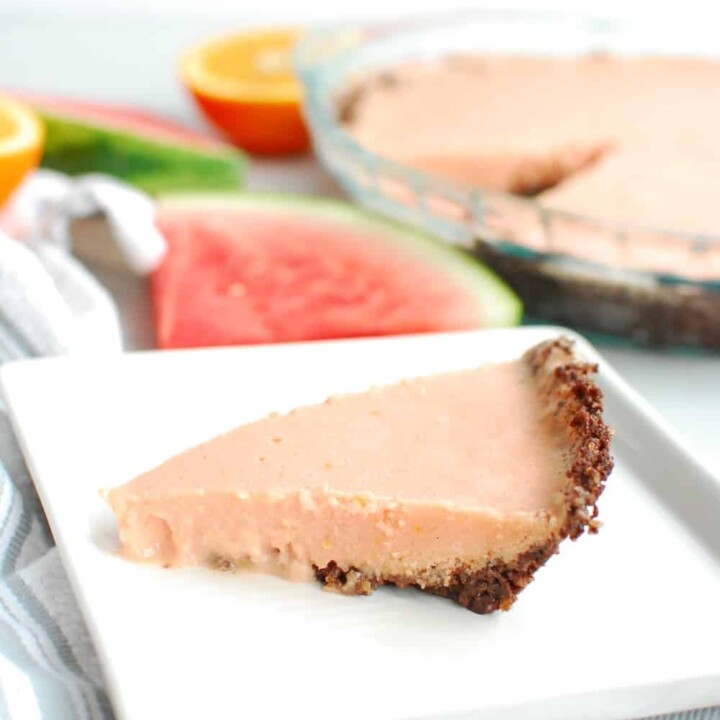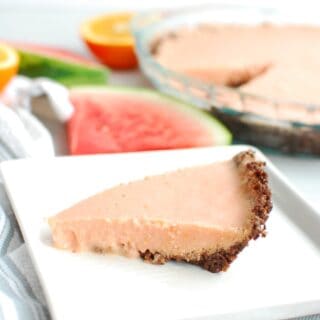 No Bake Citrus Watermelon Pie
This no bake citrus watermelon pie is the perfect refreshing summer dessert!
Ingredients
Crust:
1

cup

walnuts

7

Medjool dates

(or about 3/4 cup smaller dates)

1/4

cup

cocoa powder

(optional; only use if you want a chocolate flavor in the crust)
Filling:
1 1/2

cups

watermelon, chopped

1/2

orange, peeled

1/2

tbsp

orange zest

3/4

cup

whole milk vanilla Greek yogurt

1/4

cup

heavy cream

1/4

cup

powdered sugar

3

ounces

cream cheese

1

tbsp

vodka

(optional; helps prevent iciness)
Instructions
Lightly grease a pie plate with cooking spray or coconut oil.

To make the crust: In a food processor, combine walnuts, dates, and cocoa powder (if using). Pulse several times until the mixture is crumbly and starts to stick together.

Press the crust mixture down into the pie plate. Place in the freezer while you prepare the filling.

To make the filling: Add the watermelon, orange, orange zest, Greek yogurt, powdered sugar, heavy cream, cream cheese, and vodka (if using) to a high-powered blender. Blend until smooth and well-combined.

Pour the filling into the prepared pie crust. Carefully place the dish back in the freezer on a flat surface, and let set for about 3 to 4 hours, until firm. Enjoy! If leaving in the freezer longer, remove about 15 minutes prior to serving to let it soften up a bit.
Notes
Nutrition analysis (approximate per serving): 276 calories, 17 g fat, 5.5 g saturated fat, 28.5 g carbohydrate, 3.5 g fiber, 22.5 g sugar, 6 g protein, Vitamin C: 12%, Vitamin D: 1%, Calcium: 8%, Iron: 6%, Potassium: 10%, Magnesium: 14%
Nutrition
Share: What's your favorite watermelon dessert?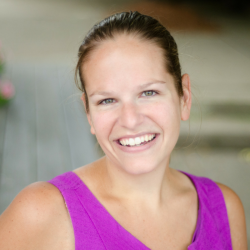 Latest posts by Chrissy Carroll
(see all)