If you're craving a more natural sports drink to power you through your runs and rides this summer, try this DIY watermelon version! This homemade sports drink recipe features just a few simple ingredients, tastes refreshing, and has the right amount of carbs and electrolytes to fuel your workouts.
Disclosure: This post is sponsored by the National Watermelon Promotion Board. As always, all opinions are my own.
Why a homemade sports drink?
There's absolutely nothing wrong with commercial sports drinks on the market – they're convenient and very useful for long workouts. But I know some of you are trying to move away from things like artificial colors or certain sweeteners. If that's the case, it can be more challenging to find a store-bought option.
That's where this homemade sports drink comes into play. Because you're making it yourself, you're able to better control the ingredients you use. This allows you to modify your drink based on your own dietary preferences.
How to make a DIY watermelon sports drink
The best part about this recipe is that it's E-A-S-Y. You only need these ingredients:
Watermelon
Lime
Brown rice syrup (or honey, or maple syrup, or sugar – all are optional depending on the length/type of your workout, but see notes on this below)
Salt
Cold water
Combine the ingredients in a blender and boom – you're done. You can pour it over ice in your water bottle to chill it down a bit more if you're about to take it out for a workout on a hot day.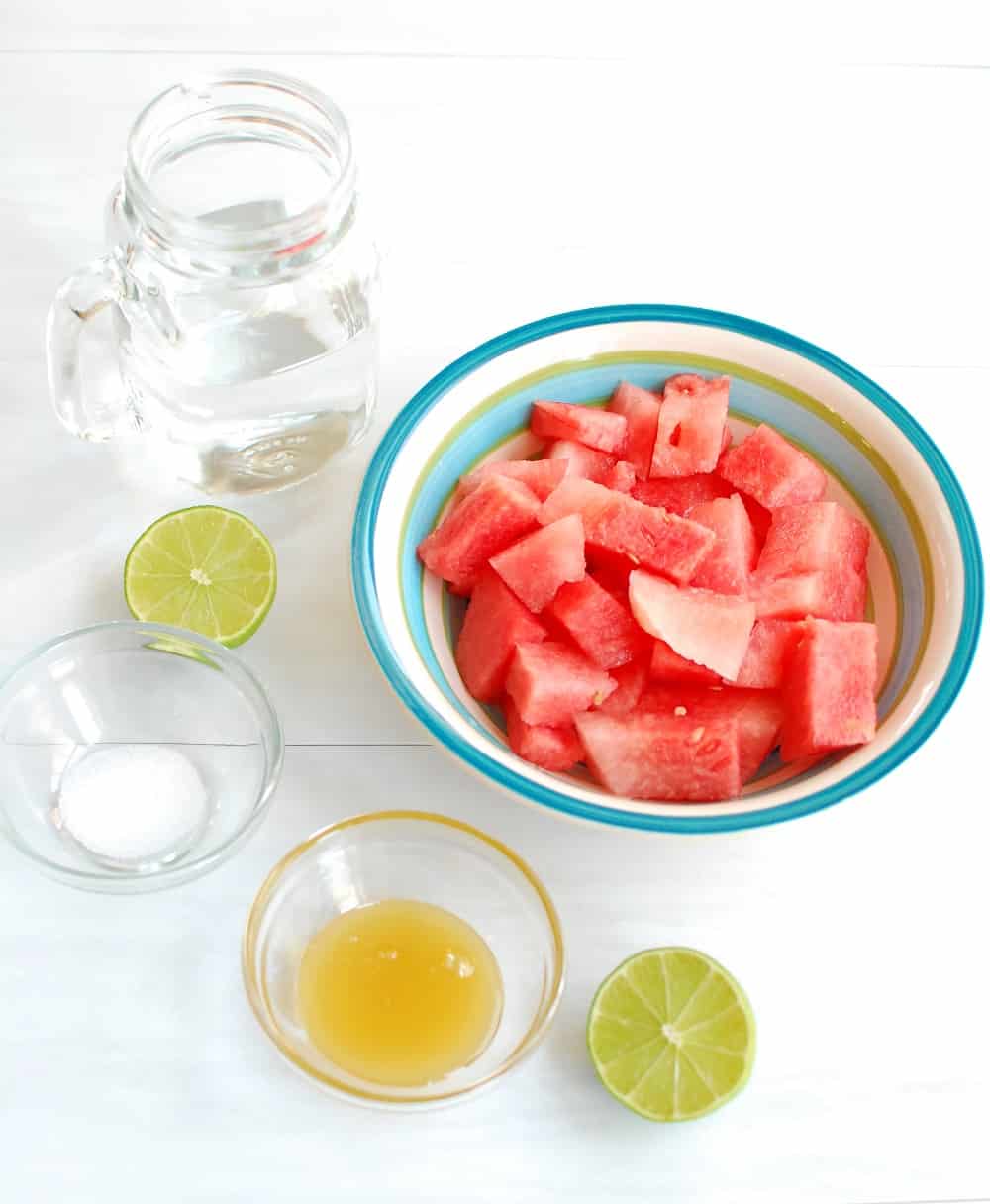 Why watermelon?
With the weather warming up, what better time than now to incorporate your favorite summertime fruit?! Not only is watermelon perfect for summer snacking, but it makes an excellent addition to your natural sports drink.
Watermelon is rich in an amino acid called L-citrulline, which may have some connections to exercise recovery. For example, a 2017 study in the Journal of Food & Nutrition Research compared half marathoners who drank either an L-citrulline enhanced watermelon juice or a placebo drink prior to the race. The enhanced watermelon juice group had less muscle soreness after the race.
And other research, like a 2016 study in Nutrients, showcased that watermelon puree can lead to the same exercise performance as a standard sports drink. Trained cyclists tackling a 75km time trial performed the same whether they were drinking watermelon puree or a commercial sports drink. Woohoo!
Now, I do want to note that in that study, those who consumed plain watermelon puree had a slightly higher perceived exertion. However, I have to wonder if this was related to lack of sodium or the higher fructose ratio in the watermelon puree – both of which were quite different from the commercial drink.
If slight adjustments can be made to these to create a watermelon sports drink that's closer to the commercial options – like I've tried to do in this drink! – I'd venture to say that perceived exertion difference may not have been there.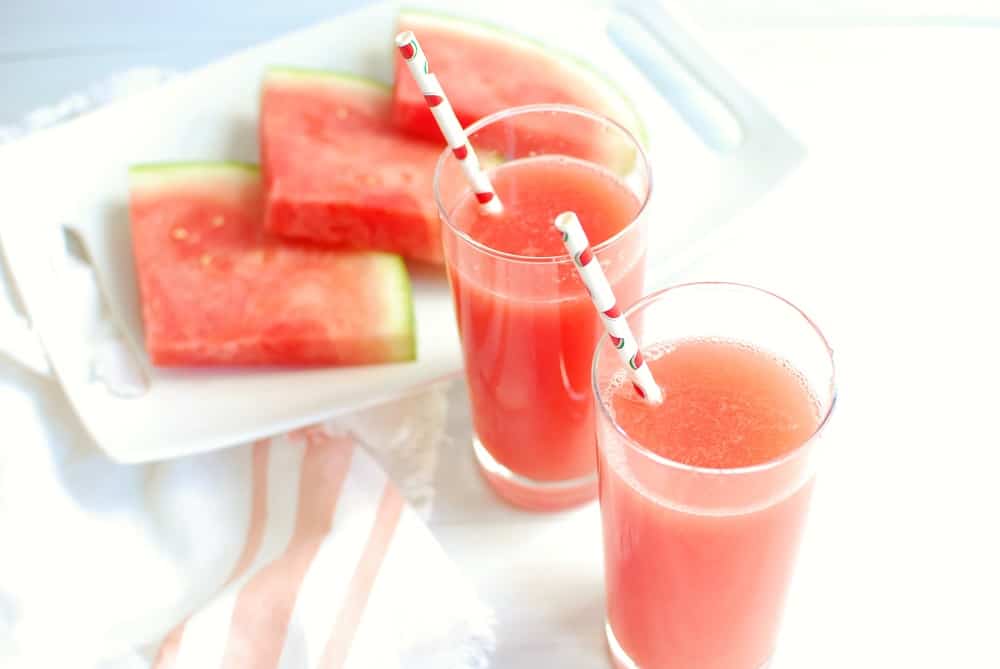 What electrolytes are in this drink?
This homemade electrolyte drink packs in both sodium (from the salt) as well as potassium (naturally found in the watermelon).
During exercise, you lose sodium in fairly large amounts in sweat – so this is key to replace during long workouts.
You also lose potassium in smaller amounts. Most short-course runners and triathletes don't have to be overly concerned about potassium replenishment during exercise, as it's easy to replenish in a meal afterwards.
However, it is an electrolyte that many people naturally don't get enough of each day. And it does become a bigger concern for those doing long-course races and ultra-races.
Because of this, it's awesome that the watermelon provides naturally-occurring potassium for your sports drink.
Is it healthy to add a sweetener to a sports drink?
Yes, if it's being used correctly – which is during long exercise sessions.
Lately, I'm seeing more people who want "no sugar" sports drinks for their workouts. But here's the issue with that – during prolonged exercise (>75-90 minutes), your body needs that carbohydrate to help fuel your muscles.
Those carbs can come from sports drinks or gels or fruit or any source of your choice, but you do ideally need some type of sugar (or certain starches) to provide a supplemental energy source for your body.
Can people do long endurance training without taking in any carbohydrates? Yes, but they won't perform optimally most of the time.
The added sweetener in this homemade sports drink brings the total carbohydrate up to a good amount that matches most common choices on the market. This can help provide part or all of your fueling needs during long workouts.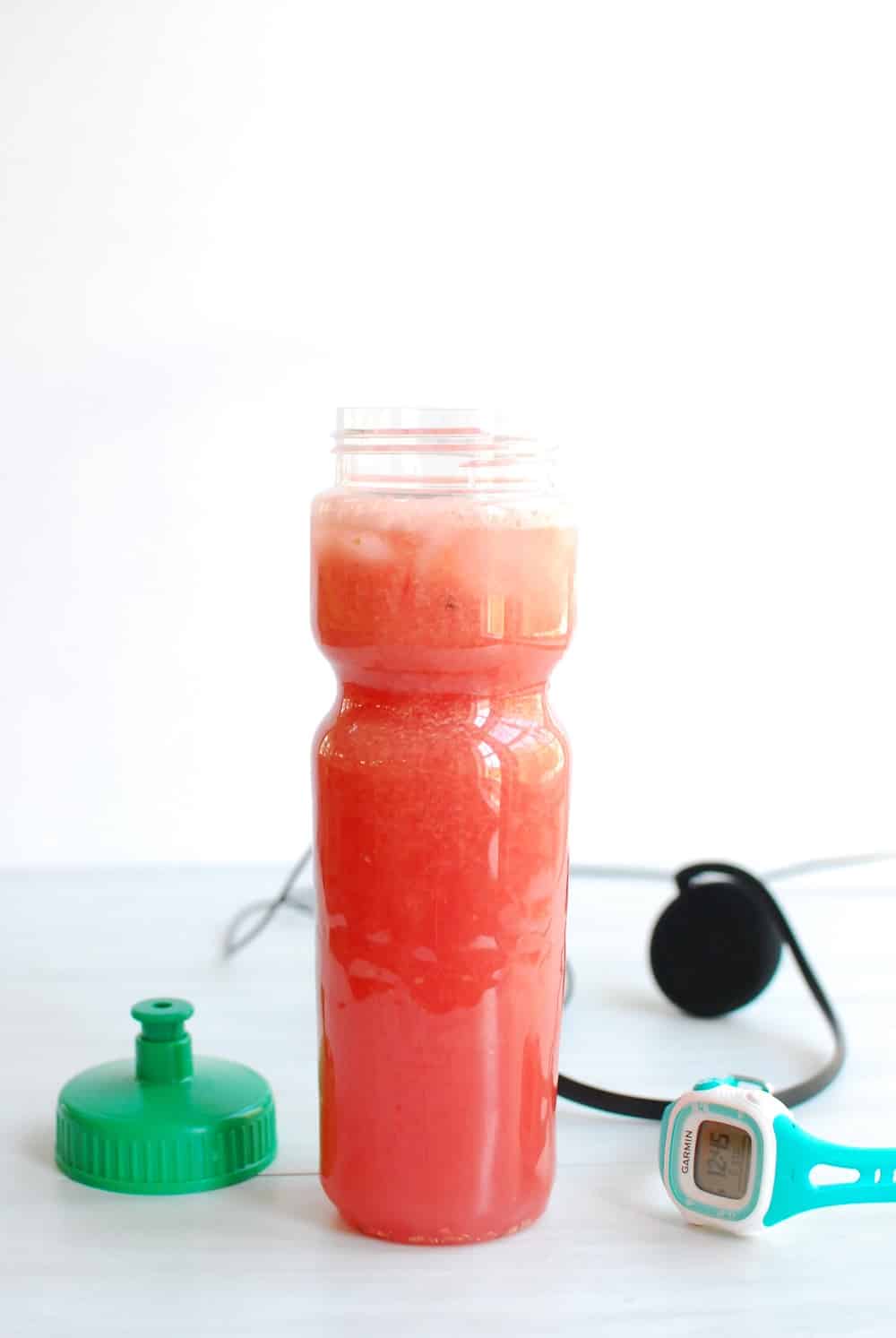 But there's already sugar in watermelon – why add brown rice syrup?
Here's where my sports nutrition nerd status starts to come out in full force. 😉 Let's look at the science behind this. There are two reasons that I add a sweetener to this recipe:
1. Create the correct carbohydrate concentration
Sports drinks should contain a carbohydrate solution between 6-8%. Amounts higher than this – particularly higher than 10% – can lead to slower stomach emptying and stomach upset. And amounts lower than this might cause athletes to overdrink in order to get enough fuel.
Most commercial drinks on the market fall into this range. But some of the homemade drink recipes out there are not ideal, either in that they're too highly concentrated or don't contain enough fuel (if you're planning to use it for that).
I've carefully crafted this sports drink so that the concentration is 7.9%, right in that wheelhouse of our ideal range.
2. Provide a good ratio of different types of sugar
Commercial sports drinks are often made with a specific blend of different types of sugar – typically a 2:1 glucose to fructose ratio, or a blend of maltodextrin and fructose.
Research shows these blends promote optimal absorption. The body can only absorb so much of one sugar (like glucose or fructose) individually, but by combining them you're able to get more effective uptake and less gastrointestinal upset.
Watermelon provides some glucose but has a higher proportion of fructose – so if we want the most ideal formulation for our drink, then we want to add an additional sweetener that's more glucose-heavy. This helps to achieve closer to a 2:1 glucose to fructose ratio.
That's where the brown rice syrup comes in.
Brown rice syrup is a sweetener derived from – you guessed it – rice. There are three sugars that make up brown rice syrup – maltotriose, maltose, and glucose. The first two are just multiple chains of the last; maltotriose is three glucose molecules while maltose is two. All are broken down and absorbed very quickly in your body.
When you use brown rice syrup (almost exclusively glucose or short chains of such) in conjunction with watermelon (mostly fructose) you end up with a far more scientific pairing for your sports drink than using honey or another sweetener.
Can you substitute honey, maple syrup, or sugar instead?
Yes, for sure. You'll end up with a blend that's "less ideal" but this may not be an issue for many athletes.
Some athletes may experience GI upset with certain sweeteners, because of the different blend of sugars. It depends on how long you're out there exercising, your digestive system, how much you're drinking, etc. There's no perfect science here.
Now, will this be an issue for everyone? Of course not. If you don't tend to have a sensitive digestive system, you can try substituting either of these three in your drink:
Table sugar (50% glucose, 50% fructose)
Maple syrup (33% water, 60% sucrose – aka equal blend glucose and fructose)
Honey (20% water, 30% glucose, and 40% fructose)
The only sweetener I'd strongly advise against is agave nectar, as it's generally very high in fructose – around 70-90% – so you'd lack a balance for the sports drink.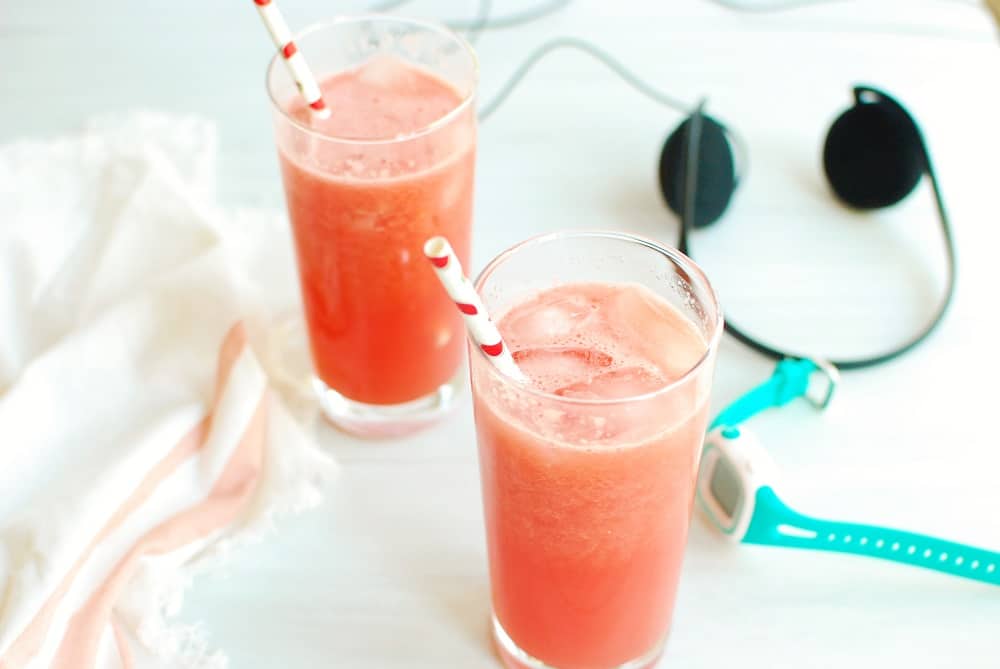 Can you skip the sweetener and just use watermelon puree?
Yes, and I actually recommend that for the following situations:
Short workouts on hot days where you don't need as much sugar but still want the electrolytes
Longer leisurely workouts – i.e. a long walk with friends, a comfortable bike ride to grab brunch
When you're making this for your younger kiddos for their sporting events
For your longer intense workouts though, keep in mind that skipping the sweetener means you end up with less fuel in the drink. You may fall short on your fueling needs if you're not supplementing your sports drink with another fuel source.
Just remember the time and intensity guidelines:
Exercising longer than 75-90 minutes at moderate to high intensity? Add the sweetener (or supplement with additional fuel).
Shorter workout (or a long leisurely activity)? Skip it!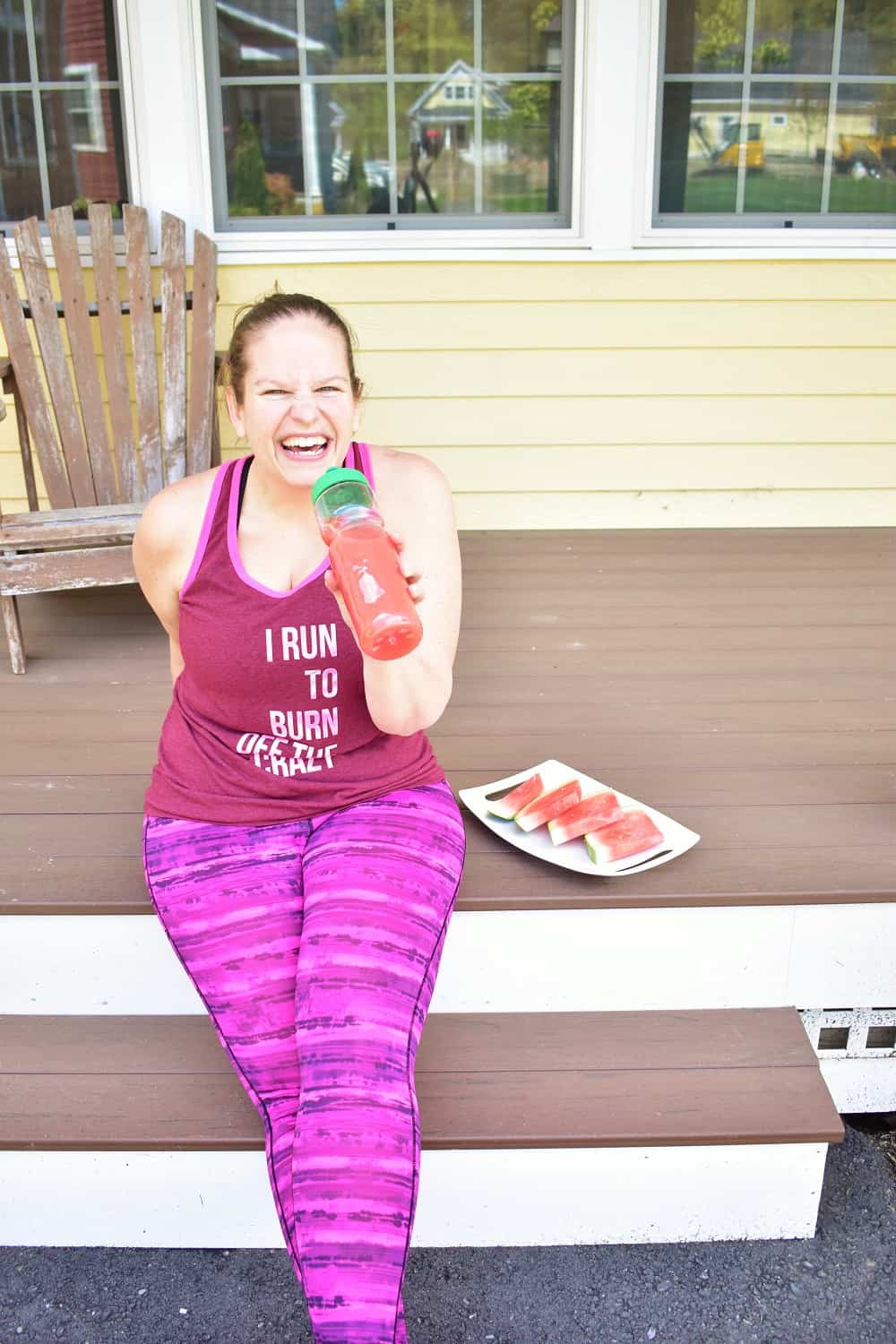 I hope you enjoy this watermelon sports drink as much as I do! If you get a chance to try it, be sure to post in the comments and let me know how you like it.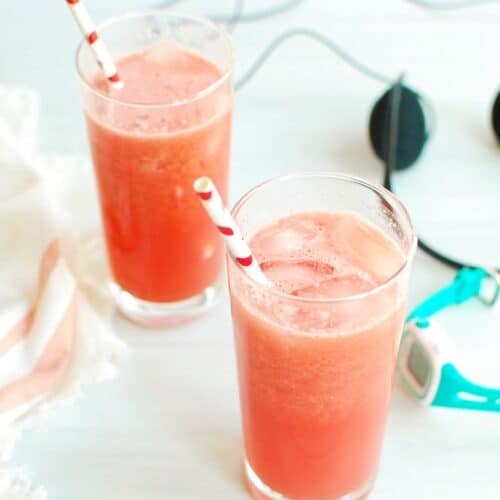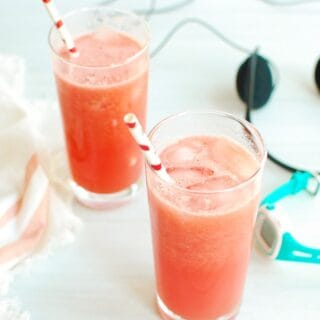 Watermelon Homemade Sports Drink
This refreshing watermelon homemade sports drink is perfect to fuel your workouts!
Ingredients
3

cups

chopped watermelon

1

cup

cold water

1

lime, juiced

1/4

tsp

salt

1

tbsp

brown rice syrup

(or honey or maple syrup; sweetener optional depending on workout- see notes)
Instructions
Place all ingredients in a blender. Blend until well combined. Pour into a sports drink bottle over ice. Enjoy!
Notes
Notes:
This recipe makes two servings of 12-ounces each.
Brown rice syrup will create the most ideal blend of carbohydrates, but honey, maple syrup, or table sugar can all be substituted.
If your workout is longer than 75-90 minutes and is a training-specific workout, use the sweetener. If the workout is shorter than that, or if you are just going on a long leisurely walk/bike ride, skip the sweetener.
Nutrition analysis (per serving):
111 calories, 0.4 g fat, 0 g sat fat, 315 mg sodium, 28 g carbohydrate, 1 g fiber, 20 g sugar, 1.5 g protein, Vitamin A: 26%, Vitamin C: 42%, Calcium: 2%, Iron: 3%, Potassium: 8% (281 mg)
Nutrition
Share: What's your favorite way to use watermelon? If you tried this homemade sports drink, what did you think?
Lastly – be sure to check out the Watermelon Board's website for more tasty watermelon recipes and inspiration, and don't forget to check out these post workout watermelon lime protein gummies to enjoy after your sweat sesh!.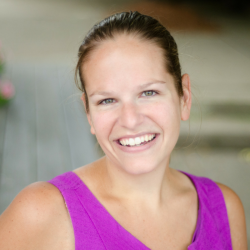 Latest posts by Chrissy Carroll
(see all)