Looking for a tasty post-workout snack that doubles as a sweet treat? Try these watermelon lime protein gummies! Made with just 4 ingredients, these homemade gummy bears come together in under 30 minutes and are a much more nutritious version of your favorite childhood candy.
Disclosure: This post is sponsored by the National Watermelon Promotion Board. As always, all opinions are my own.
How to make homemade protein gummies
Homemade gummy bears seem like a big undertaking, but they're actually surprisingly simple. You essentially just combine some of your favorite juices (in this case, watermelon and lime), a little bit of honey to sweeten the mixture, and gelatin to help it all set.
The key with any kind of homemade gummy bear recipe is to get the correct ratio of liquid, sweetener, and gelatin.
Despite what Google tells you, I do not personally think gelatin is odorless and tasteless. 😉 To me, it has a distinct flavor, and that's why getting the right balance of ingredients in here is essential.
I know this because I made 14 different variations of these homemade gummy bears (LOL), using 3 different brands of gelatin and several different flavor combos – all in an attempt to find the best balance.
This version was by far my favorite (though watermelon cherry was a close second). Watermelon adds the sweetness and body for the gummies, while lime works really well both to complement the watermelon flavor, and add a sourness that a) reminds me of candy, and b) mask the gelatin a bit.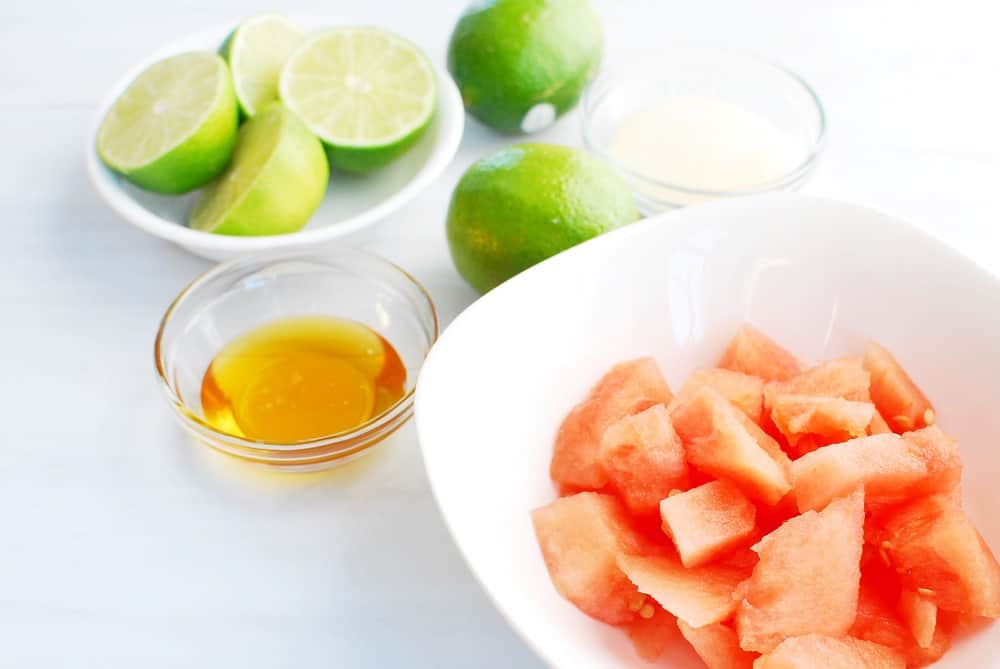 Functional post-workout ingredients
I didn't choose watermelon and gelatin solely for their taste and texture, though. They're functional from a post workout standpoint too! Here's why:
Watermelon
Not only is watermelon a hydrating fruit that's low in calories, but it's also a good source of certain antioxidants (like lycopene) and an amino acid called L-citrulline. While the research is a bit conflicting about the role of watermelon and L-citrulline during exercise, I wanted to highlight two cool studies regarding recovery:
A 2013 study in the Journal of Agricultural and Food Chemistry looked at athletes who drank plain watermelon juice, watermelon juice enhanced with extra L-citrulline, and a placebo drink. Those who drank either of the watermelon juices had less muscle soreness 24 hours after a maximum effort exercise test.
Another 2017 study in the Journal of Food & Nutrition Research looked at L-citrulline enhanced watermelon juice consumed before a half marathon, compared to a placebo drink. The enhanced watermelon juice group experienced less muscle soreness 24-72 hours after the race.
While these studies involved watermelon before or during exercise, I found it interesting that there was less perceived soreness afterwards. Could we postulate that perhaps including more watermelon in your day might help with muscle soreness during tough training cycles? It's not conclusive, but I'm certainly not opposed to trying that out! 😉
These post-workout watermelon gummy bears are a great unique way to get more watermelon in your day.
Gelatin
Gelatin is an interesting ingredient that seems to be rising in popularity lately. It's typically derived from cooking down the collagen found in beef bones, tendons, and skin. While it may not be the prettiest picture in your mind, the end product is actually rich in protein and has a unique amino acid composition.
In fact, one tablespoon of most commercial grass-fed gelatin contains about 11 grams of protein.
You can grab unflavored gelatin at your local grocery store (you'll find it near the jello section) or you can order larger canisters of grass-fed gelatin on Amazon.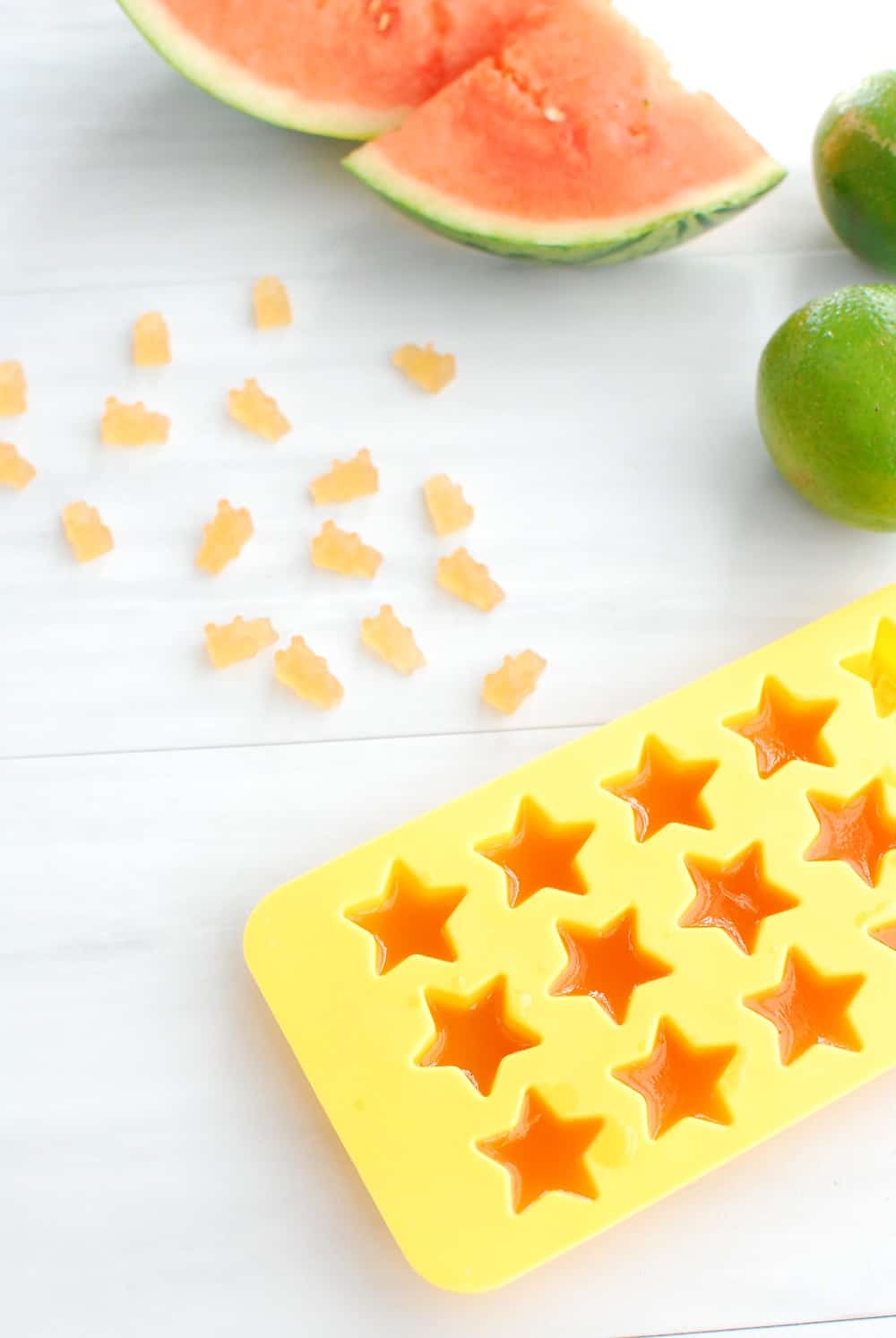 Post-workout snacking
If you make a batch of these protein gummies and break it into 4 servings, you're getting 20 grams of carbohydrate and 10 grams of protein per serving for just 120 calories. That makes for a great snack option after a lower-intensity gym workout or an easy run.
Got a longer workout planned? Enjoy these as a dessert alongside your recovery meal!
Of course, these gummies also just make a fun snack to indulge in anytime. (And you won't care if your kiddos dig into this candy stash, since they're made with nutritious ingredients).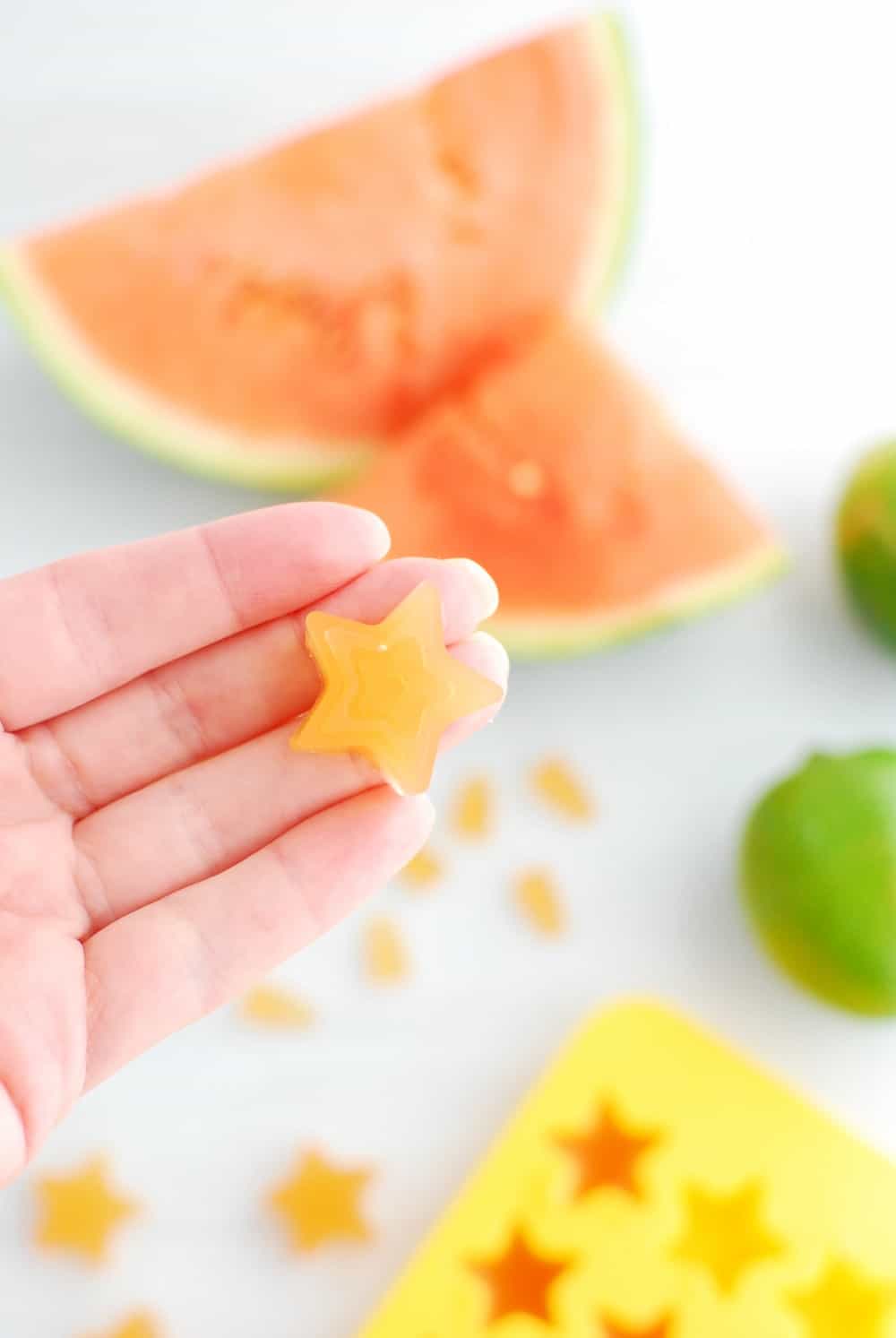 Do homemade gummy bears taste like store-bought gummy bears?
These are a much more nutritious alternative to store-bought gummy bears, and as such, there's a little trade-off. They're not going to be quite as sweet or "fruit-flavored" as your favorite candy (but they still taste good). Here's why:
Traditional store-bought gummies are usually made with a higher proportion of corn syrup and/or sugar. This means more added sugar in your gummies. I've knocked it down a bit by only using a little honey along with the natural sugars in the fruit for these watermelon gummy bears.
The store-bought bears usually use flavor extracts (whether natural or artificial) and citric acid to create a very strong taste. Those aren't things we've got lying around our kitchen. As such, these homemade gummy bears are much more subtly flavored but still delicious. That's why you'll find a big proportion of lime juice in this recipe; it helps naturally add citric acid. (Tip – if you want, you can order citric acid online to add to these, which helps enhance the flavor and gives it even more of a sour candy quality).
Most store-bought gummies don't pack in protein like these homemade ones do! If you look at a package of store-bought gummy bears, you're clocking in around 33 grams of carbohydrate in a serving but only 2 grams of protein. That's cool if you just want a sweet treat. But for post-workout gummies, it's important to get some protein in too.
The texture will be slightly different – not quite jello, but not quite store-bought gummies. This is because commercial candy goes through a drying process, and I'm sorry – ain't nobody got time for 3 days of waiting at home. 😉 You can slightly adjust the proportion of gelatin depending on your preferred texture though. In this case, 3 tablespoons will give you softer, squishier protein gummies, while 3.5-4 tablespoons will give you firmer gummy bears.
All in all, though, I think you'll enjoy these sour, subtly sweet healthy gummy bears!
Not a fan of watermelon lime gummy bears? Try watermelon cherry gummy bears:
Out of all the flavor combinations I tried, I really liked these watermelon lime ones the best, specifically because you get a bit of a sour aspect to it (who doesn't love sour gummies?!).
But if you want to try a less sour, sweeter version, try this variation instead:
Reduce the watermelon to 1 1/2 cups (for about 3/4 cup juice)
Reduce the lime to 3 tbsp
Add 1/2 cup tart cherry juice
Use the same amount of gelatin
You'll get a more pronounced cherry component in these, with less sour notes. Here's what this version looks like: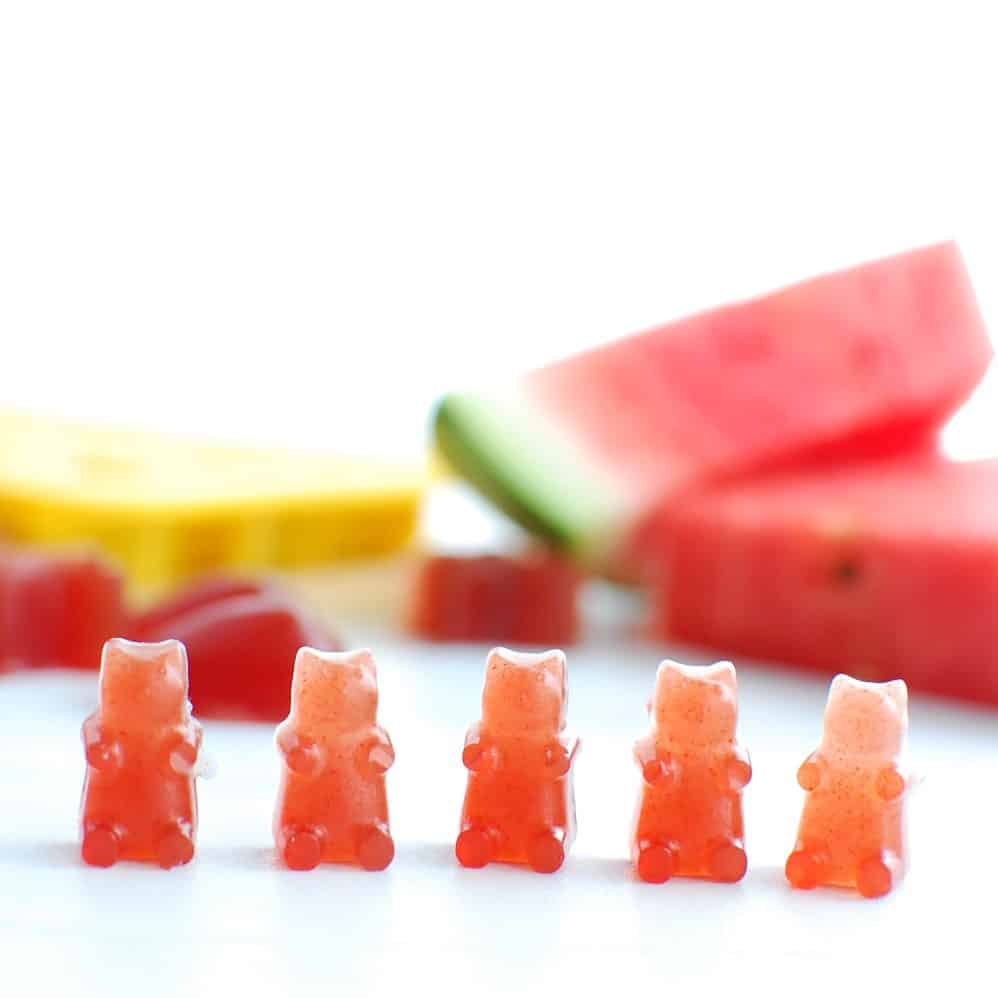 Whichever variation you try, I hope you enjoy these watermelon protein gummies! If you try 'em out, be sure to leave a recipe rating or a note in the comments letting me know your thoughts.
PS – Looking for more ways to use watermelon? Try this watermelon cucumber smoothie or this watermelon blueberry smoothie. And if you need even more recipe ideas, don't forget to check out the Watermelon Board's recipe section – they have tons!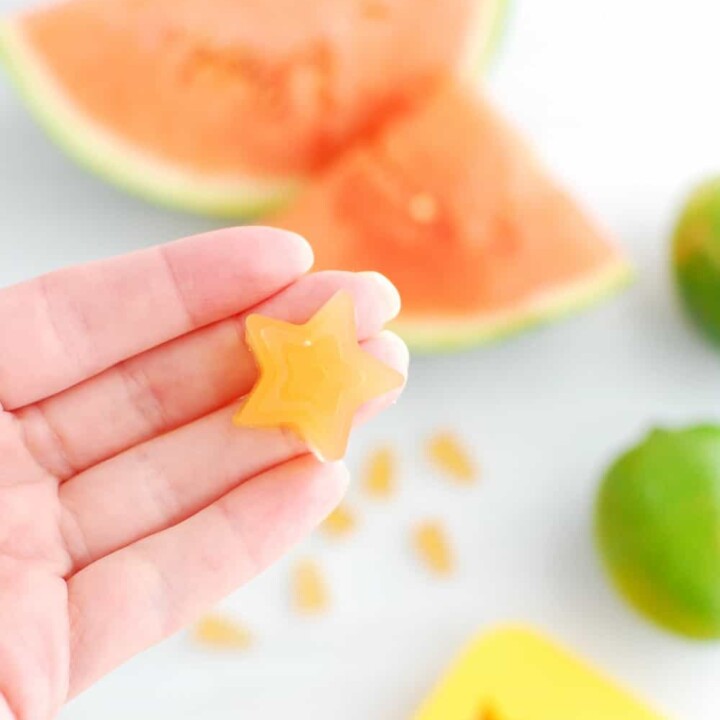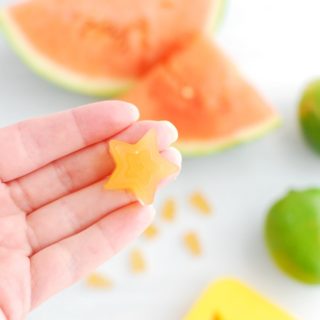 Post-Workout Watermelon Lime Protein Gummies
Looking for a tasty post-workout snack that doubles as a sweet treat? Try watermelon lime protein gummies! These homemade gummy bears are easy to make and have a fun sour flavor.

Ingredients
2

cups

fresh watermelon, diced

1/2

cup

fresh squeezed lime juice

(about 4-6 limes)

3

tbsp

honey

3-4

tbsp

unflavored gelatin*
Instructions
Place watermelon in a blender or food processer, and turn on for a few seconds until it's all liquid. Place a fine mesh strainer over a bowl, and pour the watermelon puree through. You'll be left with about 1 cup of watermelon juice in the bowl that you'll use for this recipe. You can discard the pulp in the strainer (or save it for use in baked goods).

Place watermelon juice in a medium pot over low heat. Add lime juice and honey. Continue to heat on low, whisking a few times, until everything is combined and hot (do not boil).

Whisk in gelatin and remove from heat. Continue whisking for another 30 seconds. If there are any chunks of gelatin remaining, just scoop them out.

Use a dropper to place the mixture in silicone molds. Pop in the freezer for about 15 minutes (or in the refrigerator for an hour), then enjoy! To store, keep in the fridge for up to 4 days.
Video
Notes
Notes:
If you prefer softer, squishier gummies – use 3 tbsp of gelatin. If you prefer more solid, springy gummies – use 3.5-4 tbsp gelatin.
This recipe makes around 45-50 of the large gummies (the star-shaped ones). If you're using smaller molds, you can expect more.
If you don't have silicone molds, you can pour this in a rectangular dish and then cut out squares when it's solid.
Nutrition analysis (approximate for each large gummy):
10 calories, 0 g fat, 2 g carbohydrate, 0 g fiber, 1.5 g sugar, 0.9 g protein, Vitamin A: 1%, Vitamin C: 2%, Calcium: 0%, Iron: 0%
Nutrition analysis (approximate for a serving = 1/4 of recipe = 12 large gummies each):
120 calories, 0 g fat, 21 g carbohydrate, 0.5 g fiber, 18 g sugar, 10.3 g protein
Nutrition
Share: Have you ever made homemade gummy bears? Do you think you'd enjoy these watermelon lime protein gummies after a workout?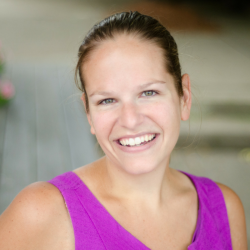 Latest posts by Chrissy Carroll
(see all)