Another Friday in August means another smoothie recipe over here at Snacking in Sneakers! Today's special of the day? A delicious, watermelon blueberry smoothie!
This is another very simple smoothie recipe. I'm trying to keep them easy & quick for ya'll! It's got just 4 ingredients – watermelon, blueberries, yogurt, and banana – plus a little water.
I love this as a nutritious snack option, especially for active women and men. (But if you're not into the exercise thing, that doesn't mean it's not a good option for you too!)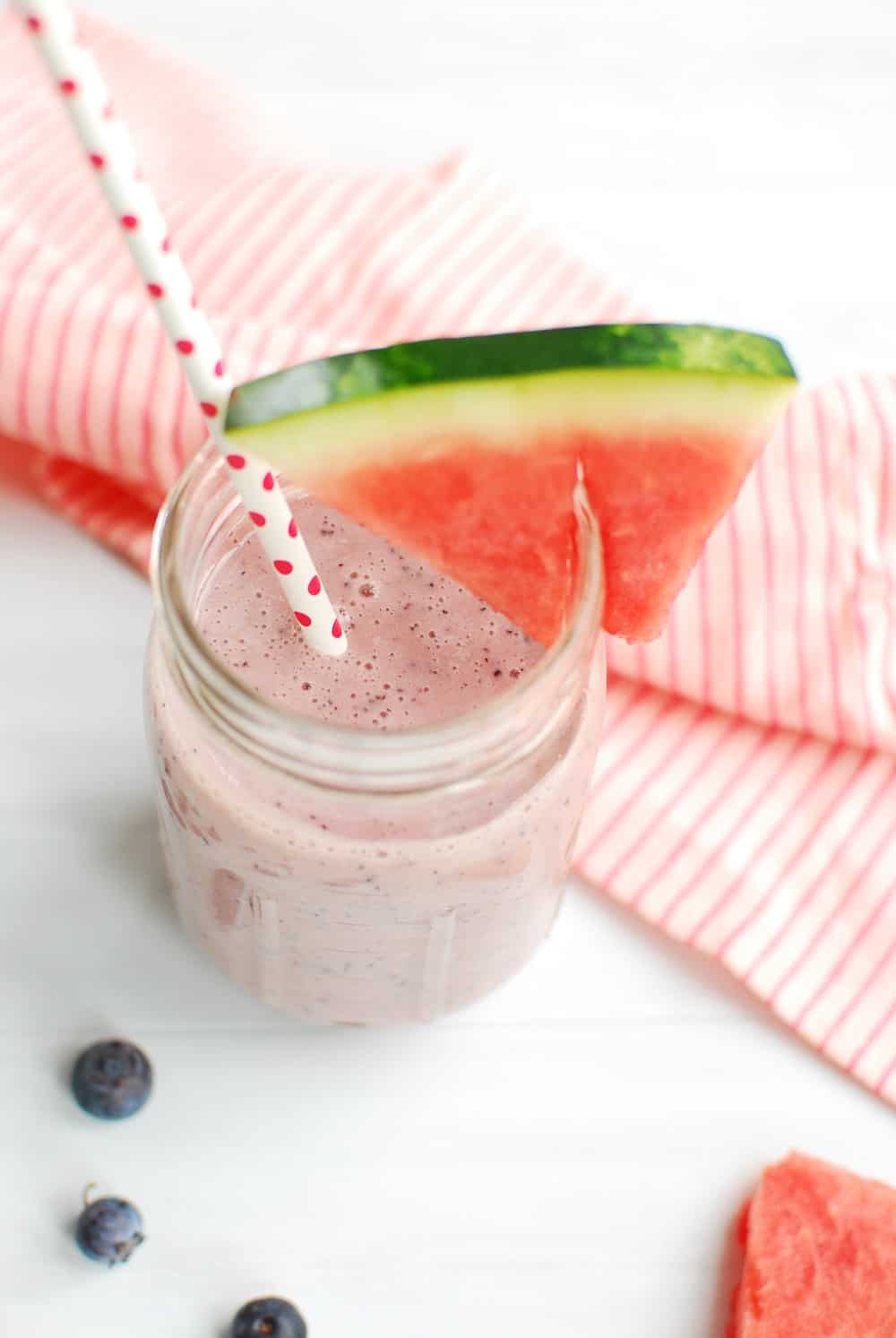 Here's what I love about this watermelon blueberry smoothie:
1. It's a great snack-size smoothie, clocking in at 190 calories with 8 grams of protein. That's a nice size option to tide you over to the next meal. (And if you want to boost the protein, you can also add a little more Greek yogurt or a little protein powder.)
2. This is rich in healthy carbohydrates, which are important for active folks. I'm personally not a fan of the carb-phobic media culture that seems to have developed these days. Fruits and yogurt can certainly fit into a healthy diet – and for active people, those carbs can help maintain optimal performance.
3. Watermelon is rich in lycopene, an antioxidant that has a ton of potential health benefits – research shows eating food rich in lycopene may reduce oxidative stress (important for those engaging in a lot of exercise). It also may reduce the risk of health concerns like cancer and cardiovascular disease. This data is still in it's infancy, but it's wise to include sources of lycopene (like watermelon and cooked tomatoes) regularly in your diet!
4. Blueberries contain powerful phytochemicals, one of which is called anthocyanins. Not only do these give blueberries their color, but they also may promote heart health and may reduce cancer risk (again, data is not conclusive but suggestive).
5. You'll get more than 10% of your daily potassium needs in this smoothie, which is key for helping regulate blood pressure and is involved in muscular contractions. (Another benefit for runners & triathletes who may be losing a little potassium in sweat on long runs & rides!).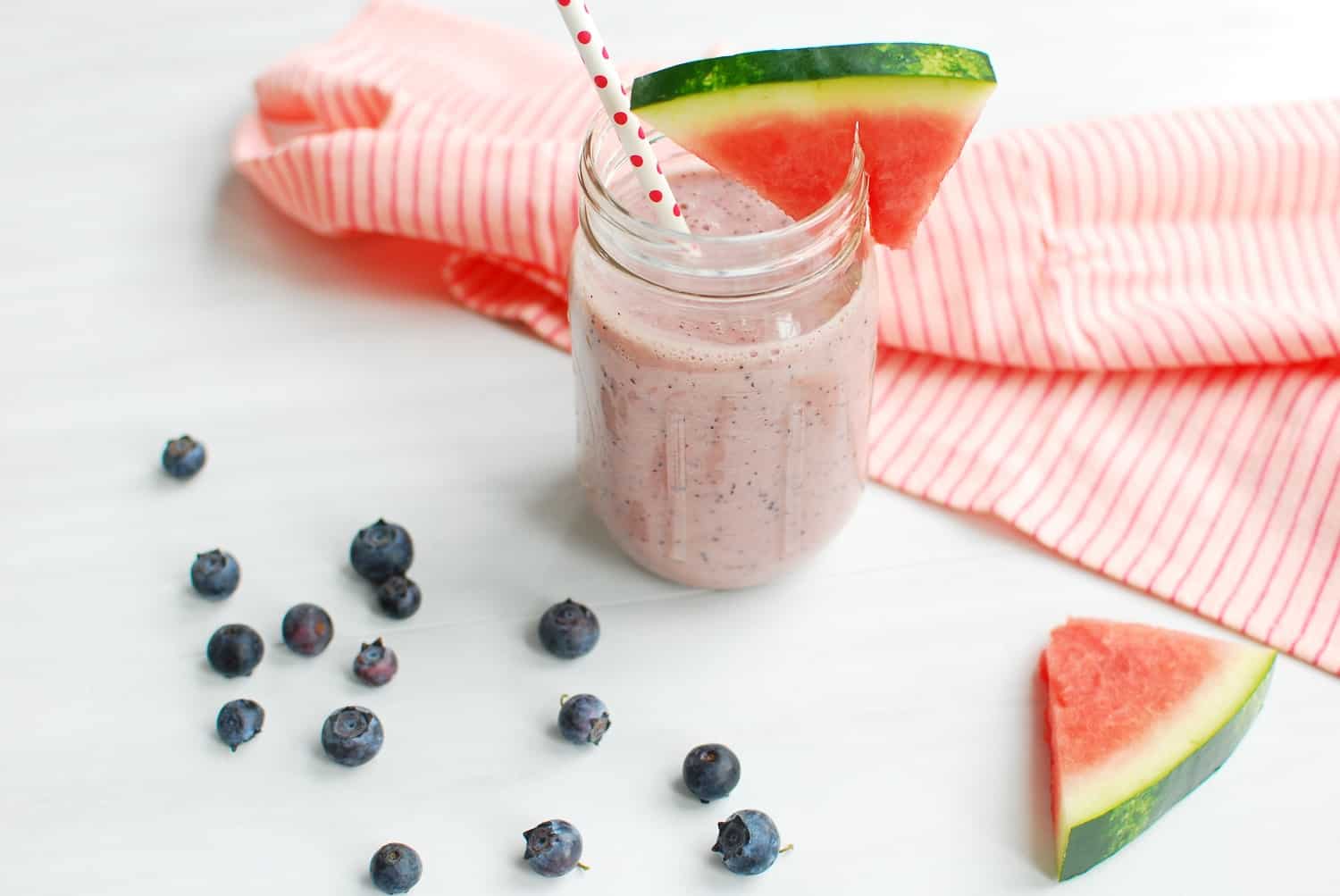 Are you ready to try it?
Go ahead and pin this blueberry watermelon smoothie recipe so you don't forget about it, and be sure to come back and rate it after you make it.
PS – Looking for more smoothies? Be sure to check out this granola smoothie with peaches and strawberries (great for recovery), this hydrating watermelon cucumber smoothie (perfect for summer), and this mango coconut milk smoothie (great for those looking for a higher calories smoothie to help gain weight)!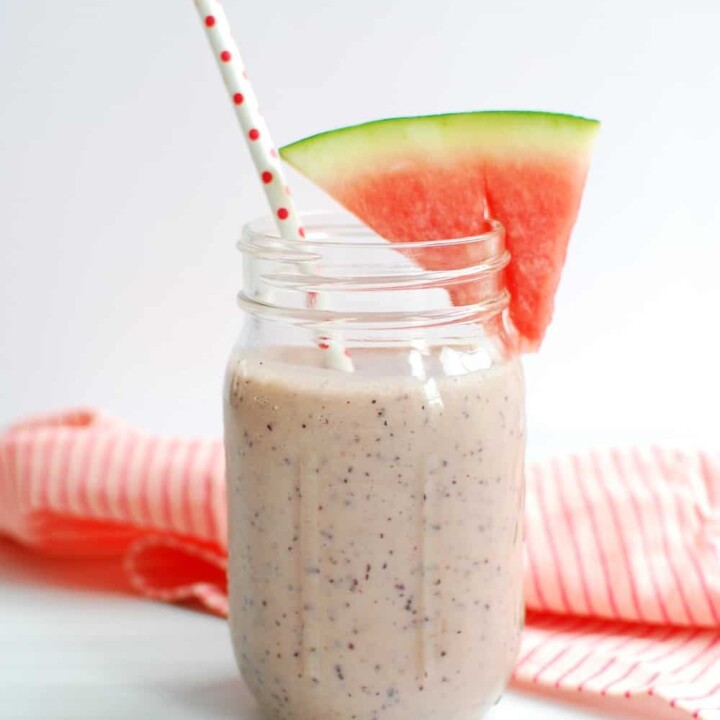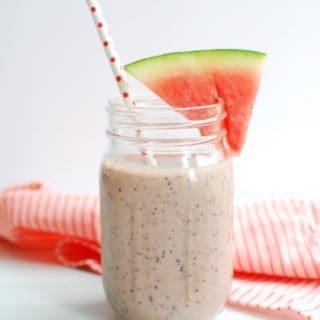 Watermelon Blueberry Smoothie
A watermelon blueberry smoothie is a nutritious, filling snack that's perfect all summer long (or any time of year!).
Ingredients
1

cup

watermelon

1/2

cup

blueberries

1/4

cup

plain Greek yogurt

1/2

frozen banana

1/4

cup

water
Instructions
Place all ingredients in a blender and blend until combined. Enjoy!
Notes
Nutrition analysis (approximate): 190 calories, 0.5 g fat, 0 g sat fat, 30 mg sodium, 40 g carbohydrate, 4 g fiber, 27.5 g sugar, 8 g protein, Vitamin A: 19%, Vitamin C: 42%, Calcium: 9%, Iron: 4%, Potassium: 13%
Nutrition
Share with me: What's your favorite kind of smoothie recipe? Did you enjoy this watermelon blueberry smoothie? What do you like to snack on in the summer?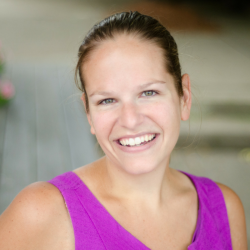 Latest posts by Chrissy Carroll
(see all)