Summertime is here, and that means smoothie time! I don't know about you guys, but whenever the weather heats up I love treating myself to a refreshing smoothie for dessert or for a post-workout snack. And this peach strawberry granola smoothie is ranking at the top of my favorites list so far this year.
It's fruity, creamy, and satisfying. Not to mention, incredibly easy to make! Just toss a few simple ingredients in your blender and a few minutes later, you've got this frosty treat to drink.
It's always fun experimenting with "untraditional" ingredients in smoothies, like the ricotta cheese in my blueberry pancake smoothie or the arugula in my arugula apple smoothie. In this case, the unusual ingredient is a little granola! It adds sweetness but also bulks up the smoothie making it more filling and hearty.
[Tweet "This granola smoothie doubles as a great post workout drink or a delish snack to share w/ kiddos!"]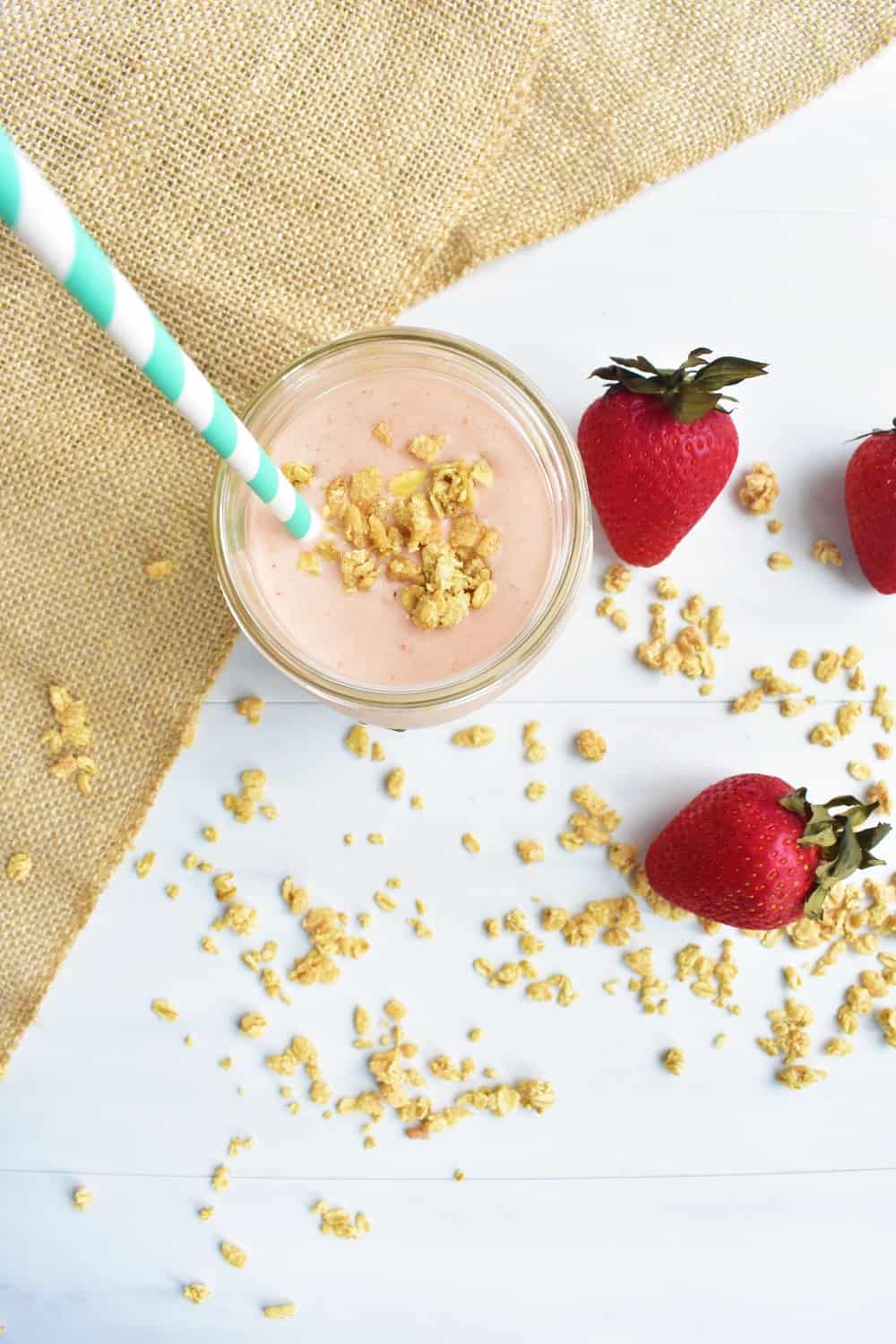 Aside from that granola, the only other ingredients you need are frozen fruit, plain Greek yogurt, and vanilla almond milk (or any milk of your choice!). To make things easy, I purchased a blend of frozen fruits which included peaches, strawberries, and mango. If you can't find a similar blend, just buy frozen versions of each one individually to use.
This smoothie is on the sweeter side thanks to the granola and vanilla almond milk. If you're worried about the added sugar, you can always use unsweetened almond milk and homemade lower-sugar granola (or simply add plain oats).
Me? I make it as is, count this towards my added sugar allowance each day, and enjoy it with a smile! I like to split this recipe with my hubby or son for a portion-controlled, fresh summery dessert. You can tell my kiddo is a big fan…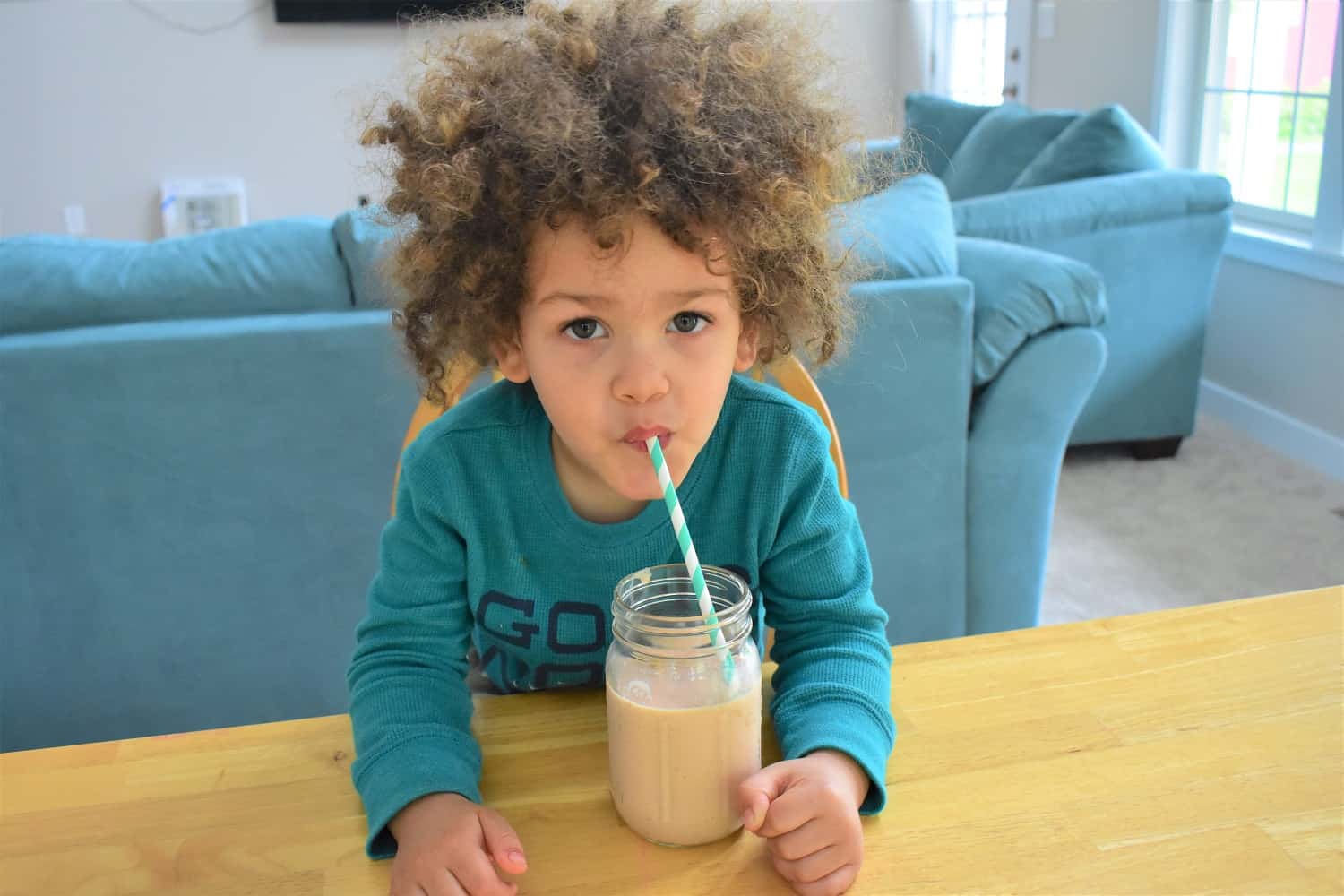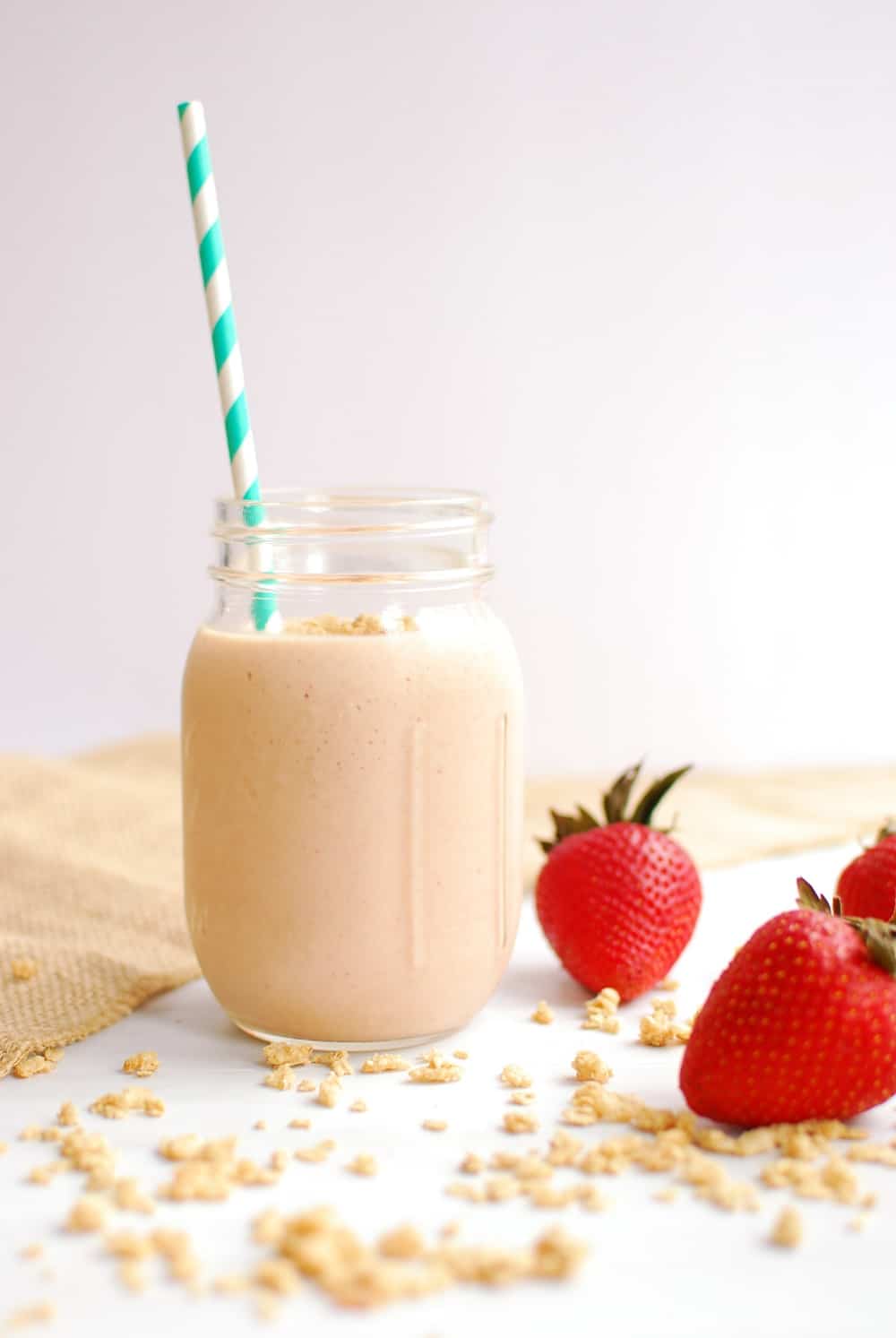 Or, I'll drink the entire recipe for a post-workout smoothie snack! I don't always do a mini-meal after a workout, but I do make it a priority after long runs or bike rides. This granola smoothie is a great option since it's rich in carbohydrates to restock the energy in your muscles, and has 16 grams of protein to help with recovery.
I hope you'll grab the ingredients you need and give this a try today!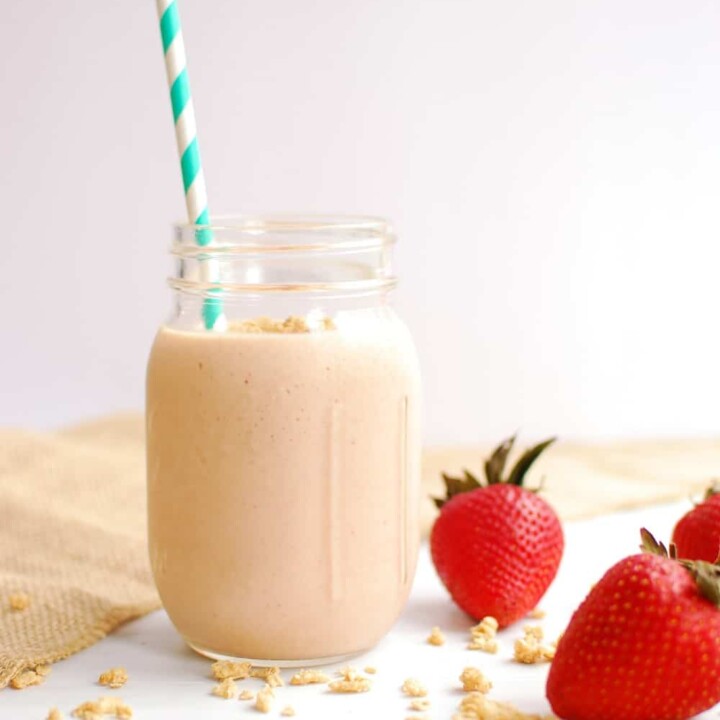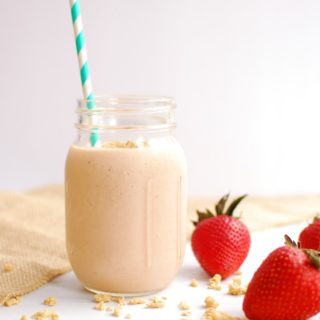 Granola Smoothie with Peaches and Strawberry
Summertime is approaching, and that means smoothie time! Try this peach strawberry granola smoothie for a delicious breakfast, snack, or post-workout treat.
Ingredients
1

cup

frozen fruit blend of peaches, strawberries, and mango

(or 1/3 cup of each individual frozen fruit)

1/2

cup

plain Greek yogurt

1

cup

vanilla almond milk

(or your favorite type of milk/milk alternative)

1/4

cup

granola
Instructions
Add everything to a blender, blend for about 20-30 seconds, and enjoy!
Notes
Nutrition facts:
340 calories, 6 g fat, 2 g sat fat, 56 g carbohydrate, 5.5 g fiber, 16.5 g protein, Vitamin A: 22%, Vitamin C: 80%, Calcium: 63%, Iron: 10%
Nutrition
Share with me: What's your favorite unusual ingredient to add to a smoothie? Have you ever tried a granola smoothie?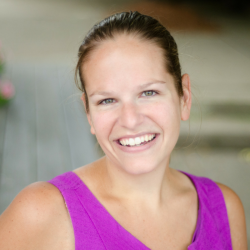 Latest posts by Chrissy Carroll
(see all)