Runners, triathletes, and cyclists – here's a special recipe for you guys! This banana peanut butter smoothie recipe is simple to make, only has five ingredients, and goes down easily after a long run or ride.
Why have a recovery meal or snack? The carbohydrate you'll eat helps to replenish muscle glycogen (that fuel stored in your muscles for energy), and the protein helps rebuild and repair muscles.
Now, you don't necessarily need a recovery meal or snack after every workout. In fact, that's a common mistake I see with some athletes' nutrition plans. For many workouts, your everyday diet will take care of your recovery needs.
But if you're out there for a long workout (1.5 hours+), or it's a day when you are training twice in one day, it's smart to take in carbohydrate + protein within 30 minutes of your workout.
There are plenty of recovery options out there using real food – no need for special commercial recovery products (unless you like them and find them easy to use). One of my favorite recovery snacks is a smoothie, since it's quick to make and easy to get down after a long run.
[Tweet "Try this banana peanut butter smoothie to refuel after a tough workout!"]
This recipe for a banana peanut butter smoothie is fabulous because it falls in the range of a 3:1 to 4:1 carbohydrate to protein ratio – meaning mostly carbohydrates with some protein. This range is thought to help maximize muscle glycogen absorption and muscle repair. Plus, it tastes so good – it's totally a treat to drink.
Smoothies are by no means the only option – there are plenty of other recovery methods out there. You might choose chocolate milk, a turkey sandwich on a roll with fruit, or some chicken and rice. You should find what works for you. But I think this recovery smoothie is a nice practical option for many athletes, as it's inexpensive and the ingredients are easy to find at pretty much any grocery store.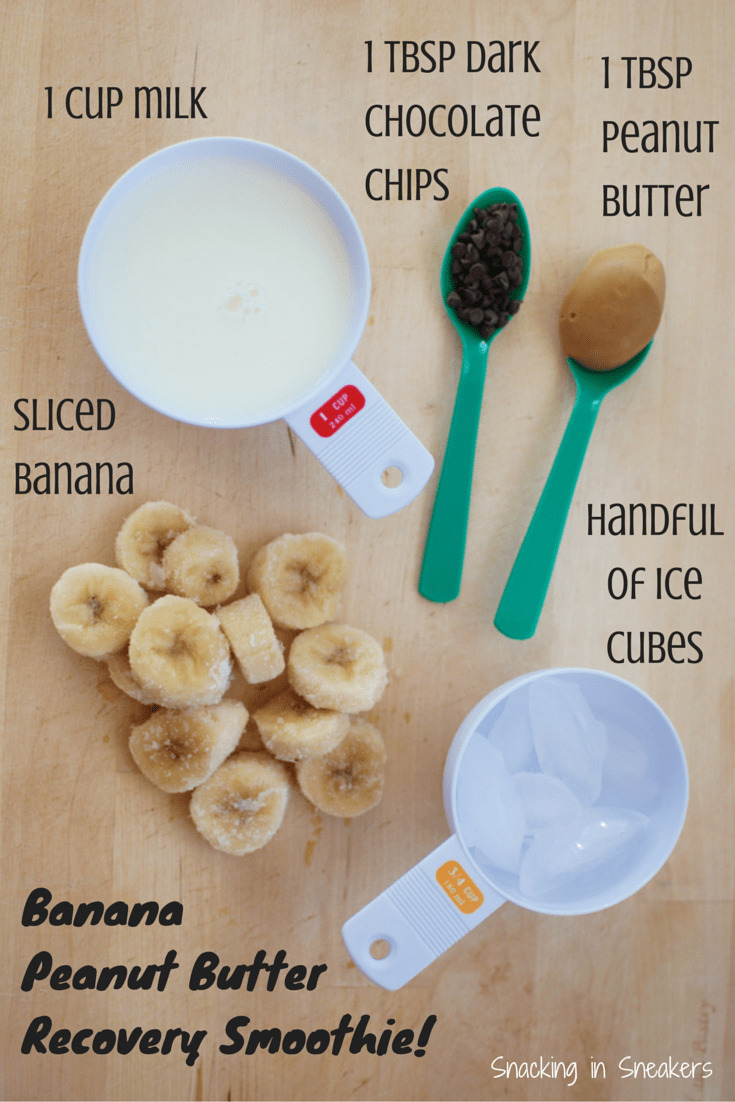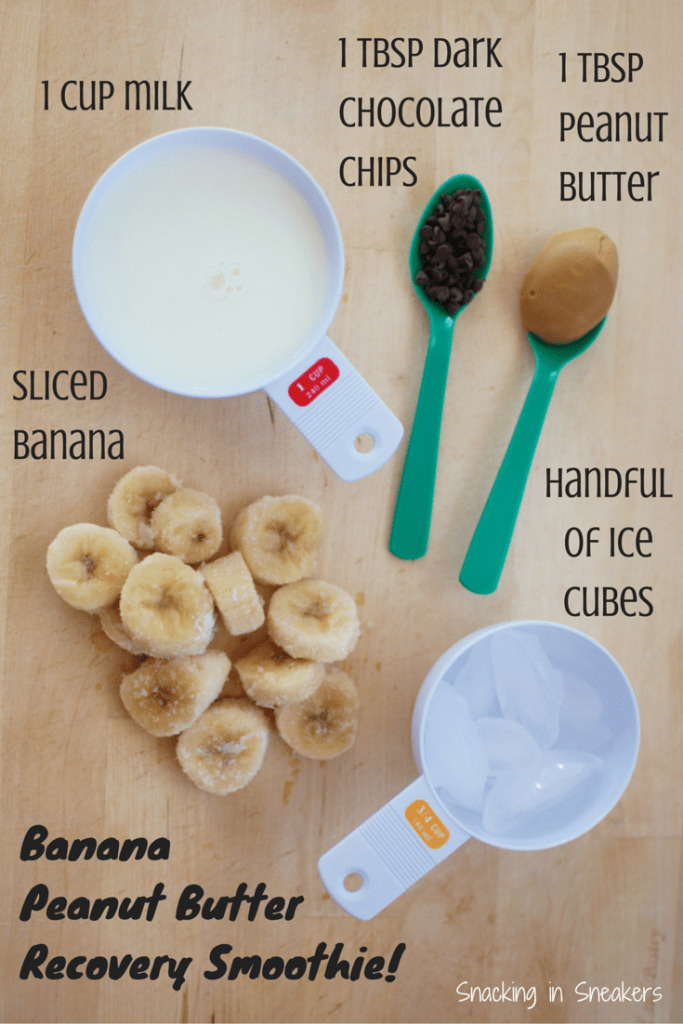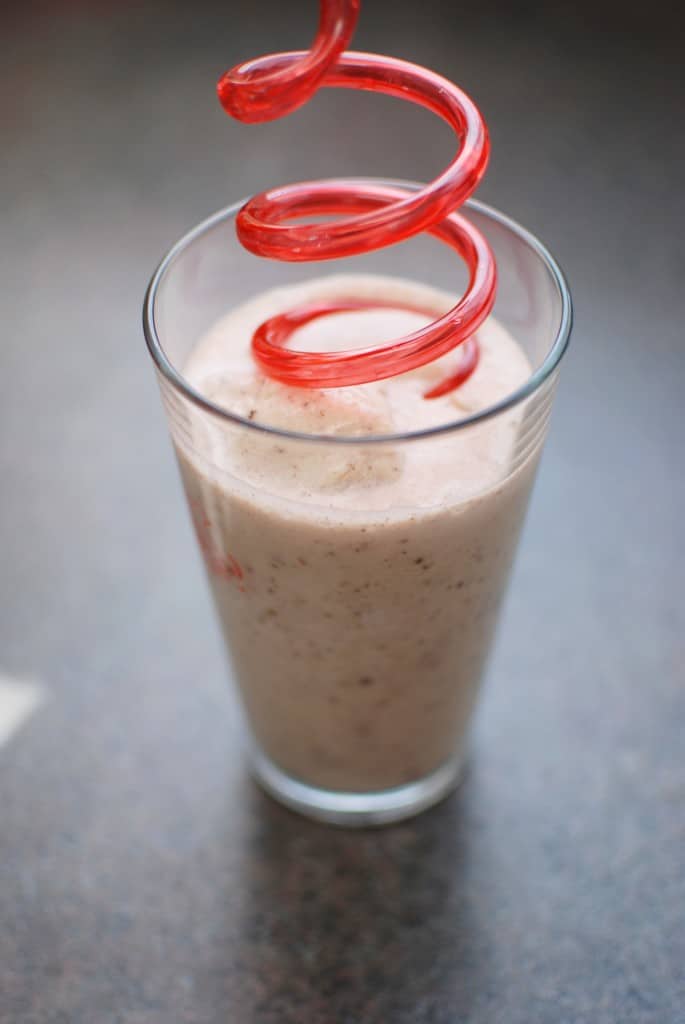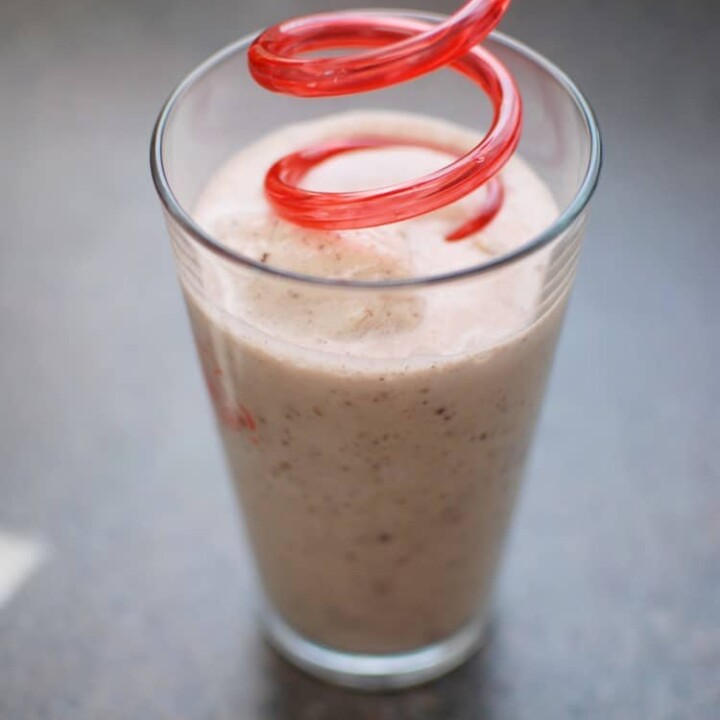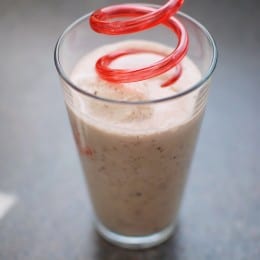 Banana Peanut Butter Smoothie
This banana peanut butter smoothie is a perfect recovery smoothie after a long run or a tough workout! Plus, it tastes like dessert!
Ingredients
1

banana, frozen into slices

1

cup

milk

(I use skim or 1% but you can use any type)

1

tbsp

peanut butter

1

tbsp

dark chocolate chips

Handful of ice cubes

(optional, but definitely use if your banana isn't frozen)
Instructions
Blend everything together and enjoy!
Notes
Nutrition facts (approximate):
360 calories, 12 g fat, 50 g carbohydrate, 4 g fiber, 14 g protein, Vitamin A: 24%; Vitamin C: 21%; Calcium: 52%; Potassium: 28%
Nutrition
Share with me: What's your favorite recovery meal or snack? Do you ever prepare recovery smoothies? Do you love this banana peanut butter smoothie?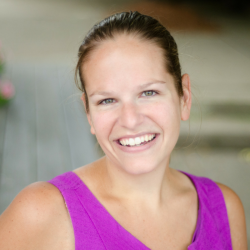 Latest posts by Chrissy Carroll
(see all)