Need a tasty breakfast before or after a tough morning workout? Looking for a smoothie snack recipe to keep you energized in the afternoon? This turmeric banana smoothie is the perfect choice! Packed with vitamins, minerals, and antioxidants, you'll love this tasty treat that offers a boost for your well-being.
Note: This post was originally written in 2017. The post and recipe have been updated in 2023.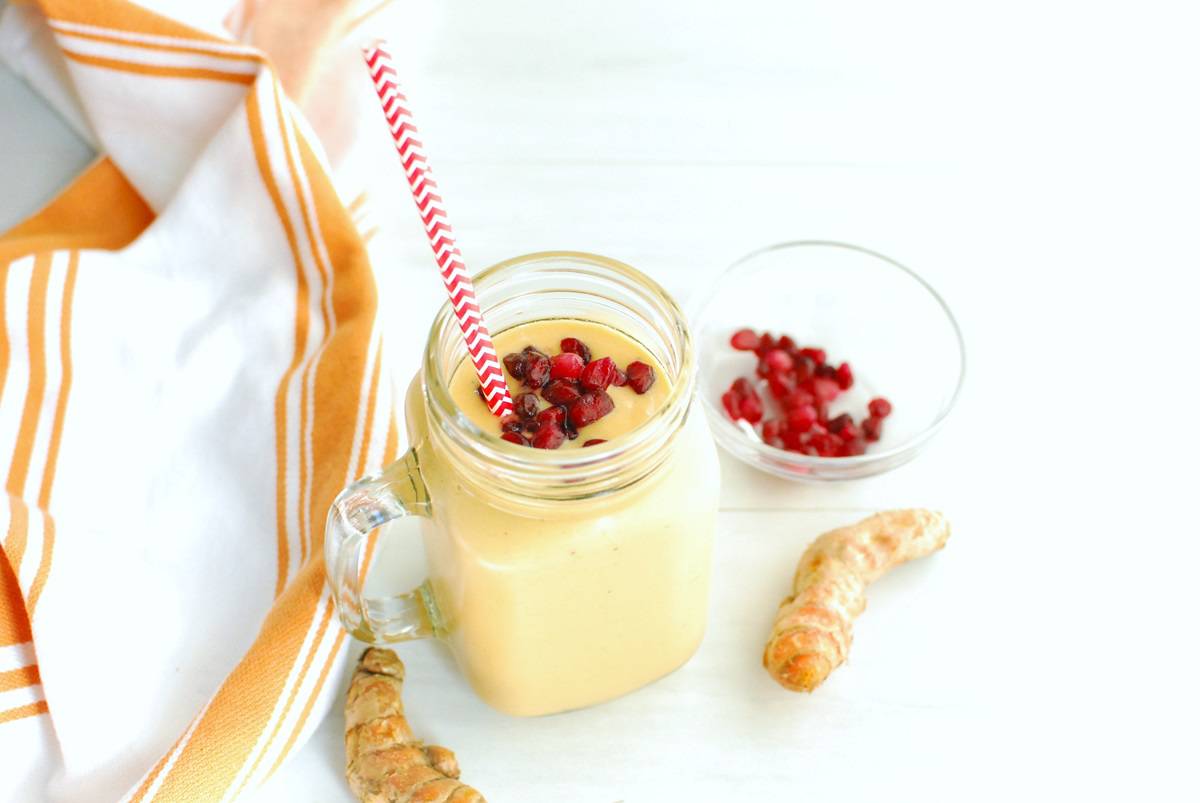 Ingredients and Instructions
Here's a photo of all the ingredients you'll need, along with selected ingredient notes: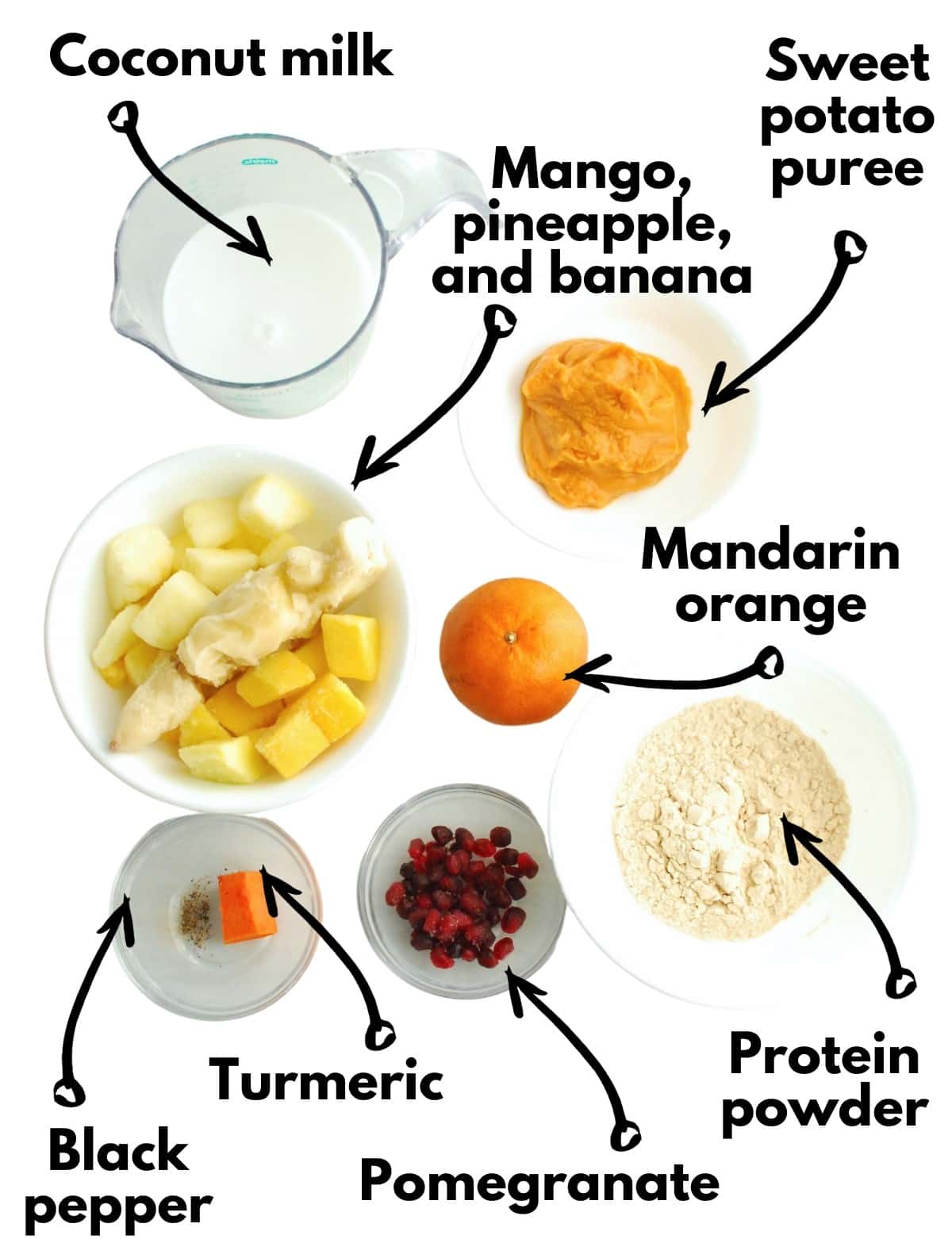 Turmeric – I like to use fresh turmeric root in this recipe when I can find it, though not every grocery store regularly keeps it in stock. Around my neck of the woods, Wegmans usually has it, as do all the local Indian grocery stores (they're always stocked with nutritious ingredients). It'll be in the produce section. But if you can't find it, you can used dried turmeric instead (which is widely available at most stores in the spice section).
Sweet potato puree – Great for adding a boost of veggies to your smoothie! You can use canned sweet potato puree (which for some reason is always double the price of pumpkin), or you can make homemade sweet potato puree (which is much cheaper, just requires a little prep). You can also substitute with canned pumpkin puree in this recipe if that's easier.
Protein powder – This is an optional addition but helps to balance the nutrition profile of the recipe. If you're planning to use this as a post-workout drink, I'd highly recommend using the protein powder. I like using NOW's plant protein complex (disclosure, I partner with them sometimes) in this recipe, which keeps the recipe as a fully plant-based smoothie.
Pomegranate (optional) – I originally developed this recipe as a New Year's Day smoothie, so I used pomegranate as a garnish since it's a symbol of luck at the New Year. It's known as a symbol for abundance and prosperity (thanks to their numerous seeds)! But I still like adding the pomegranates year round as they're a fun garnish and I like to spoon 'em out at the end. You can buy fresh or frozen pomegranate for this. Or, just skip it if it seems like too much work!
Once you've got all the ingredients, toss everything except the pomegranate arils into a blender or blender cup.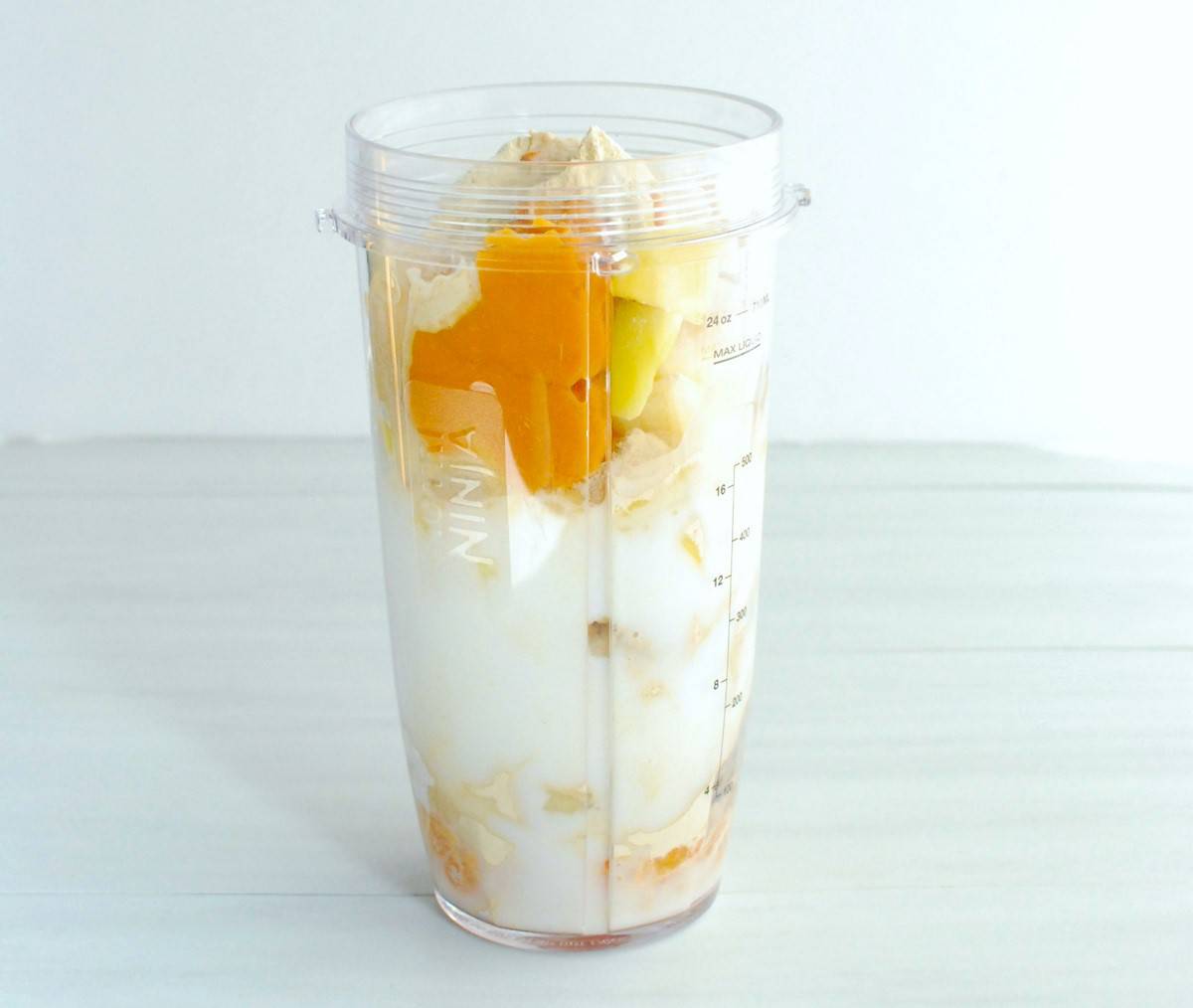 Blend that until smooth.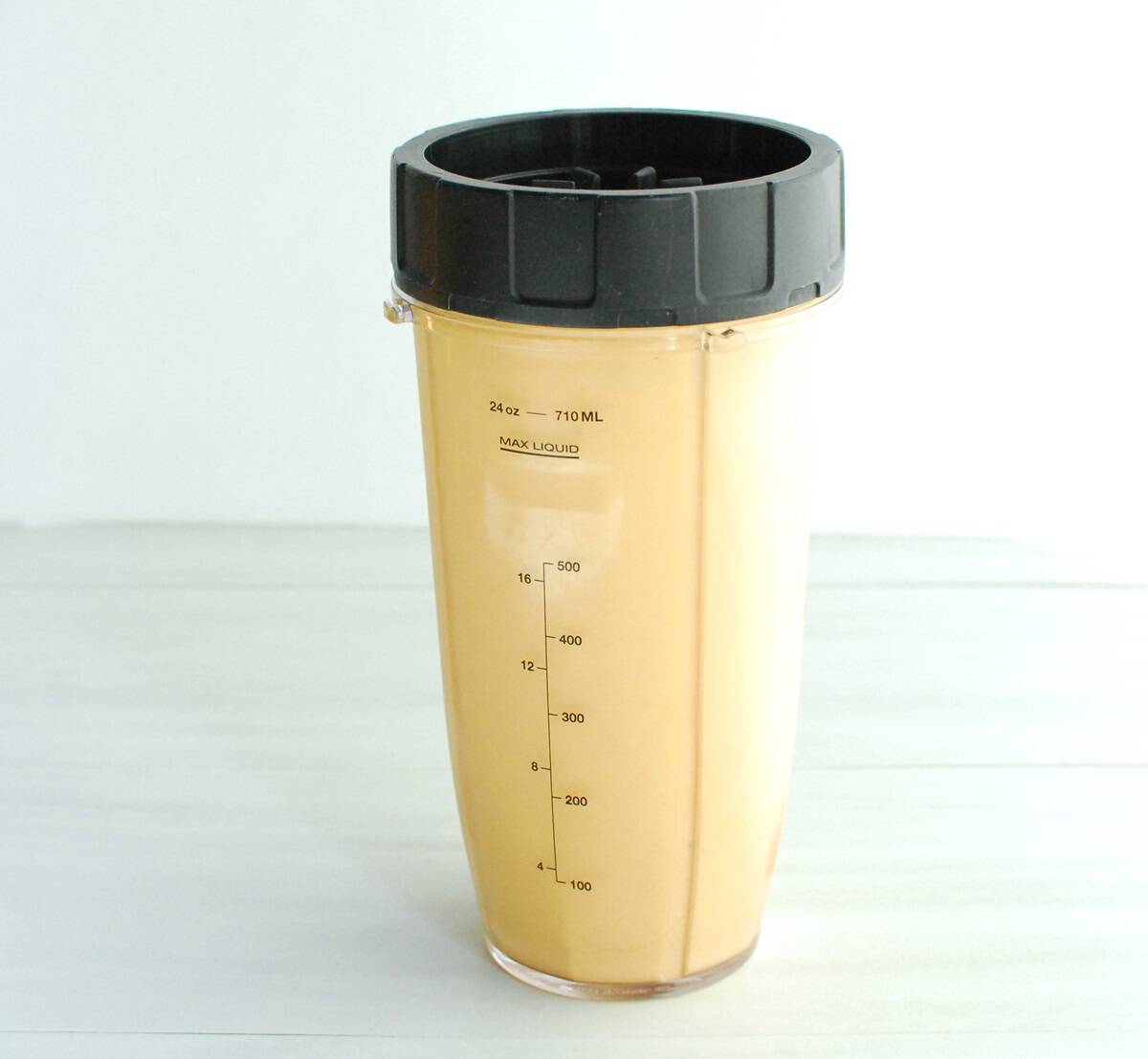 Now pour into two glasses (or one if you're enjoying it all yourself), garnish with pomegranate (if you want to use them), and enjoy.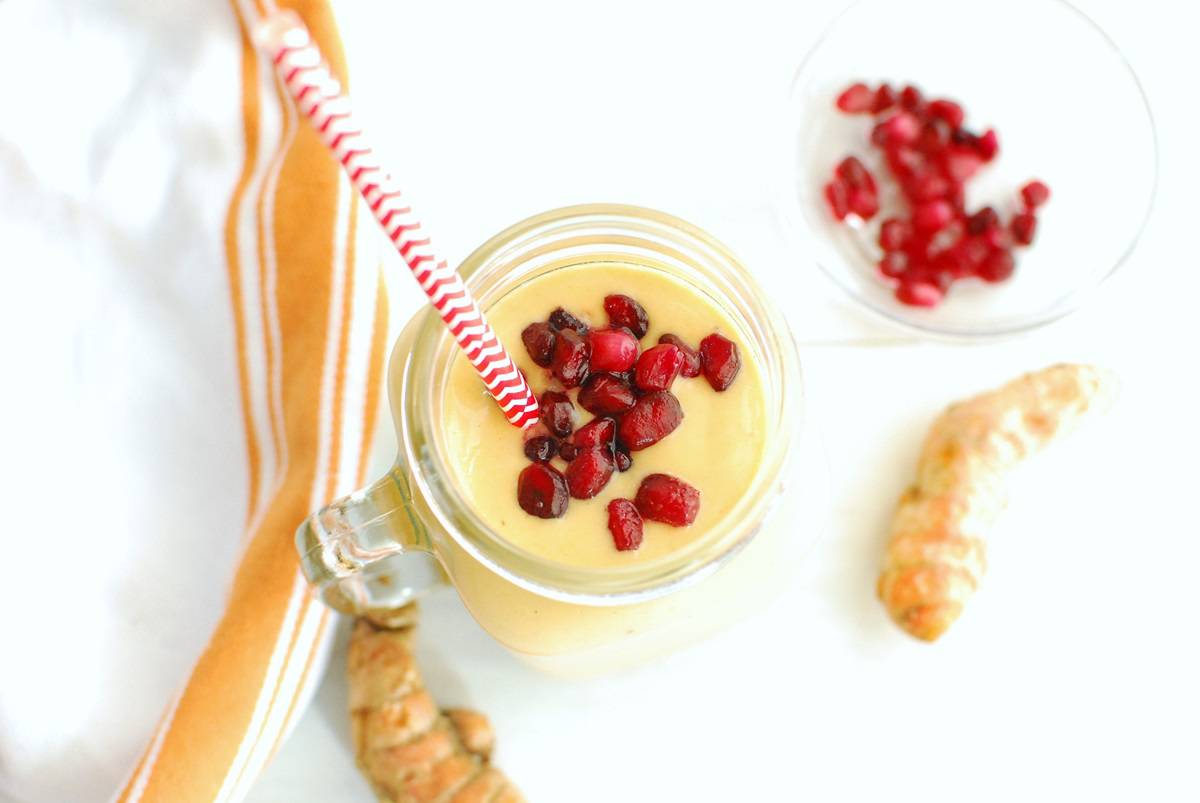 Recipe FAQ
Here are some common questions that may come up as you're preparing this recipe:
Can you make a turmeric banana smoothie in advance?
Freshly made smoothies retain the best taste, texture, and nutrition. However, this is one of the few smoothies tested that has held up well in the refrigerator overnight. If you need to make it at night, you can do so, store it in the fridge, and enjoy the next morning. Just be sure to give it a good stir or shake before drinking.
Can you use fresh mango or pineapple in this smoothie?
Frozen fruits are best for creating the creamiest texture. If you only have fresh on hand, try chopping and freezing them in advance. However, you can get away with using one of these fresh if the other is frozen.
What type of turmeric is best to use in this smoothie?
Fresh turmeric tastes wonderful in a smoothie, and is recommended. However, frozen turmeric can easily be substituted. Dry ground turmeric can also be used.
Nutrition Benefits
As a dietitian, I love this recipe as a nutritious snack option or as a breakfast after a tough morning workout. You can decide how much to portion out based on your hunger level and nutrition needs. For a snack, half the recipe is typically a good portion; for a meal or post-long-run smoothie, you might have the entire recipe.
And it offers quite a few nutrition benefits! In particular, turmeric is known for its health-boosting properties, thanks to it being rich in a compound called curcumin. Research shows curcumin has possible anti-inflammatory effects.
And for active folks in particular, a 2021 systematic review noted that curcumin supplementation was linked to reduced inflammation and oxidative stress, decreased pain and muscle damage, and better recovery and muscle performance.
Now of course this is related to supplementation, not food – so we don't know if these benefits translate over. But it's certainly plausible that this could be a useful ingredient to include regularly in your diet!
Remember to include the pinch of black pepper in the smoothie, as this helps with the absorption of curcumin from the turmeric.
In addition to those benefits, a snack-sized serving of this smoothie also…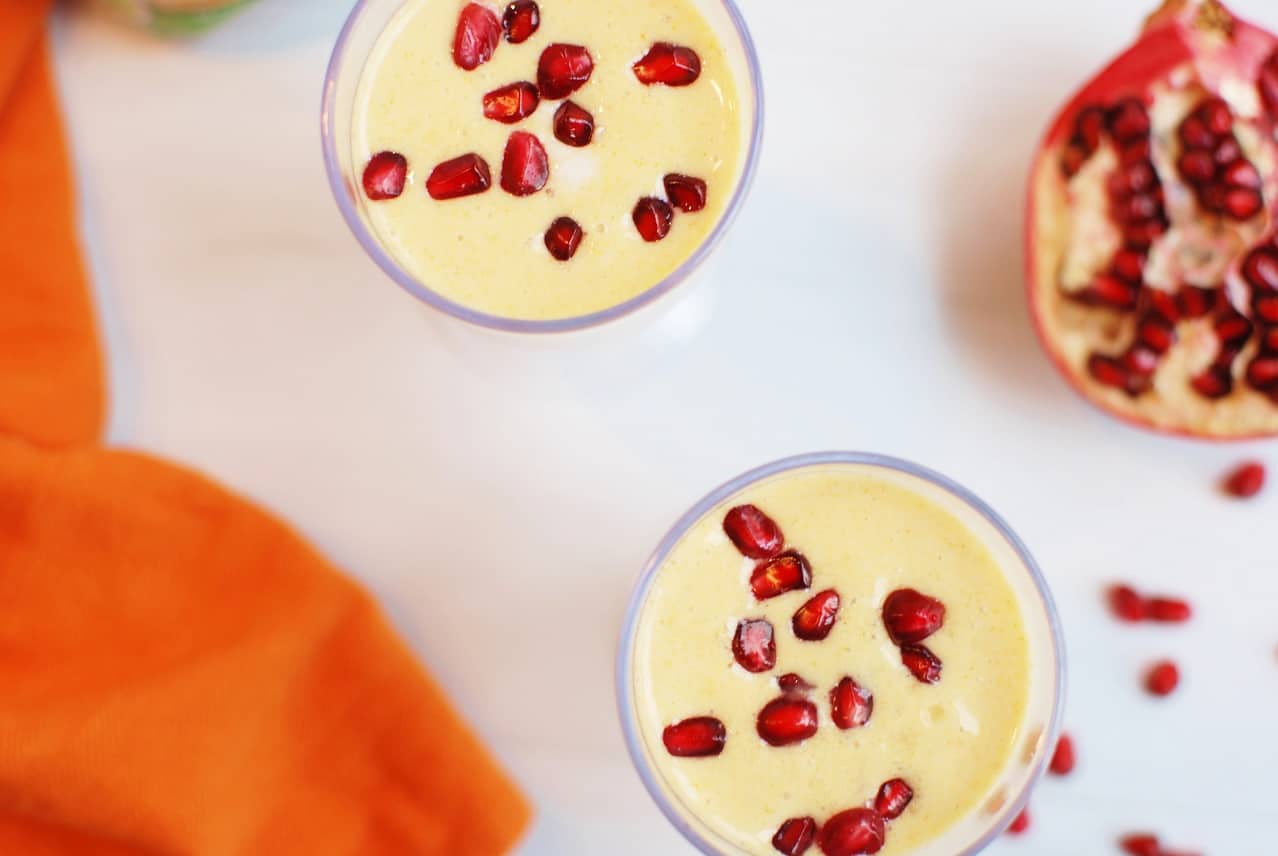 More Smoothie Recipes
If you're looking for more delicious smoothie recipes, be sure to give one of these a try:
I hope you enjoy this turmeric banana smoothie recipe. If you get a chance to try it, feel free to leave a recipe rating below.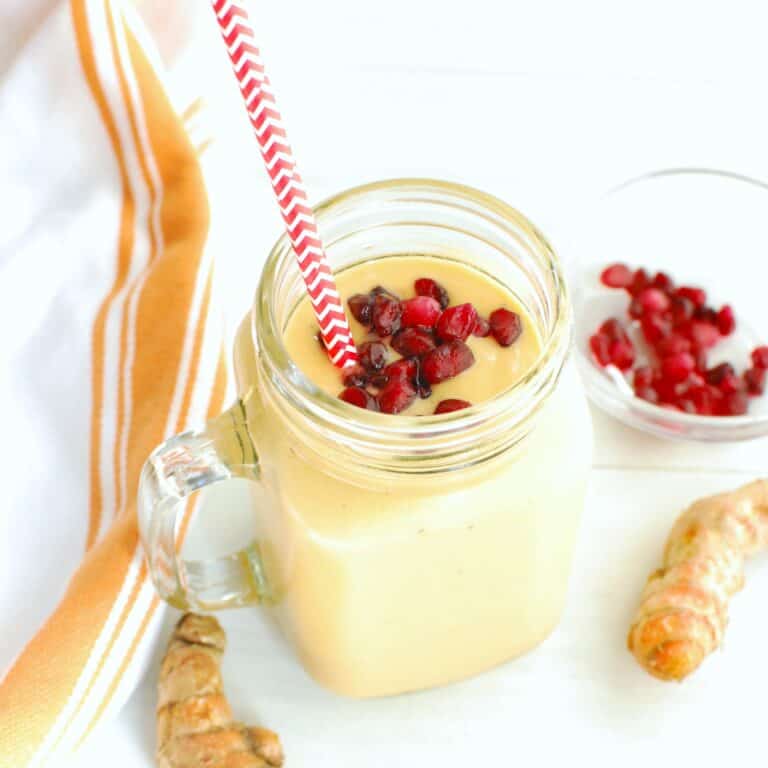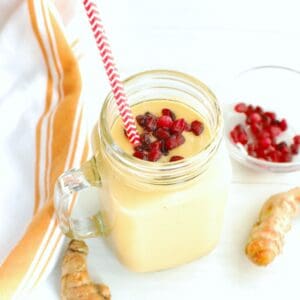 Turmeric Banana Smoothie
This turmeric banana smoothie is a delicious and nutritious way to kick off your morning! Great for athletes, and vegan and gluten free for those with dietary needs.
Ingredients
1

frozen banana

1

mandarin orange, peeled and halved

½

cup

frozen mango

½

cup

frozen pineapple

⅓

cup

sweet potato puree

(canned or homemade)

1-inch piece peeled turmeric root

(about ½ oz fresh, or can alternatively use 1 tsp ground turmeric)

1

pinch

black pepper

1

cup

ready-to-drink unsweetened coconut milk

(the kind from the refrigerated section or carton, *not* canned)

½

scoop

vanilla plant-based protein powder

(optional)

2

tbsp

pomegranate arils

(optional for topping)
Instructions
Blend everything except the pomegranate arils in a blender until smooth. Pour into two cups (or one large glass if drinking the full recipe) and garnish with the pomegranate arils (if using). Enjoy!
Notes
Feel free to use canned or homemade sweet potato puree for this recipe.
The pinch of black pepper helps the body absorb the helpful compounds in the turmeric.
This recipe uses the ready-to-drink coconut milk which is often sold in a refrigerated carton or shelf-stable carton. It is NOT the same as canned coconut milk. Canned coconut milk is much thicker, and higher in fat and calories.
This recipe makes 2 medium servings or 1 large serving.
Nutrition analysis (approximate based on 2 servings): 239 calories, 4 g fat, 2.5 g saturated fat, 110 mg sodium, 45.5 g carbohydrate, 6.5 g fiber, 24.5 g sugar, 8.5 g protein, Vitamin D: 6%, Calcium: 9%, Iron: 25%, Potassium: 16%
Nutrition analysis (approximate for entire recipe): 479 calories, 8 g fat, 4.5 g saturated fat, 210 mg sodium, 91 g carbohydrate, 12.5 g fiber, 48.5 g sugar, 17 g protein, Vitamin D: 13%, Calcium: 19%, Iron: 50%, Potassium: 31%
Nutrition
Feel free to pin this post to save for later! 🙂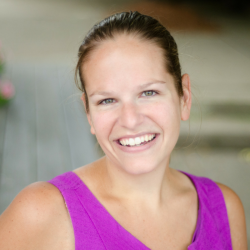 Latest posts by Chrissy Carroll
(see all)